Workshop: Traditional Folk and Scroll Painting of Rajasthan - Phad Workshop
Immerse yourself in the vibrant world of Rajasthan's traditional artistry with our Phad painting workshop on 8 December, 12pm to 4pm at KCC. Phad painting, a unique blend of religious scroll and folk art, has been a cherished tradition in the heart of India – Rajasthan.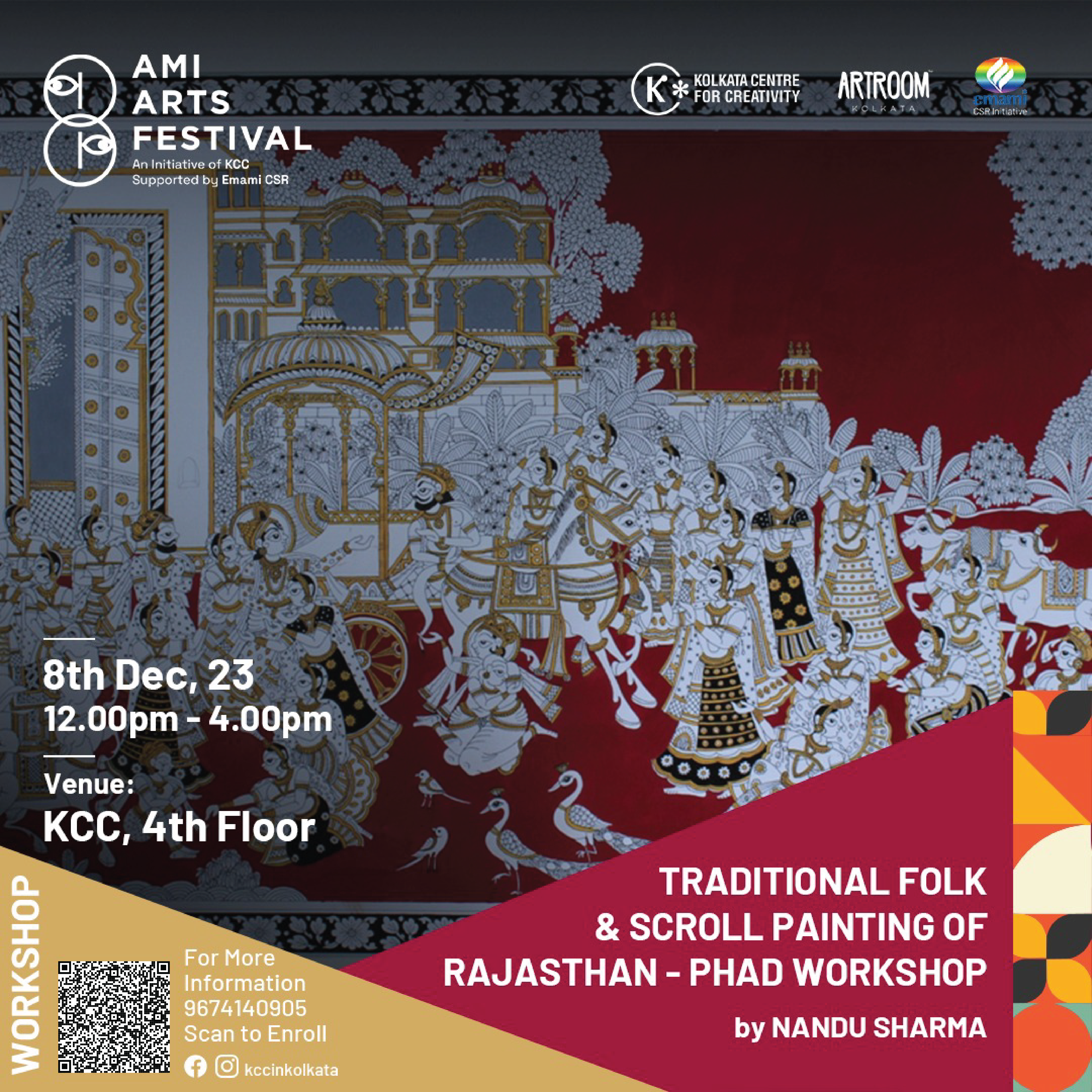 Open to enthusiasts of all levels, this workshop offers the opportunity to delve into the basics of Phad painting under the guidance of the highly acclaimed artist, Nandu Sharma. 

Register Here!
What to Expect
By the end of this engaging workshop, participants will have gained hands-on experience in the following aspects of Phad painting: 
Basic Drawing Elements: Understand the fundamental elements that make Phad painting distinctive. 
Color Mixing Techniques: Learn the art of blending colors to create captivating hues. 
Color Compositions: Explore the composition of colors to bring life and depth to your artwork. 
Color Application and Brush Techniques: Master the techniques of applying colors with finesse, using various brush strokes. 
Workshop Content
The workshop will cover: 
Phad Painting's History: Gain insights into the cultural and historical significance of Phad painting in Rajasthan. 
Drawing Various Elements and Patterns: Learn to sketch and compose the intricate elements that define Phad art. 
Painting Thin Lines and Their Effects: Understand the precision required to paint thin lines and the visual impact they create. 
Drawing the Final Painting: Bring your newfound skills together to create a stunning Phad painting. 
Special Offer 
Avail a special early bird offer of INR 650 valid till 30th November. Regular fee is INR 750. 
Trainer Profile: 
Meet our distinguished instructor, Nandu Sharma, a renowned Traditional Pichwai Artist born in 1957, residing in Bhilwara, Rajasthan. Recognized for his extraordinary skills, Nandu Sharma has received prestigious awards, including the UNESCO Award, Rajasthan State Lalit Kala Academy Award, All India Bronze Medal Award, Prafulla Dahanukar Foundation, and the Kala Mani Award by the Haryana Government. 
Recommended for: 
This workshop is designed for everyone, regardless of skill level, including complete beginners (minimum age 12).  
To know more about other workshops at AMI Arts Festival,

Click Here!