We are delighted to invite you to a six-day grand festival from 26th to 31st August, Breaking The Fourth Wall - Rediscovering Brecht: Exploring His Timeless Relevance curated by Dr. Abhilash Pillai. The festival commemorates the 125th birth anniversary of the iconic playwright, Bertolt Brecht.
Prepare to embark on a mesmerizing journey that delves into the life, works, and philosophy of Brecht, whose impact on the world of theatre is immeasurable. This festival is a unique opportunity to immerse yourself in the genius of Brecht's creations and explore the enduring relevance of his ideas.
From captivating theatre productions and exhibitions and spellbinding performances to insightful panel discussions, masterclasses, lectures, dramatic readings, and thought-provoking workshops, our festival offers a dynamic and immersive experience. Engage with renowned artists, scholars, and intellectuals as they delve into the depths of Brecht's theatrical vision and legacy.
We welcome audiences from all walks of life to join us in celebrating Brecht's indelible mark on the world of arts. Witness the power of theatre to provoke, inspire, and transform. Let us come together and pay homage to one of the most influential figures in modern drama. Don't miss this once-in-a-lifetime celebration!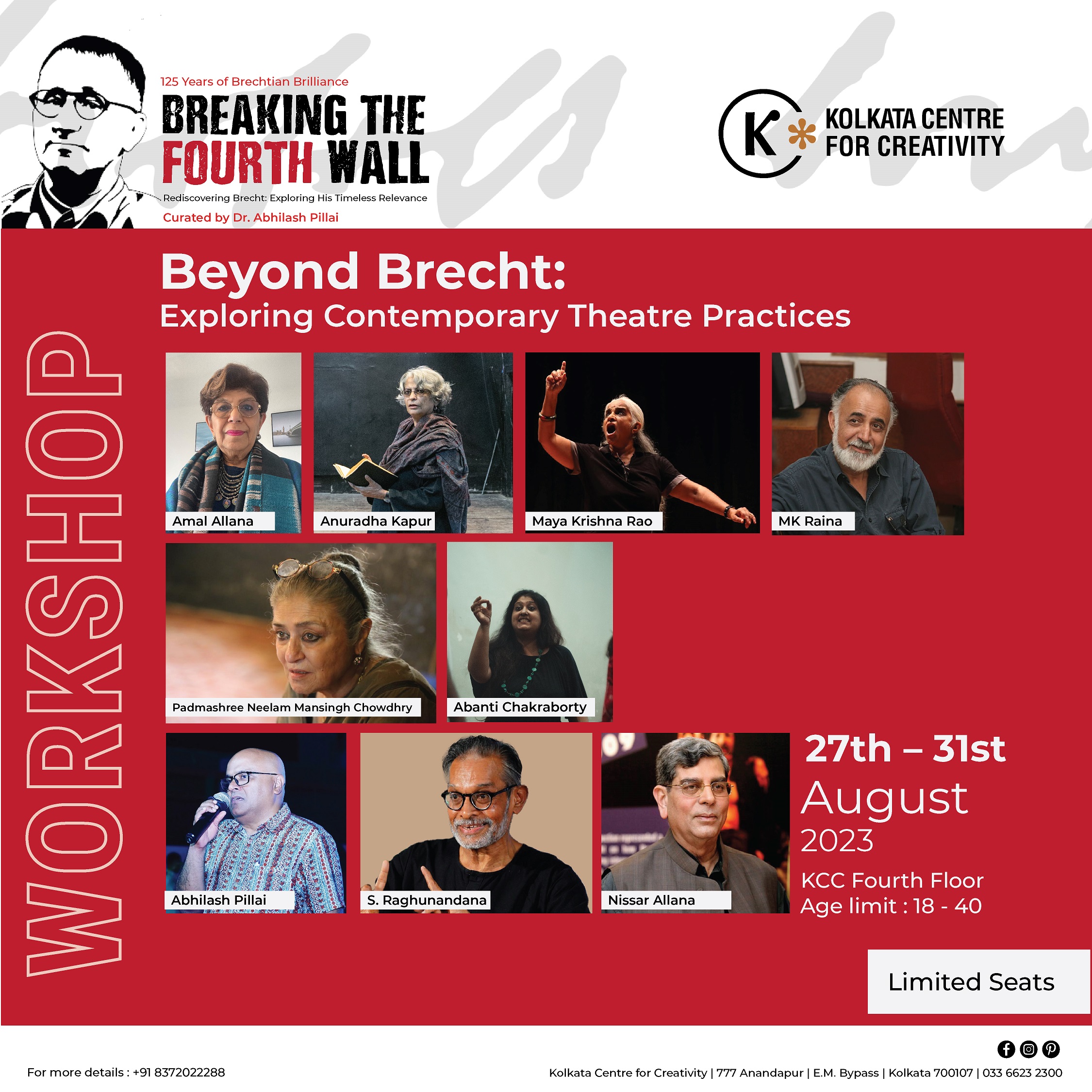 WORKSHOPS
Join us for a series of workshops led by renowned experts in theatre and performance. The individuals leading these workshops possess a wealth of experience in the realm of theatrical works, particularly those of Bertolt Brecht. They bring a unique perspective and contemporary approach to their teachings, which allow participants to gain new insights and explore innovative methodologies of today. These workshops are designed to nurture creativity, expand artistic toolkits, and encourage experimentation. Designed for all levels of experience, these workshops provide a platform for cross-disciplinary exploration and artistic growth. Don't miss out on this exciting opportunity to expand your artistic toolkit and ignite your creativity in a supportive environment.
**Note: This is not a residential workshop. Food and lodging are not included in the workshop fee. 
Click below to reserve your place
REGISTER NOW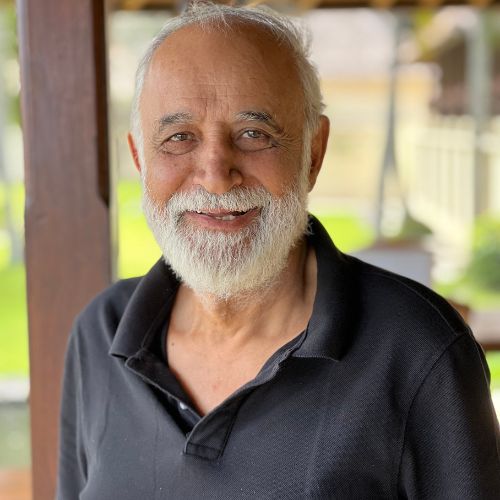 M K Raina
M K Raina is a well-known theatre luminary who has been working in the field of theatre for the last five decades, innovating, studying, analysing, writing, and teaching. He has worked extensively in both contemporary and traditional theatre in South Asia and has been instrumental reviving the traditional folk theatre of Kashmir, the Bhand Pather. He has been on the visiting faculty of several national and international institutions, such as the National school of Drama, Central University of Hyderabad, and Indian Institute of Technology Hyderabad, Indian Institute of Technology of Bhilai, The university of Hawaii USA etc. He has been a fellow at the Stanford University USA and scholar in residence at the Jamia Milia Central Central University, New Delhi.
Apart from teaching theatre, he has also been involved in the academics of theatre and in this connection has presented several papers in seminars both national and International. He is a well-known social and cultural activist and is a founder trustee of SAHMAT, a trust formed to promote communal harmony and social equality. He is also the trustee of the South Asia Foundation, India and artistic director of the theatre group PRAYOG. He has also made documentaries and films for various National and International Channels. For his long term contribution to theatre, he has been the recipient of several awards including the Sangeet Natak Akademi award, The Sahitya Kala Parishad Samman, The Sanskriti Award, The BV.Karanth life time achievement award and the Shikhar Samman.
Throughout his years of work in theatre his work with various children and children organisations has been of special interest for him. He Worked with Bal Bhavan and central children's Museum New Delhi, Government of India's Literacy campaigns in rural India. Bharat Gyan Samati and many more. Apart from this, his work with the orphan children of Kashmir during the height of militancy and with Sex workers children in Kolkata is very significant contribution of using theatre as an agent of change in conflict zones of India.
As an actor he has acted in more than 100 theatre productions and has conducted more than 150 theatre work shops across India in 12 regional languages including South Asian Countries. In cinema he has been part of parallel cinema movement and worked as an actor with directors like Mrinal Sen, Mani Kaul, Kumar Shani, Bhudhadev Dasgupta, Ketan Mehta, T S Ranga, Sudhir Mishra, Shonak Sen, Dai, etc. In the main stream cinema worked in the Amir Khan, Aditya Chopra, Kabir Khan, Govind Nihlani, Arjun Dutta and many more.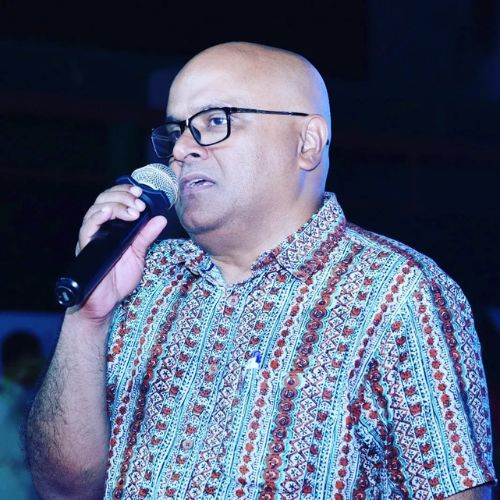 Abhilash Pillai 
Prof. (Dr.) Abhilash Pillai, is an alumnus of the School of Drama, Calicut University, National School of Drama, New Delhi, Royal Academy of Dramatic Art, London and PhD from JNU, New Delhi. Dr Pillai is a play director, pedagogue and scholar of contemporary Indian theatre and has directed several plays in various Indian and international languages. Dr Pillai is credited as one of the initiators of digital theatre in Modern Indian Drama. His works draw on a wide array of materials ranging from the traditional and classical to the modern, but all of them are presented in a modernistic aesthetic style. He has contributed articles on theatre in leading publications in both national and international; and has attended seminars and conducted workshops in different regions of India and abroad. He has been involved in several collaborations, both international and national. He has initiated the first-ever collaboration in India connecting NSD and the Grand Circus, Kerala, culminating in a production he directed, Clowns & Clouds.  
He has also written a biographic book titled C.N. Sreekantan Nair – A Vision and Mission of a Theatre activist - published by the Central Sahithya Akademi.  Besides, he was a member of various visiting faculties in Indian and foreign institutes. He was a member of the board of studies at different Universities in Delhi and Kerala. He was the Professor of Acting & Direction and In-Charge of the Cultural Exchange Program at the National School of Drama, New Delhi, for nearly 20 years. Recently, he was also the Executive Director of the Asia Theatre Education Centre (ATEC) Central Academy of Drama, Beijing, China. Currently, he is the Director of School of Drama and Fine Arts at University of Calicut in Thrissur. Abhilash, along with other awards, has been honoured with the Sanskriti Award 2002-03, National School of Drama's Manohar Singh Smriti Purskar- 2009 and Kerala Sangeet Natak Award-2012 for his achievements in the field of theatre.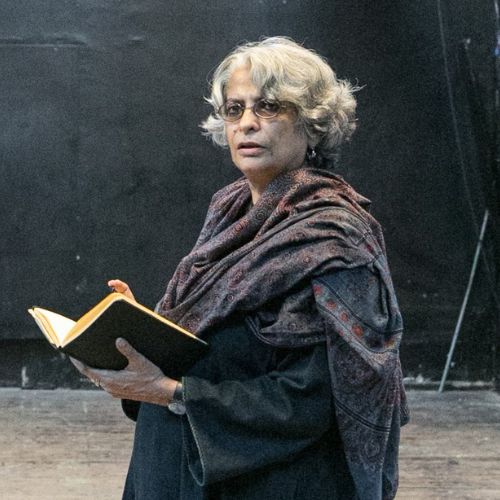 Dr Anuradha Kapur
Anuradha Kapur is an Indian theatre director and professor of drama. She taught at the National School of Drama for over three decades and was the Director of National School of Drama for six years (2007–2013). For her work as a theatre director, the Sangeet Natak Akademi Award was conferred on her in 2004. In 2016, she was awarded the J. Vasanthan Lifetime Achievement Award for excellence in theatre. Her work as a director is noted for its open and interactive nature. Her theatre work has travelled nationally and internationally, and she has taught in theatre schools and universities in India and abroad. In 1981, Kapur joined the faculty of NSD as associate professor. She later became professor, and stayed with NSD until her superannuation. During this period, she taught many students who went on to make a mark in theatre and cinema. Some of them are Seema Biswas, Irrfan Khan, Rajpal Yadav, Nawazuddin Siddiqui and Adil Hussain.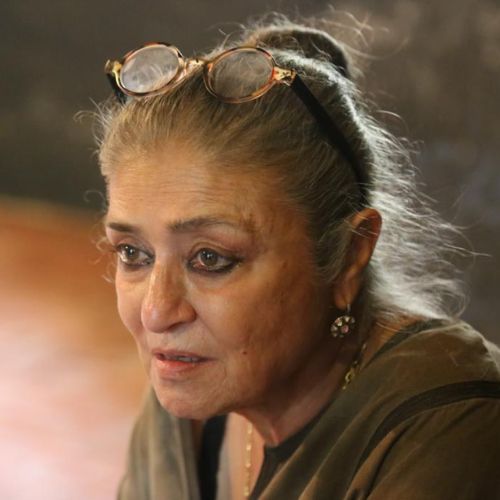 Padmashree Neelam Man Singh Chowdhry

Neelam Man Singh Chowdhry has a Master's degree in the History of Arts as well as a diploma from the National School of Drama. In 1979, she moved to Bhopal and was attached to The Rang Mandal, a theatre repertory attached to the Multi-arts Complex, Bharat Bhavan. In 1984, she moved to Chandigarh where she set up her own theatre company called 'The Company.' Alongside the Company, she has also been teaching in the Department of Indian Theatre, Panjab University and was also the Chairperson.  Her well-known plays include Kitchen Katha, The Suit, Yerma, Nagamandala The Mad Woman of Chaillot, Little Eyolf, Bitter Fruit and Naked Voices, Gumm Hai, Black Box, Trunk Tales and Hayavadana to name a few. The group has participated in major national and international festival. Dr. Chowdhry is the recipient of several awards including the Sangeet Natak Akademi Award in 2003, and the Padma Shri (2011). She is presently Professor Emeritus at the Panjab University.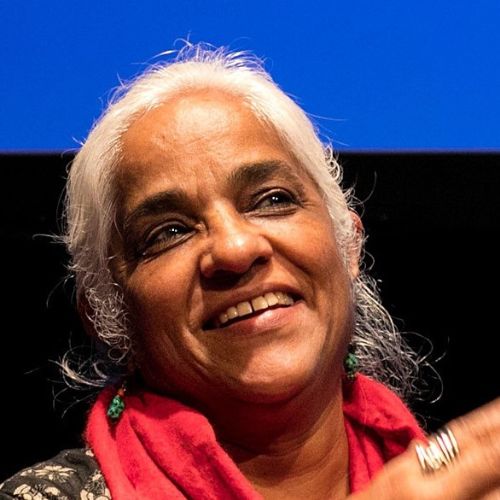 Maya Krishna Rao

Maya is theatre maker and teacher. She devises performances that range from dance theatre to comedy and cross media. Her teaching practice focuses on the areas of performance making and applied theatre. Maya has taught at NSD and Shiv Nadar University where she designed and taught a post graduate Diploma program, TEST - Theatre for Education and Social Transformation, a first of its kind in India. She was also visiting faculty at Ashoka University.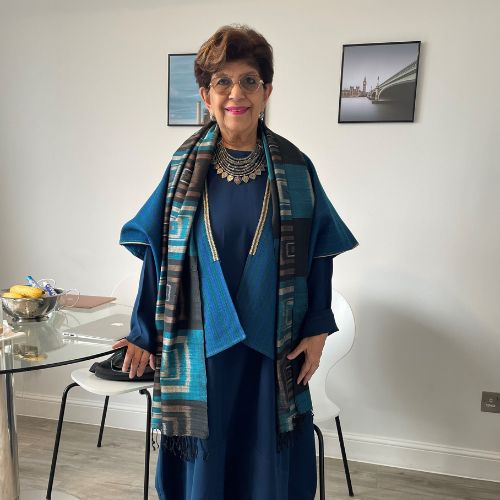 Amal Allana
A renowned theatre director, Amal Allana has directed over 60 plays for the stage, several plays and series for television.  She has taught theatre, designed costumes for stage and film, curated various exhibitions, researched and written on theatre. As Chairperson of the National School of Drama, New Delhi (2005-2013), Head of the Department of Indian Theatre, Punjab University, Chandigarh (1977-78) Amal has contributed to the scope of theatre education.  The Dramatic Art & Design Academy (DADA) and Theatre & Television Associates (TTA) are two companies established by Amal and her husband, Nissar, for the dissemination of theatre. She is recipient of several national & International awards for her contribution to theatre, including the Sangeet Natak Academy Award for Direction in 1998.
 After graduating from the NSD she spent two formative years in the GDR between 1969-71, pursuing her interest in Bertolt Brecht. She was a Student Observer at the Berliner Ensemble, Volksbuhne, National Theatre Weimar, and the Schauspielhaus in Dresden. And had the opportunity to attend rehearsals of entire productions from start to finish of GDR's most outstanding directors including Benno Besson, Manfred Weckwerth, Riuh Berghaus and Fritz Bennewitz among others.Returning to India with Fritz Bennewitz , she was assistant director to him on Three Penny Opera he directed for NSD in 1970.
Amal's   theatrical vocabulary as a director have been significantly inspired and shaped by the ideas and philosophy of Bertolt Brecht, along with those of Indian and Asian performing traditions. Her notable productions where she has transformed and integrated these influences into the dramaturgy of her non Brecht texts, can be seen in in her productions of Aadhe Adhure, Khamosh Adalat Jari Hai, Mahabhoj, King Lear, Begum Barve, Sonata, Erendira & Her Heartless Grandmother, Nati Binodini, Metropolis etc. Her productions of Brecht texts include The Elephant Calf, A Mans a Man, The Good Person of Setzuan, The Three Penny Opera, The Exception and the Rule, Aurat Bhali Ramkali (The Good Person of Setzuan), Atank ke Saye (The Private Life of the Master Race) Himmat Mai (Mother Courage).
Amal's interest in art has led to her to the Directorship of   Art Heritage Gallery, New Delhi since 2010 where she has curated and designed over 20 art exhibitions. In 2016 Amal has curated an extensive theatre exhibition on the life and work of her father Ebrahim Alkazi on the occasion of his 90th year.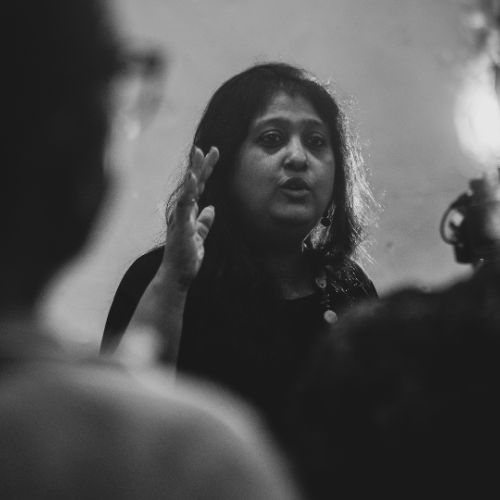 Abanti Chakraborty 
Abanti Chakraborty is a practicing theatre director and acting teacher. She is a Bismilla Khan  Yuva Awardee for direction from Sangeet Natak Academy and Shambu Mitra awardee from West Bengal Govt , ministry of culture. Abanti,a special directing fellow from Yale School of Drama 2010, has directed several plays in Bengali with notable theatre actors and those were produced by prominent theatre groups in Kolkata. She has directed 'A Midsummer Night's Dream, Three Sisters, A Street Car Named Desire, Nagamandala, Troy, Sakharam Binder, The House of Barnarda Alba, and most recently Binodini Opera which is running successfully in theatres now. As a teacher she was invited in various prestigious institutes to train actors like National school of drama (Delhi and Sikkim), FTII Pune Acting Department, Bhartendu Natya Academy (Lucknow ) and many other places. Abanti was also an artist in resident in Academia Dell Arte, Italy and she was invited to direct Rabindranath Tagore's Raja for Sangeet Bhavana, Visvabharati University in the year of 2019. In Bhartendu Natya Academy she took extensive classes on 'Allination Effect'.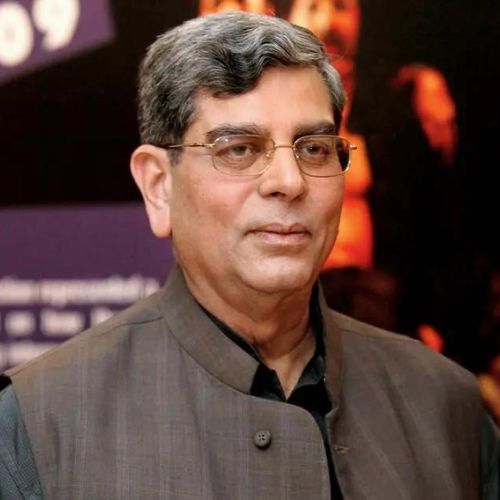 Nissar Allana 
Nissar Allana is a renowned scenographer, theatre designer, and light designer and has designed sets & lights for over 70 theatre & television productions to date, for well-known directors like Richard Schechner, Amal Allana, Rolf Stahl, Egil Kipste, Amal Allana and others. He trained at the Schaubuhne in Berlin, in 1975. He was appointed Fellow of the Theatre Department at Punjab University, Chandigarh in 1977, and teaches scenography at a number of theatre departments across the country. 
Nissar Allana has designed the Son-et-Lumieres at the Golconda Fort and Port Blair. He was the Set Decorator for Richard Attenborough's film 'Gandhi'. He has designed sets & lights for Operas "Fakir of Benaras" by Muzaffar Ali, and "The Pearl Fishers" by Patricia Panton. He has designed & curated exhibitions on 19th Century painted theatre scenery from Maharashtra "Painted Sceneries", on 20th Century scenography, "The Designer in the Theatre" in Mumbai and Chandigarh, and "Indian Theatre" at The Lincoln Centre in connection with the Festival of India in the USA. Also designed an exhibition, "The Theatre of E. Alkazi" at Lalit Kala Akademi, The National Gallery of Modern Art, Mumbai and the Jawahar Kala Kendra, Jaipur.
Dr. Allana has received the prestigious Sangeet Natak Akademi Award, the Delhi Natya Sangh Award and a Scroll of Honour by the Delhi Medical Association for his contribution to Theatre and to Stage Design. Since 1971, he, along with his wife, Amal Allana has founded 3 theatre companies, The Workshop, Studio 1 and Theatre & Television Associates and one theatre training academy, The Dramatic Art & Design Academy (DADA). He is the member of the Visiting Faculty at the National School of Drama, the Bharatendu Natya Akademi, Lucknow, as well as guest lectures at in Kala Academy, Goa, Imphal, U.C. He was also the contributing editor to The Drama Review (TDR), a theatre magazine edited by Richard Schechner. He has designed and produced various exhibitions including – the inauguration of the Festival of India in the USA, a photographic exhibition on India at the Pushkin Museum, Moscow, and for other television and performing arts festivals in the UK & USA, produced the inauguration of the Asian Track & Field Meet for an audience of about 80,000 at the JL Stadium, with 2400 performers.
He was the art Director of 2 major television series, "Famous Court Trials- Raj Se Swaraj", and "Mullah Nasruddin" and also designed 4 television plays. He was also the Festival director for the Delhi Ibsen Festival 2008 – 2012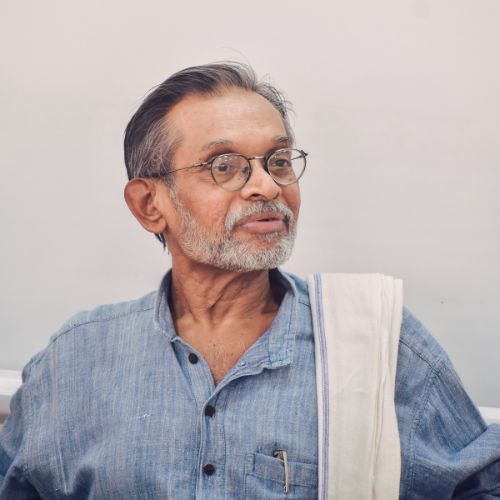 S. Raghunandana 
1957 born Kannada poet, playwright and stage director. Has directed productions in Kannada and in Hindustani, Telugu and Malayalam. Visiting faculty and stage-director at NSD, New Delhi, and Bengaluru; Ninasam Theatre Institute, Heggodu; School of Drama, Thrissur; Drama School Mumbai; GCPAS, Manipal University; and Krea University, among other institutions. Has designed and directed major productions of plays by Bhasa, Shudraka, Masti Venkatesha Iyengar, Samsa, Thoppil Basi, Omcheri Narayana Pillai, P. Lankesh, Sriranga, G.B. Joshi, Shivarama Karanth, G. P. Rajaratnam, M.R. Sreenivasmurthy, Jayant Kaikini, and Brecht, Shakespeare, Chekov, Ibsen, Beckett and G. B, Shaw, among others, and those written by himself; and productions based on poetry written by Pampa Mahakavi, Siddalingaiah, Da. Ra. Bendre, and Sediyapu Krishna Bhat, among others. 
Has adapted, or translated into Kannada plays by Odets, Brecht, Ibsen, Beckett, Euripides, Chekov, Ionesco, Bhasa, Kalidasa, and G.B. Shaw. Has published poetry and prose widely in Kannada publications, and essays in English journals.