Ramjhol 1.0 – Rajasthan: Yesterday, Today and Tomorrow
Welcome to Ramjhol 1.0 – Rajasthan: Yesterday, Today and Tomorrow – a joyous celebration of Rajasthan's rich culture and heritage from 18 to 20 August 2023 organised by Kolkata Centre for Creativity. 
The festival aims to explore all aspects of creativity and endeavour, including art, language, literature, theatre, film, craft, design, architecture, and history. The festivities culminate in three exciting days filled with captivating performances, insightful workshops, engaging talks, and mesmerizing exhibitions, all with a focus on nurturing and strengthening Kolkata's ties with Rajasthan and celebrating their shared heritage.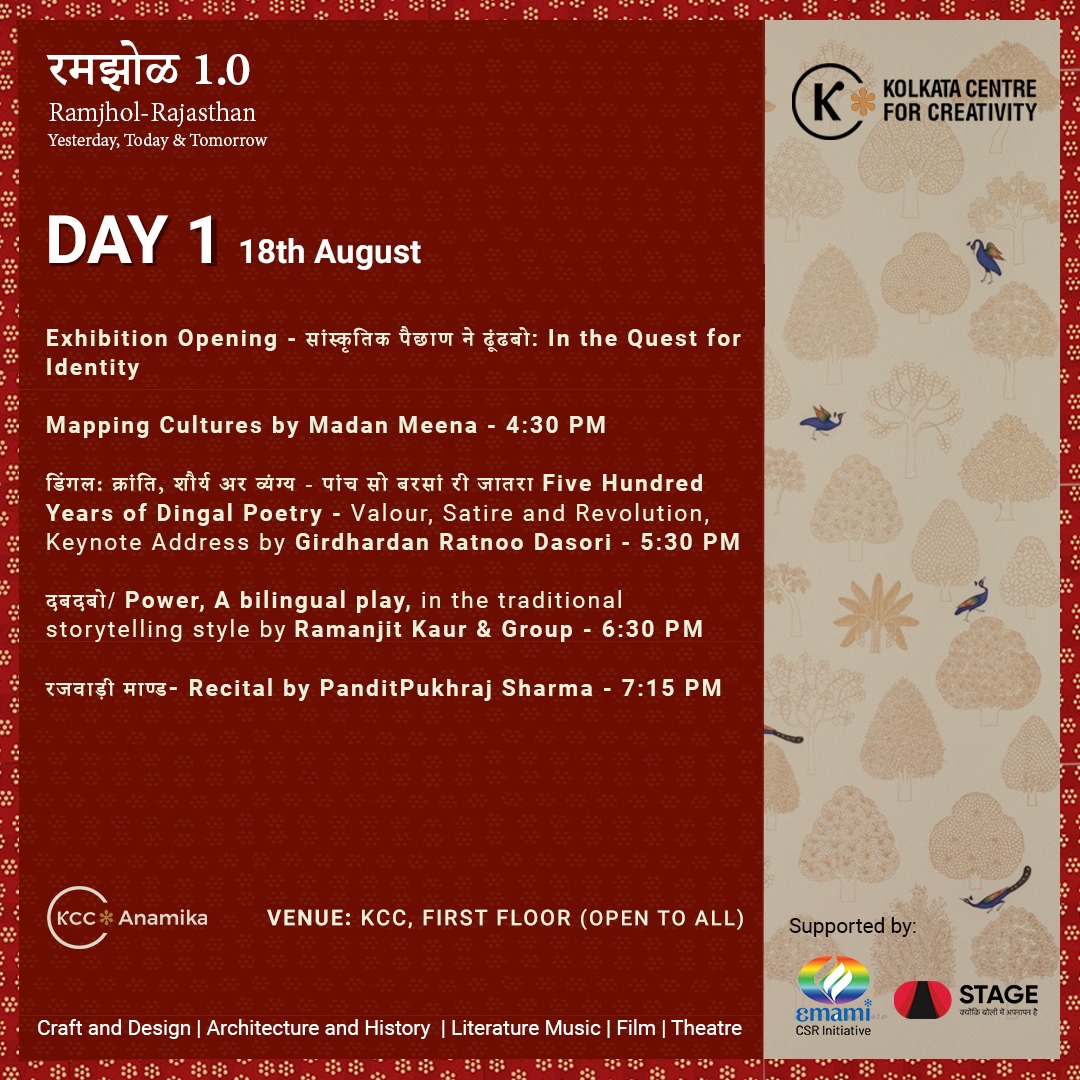 Here's a day-wise snapshot of the vibrant line-up of events and programmes.
Day 1 – Friday, August 18th
Join us for:
-       5:00 pm: Inauguration ceremony
-       'Mapping Cultures' exhibition opening by Madan Meena
-       Keynote address by Ratnoo ji, Dingal poetry scholar
-       Bilingual play 'Baatposi' by Ramanjit Kaur & Group
-       Evening: Rajasthani musical with Pandit Pukhraj Sharma's 'Rajwari Maand' recital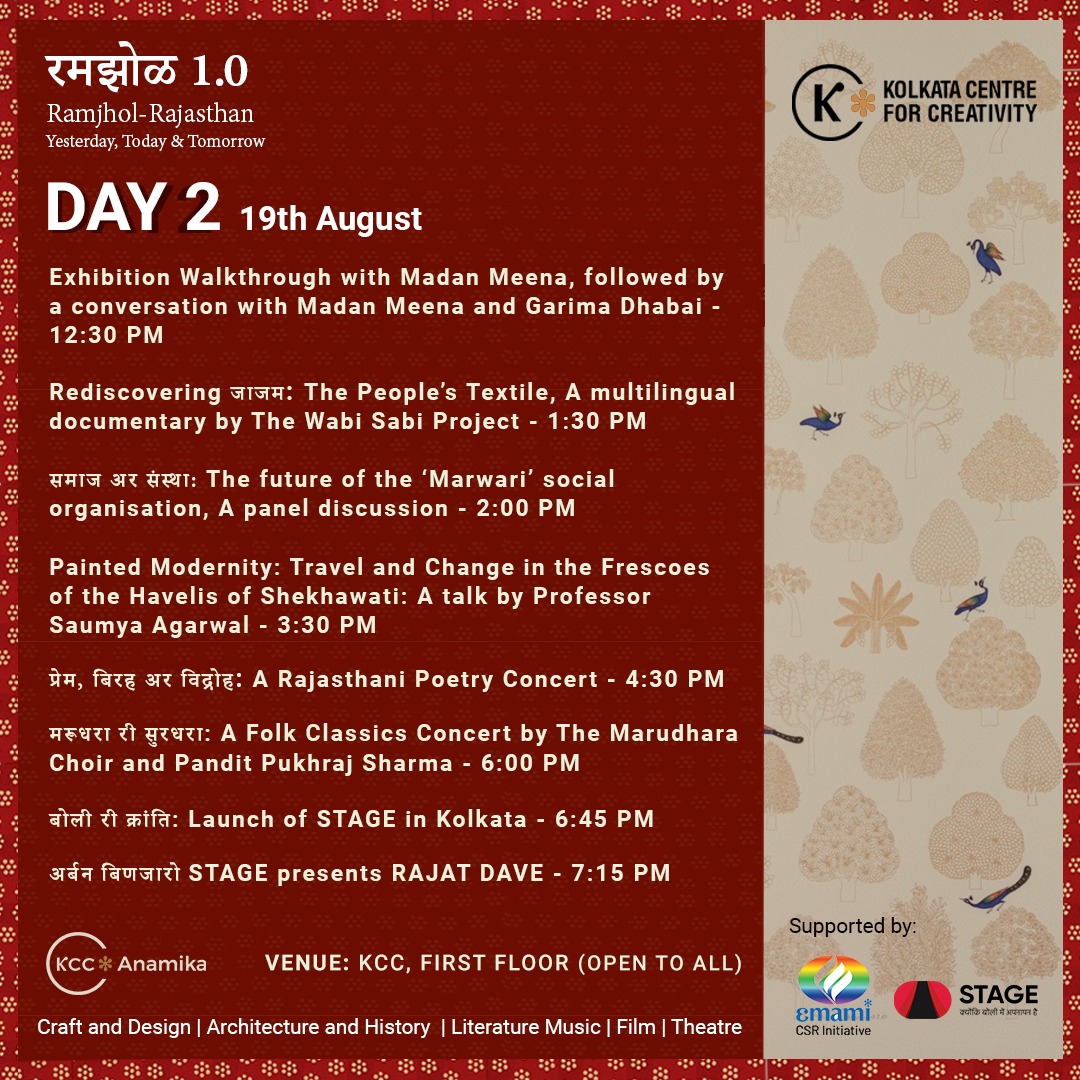 Day 2 – Saturday, August 19th
At 12pm:
-       Exhibition Walkthrough and talk with Madan Meena, moderated by Nandita Palchoudhuri
-       Explore 'Rediscovering Jajam: The People's Textile,' a multi-lingual documentary on Jajam's cultural significance.
During the day:
-       Thought-provoking discussion: 'Samaj Aur Sanstha: The Future of Marwari Social Organization' with Sushil Goenka, Alka Bangar, Pramod Shah, Shiv Lohia.
-       Talk: 'Painted Modernity: Travel and Change in Haveli Frescoes' by Professor Saumya Agarwal.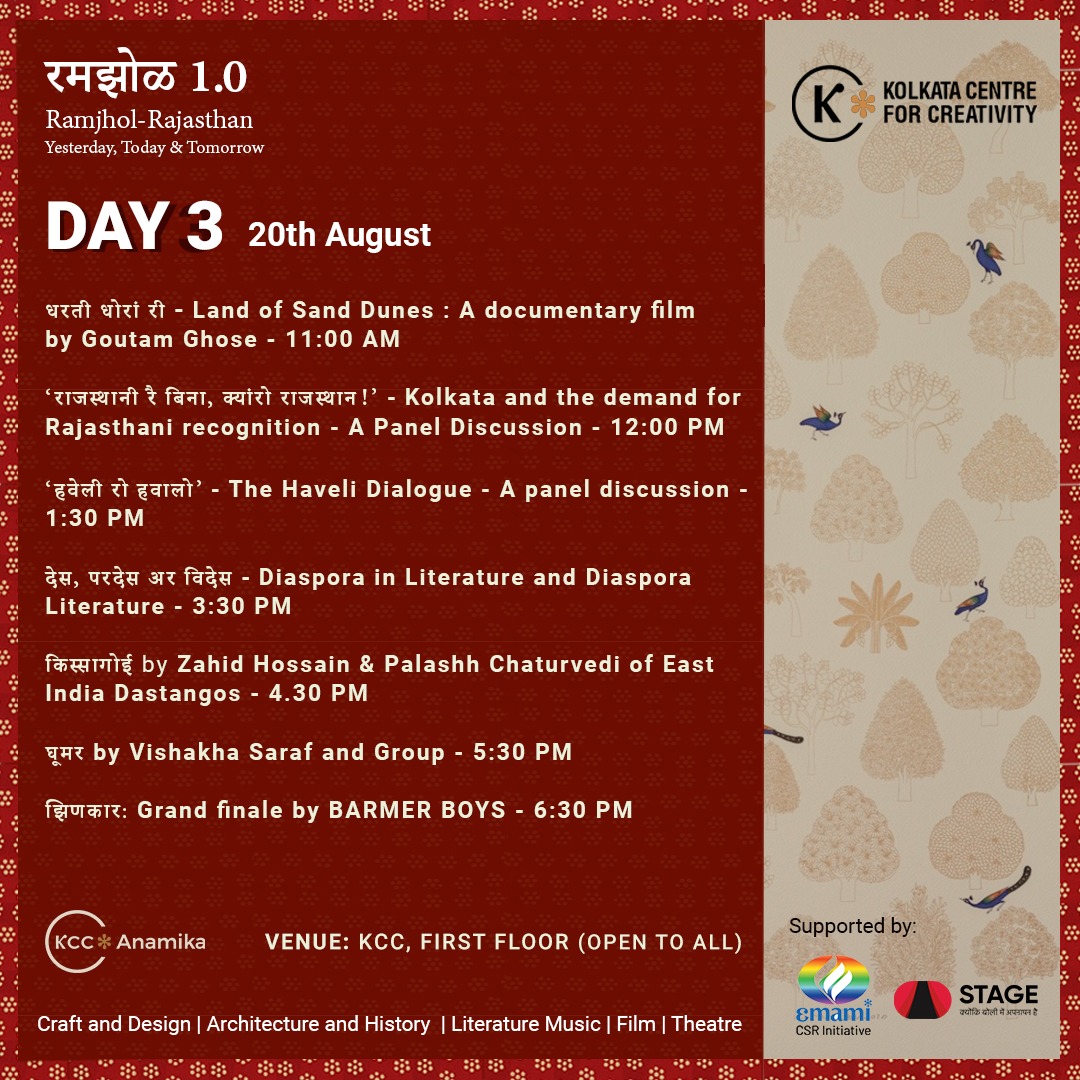 Day 3 – Sunday, August 20th
Join us for:
-       Documentary 'Dharti Dhora Ri – Land of Sand Dunes' on Mahakavi Kanhaiyalal Sethia's life
-       Panel on Rajasthani recognition in Kolkata's future
-       'Haveli Ro Havalo: The Haveli Dialogue' on conserving built heritage.
-       Rajasthan flavors with Millets of Rajasthan at KCC Café.
-       Discussion on 'Des, Pardes Aur Vides - Diaspora in Literature and Diaspora Literature.'
-       Captivating 'Kissagoi' storytelling by Zahid Hossain & Palashh Chaturvedi.
-       Traditional Ghoomar dance by Vishakha Saraf and Group.
Also:
-       Pop-up @ KCC Gallery Store by Rangsutra.
-       Diversity of Rajasthani books at पोथीखानो.
-       Workshops on Pichwai paintings, Phad paintings, and Sanjhi Paper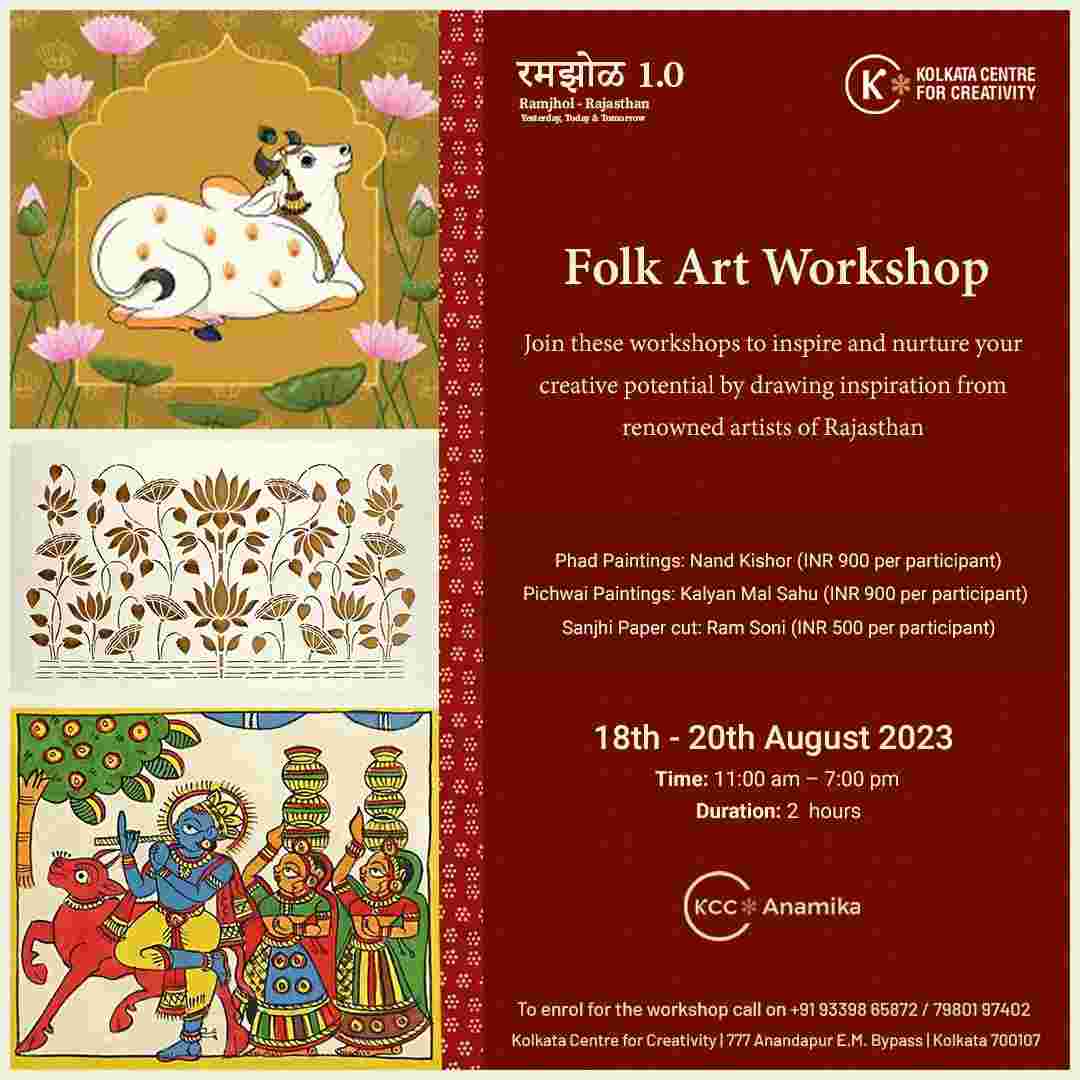 FOLK ART WORKSHOP
Dive into the world of folk art forms, from intricate patterns to expressive paintings, and leave with newfound inspiration.
Date: 18th to 20th August'2023
Time: 11 AM to 7 PM
Venue: Kolkata Centre for Creativity, 2nd Floor, 777 Anandapur, EM Bypass,
Kolkata- 700107 
Workshops: 
- Pichwai Painting by Kalyan Mal Sahu: INR 900/person
- Phad Paintings by Nand Kishor: INR 900/person
- Sanjhi Paper Cut by Ram Soni: INR 500/person 
For queries, contact +91-9339865872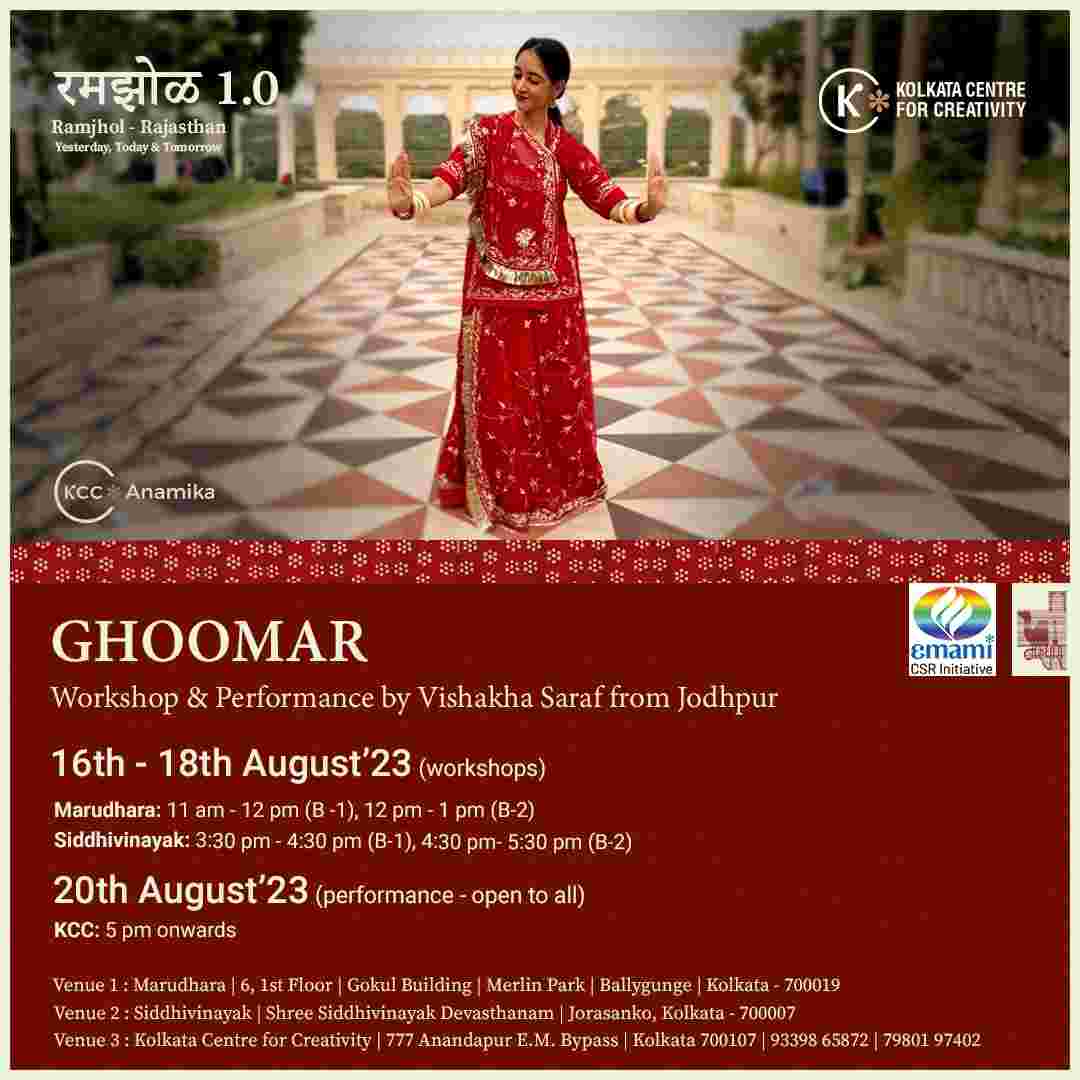 Ghoomar

Book your slot now and join an exciting workshop on Rajasthan's enchanting folk dance Ghoomar by the talented Vishakha Saraf from Jodhpur. 
Vishakha, an extraordinary dance teacher and performer, has a massive global following, with over 125K subscribers on YouTube and 25K followers on Instagram! Prepare yourself to learn the rhythmic beats and graceful moves that will transport you to the heart of Rajasthan. 
Dates: 16th – 18th August 2023 
Marudhara (6, 1st Floor, Gokul Building, Merlin Park, Ballygunge, Kolkata – 700019)
Batch 1: 11am - 12pm
Batch 2: 12pm - 1pm
Fees: INR 1500 per participant
Siddhivinayak (Shree Siddhivinayak DevasthanamMuktaram Babu St, Raja Katra, Singhi Bagan, Jorasanko, Kolkata - 700007
Batch 1: 3:30pm - 4:30pm
Batch 2: 4:30pm - 5:30pm
Fees: INR 900 per participant
Vishakha and her students from the workshop will be performing on 20th August, 2023 at KCC from 5:00 pm onwards. This is open to all!
For more information please contact: +91 93398 65872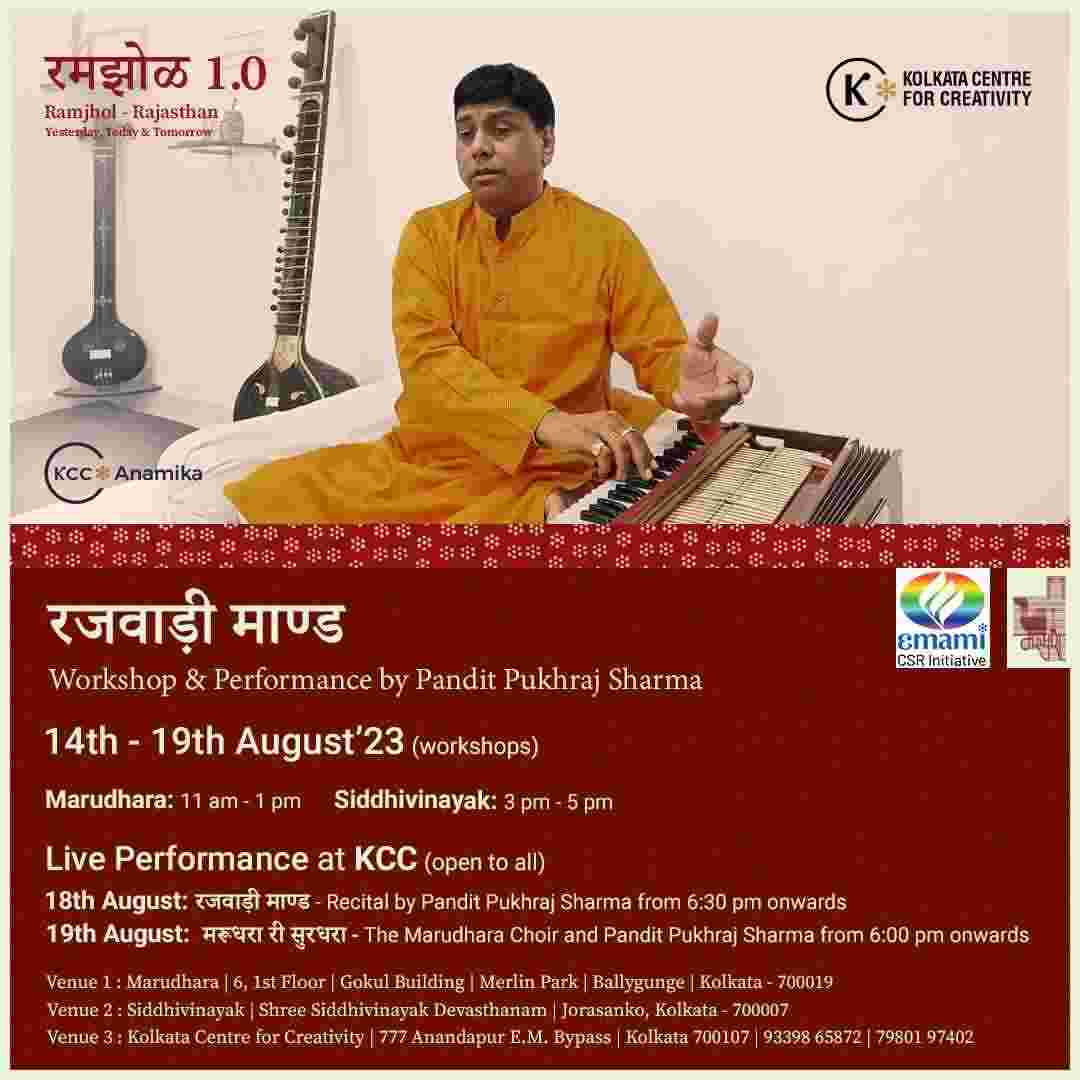 रजवाड़ी माण्ड by Pandit Pukhraj Sharma 
Register for an exclusive workshop for recital of the light classical Maand style of music, that will take you back to the courts of Rajasthan.     
Dates: 14th – 19th August 2023 
Venue 1 
Marudhara (6, 1st Floor, Gokul Building, Merlin Park, Ballygunge, Kolkata – 700019)
Time: 11am - 1pm
Fees: INR 2100 per participant
Venue 2
Siddhivinayak (Shree Siddhivinayak DevasthanamMuktaram Babu St, Raja Katra, Singhi Bagan, Jorasanko, Kolkata – 700007)
Time: 3pm – 5pm
Fees: INR 1500 per participant
Live Performance at KCC (Open to all)  
18th August रजवाड़ी माण्ड - Recital by Pandit Pukhraj Sharma from 6:30 pm onwards 
19th August मरूधरा री सुरधरा- The Marudhara Choir and Pandit Pukhraj Sharma bring to us some evergreen folk classics. From 6:00 pm onwards
Venue: Kolkata Centre for Creativity 1st Floor 777 Anandapur, E.M. Bypass, Kolkata 700107 
For more information, please contact: +91 93398 65872