With Love, Aap Ki Saiyaara
WITH LOVE, AAP KI SAIYARAA
Welcome to the world of 'With Love, Aap Ki Saiyaara,' a thought-provoking play that delves into the identities of modern Indian women. This captivating production; written, directed and acted by the vivacious Juhi Babbar Soni will grace the stage at Kolkata Centre for Creativity's Amphitheatre on the 23 and 24 September, 6pm to 7.30pm.
The play has received accolades from Javed Akhtar, Anupam Kher, Shabana Azmi, Anurag Kashyap, Vishal Bharadwaj, Gurdas Maan, Renuka Shahane, Divya Dutta, Alka Yagnik, Satish Kaushik, Adil Hussain, and several others.
"Watched a beautifully written, directed, produced and enacted play #WithLoveAapKiSaiyaraa by the talented Juhi Babbar. Juhi was amazingly spontaneous, charming, and in full command of the performance and language! Must watch play"– Anupam Kher
"Juhi. it was such a great experience to see you performing Saiyaraa. It is a beautifully written and directed play and you as Saiyaraa exploring the identity of modern Indian woman was brilliant" – Satish Kaushik
"She is like a miracle happening on the stage" -Farida Jalal
"I loved the play, I loved the performance, I loved the writing, I think I loved everything about the play"- Vishal Bharadwaj
"Juhi held the stage for one and a half hour. I am still under the spell. It is a complete play" - Hansal Mehta
'With Love, Aap Ki Saiyaara' is a celebration of women's resilience, courage, and achievements. The play centers around Saiyaara, a survivor, fighter, and achiever. She embodies the complexities of a modern Indian woman, seamlessly juggling her roles as a skilled businesswoman, a prolific writer, and someone who dreams without bounds. Her perspective on 'men, marketing, and mores' is refreshingly candid, adding a touch of sweetness and spice to every interaction. What makes this play truly unique is its conversational approach that invites the audience to become a part of the performance, making the experience both intimate and immersive.
The play goes beyond entertainment; it's a journey of empowerment that resonates with all individuals. The stories and struggles portrayed on stage reflect the diverse experiences of women in contemporary Indian society.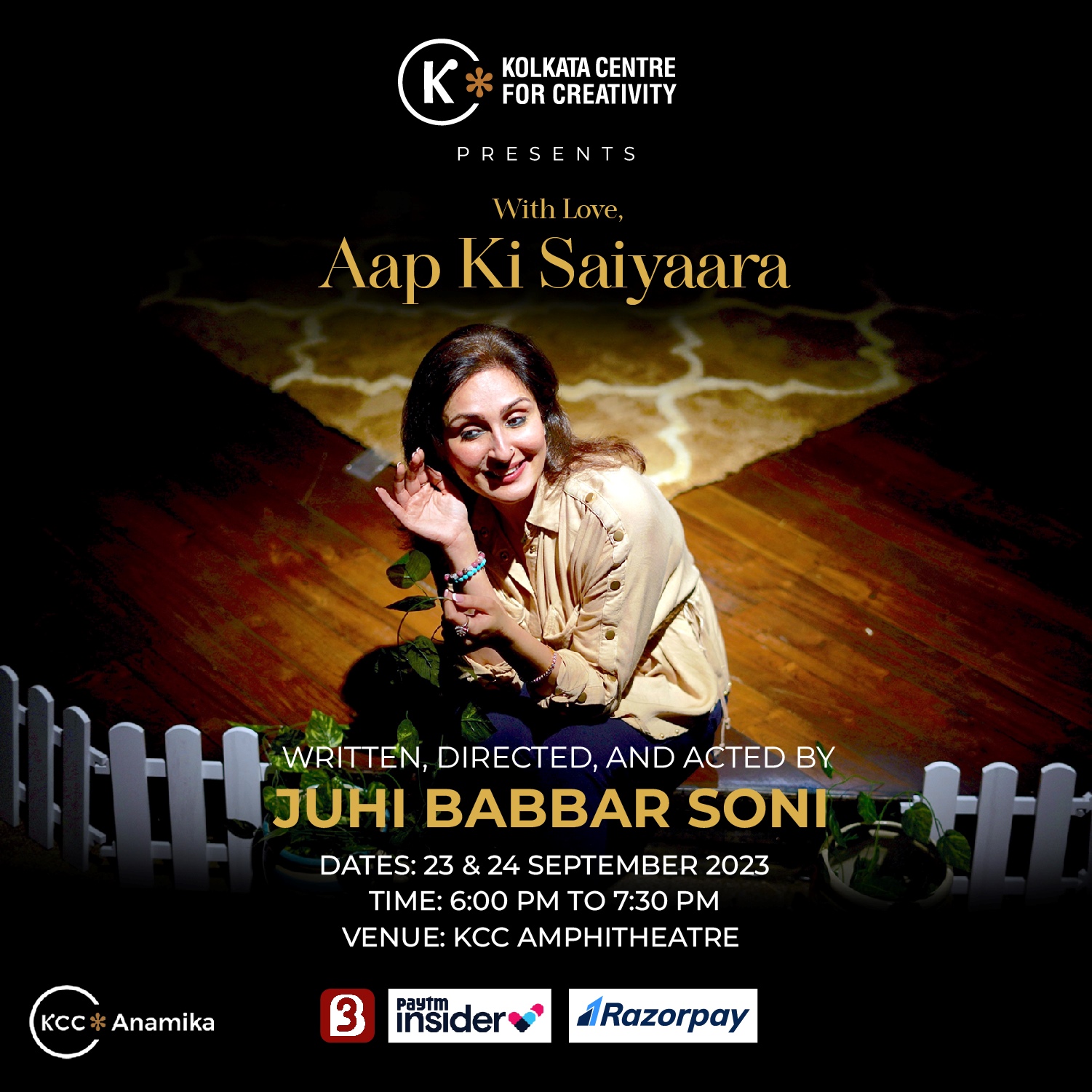 Why Attend:
Juhi Babbar Soni is an actor, writer, director and acting coach. She is the daughter of film and theatre veterans Raj Babbar and Nadira Zaheer Babbar. 
Juhi has been honoured with the National Award - Sangeet Natak Akademi Ustad Bismillah Khan Yuva Puraskar for service to Indian theatre. She was the Theatre Curator for the world's largest free art festival, The Kala Ghoda Arts Festival for seven years.
She has represented India in The South Asian Association for Regional Cooperation - SAARC's Women Entrepreneur Seminars internationally.
Her film Faraaz by Hansal Mehta premiered at London film festival and is now on Netflix. Also her web series by Endemol will be on a prominent OTT platform soon. Juhi has another film release in the next few months, produced by Alvira Agnihotri and Salman Khan.
Juhi's play 'With Love, Aap ki Saiyaara' written, directed and enacted by her is one of the most successful plays Hindi theatre has witnessed in recent times. 
Ticket Information:
Regular Ticket: INR 500/-
Early Bird Ticket: INR 300/-
For bulk bookings (groups of 25 or more), please call +91 9830074073.
Venue: KCC Amphitheatre, Behind Fortis Hospital, Anandapur
Book Now
Or,
Book your tickets from here:
Book now
For inquiries and more information, call us on +91 9674140905 or write to kcc@akst.org.in