Where Lines Meet ( KAL 6.0)
Bharatnatyam, a dance form bound in a rigid discipline and movement of the palm leaf puppet (Tal Patar Sepoy), though controlled by the puppeteer yet remains uncontrolled Together these two styles can have an influence on a dancer's body and can also inspire each other and might create a new form. This concept has been explored and it will be presented through an experimental performance in a theatrical way.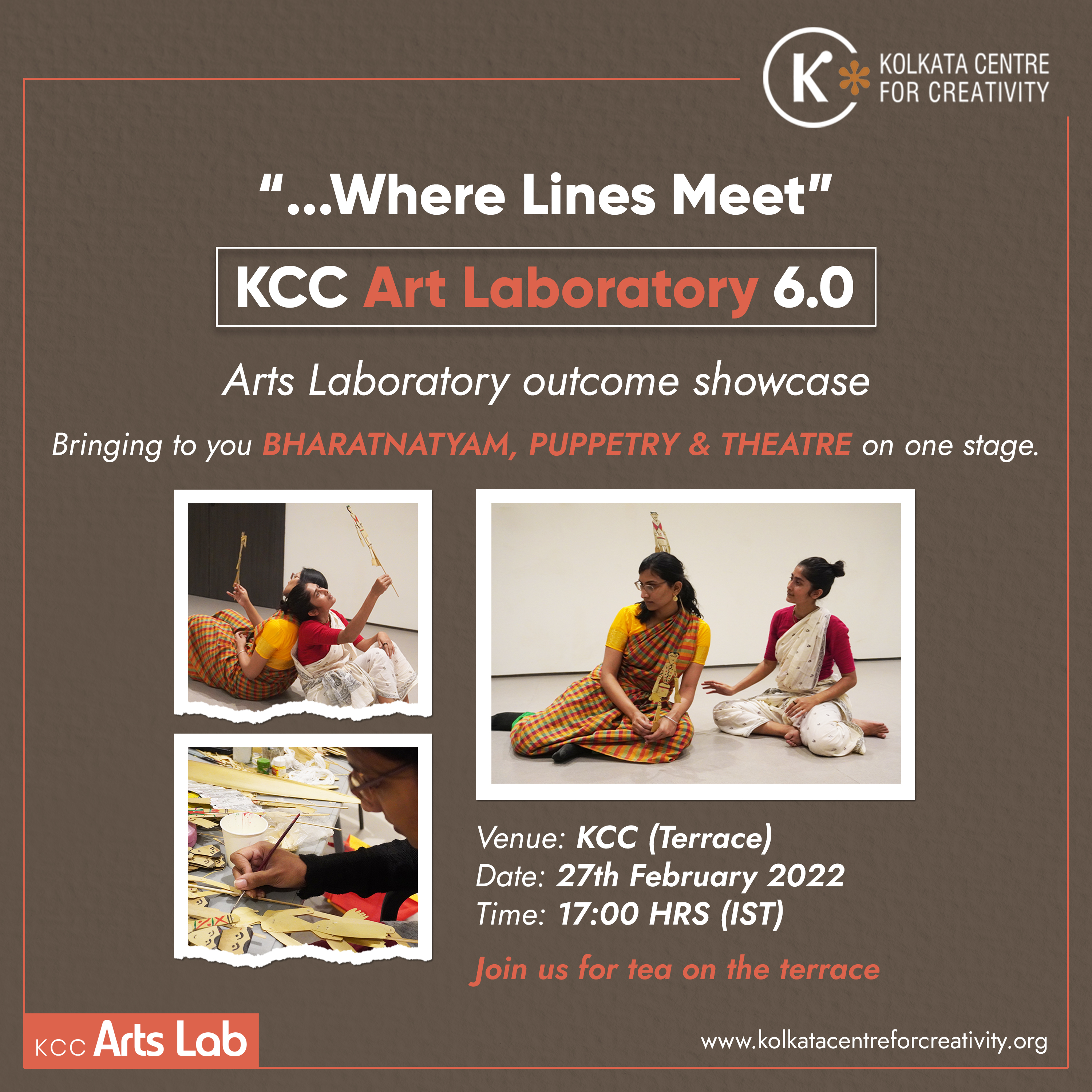 Platform - KCC (Terrace)
Date - 27th February, 2022
Time - 5 PM onwards
Madhyama Halder -  completed M.A in Bharatanatyam from Rabindra Bharati University, in 2015. In 2016, the Eastern Zonal Cultural Center, Kolkata (EZCC) certified her as 'Grade A' Bharatantyam dancer. She has been regularly performing Bharatanatyam recitals—solo, duo and group—since 2013. Of note, she has performed 'Imrovised Bharatantyam', 'Padam', and 'Thilana' at the Guru Govindan Kutty Dance Festival (West Bengal Dance Group Federation 2017), and 'Alaripu, Varnam, and Thilana' at Stars of tomorrow (West Bengal Dance Group Federation, in 2018). 
As a stage actor she has acted in theatre in the following plays: • Shironam by Kheyali Dastidar, Charbak (2017); • Ekti Uttaradhunik Samajik Pala by Joyraj Bhattacharya, Theatre Formation Probortok (2018); • Dakghor – In search of Amal by Arko Mukhopadhyay(2019); • Hidimba by Titas Dutta, Samuho (2019). Side by side I got a chance to work with an NGO who works on Waterbodies. As a dance practitioner, I am keenly interested in exploring body movement, visual and sound. One such project is City-folk that draws from the common movements of people living in the city and the city-specific sounds. So far, I have created three dance films on the same theme.       
Sourami Mukherjee
- a senior disciple of Smt. Sujatha Ramalingam, is a dedicated young Bharatanatyam soloist from Howrah. An
M.Sc
in Chemistry, she has also completed Post Graduation in Bharatanatyam from Tamil University. She has also learnt kathak. She was conferred 'Sangeet Bivakar' in recognition of her merit in kathak nritya by Bangiya Sangeet Parishad. She has performed in various national and international dance festivals.She is also learning 'Sadir Attam' at Ranga Mandira. She is also undergoing training in Contemporary dance. Sourami loves to experiment and is always full of ideas to dance to new texts and concepts without the limitations of language or religion. She has composed her own repertoire which includes compositions from Bengali baul song and Sufi compositions in addition to the traditional pieces. 
Madan Mohan Dutta is a 'Taal Patar Sepoy' puppeteer based in Guskara, Burdwan, West Bengal. Inspired by his father Dol Gabinda Dutta's practice of making the traditional puppets made out of Palm leaf, Madan Mahan created varieties of puppet, deriving from contemporary affairs and discourses. His creation of women soldiers and tiger puppets are interesting addition to the repertoire of palm leaf puppets. All his life, he has represented this Bengal-tradition to many national and regional platforms. Madan Mohan has shared his knowledge of the traditional puppet in interviews by different media platforms namely Zee Bangla, Doordarshan, TV9 etc. He has been awarded State Award for Hostosilpo for his outstanding contribution in arts by West bengal Government.