The Legacy of Loss: Perspectives on the Partition of Bengal
The Legacy of Loss: Perspectives on the Partition of Bengal examines the Great Divide of 1947. It aims to capture the trauma inflicted upon a generation, and its scarring effects on the lives of successive generations. In the exhibition the power of human bonding to land and community beyond arbitrarily drawn political borders will be explored alongside the vital role of memory. The collateral programs will include curated talk sessions on Partition.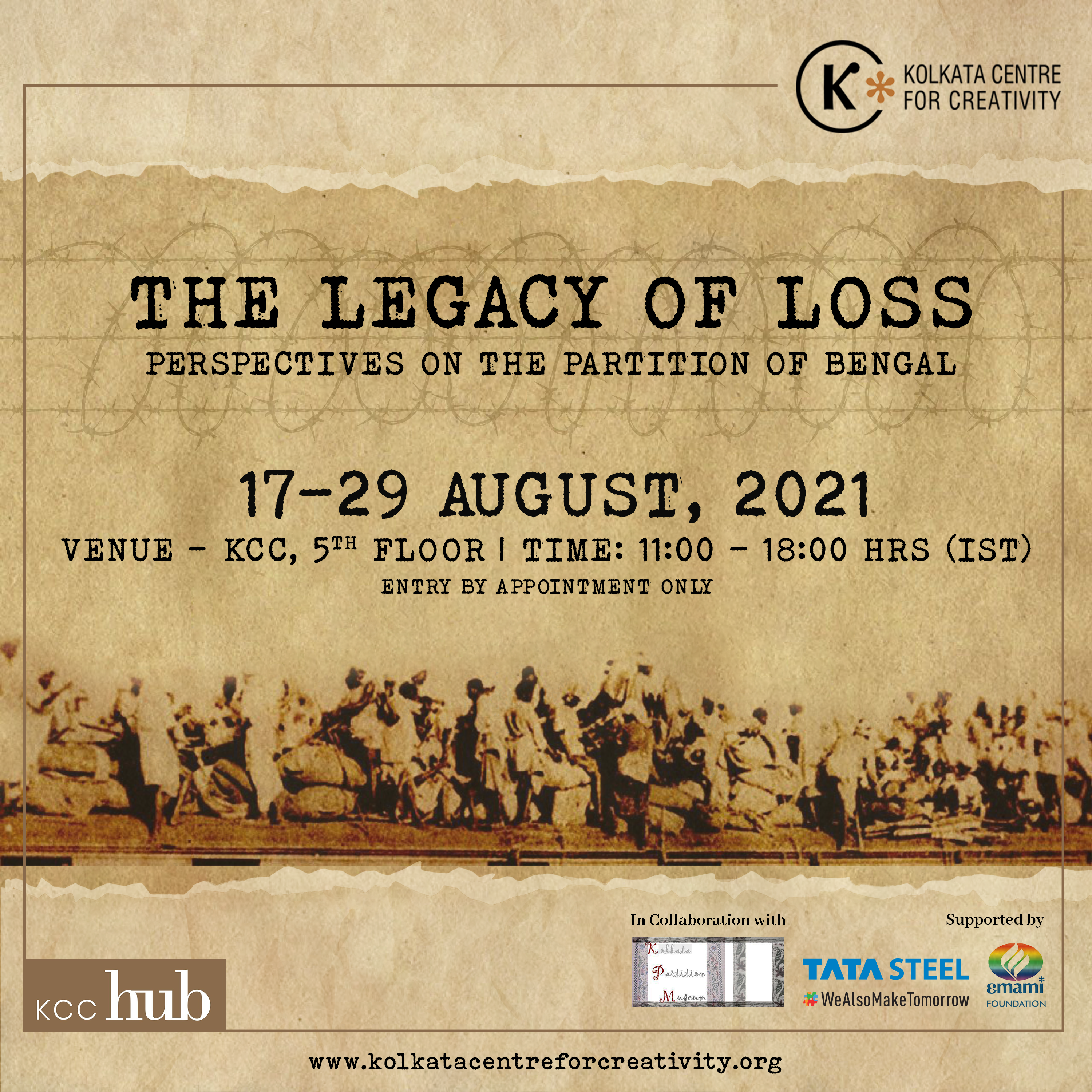 Date - 17th to 29th August, 2021
Time: 11:00 - 18:00 Hrs (IST)

Floor - KCC Physical Space , 5th floor
Name of the Participating Artists - Dr. Paula Sengupta (Artist, Academician, Curator), Vinayak Bhattacharya (Asst. Prof. College of Art & Design, Burdwan), Debasish Mukherjee (Artist, Poet, Photographer), Amritah Sen (Artist), Dilip Roy (Artist)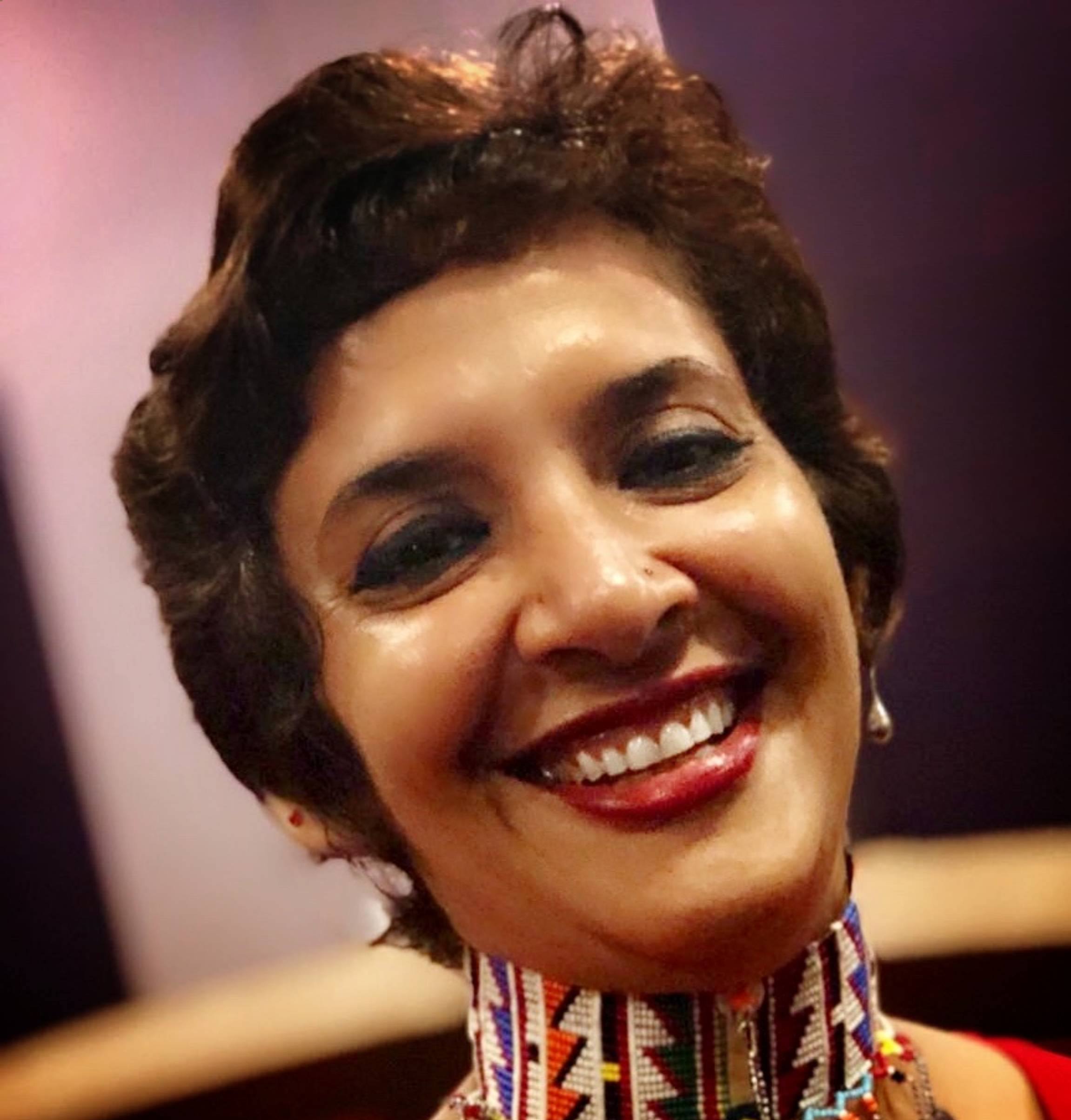 Artist's Bio and Concept Note
Paula Sengupta
Dr. Paula Sengupta,  Professor and HOD, Faculty of Printmaking, Rabindra Bharati University is an artist, academician, curator and researcher who works using diverse mediums and techniques including found objects, hand embroidery, chintz, muslin, woodblock, nakshi kantha and applique. Her 2010 project entitled "Rivers of Blood" that has received critical acclaim is inspired by partition and displacement her family faced in 1947. A workshop and journey in 2008 in Bangladesh led to fascinating creations - tales told through thread, textile and texts, installations through found objects, wood, glass and etching.
The Past is another country:
"I travelled to the homeland
to reconcile with my past."
Paula Sengupta's travels in her ancestral village and towns, now in Bangladesh, in 2008 resulted in the creation of poignant art works which are based on a diary she had kept during her journey. She weaves a tapestry of familiarity and estrangement as she captures the essence of a soil that she has risen from, yet to which she cannot fully relate. She employs a diverse mix of media – wooden almirahs, variety of needlework like nakshi kantha, with strong cultural connotation of Bengal, and appliqué, serigraphy and woodblock printing, found objects like table linen, tin trunk and a miniature four poster bangla khat (bed). Her creations represent shifting and mingling of identities and places. There are pictorial narratives embedded in the geographical sites of ancestry, deeply ensconced in memories of pain and violence as well as days lived happily. Paula takes recipes as marker of family tradition and regional style of cooking, creating artworks redolent of aromas and ingredients.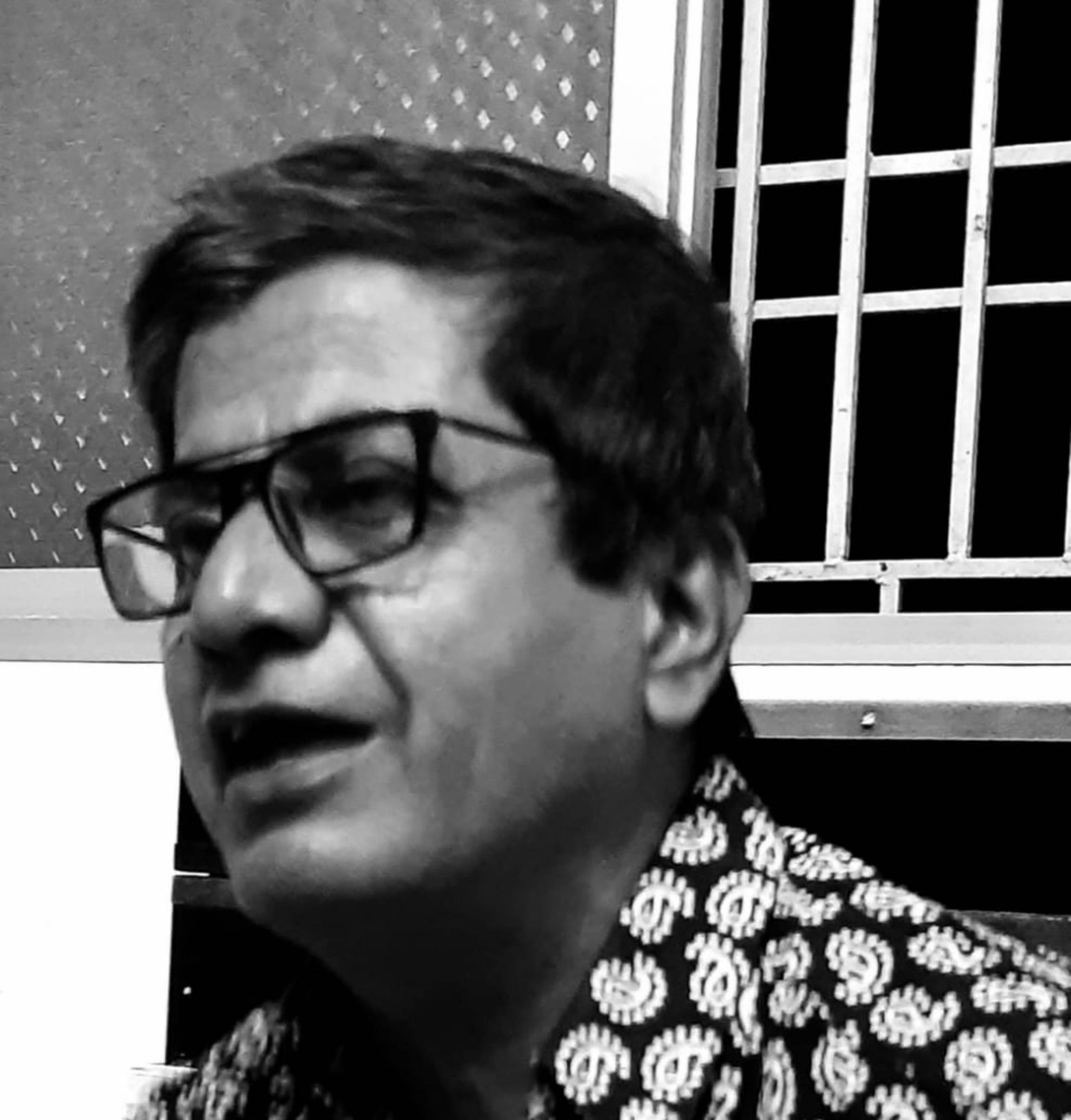 Vinayak  Bhattacharya
Vinayak  Bhattacharya is Assistant Professor , Dept of Painting, College of Art and Design, Burdwan, West Bengal. He has been working on a community based art practice with the help of   Indo-Bangladesh border area population. He has executed his project through black & white graphic prints, drawings, watercolours, still photographs and videos from the everyday reality of the people residing in Border area. He raises critical questions about the very necessity of Border and Fencing,  as to why the nation spends 50% of revenue for defence ( majority of which goes for Border Security maintenance ) instead of social welfare activities. Vinayak feels the partition and its legacy of Border creates violence, trauma, anxiety, and along with a constant feeling of war like atmosphere that severely affects human existence and living conditions. 
Steel skin holding you back:
"But in seven weeks it was done, the frontiers decided,
A continent for better or worse divided."
Hailing from the border town of Ashoknagar in West Bengal, the focal point of Vinayak Bhattacharya's relief prints, ink and brush drawings and photograph are entangled emotions wrapped in the barbed wires of the border. The wires separating two countries symbolises the cold finality, the implementation of Partition. It continues to be a fluid zone of contestation, surveillance and ironically surreptitious exchanges that transpire at this juncture between the two Nations. At places electric cables from both countries are entwined, cattle slip through and at others the Border Security Forces keep a hawk eyed vigil and brutal enforcement of law takes place. But in a unique mandate from Nature, the river Ichhamati flows through the India-Bangladesh border at Taki, negating the arbitrary man-made lines. In his latest works Vinayak fuses the plight of the Partition migrants with that of the recent exodus of migrant workers from cities to their villages during the Covid lockdown 2020, mirroring the pain and angst of human suffering across time.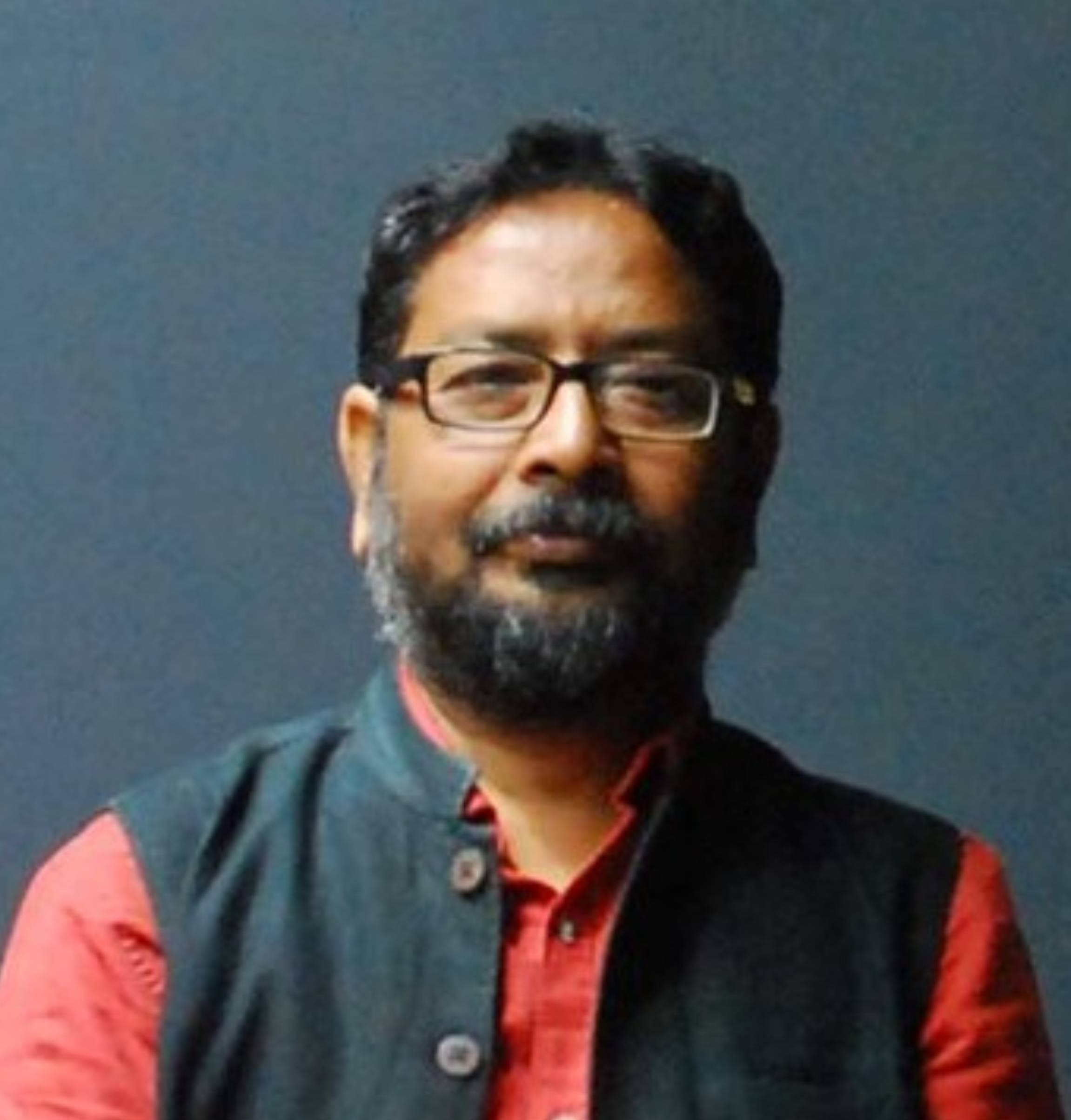 Dilip Mitra
Dilip Mitra, Professor, Department of Painting, Kala Bhavana, Viswa Bharati Dilip Mitra's paintings are about the long term impact and fall out of the partition. The angst and the blood bath of Partition are not directly present in his works. They draw references from the life in the colony. 'Colony' stands for the settlements of the displaced Bengalis who moved from the East Bengal after Partition and began to live in the 'colonies' of Kolkata. In an interview Mitra has expressed that his works are deeply rooted in the early part of his life, the colony life. "My experiences in the colony life have been a major source for my art over and over again. I mean the colony culture, the Bangal (East Bengali) culture and all that comes with that. Amidst that atmosphere I always nurtured a personal, individual life of my own. I built a world of my own and that world teemed with imaginations of heard and unheard tales. As a child I enchanted myself by trivial activities like, twisting a thread around a stick etc". For him, visual ideas travelled inward than outward. "In a sense I travelled back in time, to my childhood days, to my parents and how I related myself to them, to the people around, to the kind of life we led. When we left our colony life for good and moved to a rented place, probably that was another kind of displacement, for me at least, and for the family it was the beginning of a re-location". 
Insistence of memory: 
"You have the eyes of a refugee
Eyes solemnly speaking eulogies"
Sharanarthi meaning refugee, was a newly added term in the dictionary of the sub-continent following the Partition. For Bengal, two other terms acquired strong cultural significance -  Bangal or East Bengali and Ghoti or West Bengali. Leaving one's motherland to settle in the other-land was a process full of pain and anguish, refusal and rebuttal. The Ghotis detested the Bangal influx. The East Bengal refugees were viewed as usurpers in West Bengal. Thus, the refugee colonies that mushroomed after the partition became sites of confronting the displacement. While some faltered and faded away, others triumphed over the hostile situation celebrating the resilience of human spirit. The colonies held on to ancestral culture through language, customs and rituals, recounting tales of desh or homeland, naming spaces and buildings with nomenclatures connected to it, like Dhaka Kalibari, Barishal Colony, Chattogram Granthagar, Byamagar etc. Dilip Mitra creates a chimera of a marvellous world in which desire, fantasy and personal evocations of his childhood and youth spent in refugee colony come alive. Though it was a frugal, hard life, he spent many hours lost in the cocoon of an inner world. Mitra's strong attachment with images embedded in that life throngs his paintings, sketchbooks, diaries and move beyond the Past –Present binary.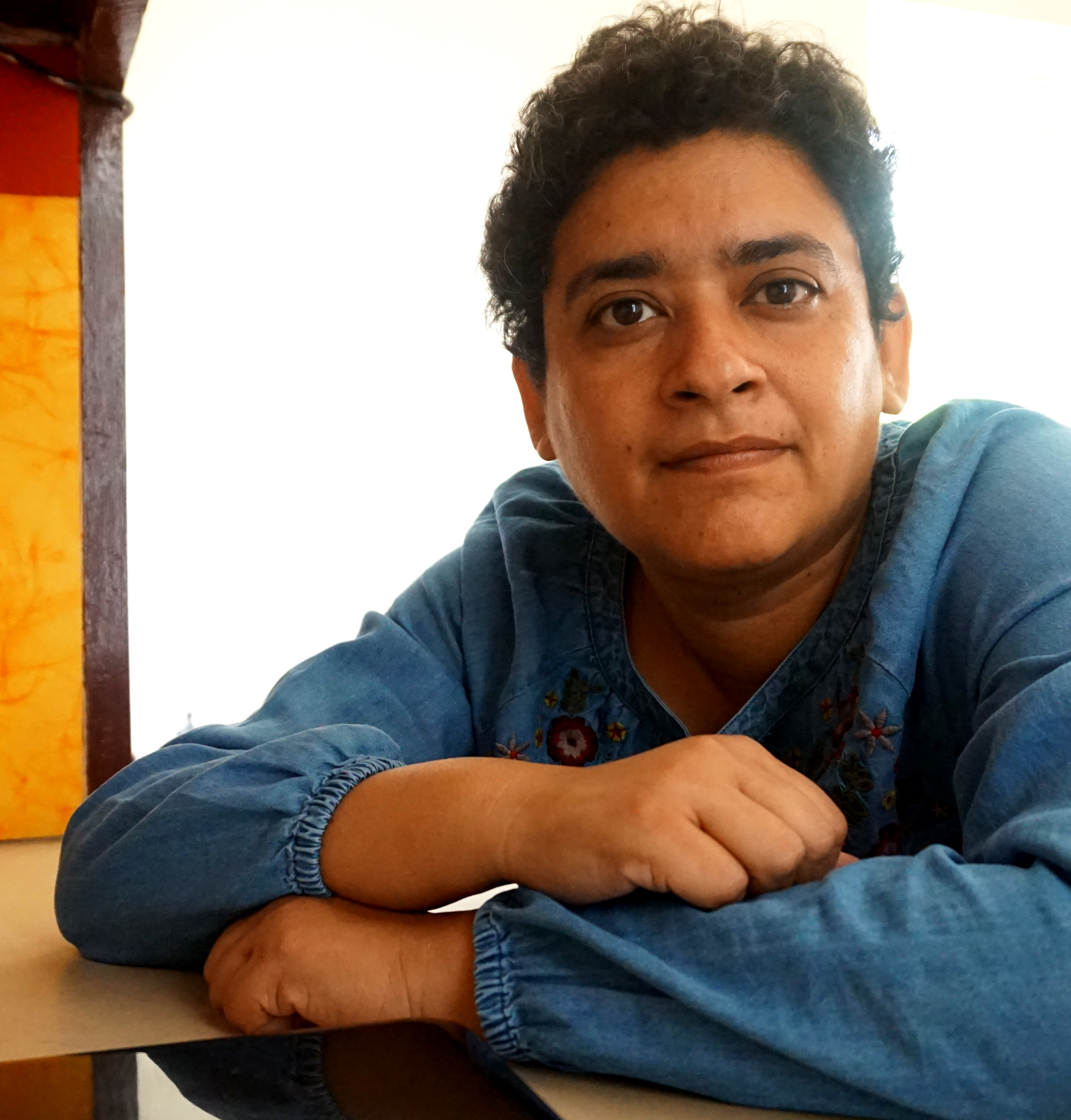 Amritah Sen
Amritah Sen, a distinguished Kala Bhavana alumni, works as an art teacher in Lakshmipat Singhania Academy and is a very active contemporary artist with several international shows to her credit. Amritah interestingly has no family connection to Partition. She is a proper "Ghoti" or of West Bengal origin. But one of her unique artistic practices has been collecting personal stories across the Indian subcontinent and making individual book art around them. This practice came at a critical juncture in her artistic life, when she felt that a fresh approach was desperately needed. Not only did she challenge herself by taking up a new medium of book art, but she also extended her comfort zone — from being a very private person to finding friends in complete strangers. "This process of collecting stories from unknown people in unknown lands gave me a sense of kinship, which I have not experienced before," says Sen.  An artist with strong historical and social awareness, Partition haunts her too. She is the ally, the empathiser, who strongly feels about it without being a victim or inheriting the trauma of Partition through familial ties.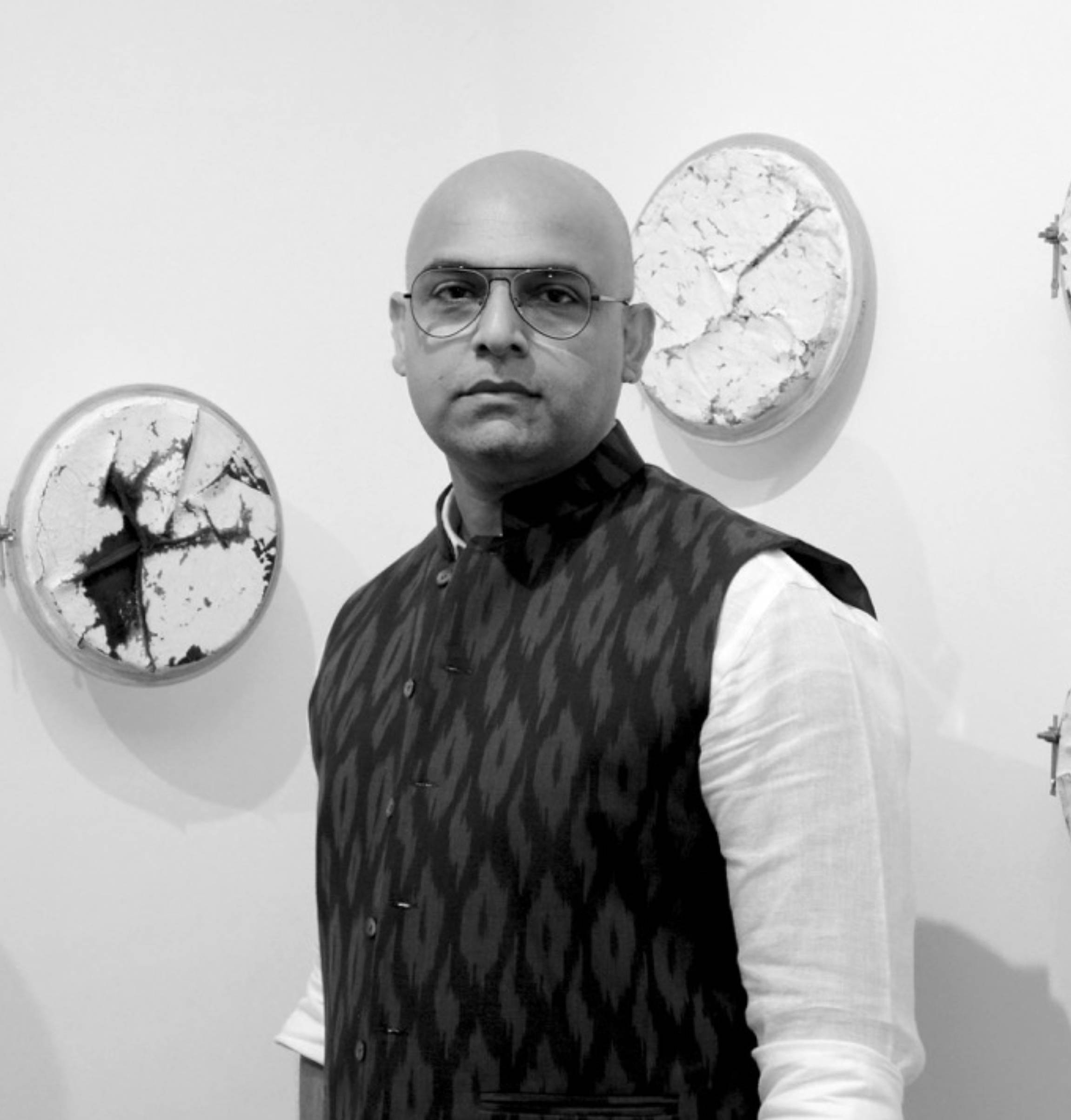 Debasish Mukherjee
Debasish Mukherjee is born in Chapra, historically an important town in Bihar, Debasish Mukherjee grew up amidst open spaces and railway colonies, mixing freely with people from a range of social backgrounds. He graduated from the Banaras Hindu University with a specialization in painting. Rooted in India, Mukherjee manifests his keen observations of India's built environment, social fabric and events from his day-to-day life into his art practice.  Mukherjee's work tends to interrogate the way an object or memory is preserved, celebrated or neglected. 
He has also done extensive research with weavers and artisans across India, especially within Uttar Pradesh, Rajasthan, Odisha and Gujarat; while working with a prestigious fashion house. He has important solo shows in his journey such as; A 'Museum Within', curated by Kanika Anand (2016) and River Song, text by Ranjit Hoskote at Akar Prakar Contemporary (2019) in Akar Prakar, New Delhi. He has also important group shows like 'Uday', at Akar Prakar, New Delhi, 2016; 'Tantra', a group show curated by Bryan Mulvihill at Gallery Art Konsult, New Delhi, 2017; 'And then there is light', a group show at Gallery Art Centrix, New Delhi, 2017. Gaj Yatra, a group show curated by Ina Puri and organized by Wild Life Trust of India, in collaboration with The Ministry of Environment, Forest and Climate Change and Gallery Art Alive at Indira Gandhi National Centre for Arts, New Delhi, 2018.
He is a published poet and an avid photographer. Debasish lives and works in Delhi. 
My Brain is an immigrant:

"Let me
borrow your sorrow
and hold it a while"
Shadow lines of broken Bengal resonated with several artists, even if they did not have any direct, personal or familial connection with Partition. Amritah Sen and Debasish Mukherjee are such outsider insiders. They seek how the divided identity works in our lives today, in 21st century.  Territories and trajectories unfolded since Partition have led to the growth of a collective nostalgia. Written texts, songs, films are nurtured by it and in turn fed the visual culture. Amritah equates Partition to partition of souls and draws from the cult films of Ritwik Ghatak. She has been a collector of stories and her artist books are a culmination of her journey, with special reference to Ghatak's montage and narrative. Debasish who has lived in many places, shifting home, identifies with the refugee mind. The feeling of being uprooted and the yearning to go back to his roots feature in his creations. He takes soft materials like fabric and textiles to create hard statements about the inability to forget what has been left behind and the impossibility of revisiting that. 
 Partition provides a psychological topography for the exhibition. The contemporaries continue to engage with inherited memories, mourning the loss. Together these visualisations delve into the nature of identity formation in the post –partition social fabric of West Bengal.  
Register here for the Talk Session on 22nd & 29th August  

Click Here