S.U.M.O (SHUT UP, MOVE ON)
Unlock the secrets to navigating uncertainty and mastering the art of making wise choices with S.U.M.O (Shut Up, Move On) on June 23rd, 3pm to 6.30pm at KCC. Presented and certified by the Kolkata Centre for Creativity and British Council, this ground-breaking workshop empowers you with essential life skills to overcome obstacles, handle criticism and stress, make wise choices and develop a resilient mind-set to thrive in the face of challenges. Don't miss this opportunity to transform your life!
This workshop is deeply inspired by the book titled 'S.U.M.O' which is a culmination of 20 years of valuable work and unique insights by international speaker and author Paul McGee, universally recognized as the S.U.M.O guy.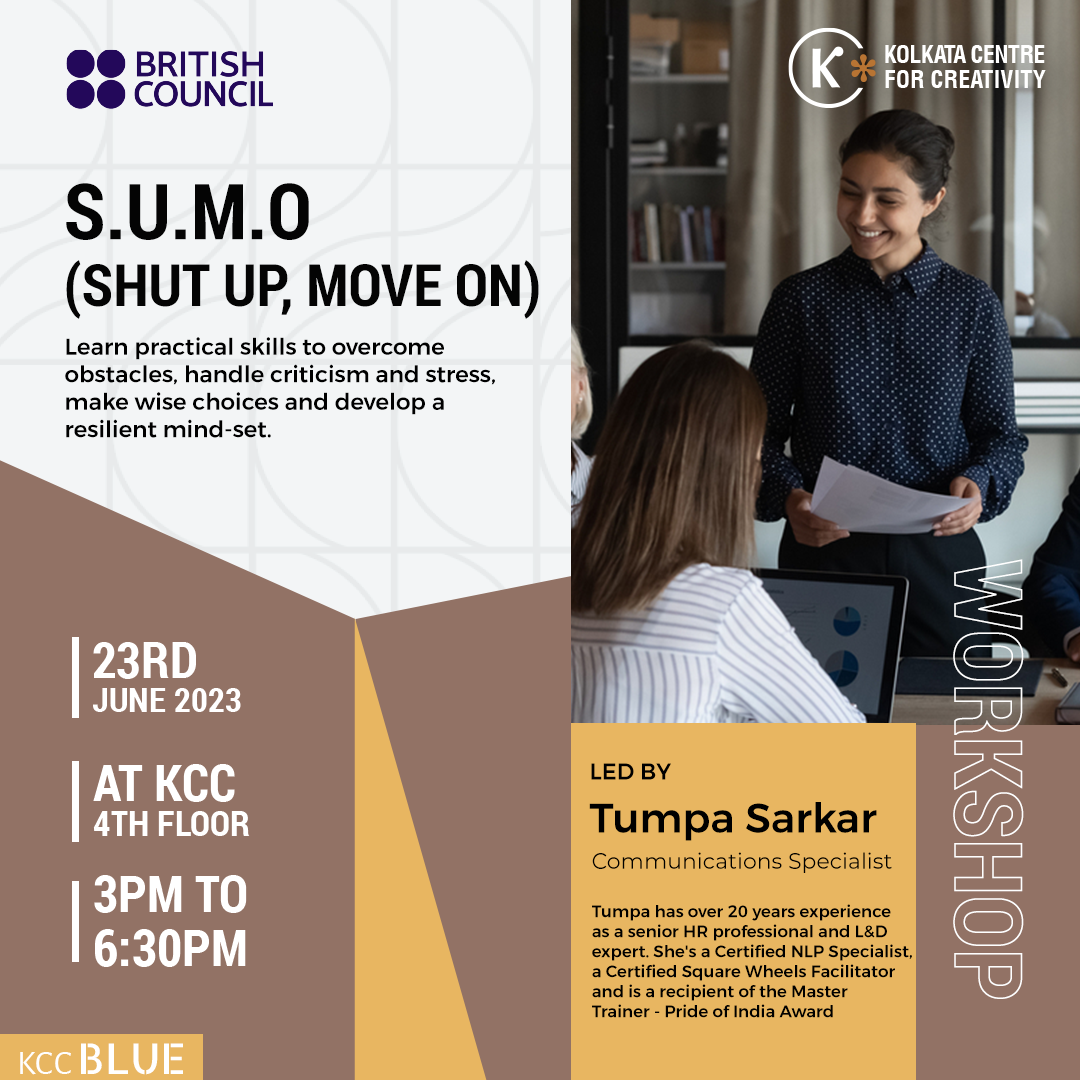 LEARNING OUTCOMES
After this workshop you will have gained insights into valuable life skills using the SUMO principles like:
Coping with Change and uncertainty – Change your T-Shirt
Skill of Communicating with Confidence – Taking the "Con" out of Confidence
Managing Mindsets during a crisis – Develop Fruity Thinking
Perception Handling when there are too many voices – Remember the Beach ball
Bouncing back from Criticism, Failure and Stress – The 3 Best Friends
TRAINER PROFILE
The workshop will be led by senior British Council consultant, Tumpa Sarkar. Tumpa has over 20 years' experience as a senior HR professional and L&D expert. She's a Certified NLP Specialist, a Certified Square Wheels Facilitator, a Certified Assessor – CII HR Excellence Model and is also a recipient of the Master Trainer – Pride of India Award. 
Tumpa has designed and delivered a variety of programmes for ITC, Tata Hitachi, Tata Steel, Birla Group of schools, Apeejay, CESC, Coal India, United Breweries, HDFC and several others and has also trained employees for overseas organizations in Tokyo and Hong Kong.
WORKSHOP METHODOLOGY
This programme is highly interactive. Participants will engage themselves in interactive and reflective games and exercises, pair-work and group discussions.
WHO SHOULD ATTEND
The workshop is open to all working professionals
WORKSHOP FEE
Individuals:
INR 1,750
Groups:
INR 1,750 per participant: 1-2 participants
INR 1,500 per participant: 3 or more participants
Fee includes module designing and delivery, trainer costs, worksheets, online reference materials, stationery, lunch and refreshments and Certificate endorsed by the British Council and KCC.
For institutional groups of three or more participants and to avail group discount: 
Email the list of nominated individuals to marcom.kcc@akst.org.in and pay the workshop fee either by bank transfer or an A/c payee cheque/DD in favour of 'Anamika Kala Sangam Trust'.
Bank details are given below:
           Name of the organization – Anamika Kala Sangam Trust
           Bank Name – ICICI Bank
           Account No. - 128701 001 005
           IFSC Code – ICIC0001287
           TAN- CALA10850A
           GST: 19AAATA4406C1ZA
In the case of cheque or DD, send them to: Mousruti Das, Kolkata Centre for Creativity, 777 Anandapur, EM Bypass, Kolkata 700107. Behind Fortis Hospital.
Fees paid for this event are non-refundable and by registering for this event, the participant agrees to this policy. Only if for any unavoidable circumstances the event is cancelled by KCC, a refund will be provided to all participants who have paid the fees.  
For queries, please call Manish Gupta on 9830074073.