Open Call for FootPrint Film Festival
Open Call for Short Film Submission

KCC's AMI Arts Festival, in collaboration with The Peninsula Studio's FootPrint Film Festival, is thrilled to announce an Open Call for film submissions. We invite young filmmakers to submit their creations for consideration to be screened during the AMI Arts Festival, scheduled for December 6th to 10th, 2023 in Kolkata. The films will be screened on the 8th & 9th of December. 
Our initiative seeks to provide a platform where young filmmakers can unleash their creativity, share their compelling stories, and draw inspiration from the works of their peers.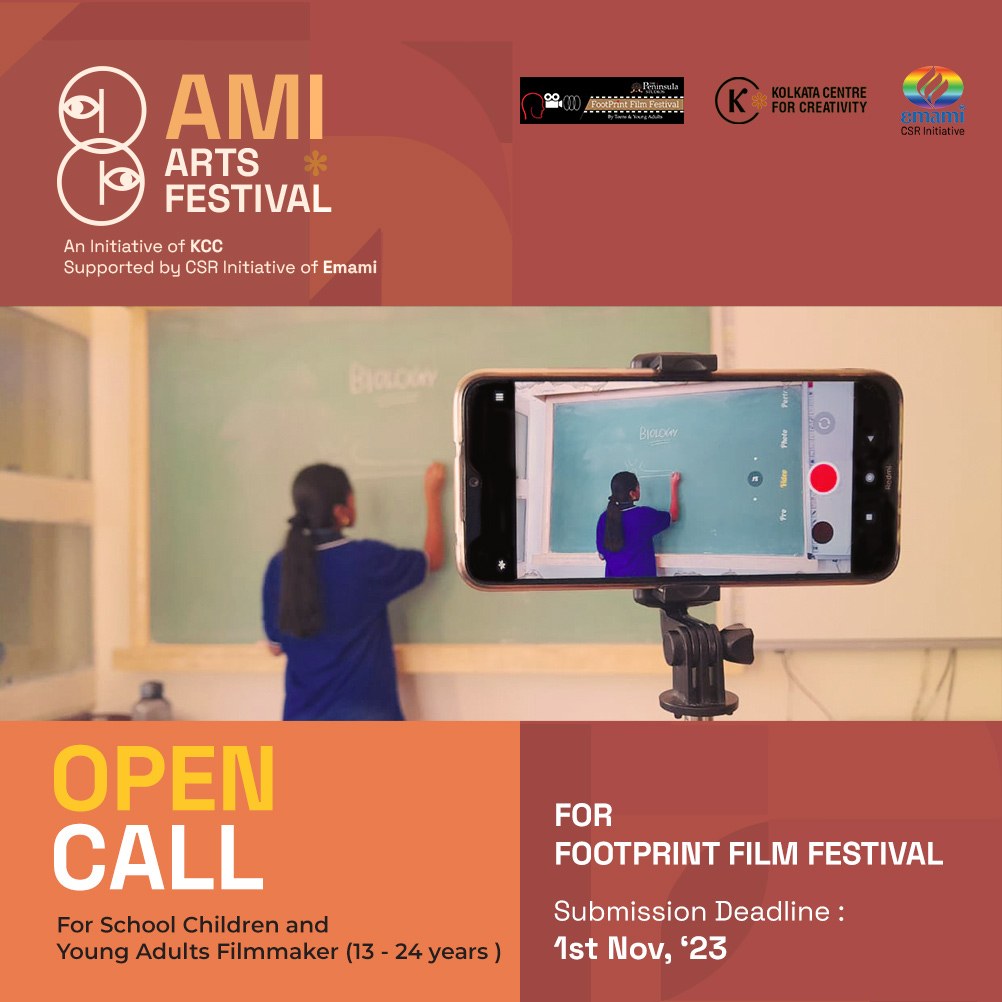 Submission Process
a) Online Application Form: Filmmakers are required to complete an online application form given below. This comprehensive form will collect essential details about the film, including its title, director's name, production year, genre, runtime, and a synopsis.
c) Submission email: Films should be submitted via email to the address provided in the submission/registration form. 
d) Submission Deadline: The deadline for film submissions is November 1st, 2023.
e) Acknowledgment: FootPrint will send acknowledgment to all the filmmakers who submit their entries, within one week of the submission deadline.
Age Limit: Participants must be between 13 and 24 years of age.
Entries open to filmmakers from West Bengal, Odisha, Jharkand, 8 North Eastern States & Bangladesh.
Selection Process

a) Expert Jury: FootPrint will assemble a jury of esteemed filmmakers, artists, and authors.
b) Film Selection: The jury will carefully curate the selection of films by November 30th, 2023.
Submission Deadline: November 1st, 2023
Announcement of Selected Films: Selected filmmakers will be notified via email, and the program will be showcased on both the FootPrint and KCC websites as well as our social media platforms.
Contact Details for Submission: Please refer to the registration form for submission details.
Register here!
For more information, feel free to write to narindert@tps.ind.in or footprintfilmfest@gmail.com or call us at +919899004393, +919836886779.
Join us in celebrating the art of filmmaking and be part of the AMI Arts Festival's cinematic experience!