My Kolkata In Kolkata (MKIK) 4.0
Kolkata Centre for Creativity's Iconic annual show My Kolkata in Kolkata - the fourth edition this year gives the perfect platform to young budding storytellers to show their craft of the telling of a life in a city - so fertile in what it offers. KCC has also put together a fabulous line up of jury - almost all of whom have dedicated their lives and are intrinsically entwined to the city's enormous heritage of poetry, literature, films and daily life. The repertoire of entries that came in this year looks at a city that is deeply rooted to its past and traditions while ferociously moving towards its future - as it constantly joistles with the idea of what that will be. 
Exhibition date: 1st – 10th December
Venue: 1st Floor, Kolkata Centre for creativity
Our Juries: 
1.Mansi Agarwal – Curator, MKIK 4.0
2.Kounteya Sinha – Curator, MKIK 4.0
3.Mukul Agarwal – Founder Trustee of Calcutta Heritage Collective
4.Ashwika Kapur -  Wildlife Filmmaker, Director| Presenter, BBC Natural History Unit and BBC iPlayer
5.Rajesh Gupta – Founder, Lensocrat
6.Rajiv Soni – Mentor, Author, and Brand Consultant
Selected Photographers:
Aishwarya Ashok
Aneek Banerjee
Apala Maity
Avidha Raha
Avisruti Sarkar
Dr. Anupam Sen Choudhury
Harshit  Sarawagi
Kliviya Majumder
Sandeep Raj Mishra 
Sayantan Sengupta
Simran Kewalramani
Shubhodeep Roy
Sukalyan Ghosh
Suparna Chattarji
Vaishali Patodia
Akshay Dey
Anjali Tripathi
Anuron Mullik
Arnab Mitra
Biswarup Saha
Debmalya Ghosh
Debojotee Dutta
Dipbrata Bandyopadhyay
Dr. Subha Majumder
Hemansh Kashyap
Ishita Adhikkary
Kinjal Bose
Pritam Sarkar
Sayandeep Kangsabanik 
Shankar Subramaniam
Shreejit Panja
Snehendu Pal
Soumil Ghosh
Soumyajit Maity
Subhanil Roy
Suman Kumar Giri
Yashaswi Dugar
Debmalya Das
Nilayan Chatterjee
Mekhala Munshi
Lahari Basu
Sharmistha Chatterjee
Barshana
Ritabrata Bhandary
Kashyap Ray
To Know more details call on:  967414095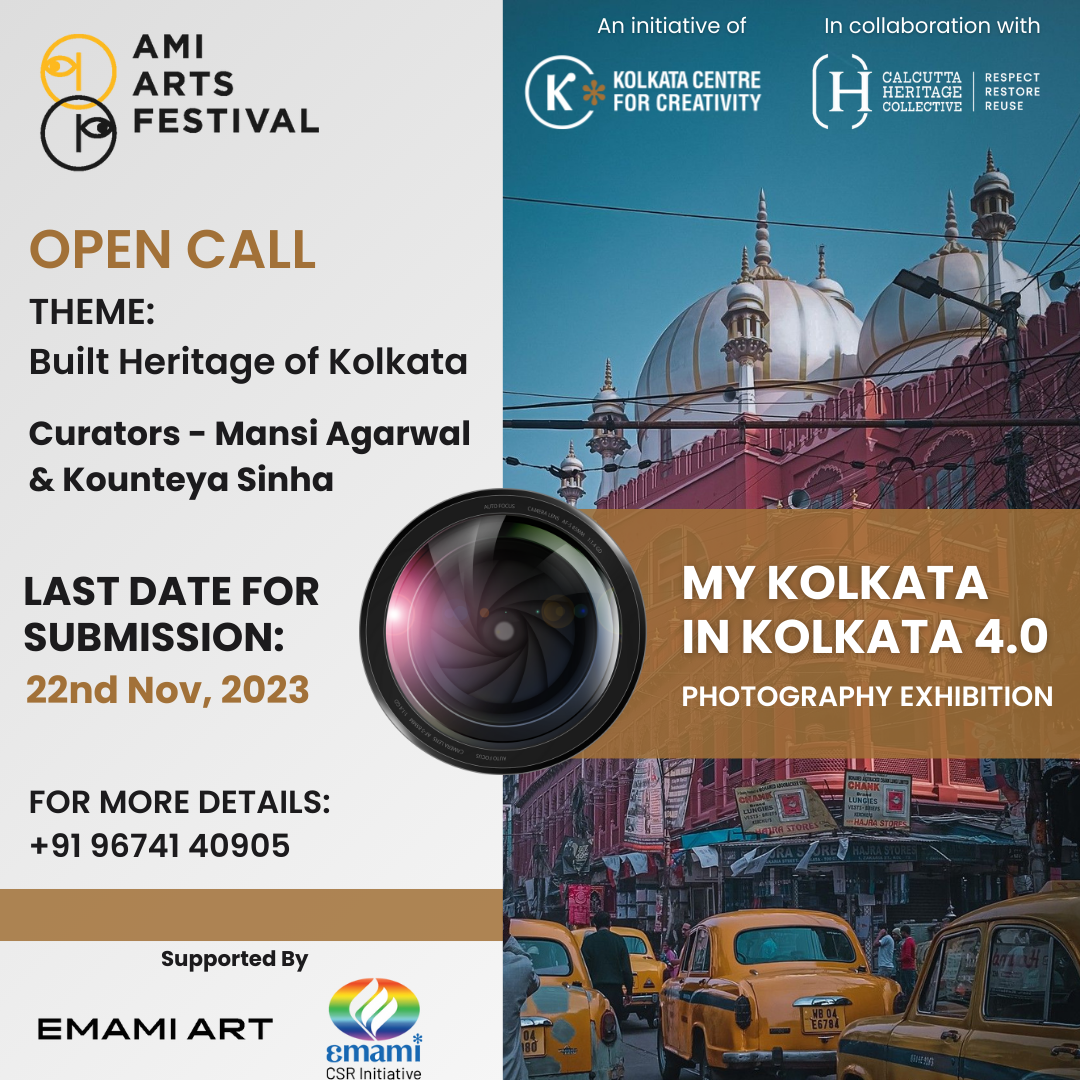 IMPORTANT DATES
Closing date of Submission:                  Wednesday 22 November 2023
Evaluation and Selection:                       23 to 24 November, 2023
Announcement of final Selection:       27 November 2023
SUBMISSION GUIDELINES AND ELIGIBILITY
•The subject of the photograph must align with the theme 'Built Heritage of Kolkata'
•Participants are allowed to submit a maximum of two photographs in high resolution (300 dpi) in JPG format
•Each photograph's file size should not exceed 10 MB
•Ensure that all details related to the photograph are accurately filled out; incomplete submissions will be disqualified
•Photographs must not contain watermarks
•Do not add any text or details directly onto the photograph through editing
•Selected photographs will be printed and displayed on sunboard
•Submission fee for two photographs is INR 500.00 (Non-refundable) (Click on the link below to apply)
•Selected participants will be required to pay INR 300 towards the printing and display of their photographers
•The jury's decision on the selection of photographs is final 
•Photographers from India and other countries are eligible to participate in the Open Call
•Selected participants are not required to print and frame their photographs initially.  After confirmation of selection, a nominal fee will be required for printing and display.
•There is no age limit for submissions
•The top 5 participants will receive a Certificate of Merit, while other participants will receive a Certificate of Participation.
For queries, please write to mousruti.kcc@akst.org.in or call 9674140905.