Learn Togetherness Beyond Binaries: Sensing Art through Queer Lensing
KCC DEAI (Diversity, Equity, Accessibility, and Inclusivity) focuses exclusively on the application of art for the development of marginalized and differently-abled persons, empowering them through self expression and creativity. We continuously work with national and international experts in art, accessibility, and therapeutic training to build the framework for these engagements vis-à-vis art.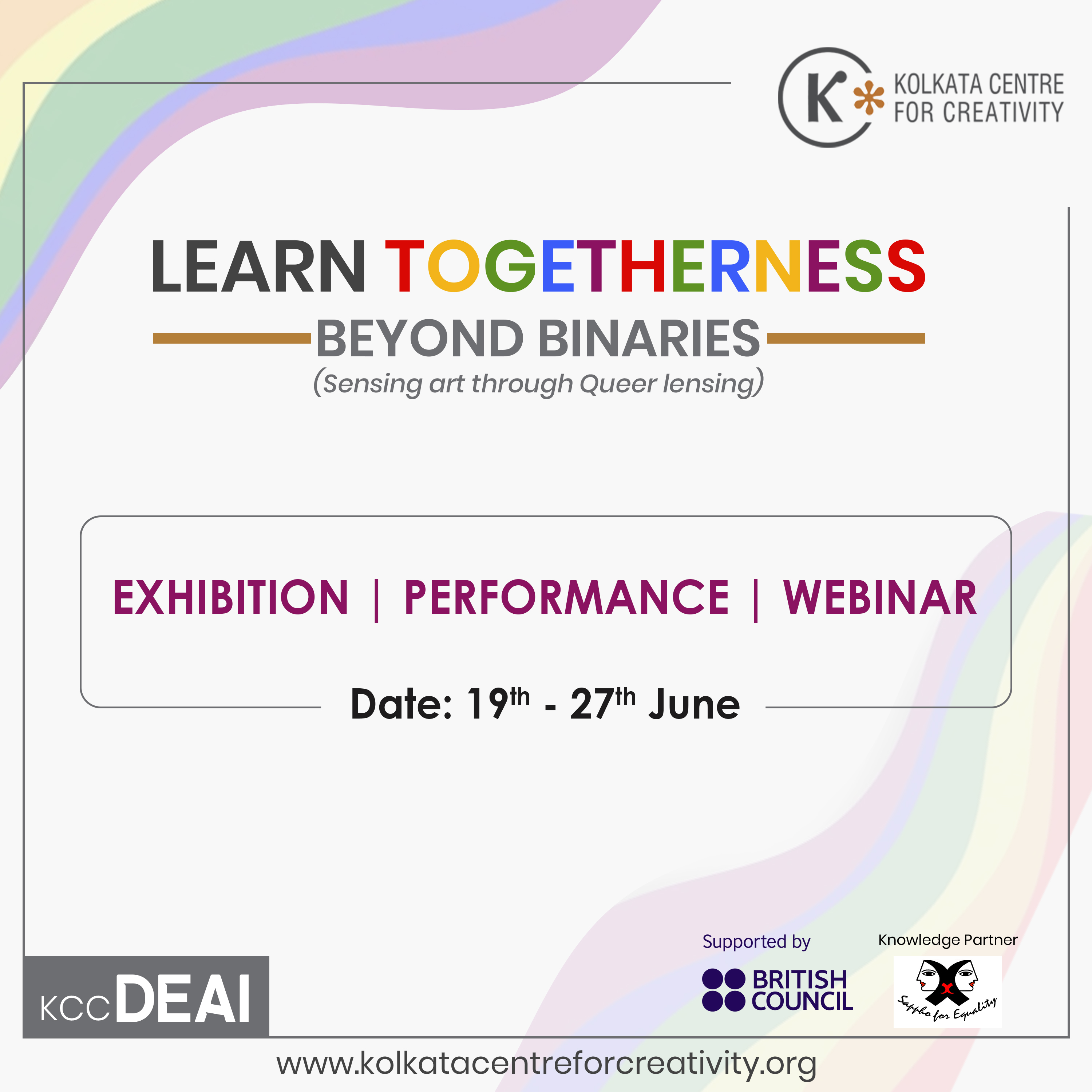 Beyond Binaries: Sensing Art through Queer Lensing

"I wish they would only take me as I am"
- Vincent Van Gogh
It is popularly said that art is the signature of civilizations. Even after centuries, we chiefly remember and admire past civilizations not because of their affluence or political influence, but because of their artistic achievements and cultural sophistication. Interestingly, often socio-cultural conflicts find expression and resolution in art. Thus, Art and creativity can also be used as tools to challenge the normative narratives and celebrate the 'other', and the 'alternative'. We wish to explore and understand better the use of art in questioning the hegemonic and oppressive social norms while expressing, celebrating, and reclaiming the non-normative spaces 'beyond the binary'. Our theme for 2021— 'Beyond Binaries: Sensing Art through Queer Lensing',- had been derived from this thought.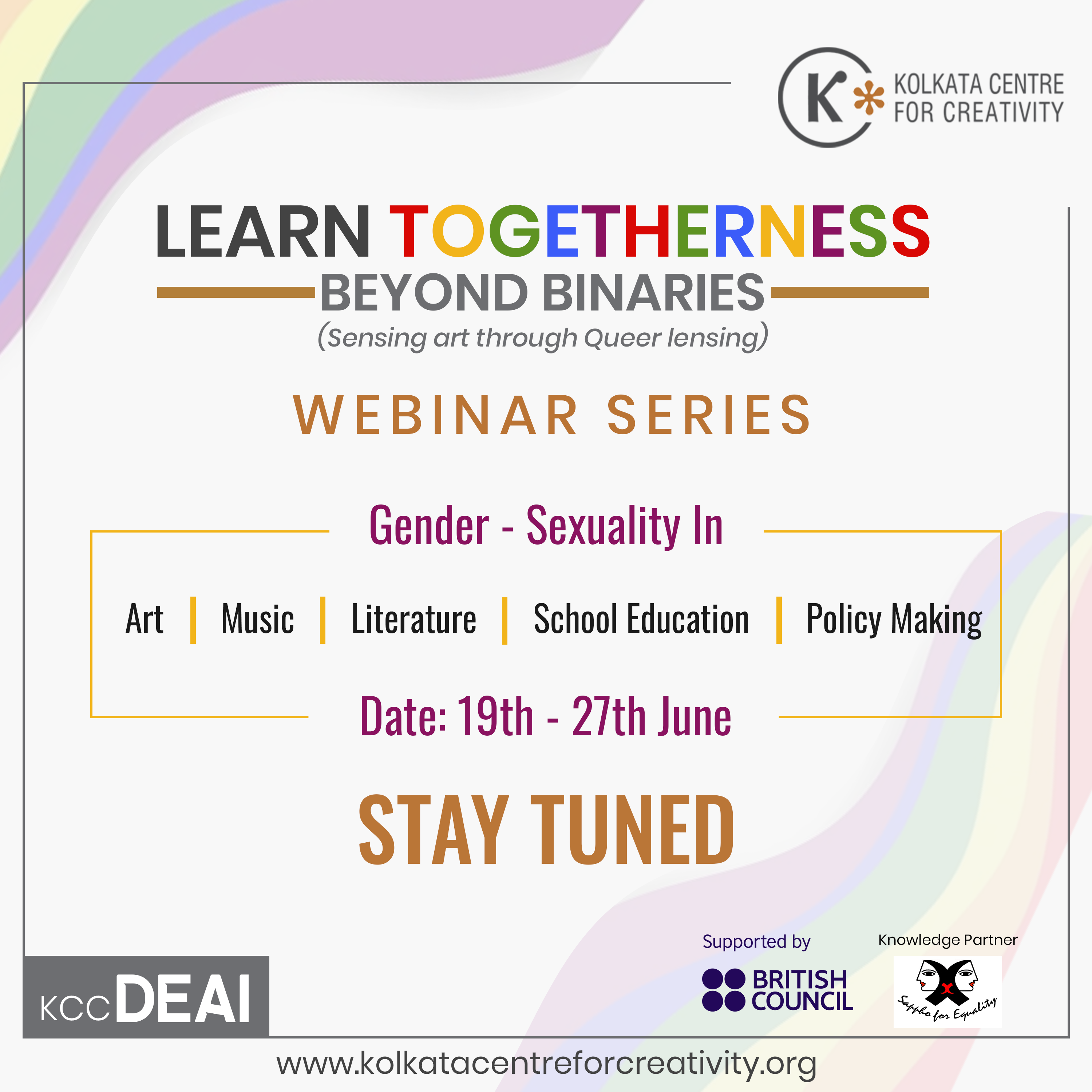 Beyond Binaries:
Since the time we are born, we are conditioned and brought up with a binary understanding of genders, such as male/masculine/man and female/feminine/woman. In sexuality, the norm is always 'heterosexuality' with the 'other' perceived opposite endpoint being homosexuality.Thus, our sense of self, our preferences, aspirations, values, emotions, what we like, what we want, how we look at the world are all conditioned through this restrictive binary gaze. However, in reality, human beings are often fluid. Gender and sexuality cannot be restricted in two discrete and distinct boxes. They freely flow in a continuum with time, situations, and people. The oppressive institutions of the society, such as patriarchy, religion, class, caste, and others that divide and marginalize people through hierarchies, are all birth based. They all function through this binary since it is the foundation on which female-bodied individuals, their wombs, and the children born out of them are owned and controlled. Art has always been one of the most crucial weapons in dismantling this binary, blurring its boundaries, challenging the mainstream 'norm', and celebrating the 'other' or the 'queer'.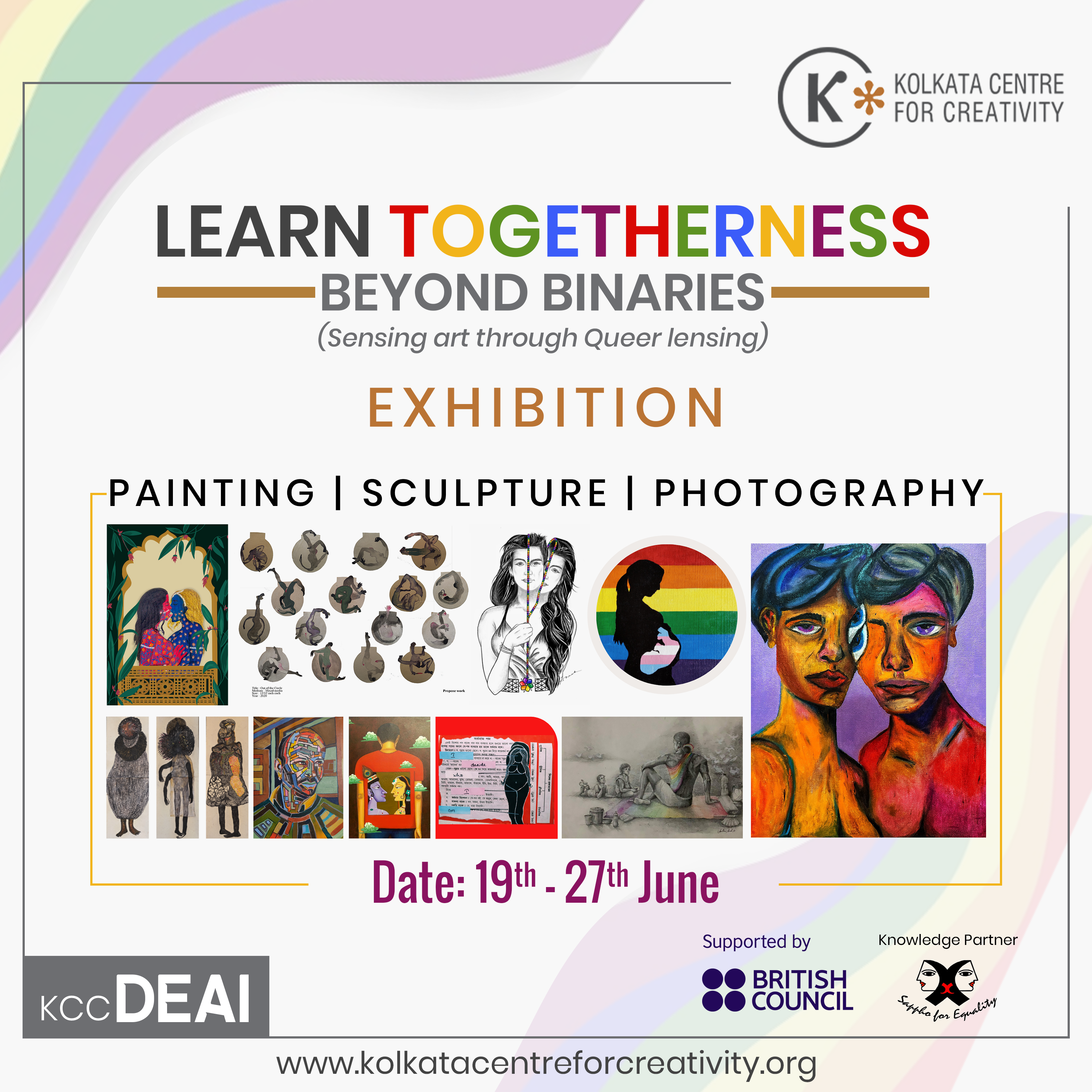 So was our theme for 2021 'queer art'? The answer is both 'yes' and 'no'. Queer art usually refers to art made by queer-identifying people (LGBTHIQK or others) or refers to the art of homosexual imagery that are based around the issues that evolved out of gender and identity politics of the 1980s West. In the Indian context, queer art popularly refers to our own ancient sculptures, texts, folklore, songs, dance forms and plays celebrating alternate gender sexual forms and behaviours which reflect Indian cultural pluralism.
However, simply defining queer art as the art made by people who are homosexual or bisexual, is reductive and though love, sex and desire are the strongest themes within queer art, it is problematic to focus only on this because 'queering art' or as our theme says 'sensing art through queer lensing' is not only these this but also much more.
The word 'queer' is defined in the Oxford Dictionary (2021) as 'strange' or 'unusual' and apart from being an adjective, the word is also used as a verb. In that capacity, it then also includes 'queering art' and includes artists and curators who take familiar imagery and ideas and 'queer' them as a part of a deeply political act, which might extend beyond gender and sexuality.

So 'Sensing Art Through Queer Lensing' included queer-identifying individuals making art to express, celebrate, provoke and protest as well as non-queer-identifying artists who break binaries in their respective art forms. Starting from expressing a queer desire to celebrating queer bodies; from activist art having strong political intent with a war cry for revolution, to presenting an art form bending its own rigid rules, KCC invited all artists who seek to blur these boundaries, break the binary and fracture the rigid hegemonic narratives both personally and politically through their art. In the words of Aristotle, "The aim of art is to represent not the outward appearance of things, but their inward significance".

There were 95 submissions of artworks in four different categories: Painting, Sculpture, Photography and Performing Arts. Only 27 selected works were exhibited on KCC's website. Two film screenings (each consisting of a compilation of three films) were also organized by KCC to be viewed on Vimeo by the registrants– 'More Films for Freedom' (17th – 28th June) and 'Radical Intimacies' (24th – 25th June); the latter curated by Tendai Mutambu. Both the compilations focused on queer lives and experiences amidst varied locations and socio cultural and political backdrops.Throughout the exhibition days, 5 talk sessions were arranged on different topics based on gender issues - Gender- sexuality in Art on 20th June, Gender Sexuality in Music on 22nd June, Gender-sexuality in Literature on 23rd June, Gender- sexuality in School Education on 24th June, Radical Intimacies: Webinar on 25th June and Gender-sexuality in Policy Making on 26th June.

To know more on the Webinar dates & timings, check out the Program Schedule.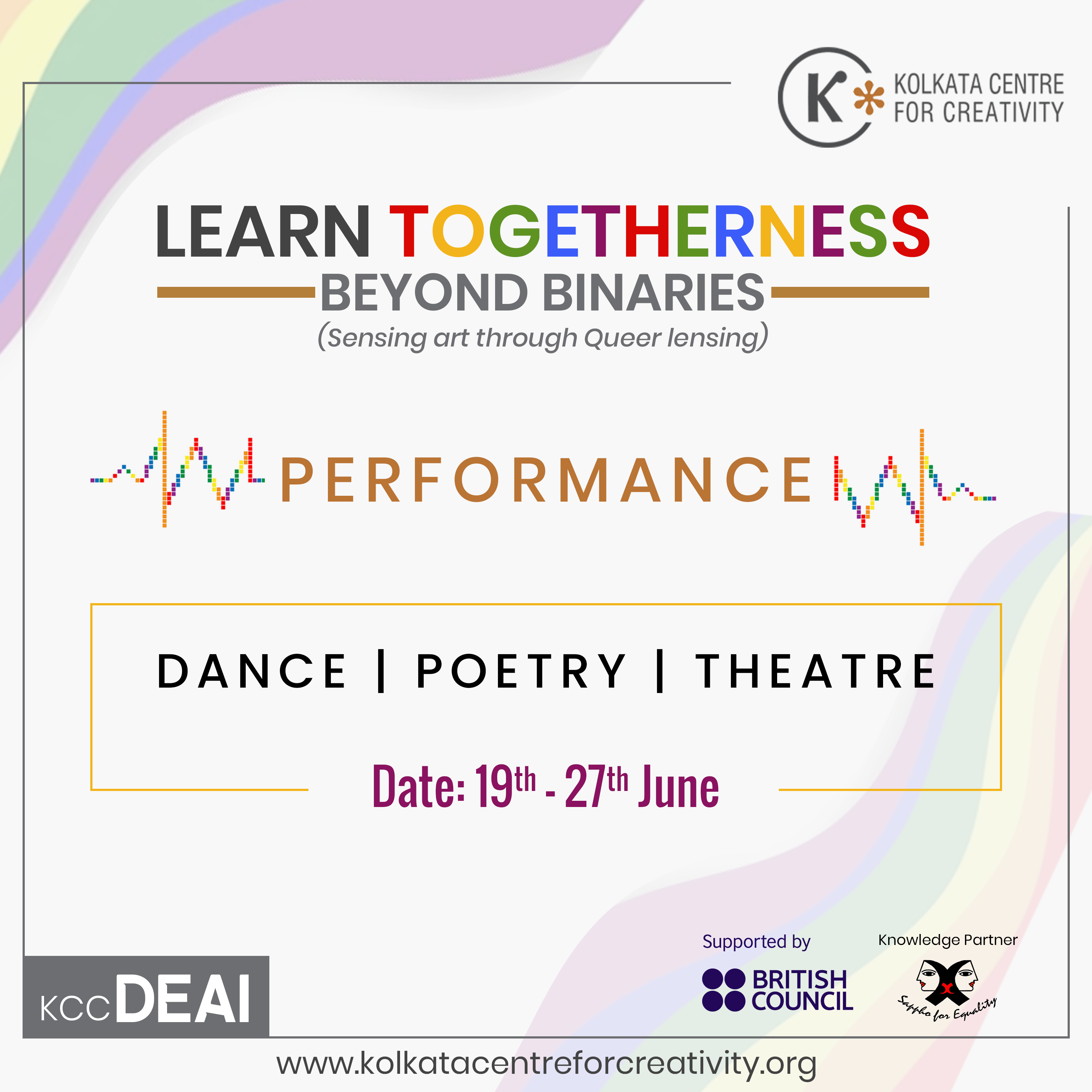 In collaboration with Sappho for Equality and supported by the British Council India, we are presenting 'KCC DEAI - Learn Togetherness' – a collateral program 'Webinar Series'.
This year, the theme is, "Beyond Binaries: Sensing Art through Queer Lensing", that was celebrate the diversity of gender and sexuality choices of people.
Date: 19th – 27th June, 2021
PHYSICAL SUBMISSION OF FRAMED PHOTOGRAPH AT KCC: 
EXHIBITION: 19th to 27th June, 2021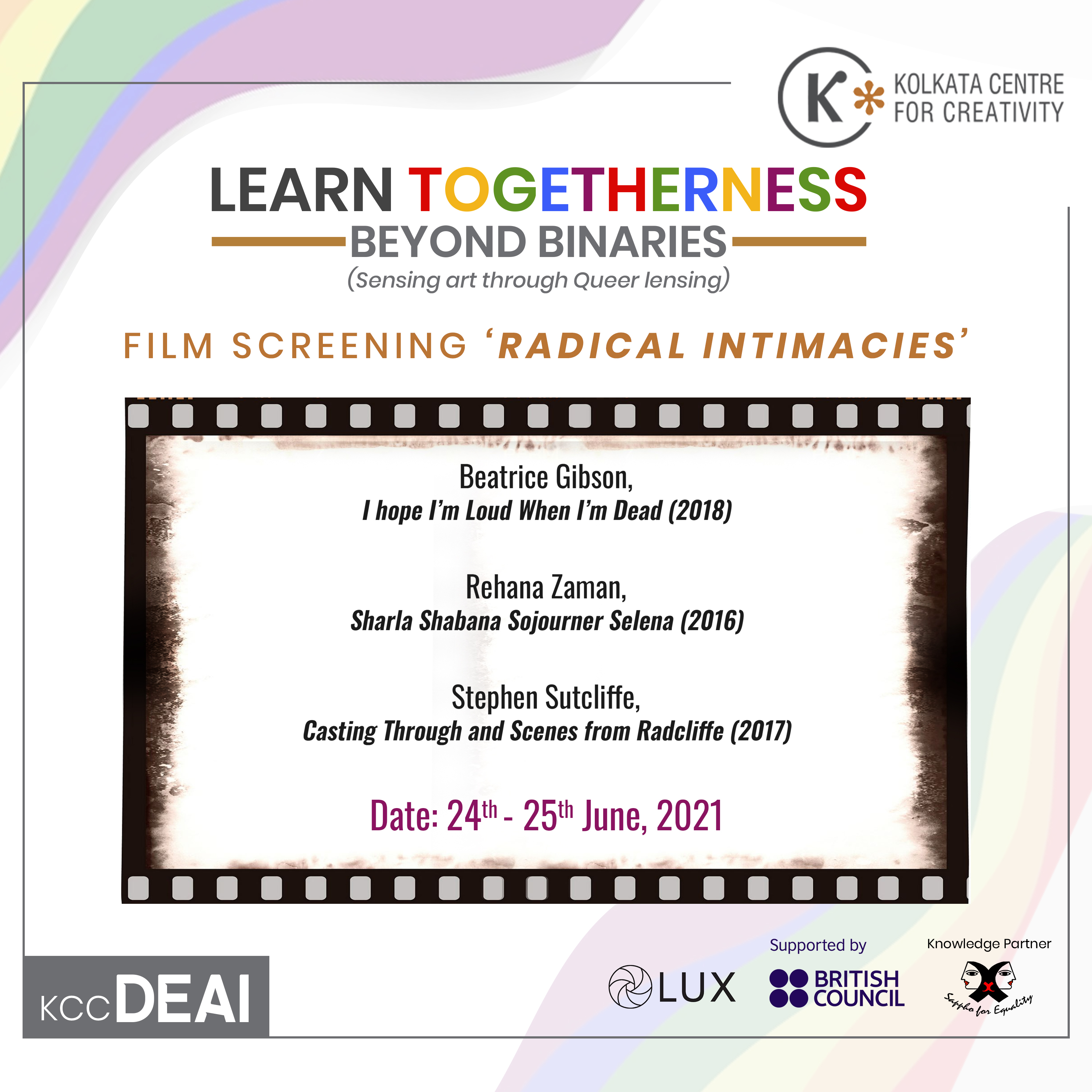 Radical Intimacies film screening and accompanying curator talk
Watch three artist short films from the UK exploring queerness and LGBTQI+ rights, and hear an accompanying talk by the curator Tendai Mutambu. 
The films will be available to watch online for 24 hours from 24 June 2021 – 25 June 2021.
Below is a brief about the film screening and the conversation along with the bios of the curator as well as the artists
About this event
In this film compilation, three contemporary artists – Beatrice Gibson, Rehana Zaman, Stephen Sutcliffe – use film to investigate the role of gender and sexual identities in a social, political and cultural moment that has seen the momentous erosion of hard-won rights and the value of freely expressing desire.
Films in the Radical Intimacies compilation
•         Beatrice Gibson, I hope I'm Loud When I'm Dead, 2018, 20 minutes (LUX)
•         Rehana Zaman, Sharla Shabana Sojourner Selena, 2016, 22 minutes, 14 seconds (LUX)             
•         Stephen Sutcliffe, Casting Through and Scenes from Radcliffe, 2017, 16 minutes, 53 seconds (LUX)
In addition to the above mentioned we are proud to make this available to you.
The Vimeo Showcase for the More Films For Freedom will be live from 17th June till 28th.
Please do register as you have for the webinar and the link and password will be sent to you.
For more details on the films.

Performance
Learn Togetherness Performance - Attam | Sreelekshmi N
Bio: Sreelekshmi is a dance practitioner, currently pursuing her Masters in Performance Studies from Ambedkar University, Delhi. Sreelekshmi is usually found caught up between the walls of theory and practice, finding a space to create a dialogue between the two. Some of the major questions and processes for her practice are the politics of the figure of the performer, the costuming, the gender performativity, the space and the body movements to name a few, which she explores through the form of Mohiniyattam. A few of her written works have also been published. She is currently working on her dissertation on the notion of 'Spectatorship' with the faculty of Ambedkar University, Delhi.
Title: Attam
Year: 2020
Abstract of the performance: The Performance Art titled 'Aattam' (meaning 'movement' in Malayalam) is a questioning of gender performativity through the 'classicalised' form of Mohiniyattam of Kerala. The performance is a protest action which questions the aspects of costuming, gender and hence the 'boundaries' of the traditions laid by the institutionalisation of art forms. The performer has used a traditional space, the traditional attire of the Mohiniyattam form and a traditional composition to enact the protest gesture. The performance gesture mainly comprises the cutting of the hair of the performer as the body of the performer moves 'across' the boundaries of the form. In the current scenario where gender is 'non-binary', classical dances still have the 'male' and the 'female' attires, which if unfollowed is viewed problematic. 
Number of team members: Solo performance
Names of members: Sreelekshmi N
Learn Togetherness Performance - Letter to Desire | Indrani Banerjee
Bio: Indrani Banerjee is a queer activist who identifies as a gender non-binary and bisexual/sexually fluid individual. She is a poet and an artist who has always written professionally for other people but has recently started writing for herself as well. She writes and performs spoken word (poetry) to express and celebrate herself and to provoke and rebel against the rigid patriarchal oppressive structures of society. Some of her poems have been published digitally and recently she performed two of her poems 'Memoirs of a Forest' and 'Warriors Don't Cry' at the 'Seeing the Truth' event at Gyan Manch, Kolkata. These two poems have also been selected and is due for publishing in the magazine 'Swakanthey'. Her poetry is both personal and political and expresses lived experiences bordering on the themes of feminism, queer rights, layered complex emotions, desire, queer pleasure, mental health, etc

Title: 'Letter to Desire'
Year: 2021
Performance type: Theatre
Abstract of the performance: The poetry 'Letter to Desire' is written and performed by Indrani to express and celebrate her bisexuality and non-normative queer desire. The poetry is written in the form of a letter which she writes to her desire. She starts by reminiscing about how she met desire for the first time in her childhood through suddenly discovering the art of self-pleasure and gradually her letter flows into her relationship with desire over the years through other people – both men and woman. She talks about how she met desire in high school again, surprisingly through girls, and the journey therein, and then goes on to tell desire how shocked and surprised she was when it came to her with men later in life. Indrani describes her confusion and lucidly narrates how she found desire different depending on which friend it came with. In the last stanza Indrani confesses to desire about how as a bisexual woman she has been questioned and marginalised by both the 'straight' and the queer community and takes agency in deciding to choose both, and living life fully as a bisexual woman. Indrani's letter ends with the realization that rather than trying to figure out her queer desire through her relationships, her core relationship should be with her desire itself around which people and life needs to be. 
Number of team members: 1
Names of members: Indrani Banerjee
Learn Togetherness Performance - Chitrangada: The Story of a Hermaphrodite | Gaurav Das
Bio: Dr. Gaurav Das has acquired his Ph.D. on "Oncology and Chemical Neuroscience" from Indian Institute of Chemical Biology, Kolkata in November 2020. Apart from studies, he has a wide range of training in traditional art forms which includes a Prabhakar in Tabla and Hindustani Classical music from Allahabad Prayag Samiti, training in Kathak , Bharatnatyam and other traditional movement practices like Kalaripayattui and Chhau. With his wide range of training and practice, in 2019 he founded his own theatre troupe Santoshpur Anuchintan, with a group of theatre enthusiasts from underprivileged background.
Title: "Chitrangada: The Story of a Hermaphrodite"
Year: 2021
Performance type: Theatre
Abstract of the performance: For the "Learn Togetherness Beyond Binaries: Sensing Art through Queer Lensing", we are glad to present a re-interpretation of the age-old tale of "Chitrangada" from Mahabharata with excerpts from our ancient sex treatise Kamasutra in the form of a multidisciplinary theatre performance interspersed with music, painting and dance. Loosely based on the text by Rabindranath Tagore, our performance will traverse through the internal pain and angst of the titular character as she rides through tumultuous physical, psychological and biological metamorphosis. Though Chitrangada has been performed several times, most of its interpretations have focused on the social bigotry faced by the people of the third gender and the amount of humiliation they have to bear with. What sets us apart, is that more than the social acceptance by the character, it is the self-realization of gender plurality within herself by Chitrangada that we kind of want to celebrate, which we also feel is the very essence of the Tagore's original play.
Number of team members: 5
Names of members: 1. Alip Halder, 2. Rahul Sardar, 3. Nayan Sadhak, 4. Samar Mridha, 5. Shalini Chakraborty
Learn Togetherness Performance - Rainbows up my Sleeve | Manjima Sarkar
Bio: Manjima is a graduate in English (Loreto College, Kolkata) and a Post-Graduate in English literature and language (University of Calcutta, Kolkata). Besides being a voracious reader, learner and an academic aspirant, she is a passionate singer, theatre practitioner and a trained Odissi dancer. She has been a 'Mastree' educator for six months and also has a profound experience of teaching English to middle school and high school students. During her graduation, she participated in a Legal Awareness Course organized by Loreto College, aimed at empowerment of Young Women with focus on perspective and skill; contributed articles, poems to college magazine "Expressions"; volunteered in several events organized by Literary Society and attended panel discussions on contemporary social issues: a transwoman's involvement in society, cybercrime and human trafficking. She participated in a four-day project at "Community Service at Society for Indian Children's Welfare" (23rd October 2017). During her post-graduation, she worked as an intern in an edutech company and conducted creative writing workshops at various schools based in Kolkata. She is a national junior scholarship holder in Odissi dance from CCRT and is also a theatre enthusiast.
Being an avid film enthusiast and a trained Odissi dancer since a young age, Manjima has always been interested in the gender dynamics embedded in various forms of art. While being exposed to texts including 'The Madwoman in the Attic' by Sandra Gilbert and Susan Gubar; and "Visual Pleasure and Narrative Cinema" by Laura Mulvey, she got an opportunity to explore multifaceted debates on gender. She intends to complete her research on Drag Culture in India and aspires to found a magazine that will critique mainstream Indian films and advertising campaigns that promote gender stereotypes extensively, thereby having a major social impact. She also to found her own dance studio where she wants to experiment and collaborate with queer dancers across India.
Title: Rainbows up my Sleeve
Year: 2020
Performance type: Dance
Abstract of the performance: This performance explores the diverse dimensions of gender and makes an attempt to voice the angst of a drag artist who is trapped in the shackles of societal obligations. He/ She is not just a crossdresser, but also a person who is endeavouring to discover his/her sexual choices. He/she aspires to embrace the utopic joy of imagining a world beyond binaries. This performance focuses on two broad issues: how the politics of crossdressing in Indian performing arts has shaped the discourse of gender performativity and how drag performances in India are attempting to deconstruct the gender-inequitable tropes of crossdressing by imbibing the attributes that are not conventionally associated with one's sex. Crossdressing is a phenomenon that has transcended social and regional boundaries. The performance is a small attempt that demonstrates how it has evolved across several time periods and cultures. This performance scrutinises the social, political and psychological implications of crossdressing in this day and age.
Number of team members: 2
Names of members: 1. Manjima Sarkar 2. Sarba Roy
Learn Togetherness Performance - Brihannala | Sudeshna Dey
Bio: Sudeshna Dey is ex-troupe member of Tanushree Shankar Dance Company. She won 'Telegraph School Awards - Excellence for Outstanding Talent as a Dancer. She went to London to pursue her scholarship in dance. She travelled to Birmingham to choreograph 'Tasher Desh' for Arts Bengal. She was one of the jury member of Harmonica 2016, inter school fest. She was the winner of two Talent Hunt. She appeared at several music videos. She was invited to participate in Dance & Music festival (phase IV) by EZCC (Ministry of Cultural, Govt. Of India).
Title: Brihannala
Year: 2020
Performance type: Creative Dance
Abstract of the performance: The performance highlights the plight of a transgender person, referred to as Brihannala here, who was discarded by own family.  Belonging now in a place of similar community, Brihannala misses the warmth of family and loved ones. Questioning abandonment due to nature, Brihannala asks the necessity of birth if the final destination is abandonment without any fault, only due to societal pressure. While ruing the forced lifestyle and being isolated from old friends who have a much more "accepted" lifestyle, Brihannala appeals mother for acceptance and inclusion in family again. 
Number of team members: 1
Names of members: Sudeshna Dey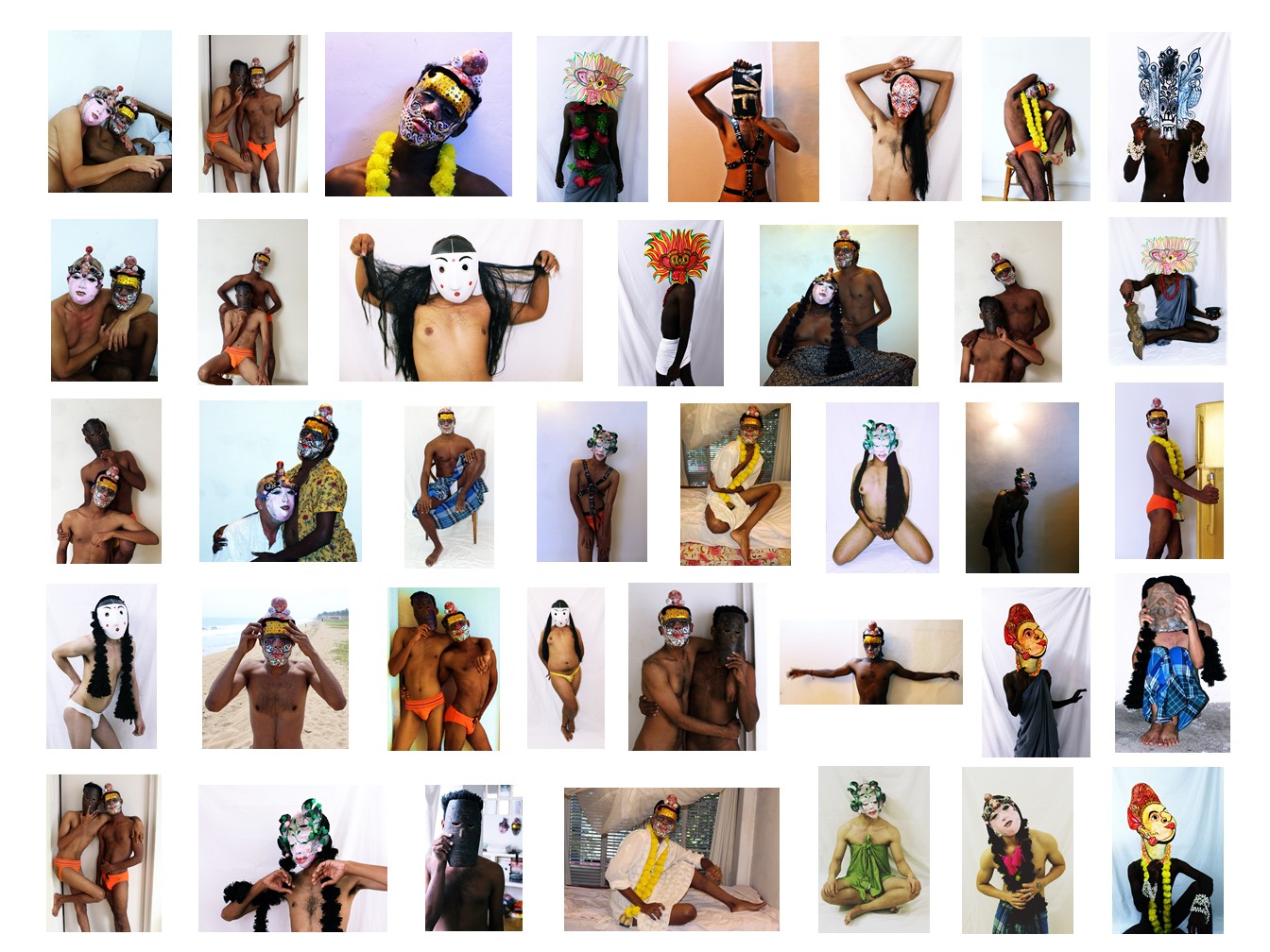 Who am I? My name?
Dheeraj Kumar
Photography
25 X 25 Inch
2020
Know More
I often come across these forms which asks me - "What is your GENDER?" As an adult, I have lots of questions – What made someone distinctly – male or female? The sexual organs are the obvious differences I figured out which have been assigned to us by birth or the names we are given by our parents? In our society when a child is born, these tags are assigned to the child by the people we live in. Girls are supposed to sit, talk in a different way than Boys. Boys are born to be free and rule, because that's the majority. However, our naked, bare bodies undressed from frivolity, focused on function and iteration, imagining the countless possibilities which can be actualize. These days in modern Instagram world, what I came across is – there are seven unique gender terms which I was not even aware of – Male, Female, Intersex, Trans, Non confirming, Personal and Eunuch. A male is an individual who describes himself as one of the gender majority. Maleness derived from most of the conversations what I have heard around which growing up is – sperm production, male sexual organs, deep voice after puberty, muscles mass is more. As female features are softer, and her contours implied. when an individual with the conventional characteristics of a male do not perceives himself as male, this individual is understood as sis- male. The variations are Endlessly diverse. If asked, I would say – gender is a Personal choice, it's a feeling how you see yourself not how you are seen through outside world, based on your characters or the clothes we wear. Someone's existence in described how society or others see us – he is a man, she is a woman, no! She is not a man; he is not a woman. Neither or both, whereas, for me – body is just a body. Nothing else. Nowadays, I have grown a strong believe that gender doesn't exists. These are just social constructs that are created by others, who do not understand or want to understand what I feel inside for myself. A Personal gendered individual is someone who identifies as Themselves. So, I engendered myself by my name – through which I am recognized. But again, it's just a name and a Male Alphabet off course! Concern is – do we need these validations? I intend to continue drafting type that has the complexity and the versatility of the personal. Not an absence of gender, but an irrelevance that embraces the particular. Embraces function. Embraces idiosyncratic beauty. it is an act of liberation from the societal pressures that masculinity has placed on to them. It simply means that traditional standards of what is desirable, beautiful, functional, full of design libido, no longer apply and difficult to comprehend as a necessary component in social projects. Rather than serve a social purpose on the outset, this technology was created for its own end, a social purpose to be found later or never. its initial intent: simply to materialize a "beautiful" idea.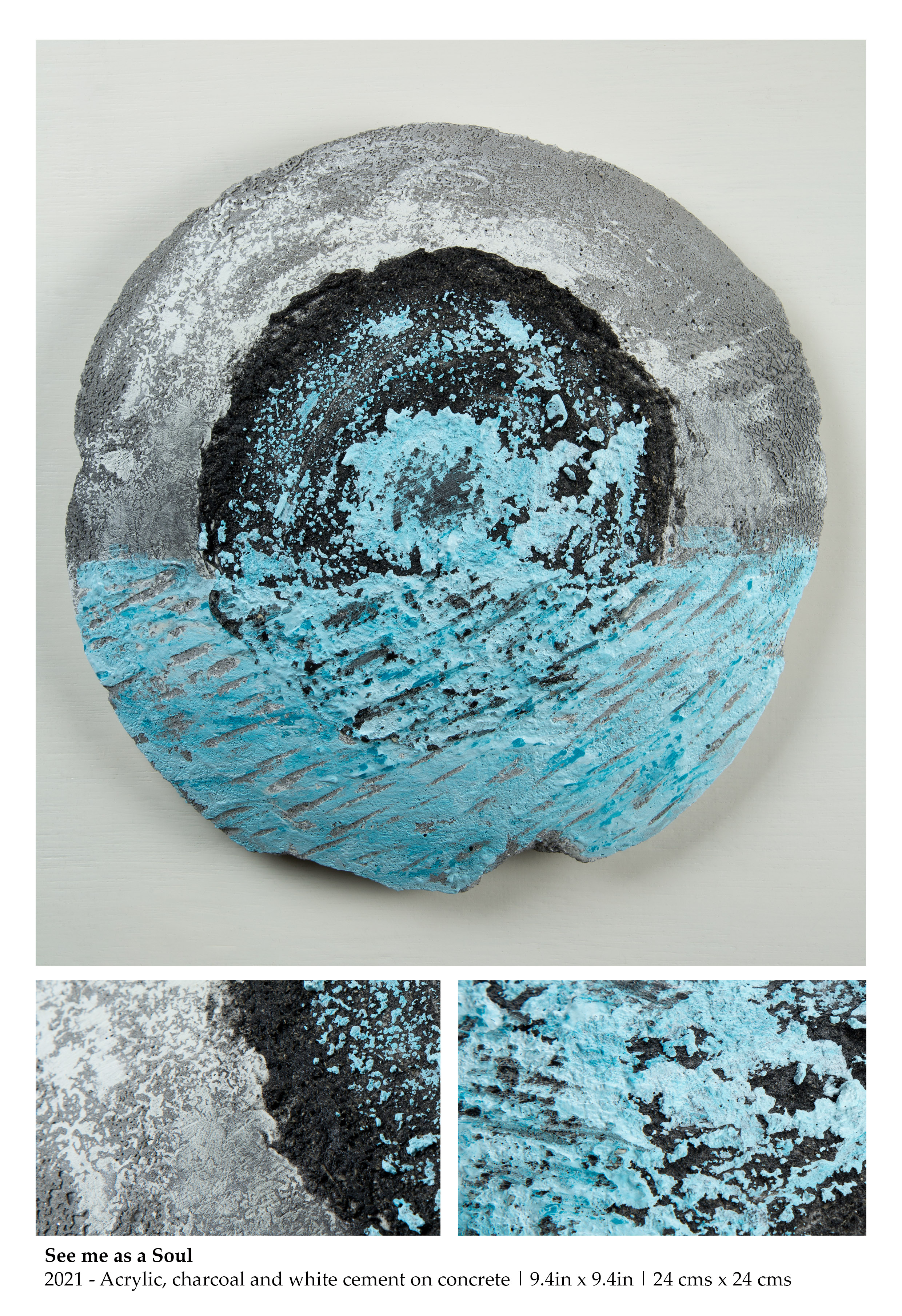 See me as a Soul
Anunay Rai
Acrylic charcoal and white cement on concrete
9.4 x 9.4 Inch
2021
Know More
It all starts with the eye. How we look at people. We judge them and put them in different categories. Our eyes have penetrative force. They can hurt someone and can also heal them. We need to look within and then we will be able to look beyond and see everyone as a soul.