KCC at IAF 2023: Harnessing Inclusivity
Kolkata Centre for Creativity (KCC) will be present at the India Art Fair 2023 as the festival's Inclusivity Partner. Through our vertical KCC DEAI (Diversity, Equity, Accessibility, and Inclusivity), we focus on the application of art for the development of marginalised and differently-abled persons, empowering them through self-expression and creativity. We continuously work with national and international experts in art and accessibility to build the framework for these engagements vis-à-vis art.
Through a series of programs, presentations, exhibitions, performances, seminars, workshops and recruitment, we consistently strive to ensure that KCC is an all-inclusive LGBTQI+-friendly art space.
Our efforts to be more inclusive reflect in our programs like Learn Togetherness and AMI Arts Festival that are held annually. We attempt to include more people within the ambit of the art world through conversion of art into tactile artworks and publishing of Braille books on art.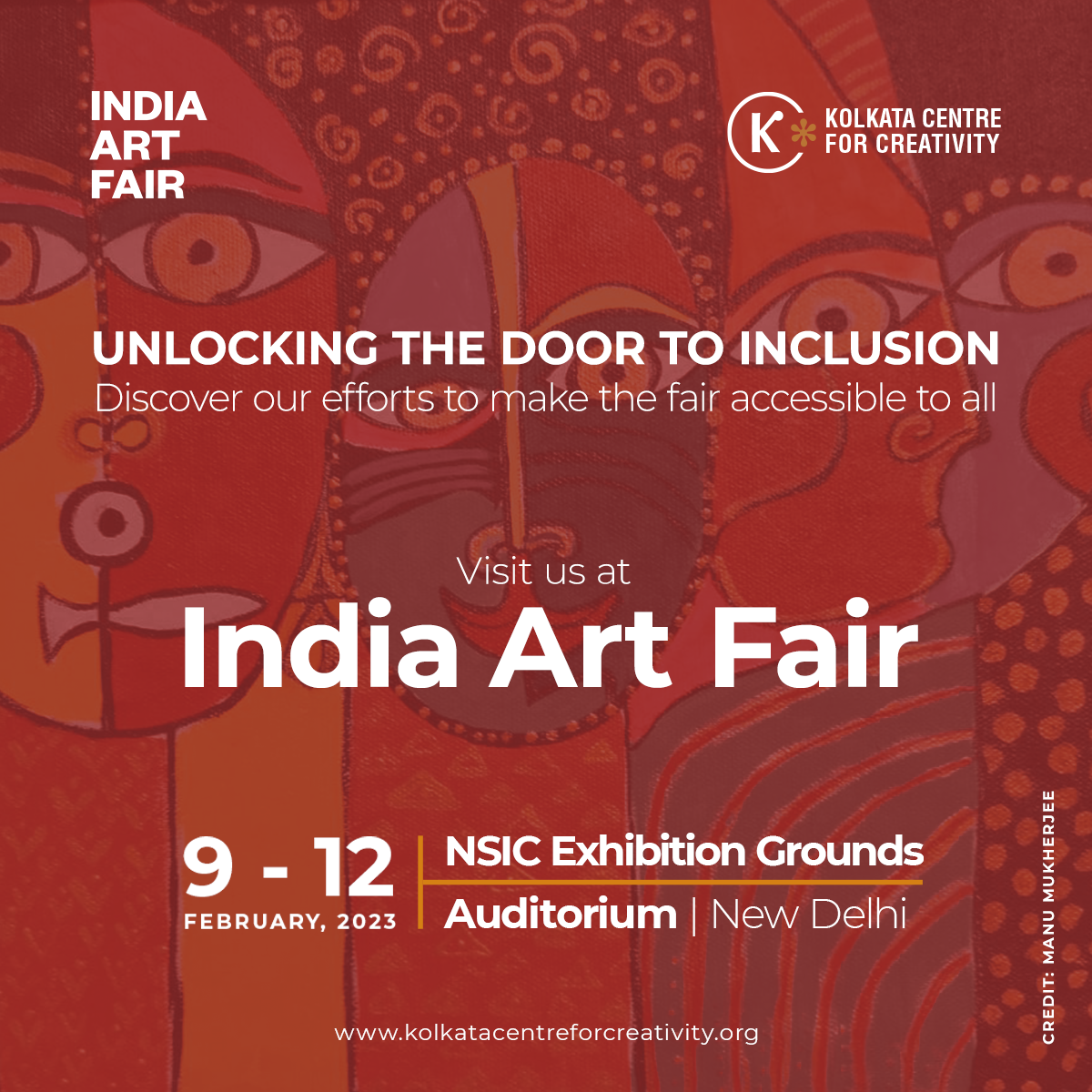 LEARN TOGETHERNESS II
Theme: Being Queer, Being Home
In the second year of celebrating the LGBTQIA++ Pride Month in June 2022, we organised the second edition of Learn Togetherness in collaboration with Sappho for Equality. We invited visual and performing art creations based on the idea of 'home' explored through the queer lens for the exhibition themed 'Being Queer, Being Home'. 
Paintings, photographs, sculptures, installations, writings, and performance pieces that explore 'home' in relation to being queer - from the perspective of a queer person in a conventional home to the utopic exploration of how a queer home might be - were all welcome.
AMI ARTS FESTIVAL 2022
Inclusion at the Kolkata Centre for Creativity also translates into taking one and all into the ambit of the art world irrespective of their background, socio-economic status, practice and so on. Such an inclusive amalgamation can be observed at its finest through our annual AMI Arts Festival.
AMI Arts Festival is our annual free-for-all cultural festival that takes pride in its Indian cultural legacy and celebrates contemporary manifestations in the arts. Though locally rooted, being trans-local in spirit, the festival hosts participants from across India and abroad to encourage the cross-pollination of ideas and creativity. The festival becomes an all-inclusive melting pot of all kinds of arts, artists and programs, including multiple exhibitions, a delightful bazaar, musical concerts, folk performances, workshops, and virtual talk sessions. The third edition of the festival brought together maestros like Pt. Vishwa Mohan Bhatt, renowned musicians and singers like Anjan Dutt and Iman Chakraborty, curators like Suresh Jayaram, and emerging artists from both visual and performing arts backgrounds.
Some of the programs at the AMI Arts Festival that best exemplified our efforts in the field of inclusivity include:
The Afterlife of Performance ft. Nikhil Chopra
We invited viewers to flow through, like water in a landscape, charting new courses in time, responding to and changing the environment as they move along. 'The Afterlife of Performance' featuring Nikhil Chopra attempted to understand durational-performance by looking at the recordings of some of Nikhil's celebrated works along with exhaustive and explanatory notes that provided insights into the artist and his practice. 
AMI Arts Anthem
The AMI Anthem celebrates the innate inclusivity of Bengal's diverse cultural heritage in the daily lives of people from every section of society, keeping the spirit of AMI intact.
As a musical prelude to AMI Arts Festival, we launched the AMI Anthem on 5 December 2023. Directed by National Award-winning actor Ridhhi Sen and composed by Subhadeep Guha, the anthem features well-known Bengali actor Anirban Bhattacharya who is also the lyricist of the anthem.
Slopes to Sea
West Bengal is full of rich and diverse traditions. There is an abundance of folk art forms. While some of them are popular in their own regions, others have become so popular that they have been scaling national and international boundaries for a long time. 
These diverse folk performances were brought together by music composer, singer, and songwriter Subhadeep Guha in one ensemble performance at the inauguration of AMI Arts Festival 2022. As the name 'Slopes to Sea' suggests, the performance began with the folk forms from the hills of Bengal and gradually came down to the Bay of Bengal. In effect, the performance was a cultural mapping of Bengal showcasing a selection of 12 folk forms.
TACTILE ARTWORKS AND BRAILLE BOOK
Accessibility and inclusivity being our primary objective, this year too we will present tactile artworks at IAF and launch the next book in the series of KCC Braille Books on Art. Our focus for this year is on the art of S.G. Vasudev. The book will be designed and published in collaboration with Blind Persons' Association.
Event date: 9-12 February 2023
Venue: Auditorium, NSIC Exhibition Grounds, New Delhi