Kcc Arts lab 7.0 : Ravan Reloaded
Ravan Reloaded is a new perspective on the story of Ravan. It shows Ravan to be a social construction and not someone solely evil from the beginning. While discussing the theme, Debasish, the director, says: "This is neither a retelling nor a reconstruction of the story of Ramayana. We are not focusing on the character of Ram and his struggle against Ravan at all. We are here to discuss Ravaan. How he came to be one of the most powerful entities on earth and how his power is nothing but the result of a flawed social structure."
This interesting piece of performance is a result of Kolkata Centre for Creativity's endeavour 'KCC Theatre Lab'. They scheduled a 7 days site specific theatre practice and reloaded the concept of Ravan both technically and metaphorically. 10 eminent actors, chosen from a rigorous audition process from West Bengal are performing in this production. While the text was written impromptu by the director himself, the design is awe-inspiring according to the people who observed the making process. The premiere of this performance is on 7th August at Kolkata Centre for Creativity's amphitheatre space.
The protagonist is an aspiring hero who travels all the way to Mumbai from his home which is at Bade Bhootni Gaon, a rural village from Ayodhya, to pursue his dream profession of acting. As a son of a Raamleela performer he disdains the old and indian acting methods and wants to imbibe the new Bollywood style. 
Unfortunately, Mumbai welcomes him more harshly than not and he turns into a criminal. This play observes and analyses the protagonist's journey through the paths of criminality while only willing to achieve respectability.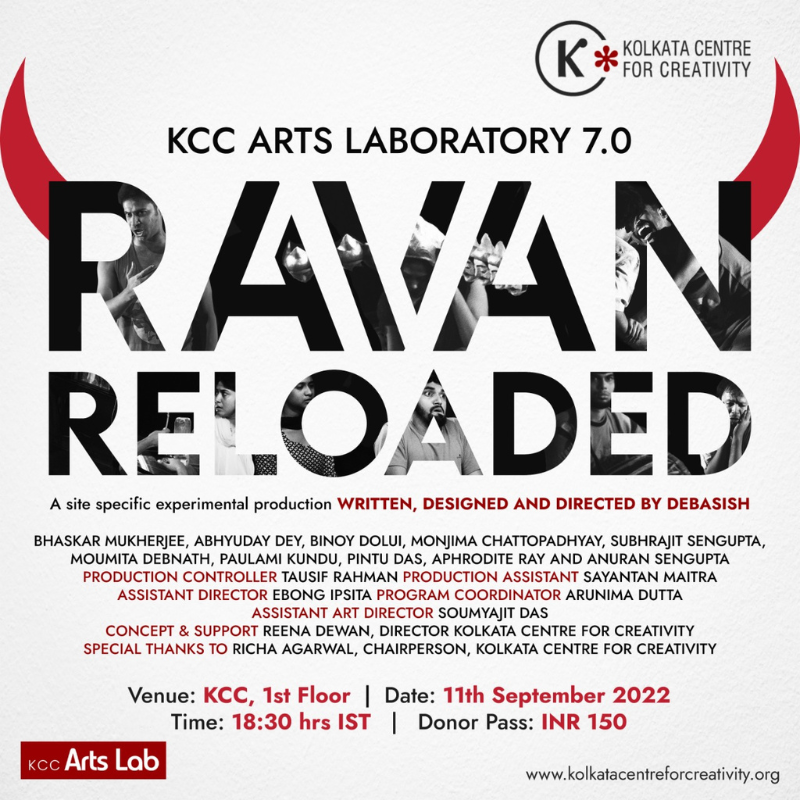 Venue: KCC, Amphitheatre (1st floor)
Date: 11th September 2022
Time: 18:30 HRS IST
Payment Here
Director of the Play: Debasish RAY
Debasish is the son of eminent theatre director - Shree Kanak Ray.
Kanak Roy, his father, was the director and organiser of 'Raktakarabi', a renowned and vibrant theatre troupe of north 24 parganas, West Bengal for over 20 years. Debasish started working with theatre both in acting and backstage works right from his childhood with his father. He joined the mainstream flow of theatre with the direction and set designing of 'Bairer Darja' by Mohit Chattapadhyay in a theatre workshop organised by Paschimbanga Natya Academy.
Productions from his own group, Theatre Platform – 
Debasish's play 'Tumi Kee Korechho' created a stir in the world of open air theatre for its uniqueness in Bengal. A few theatre productions of Theatre Platform by Debasish are 'Seturaam', 'Azaadi', 'Tumi', 'Parashuraam', 'Aajke Aamaar Chhuti', 'Angshumaan', 'Elebele', 'Muktodhaaraa', 'Dhrubaa', 'Khanjonaa Aami Aar Aasbo Naa', 'Samayjaan', 'Hattomaalaar Opaare', 'Ilaa Gurhaishaa', 'Hridipaash', 'Ekti shahoj Khuner Galpo', 'Gartokanyaa', 'Qua Ranta in love'. 
Direction other than Theatre Platform –
Debasish is now the most popular director of Bengali theatre. He has directed many plays for several troupes of bengal in recent years. Jean Paul Sartre's play 'Condemned Of Altona' to 'Knaakraa' in 2014, for Minerva Reparatory Theatre OF Information And Cultural Affairs Department, Government Of West Bengal; Char Adhyay for Sandarvo, Mulya for Swapnasuchana, Jashomati and valobashar Ishkul for Learners Education Society of Tripura, Koleboshe for chakdaha natyajon, Revenge factory, dhulomakha ruti, lockdowner natok, valobasha kare Koy, prothom rajnoitik hotya, uronto tarader chhaya for Sangstab.
Exploration and responsibilities other than Direction – 
Debashish has experience of stage designing, choreography, costume designing with various eminent directors of Bengal like Bibhas Chakraborty, Chandan Sen, Arpita Ghosh, Kuntal Mukhopadhyay, Anirban Bhattacharya, Kousik Chattopadhyay, Shyamal Chakraborty, Debasish Biswas, Biplab Bandopadhyay, Abanti Chaktaborty and many others. He is an ex member in the committee of 'Paschimbanga Natya Academy' and ex – member of 'Minerva Natya Sanskriti Charchakendra' of 'Information & Culture Department', Government of West Bengal.
Awards –
Debasish was awarded 'Shamindranath Thakur Medhabritti Award' by 'Rajya Nritya Natok Sangeet o Drishyakala Academy' for his theatre works throughout the year in 1996-97 and Mohit Chattopadhyay Smarok Puroskar by Popular Theatre Magazine named Natyapanjikaa for best direction in 2012. Debasish also received 'SHAMBHU MITRA PUROSKAR' for Exceptional Contribution & Persistent Dedication towards Bengali Theatre on 26th of May 2017 from West Bengal State Government.
Ravan Reloaded Selected participants
| | |
| --- | --- |
| Monjima Chattopadhyay | Female singer and Actor |
| Bhaskar Mukherjee | Male Singer and Actor |
| Abhyuday Dey | Rhythm player and Actor |
| Subhrajit Sengupta | String player and Actor |
| Aphrodite Ray | Dancer and Actor |
| Pintu Das | Dancer and Actor |
| Moumita Debnath | Actor |
| Paulami Kundu | Actor |
| Binoy Dolui | Actor |
| Anuran Sengupta | Actor |