Kattaikkuttu is Tamil Nadu's unique heritage theatre. It is a physical and vocal form of rural, open-air ensemble theatre that interweaves singing, speaking, music, movement and acting, in addition to the use of elaborate make-up and costumes. The workshop allowed the participants to discover Kattaikkuttu's physicality and movement patterns, projection of voice and getting into character. The workshop was led by senior actor, director, playwright and the co-founder of Kattaikkuttu Sangam, Perungattur P. Rajagopal. It was facilitated by Dr. HanneM de Bruin, an accomplished scholar of Indian theatre and the principal fundraiser and facilitator of the Kattaikkuttu Sangam.
Date: 18th December
Time: 11 AM - 1 PM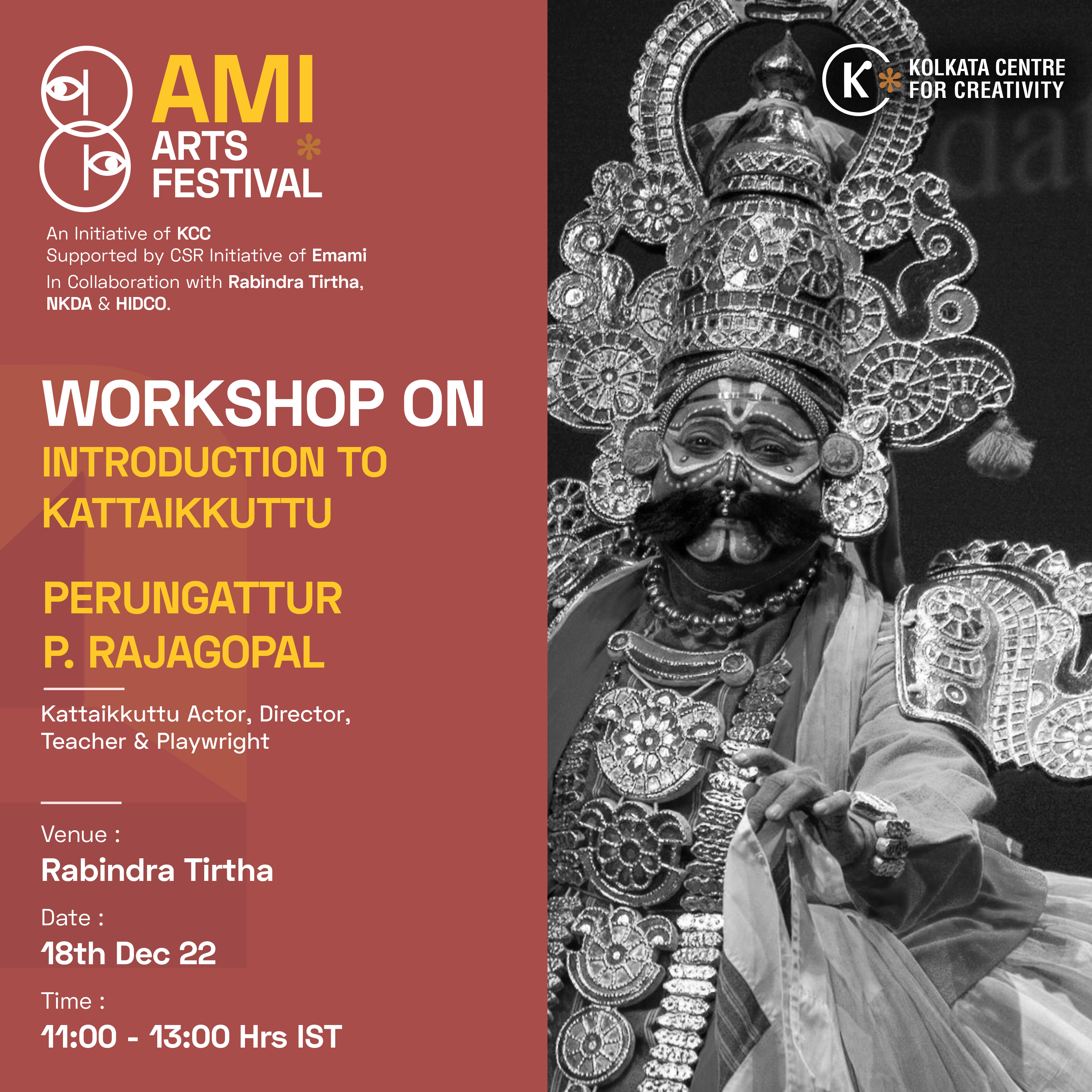 About the Facilitators:
P. Rajagopal (Perungattur, 1953) is a versatile Kattaikkuttu actor born into a family of hereditary performers. He is also a director, teacher and playwright. Rajagopal is the co-founder of Kattaikkuttu Sangam (1990), a grassroots association uniting Kattaikkuttu actors and musicians across styles and regions, and the founder of the Kattaikkuttu Gurukulam (2002-2020). He has been a strong advocate of opening up Kattaikkuttu to women and a moving force to promote Kattaikkuttu in its own right. He has also worked as a Guest Lecturer (2019-2020) at the Performing Arts department of Ashoka University, Haryana. Rajagopal has performed and taught abroad in the Netherlands, the UK, Belgium, Germany and Switzerland. He is a recipient of several prestigious awards over the span of his career. 
He is a principal mover and shaker in transmitting the art of Kattaikkuttu to the next generation, making this traditional theatre accessible to all genders, contemporizing its repertory and ensuring a high quality of performance. Rajagopal is married to Dr Hanne M. de Bruin, who is a co-creator and scholar of Indian theatre.
Dr. Hanne M. de Bruin (1959) studied Indology and received her PhD for her research on the Kattaikkuttu theatre at the University of Leiden in The Netherlands. She has published widely on Indian popular theatre, women performers and Indian culture, and translated the all-night Kattaikkuttu play Karna Moksham into English. Since its establishment in 1990, Hanne has been the principal fundraiser and facilitator of the Kattaikkuttu Sangam and the Gurukulam.
PAY HERE