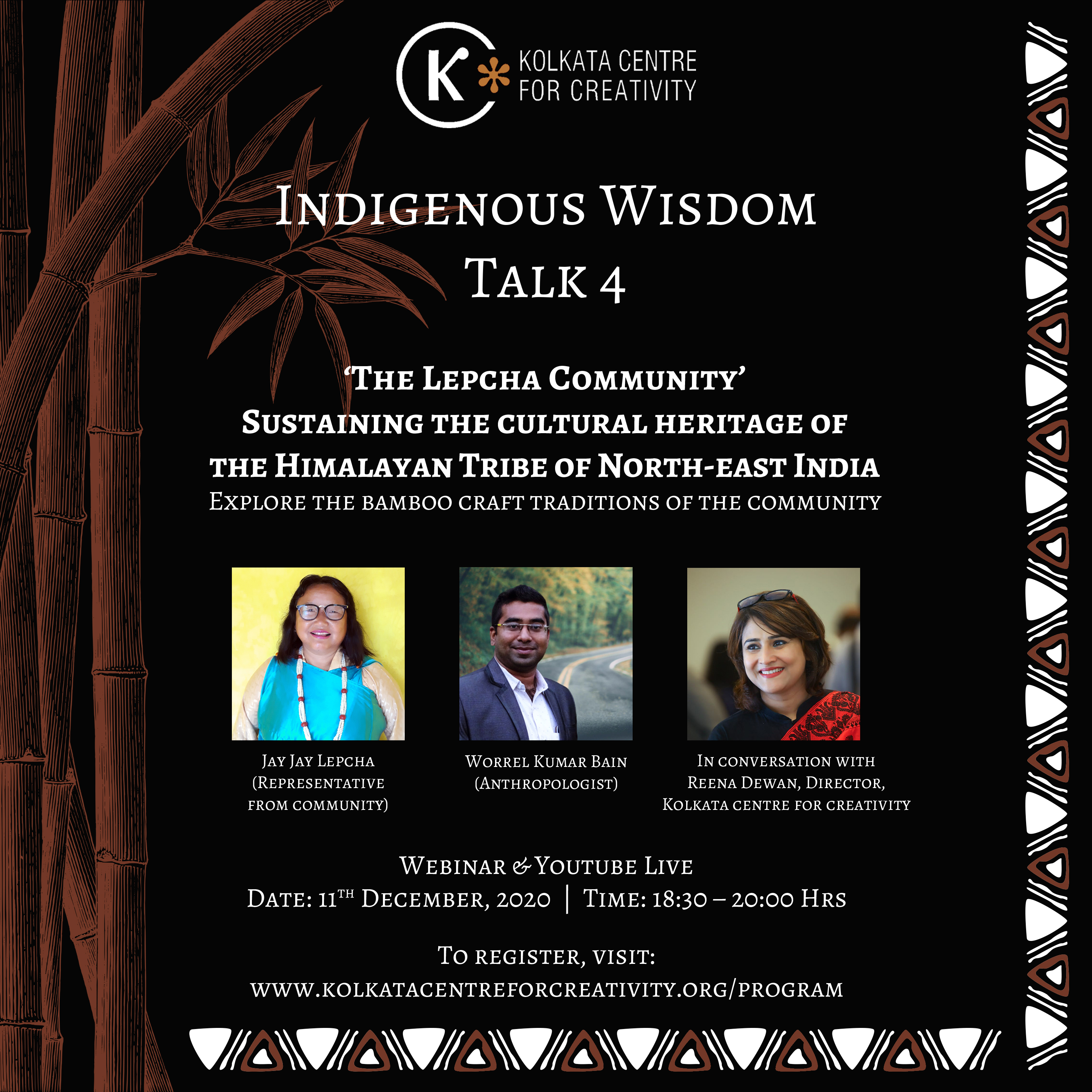 Lepcha is a tribe of Himalayan range live at the North-East corner of India. They largely resides at Meghalaya, Arunachal Pradesh, Bhutan, Sikkim and Darjeeling. They have also migrated in other North-Eastern States for economic reason. Originally Lepchas were the nature worshiper and had belief in witch-craftship and spirits.
Date: 11th Dec, 2020

Time: 6.30 to 8  p.m.
Register Now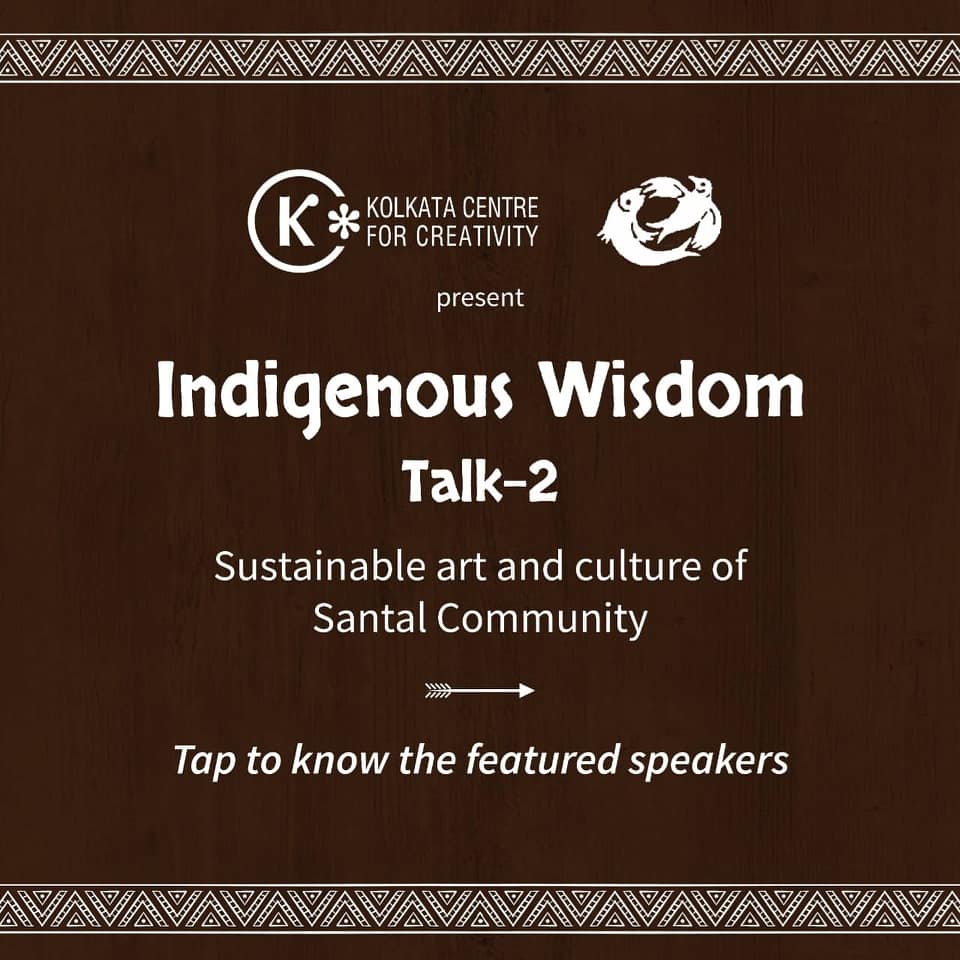 Kolkata Centre for Creativity would be organising a Session to celebrate the World Indigenous day. The indigenous tribal communities had been carrying with them through intergenerational exchange wisdom of thousands of year. This wisdom remained mostly confined within the communities for multiple reasons, we feel we can learn through them, how to bridge the emotional gap between humans and the nature that has disrupted the sentimental connection between the two in the present. The celebration on this day, would be dedicated to giving homage to these communities owing to their eco-centric attitude which is reflected in their cultural manifestations through different art forms. The subject of our discussion would be cultural life of community of Eastern India (Santal) which is integral to their existence and sustenance because they express how intrinsically connected they are to their native community and the surrounding environment.
We are focusing on how their art expression and sustainable life style kind of evolve together and what is their historical and ethnographic background of it and what is right now.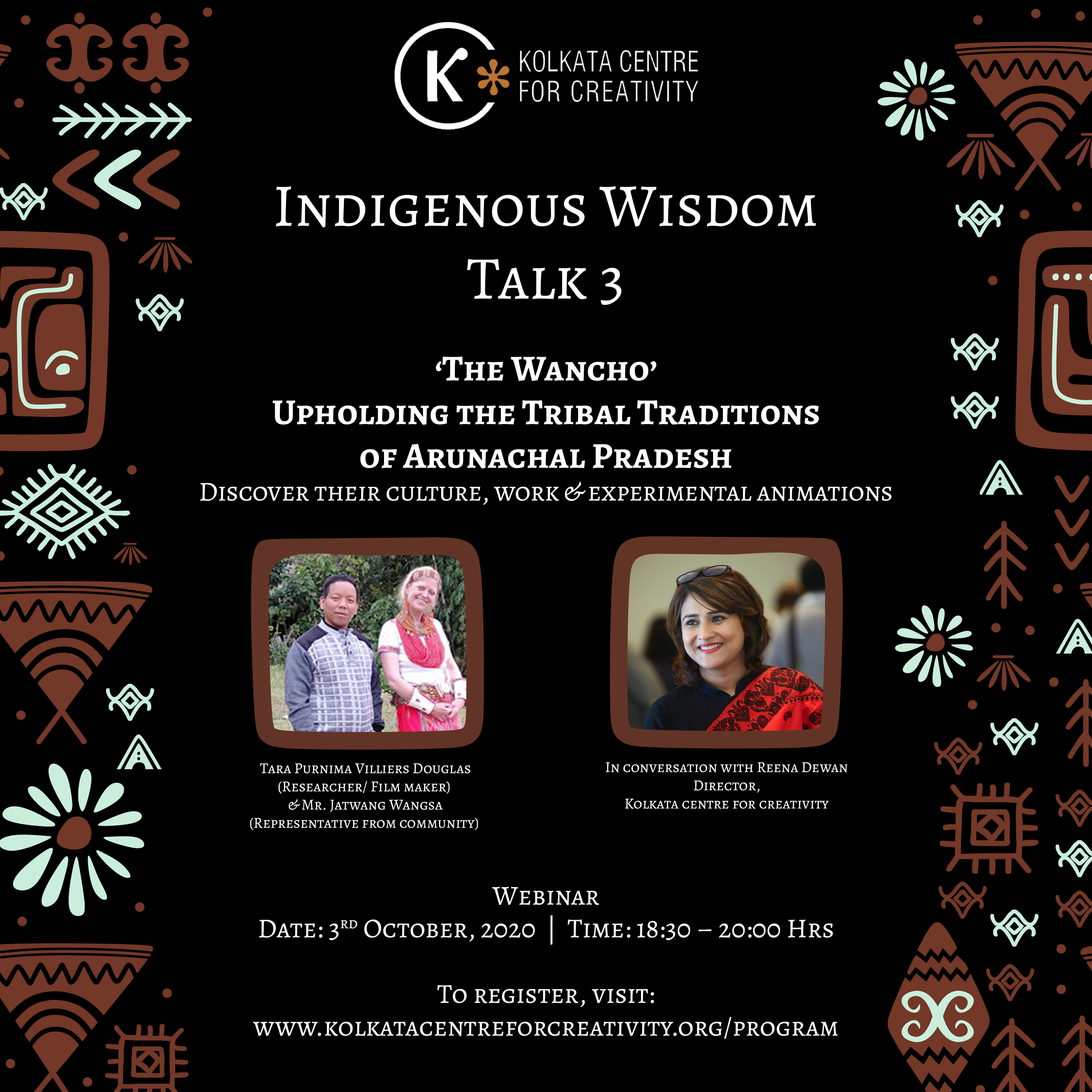 The Wancho are one of the major tribes of Arunachal Pradesh, North-East India.  They have been living in Assam with their indigenous socio-cultural identity ever since. Wancho are known for their vibrant indigenous cultural heritage.  Due to the impact of the mainstream culture of Assam, the Wancho community is changing its age-old traditions. This study intends to bring light to their recent cultural traditions. Especially the festivals and ceremonies of the Wanchos of Assam are highly influenced by the undergoing process of Acculturation. 
In this session, Kolkata Centre for Creativity is organising a Talk Session on the cultural life of Wancho community. This session will not only familiarise the audience to the Wancho community and their culture but will also serve as an introduction to their work through experimental animations. 
 Tara Purnima Villiers DOUGLAS as an anthropological expert and Jatwang Wangsa as a community-based representative will share their insights in conversation with Reena Dewan, Director, Kolkata Centre for Creativity.
Register