Healing through Creative Expression 2.0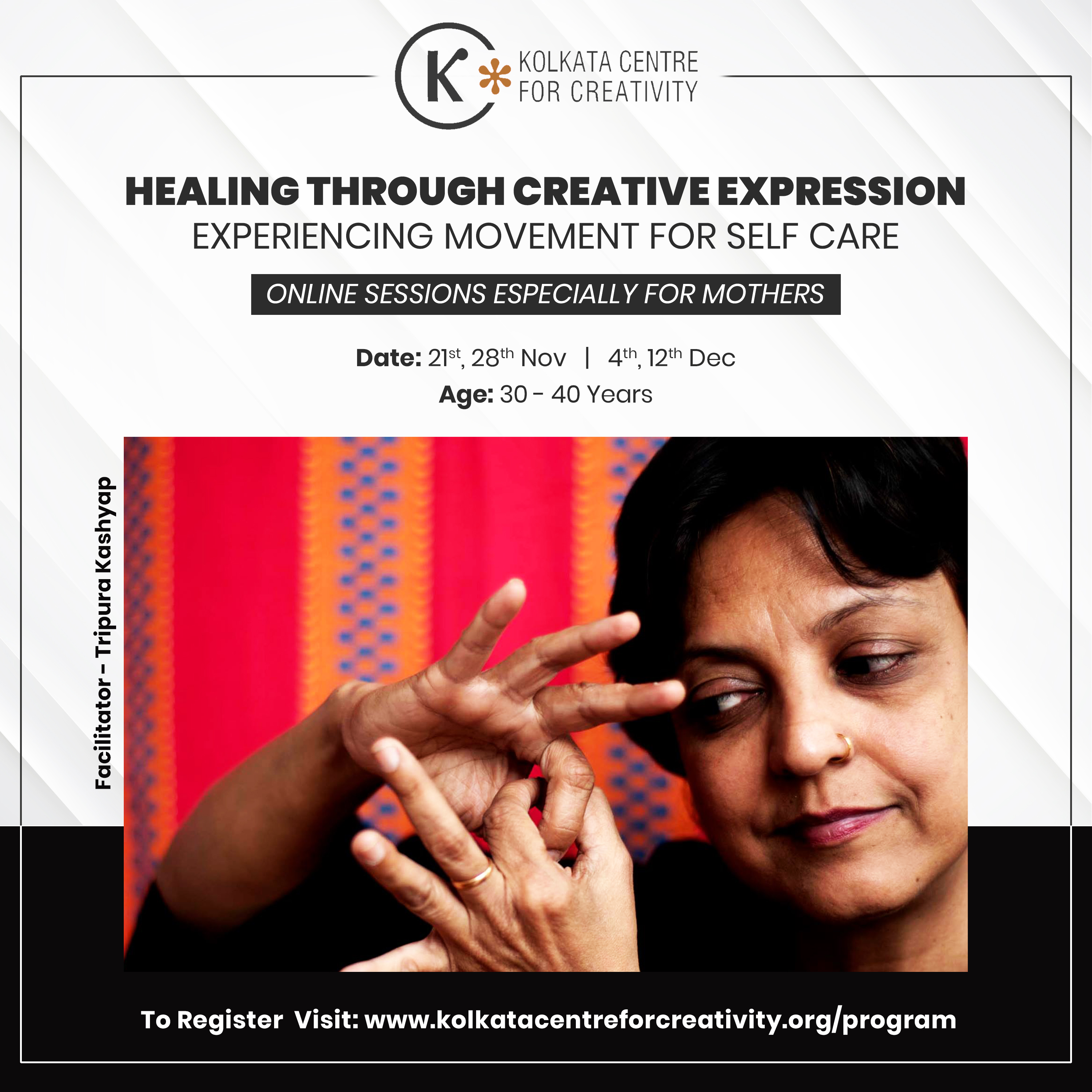 When body carries stress, there is a  process of releasing that stress too. These four sessions are specially designed for mothers from all professions or homemakers. When this society ask 'mothers' to be with ten hands, they need to have the way of releasing the pressure too. Dance Movement therapy facilitates the release process by moving body, connecting mind and body and also by understanding self care process. Dance Movement Therapist Tripura Kashyap will facilitate the sessions to take care of mental health and well-being of self. 
Date: 21st, 28th November | 4th, 12th December 

Time: 17.00 hrs - 18.00 hrs. (IST) for all days, for 4th 16.30 hrs - 17.30 hrs

Age: 30-40 years (Young Mothers)
Register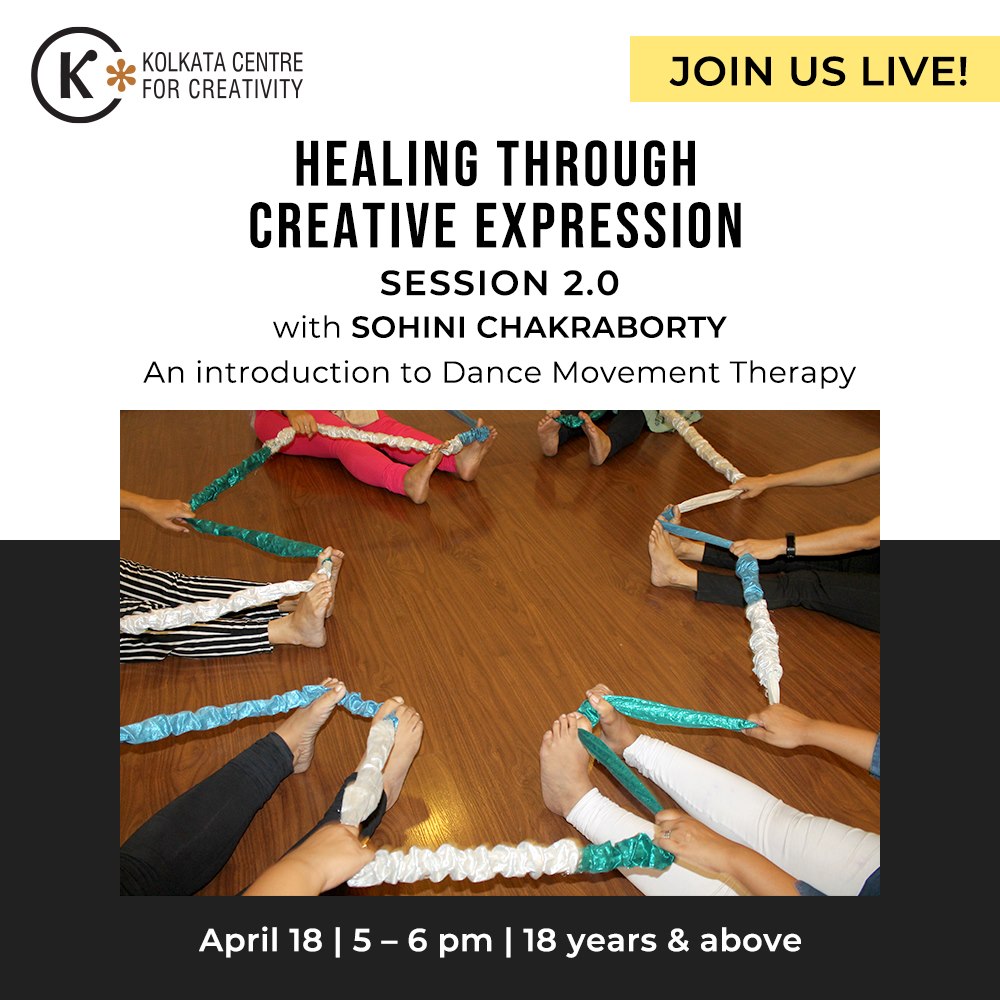 Healing Through Creative Expression: Session 2 with Dr. Sohini Chakraborty, the founder-director of Kolkata Sanved and the pioneer of Dance Movement Therapy in India & South Asia.
The online session dealt with an introduction to Dance Movement Therapy and how it facilitates recovery, healing and overall well-being.
Date: April 18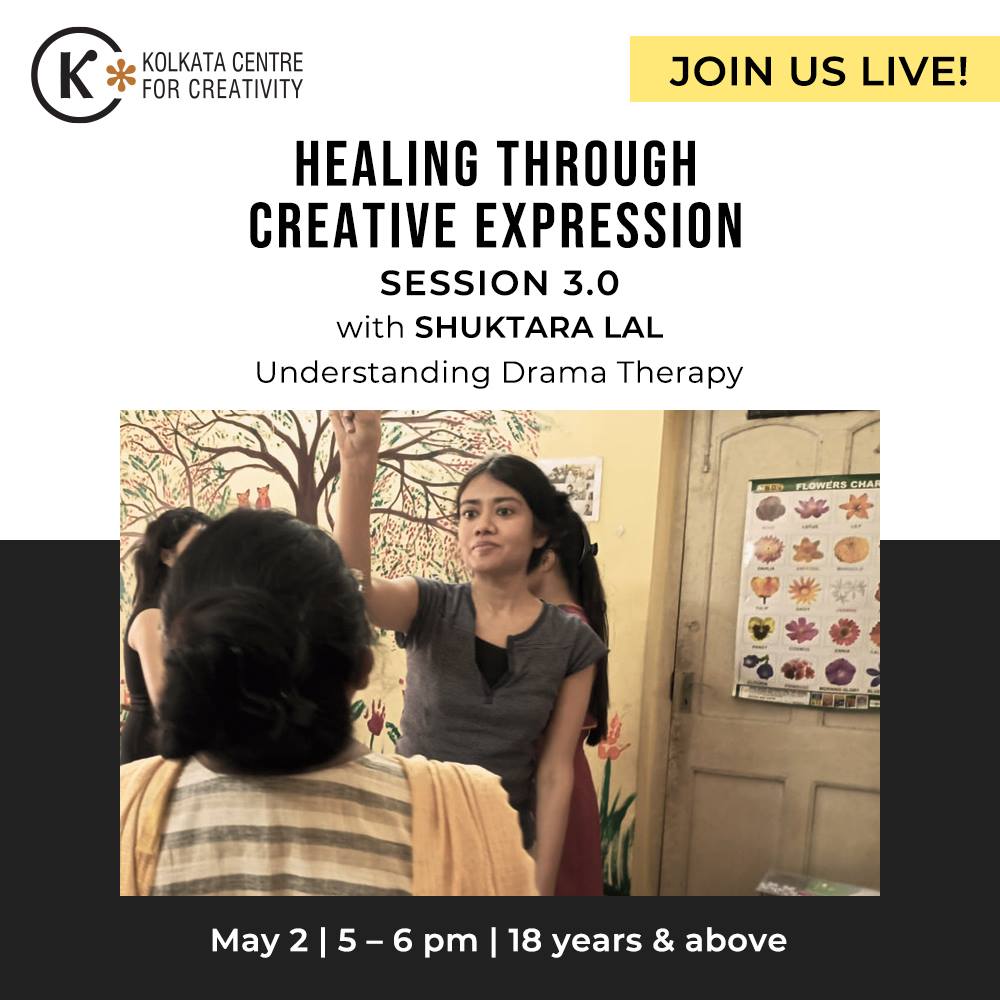 Healing Through Creative Expression 3.0: Understanding Drama Therapy with Shuktara Lal, a drama therapist & counsellor, teacher & theatre director. This one hour session explores how Drama Therapy fosters holistic well being and self-care practices in keeping with the core aspects of our lives.
Date: May 2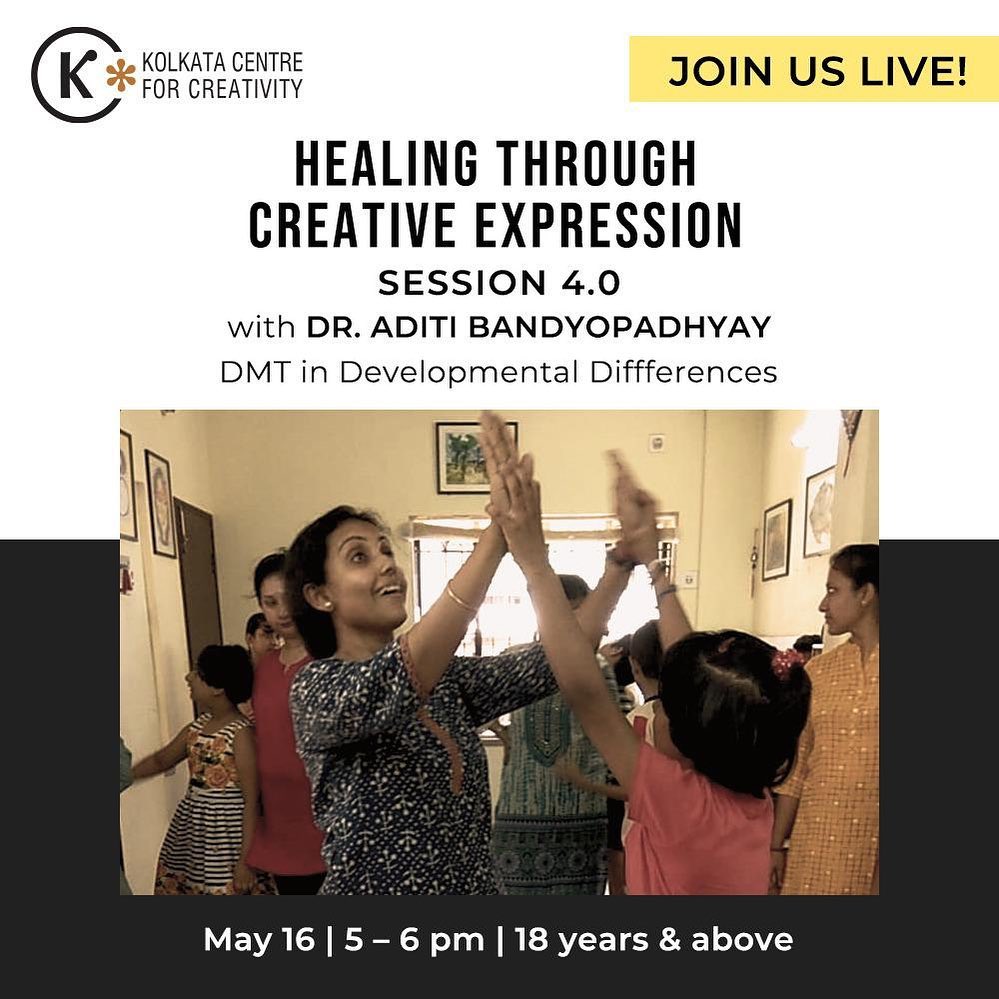 Healing Through Creative Expression 4.0 with Dr. Aditi Bandyopadhyay, a physician of medicine by profession, a medical faculty, an Indian classical dancer and a prominent dance and movement therapy practitioner. She is also the founder trustee of SAMYA Foundation for Special Needs. The webinar focuses on how movement can help people with autism and other developmental challenges to enhance communication skills, confidence and attention span. ⠀
⠀
Date: May 16⠀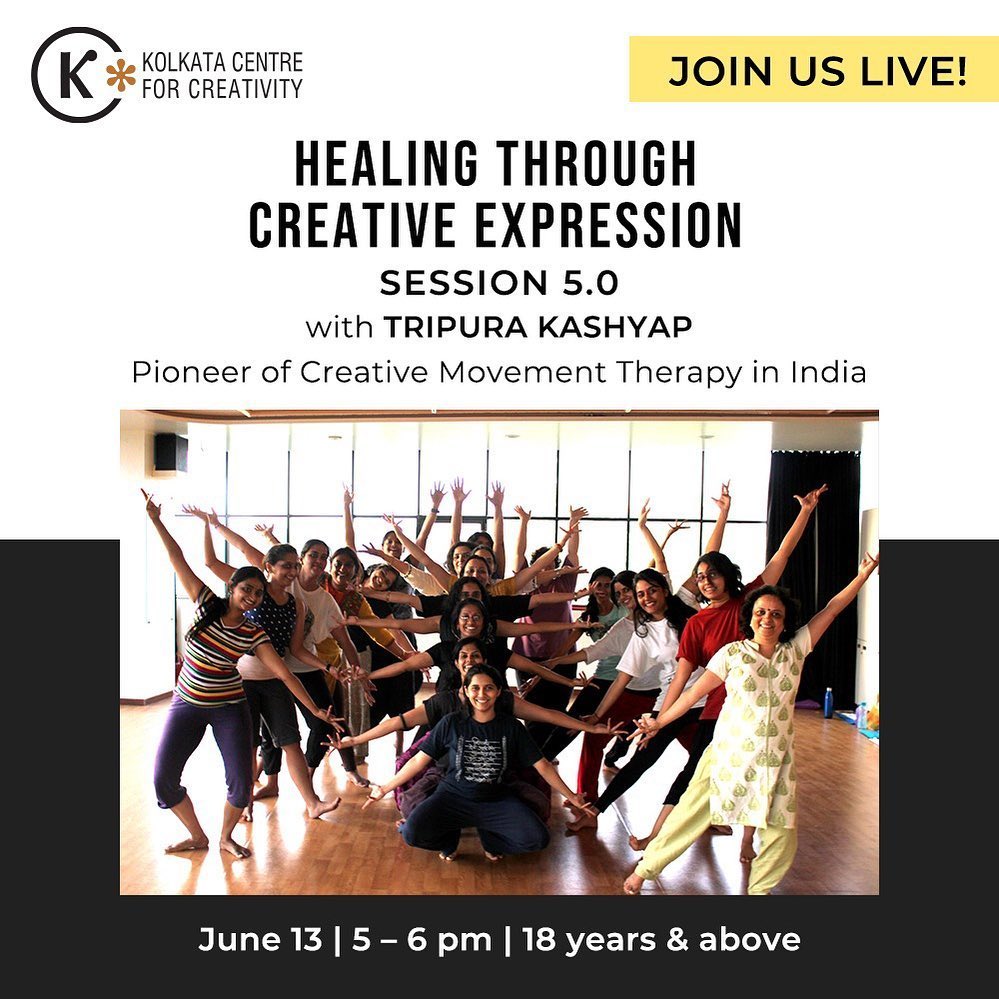 Healing Through Creative Expression 5.0: Creative Movement Therapy with Tripura Kashyap. The pioneer of Creative Movement Therapy in India & the co-founder of the Creative Movement Therapy Association of India, in the online session Tripura will facilitate the use of one's natural body movements to express thoughts, ideas & emotions in order to achieve physical, emotional & mental well-being.
Date: June 13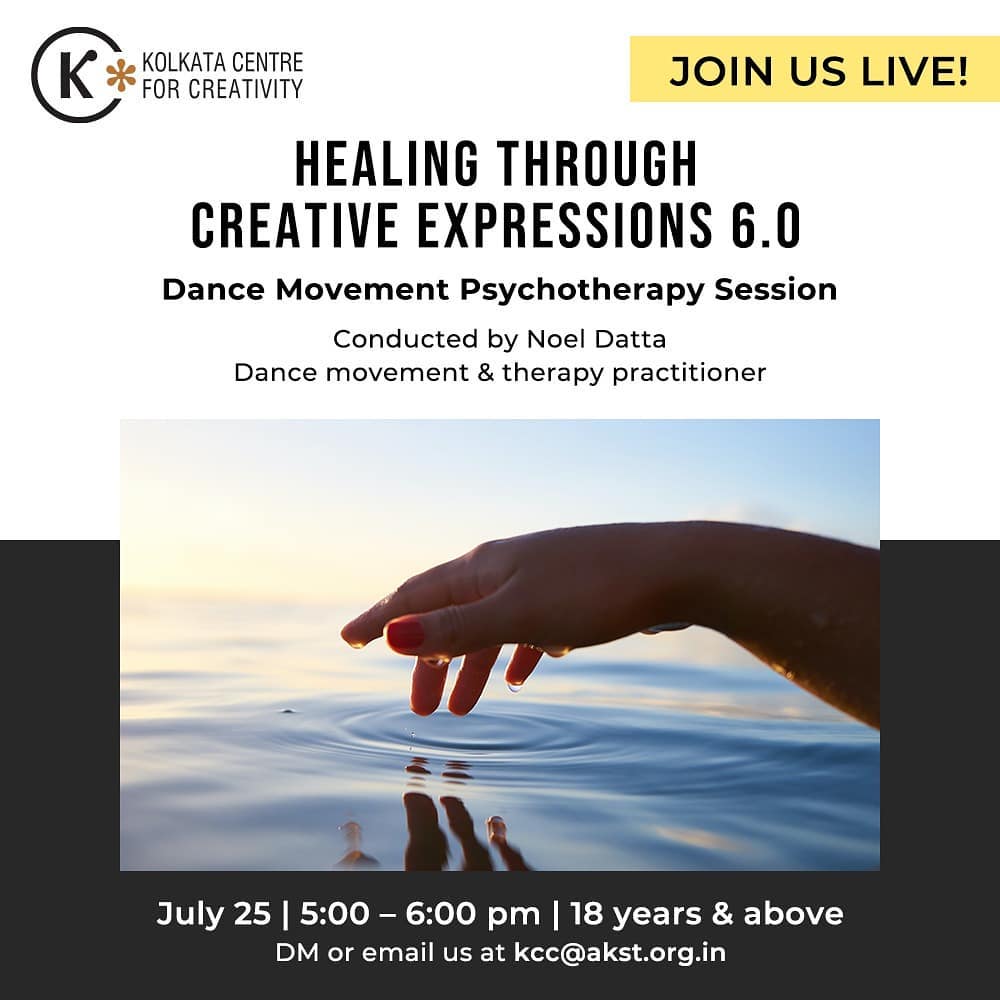 In order to facilitate movement & release the suppressed emotions, Kolkata Centre for Creativity brings you - Healing Through Creative Expressions 6.0: Dance Movement Psychotherapy Session. Conducted by ace Dance Movement Therapy practitioner, Noel Datta, the session will manoeuvre one's physical & mental movements through effective techniques.
Date: July 25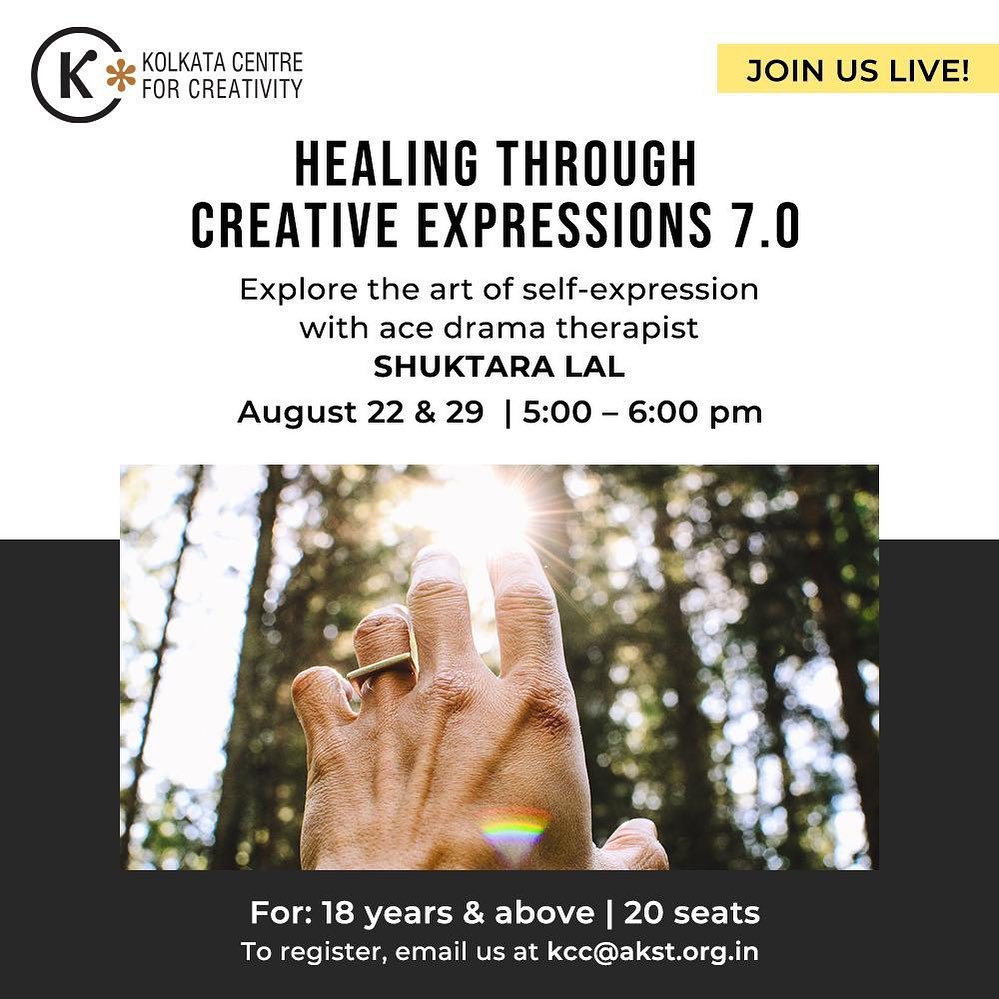 Conducted by theatre director & drama therapist, Shuktara Lal, the session will enable the participants to have a better understanding of themselves & their dynamics with those around, through role-plays & metaphors.
Date: August 22 & 29
Time: 5:00 – 6:00 pm
For: 18 years & above (20 seats)
Date: August 22 & 29
Register Now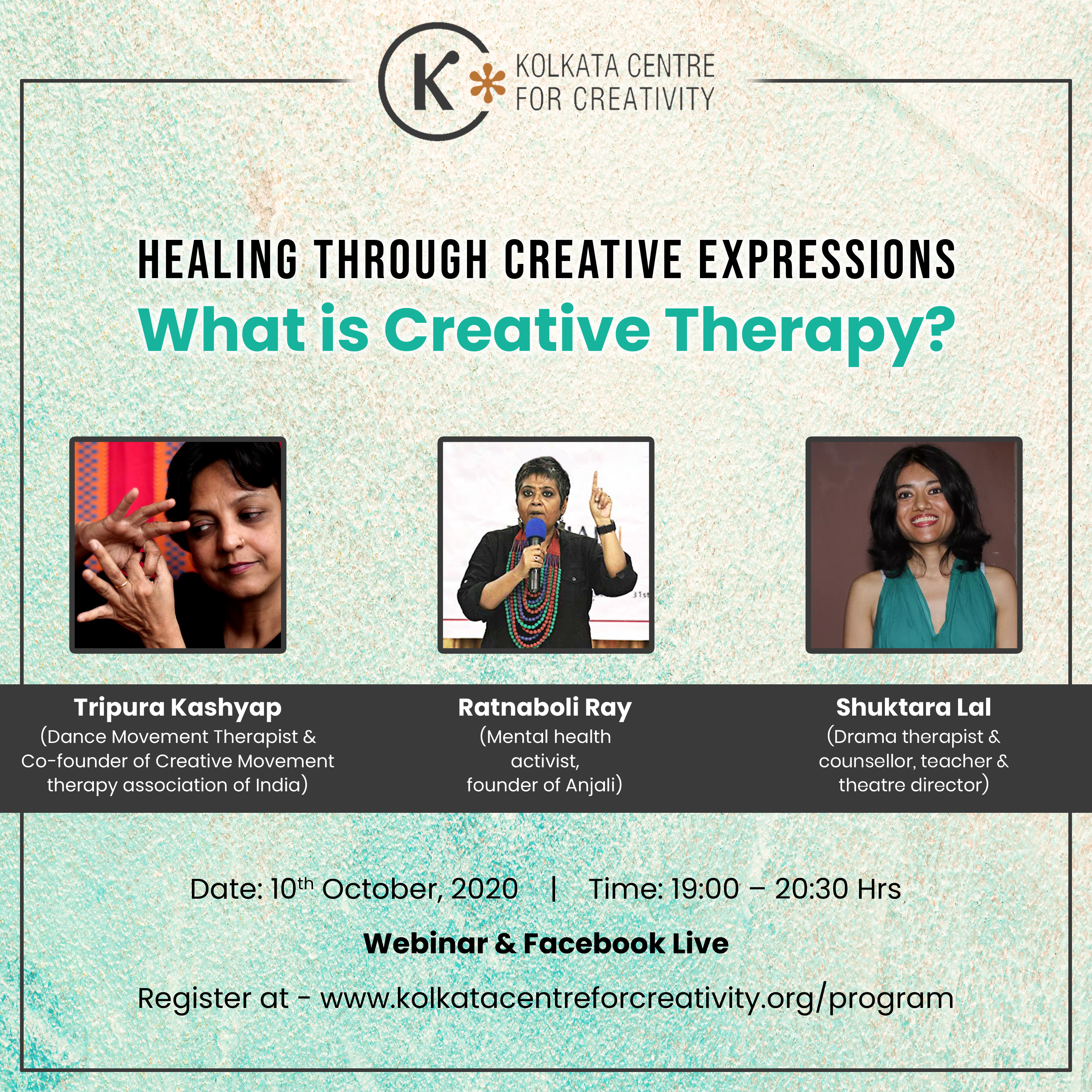 As a part of our ongoing art therapy series, on World Mental Health Day, this webinar will discuss about the necessity of creative art therapy and bring psychological perspective. It will discuss how creative art therapy can go with psychotherapy process and how mental health professionals incorporate that in therapeutic process. Also, this webiner will ponder the relevance of dance movement and drama therapy in the holistic approach of well being.
Date: 10 October, 2020
Time: 7 pm - 8:30 pm
Age: 16+
Register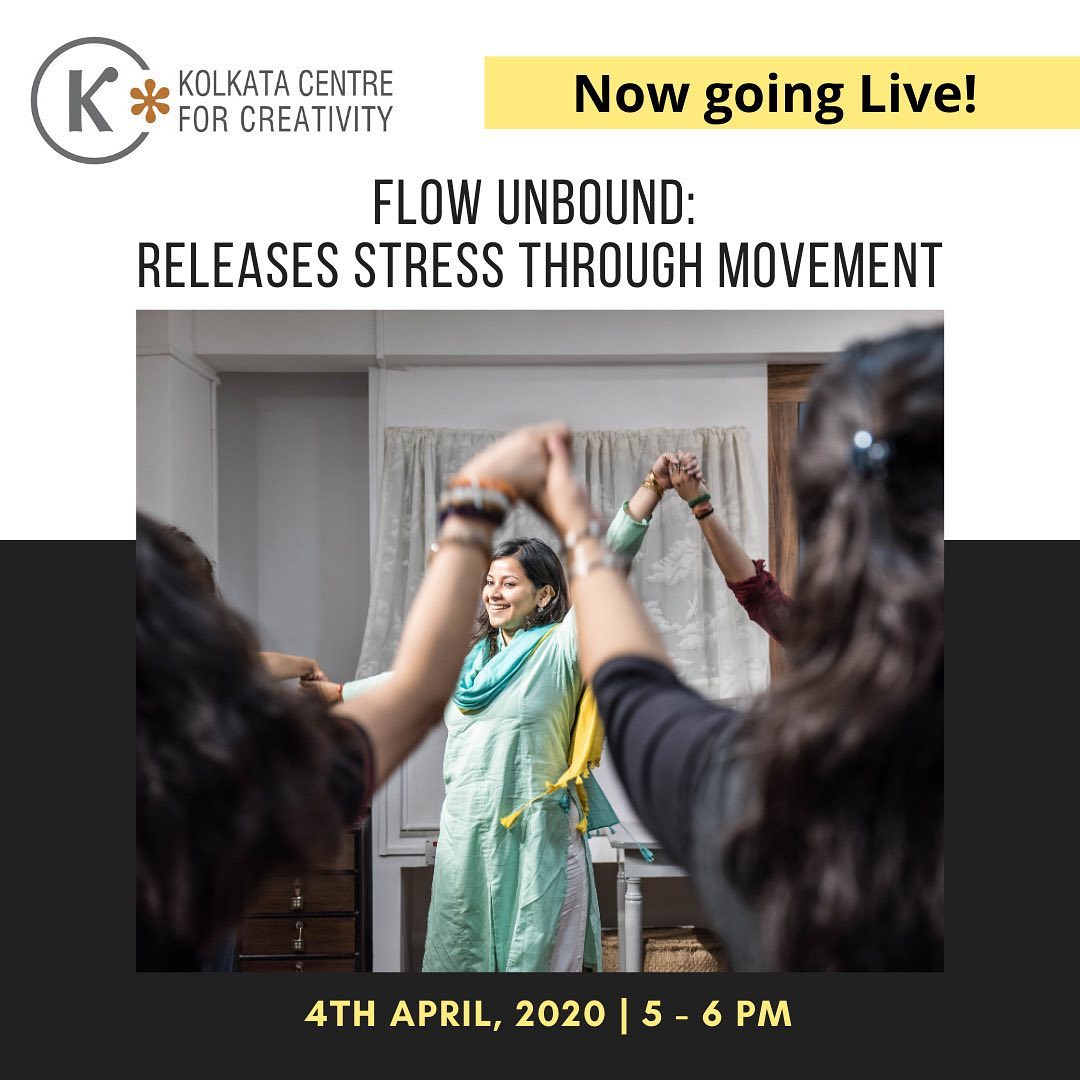 Flow Unbound - an online dance movement therapy class that aided in releasing stress through simple body movements, breathing techniques & meditation.
Conducted by Angira Chakraborty Dasgupta, a professional Odissi dancer and EFT(Emotional Freedom Technique) & NLP (Neuro-Linguistic Programming) Master practitioner, the class enabled its participants to unleash the diverse attributes that shape their personalities.
Date: April 4