Durga Puja at Shobhabazar Rajbari
In this exhibition, the centuries-old history of celebrating Durga Puja at the Shobhabazar Rajbari would be presented through illustrations made by Shri Prabir Krishna Deb, a descendant of Nabakrishna Deb. The illustrative narrative would recount Nabakrishna Deb's association with Robert Clive that began when the former suggested that the latter seek blessings from the deity for his triumph over Sirāj al-Dawlahat in the Battle of Plassey. The ensuing ceremonious puja of Durga at Shobhabazar Rajbari, as illustrated by Shri Prabir Krishna Deb, is the precursor of the famed Durga Puja of Kolkata as we know it today, some 250 years later.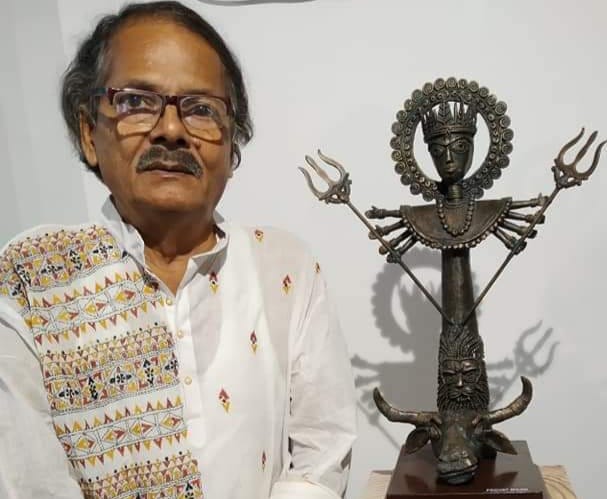 Name of the Artist - Shri Prabir Krishna Deb, an artist from Govt. Art College, Kolkata
Bio - He is an Artist and Photographer. A graduate from Indian Art College is a well-known artist of his generation. His works have earned him accolades in India and abroad. He has held solo shows in Kolkata, Delhi and Hyderabad. An artist to the core of his heart, Prabir Krishna Deb tried his luck with photography and fashion designing as well before settling down to what he does best, painting. A seventh generation descendent of Maharaja Nabakrishna Deb, Prabir Krishna has been illustrating the glorious tradition of his family for a long time in sepia, a tone he loves dearly.. 
Check out the Program Flow for the Inauguration Ceremony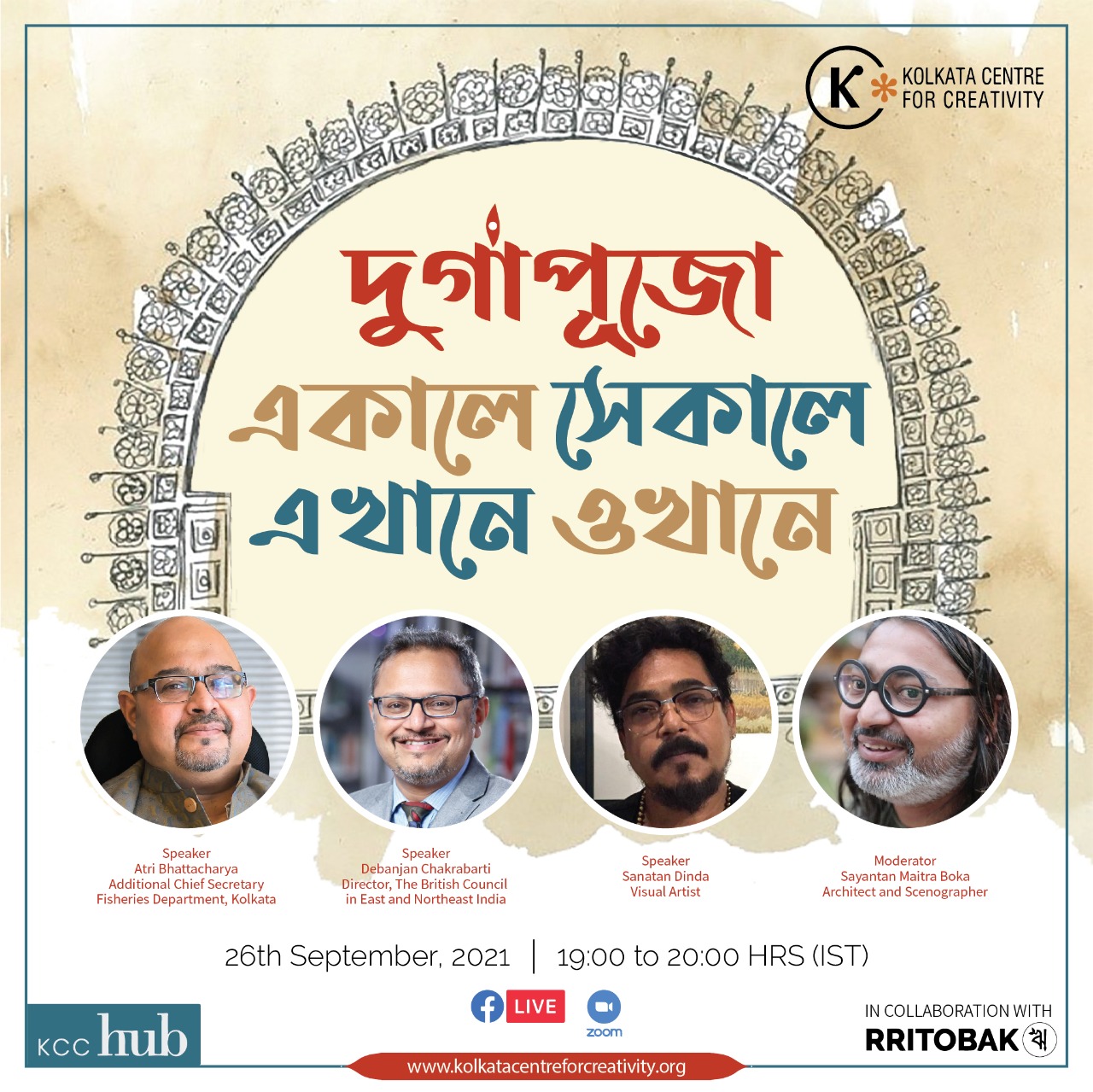 Join the discussion on 'Durga Pujo: Ekale, Shekale; Ekhane, Okhane' with our panellists - Atri Bhattacharya (Additional Chief Secretary, West Bengal), Debanjan Chakrabarti (Director, The British Council in East and Northeast India) and Sanatan Dinda (Visual Artist, Kolkata). The session will be moderated by Sayantan Maitra Boka (Architect and Scenographer).
Online Session
Date: 26th September, 2021
Time: 19:00 – 20:00 Hrs (IST)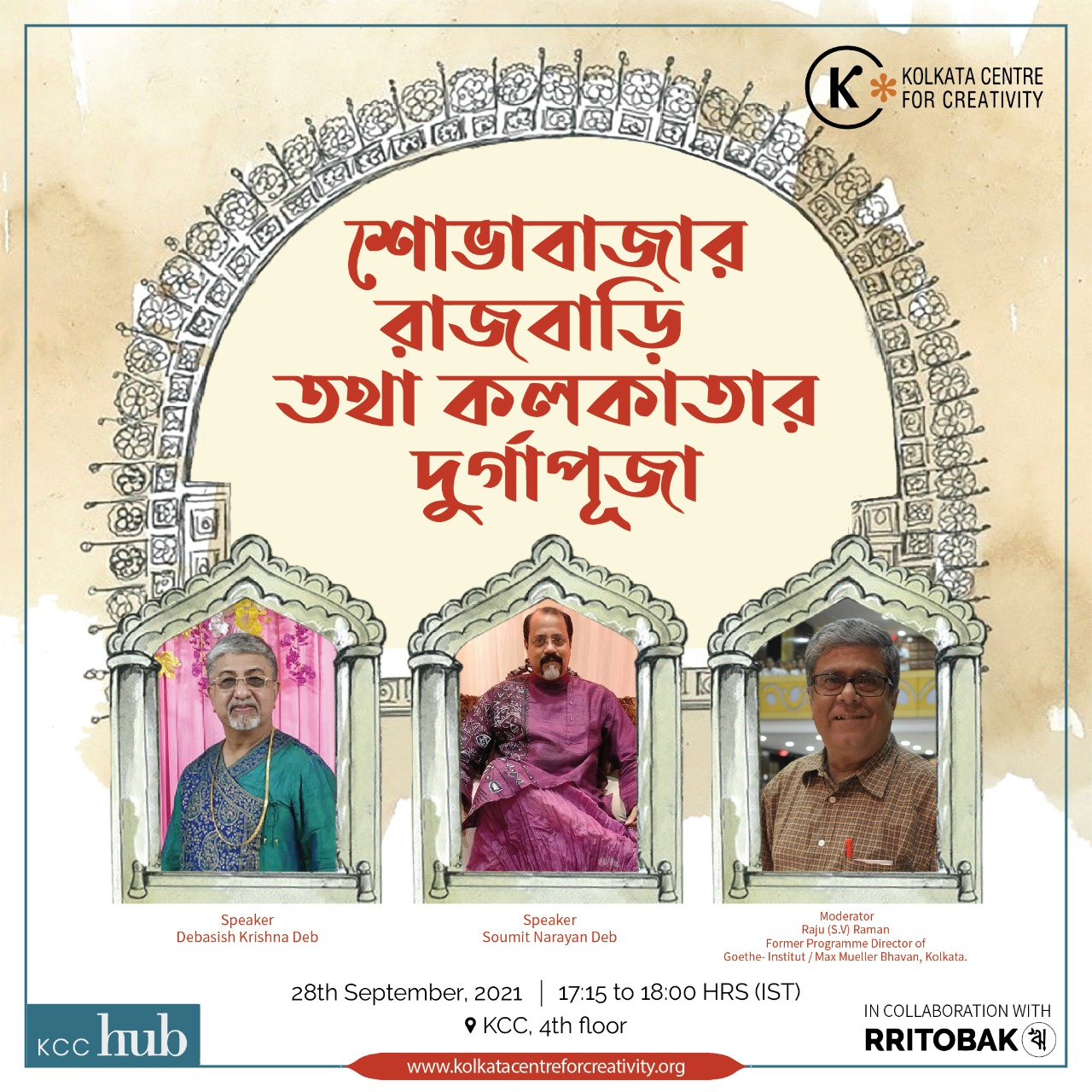 Come and join the discussion on 'Shobhabazar Rajbari tatha Kolkatar Durgapuja' with our panellists - Soumit Narayan Deb and Debasish Krishna Deb (members of the Shobhabazar Rajbari household). The session will be moderated by Raju (S.V.) Raman (Former Programme Director of Goethe-Institut/Max-Mueller Bhavan, Kolkata).
Offline Session
Date: 28th September, 2021
Time: 17:15 – 18:00 Hrs (IST)
Venue: 4th floor, KCC
Click here to register for the Talk Session on 'Durgapujar ekal- sekal/ ekhane – okhane', at 19:00 - 20:00 Hrs (IST) on 26th September

Register here
Check out the Program Schedule from 26th September to 3rd October

Program Schedule