Commedia dell'Arte Galore
About the performance
Kolkata Centre for Creativity, in collaboration with the Consulate General of Italy, Calcutta – Kolkata, invites you to Commedia Dell'Arte Galore - an evening of Italian Comedy on 16 March at the KCC Amphitheatre.
Commedia dell'Arte is a form of improvised theatre that originated in Italy in the 16th century and played a crucial role in the development of modern theatre. This art form is characterized by its use of stock characters, masked performers, physical comedy, and improvised dialogues. The performances are largely improvised, with actors creating comic scenes to engage with the audience. They often use physical comedy, including acrobatics and slapstick, to entertain and amuse the crowd.
The performance will be directed by the award-winning Marco Luly, a true master of the craft.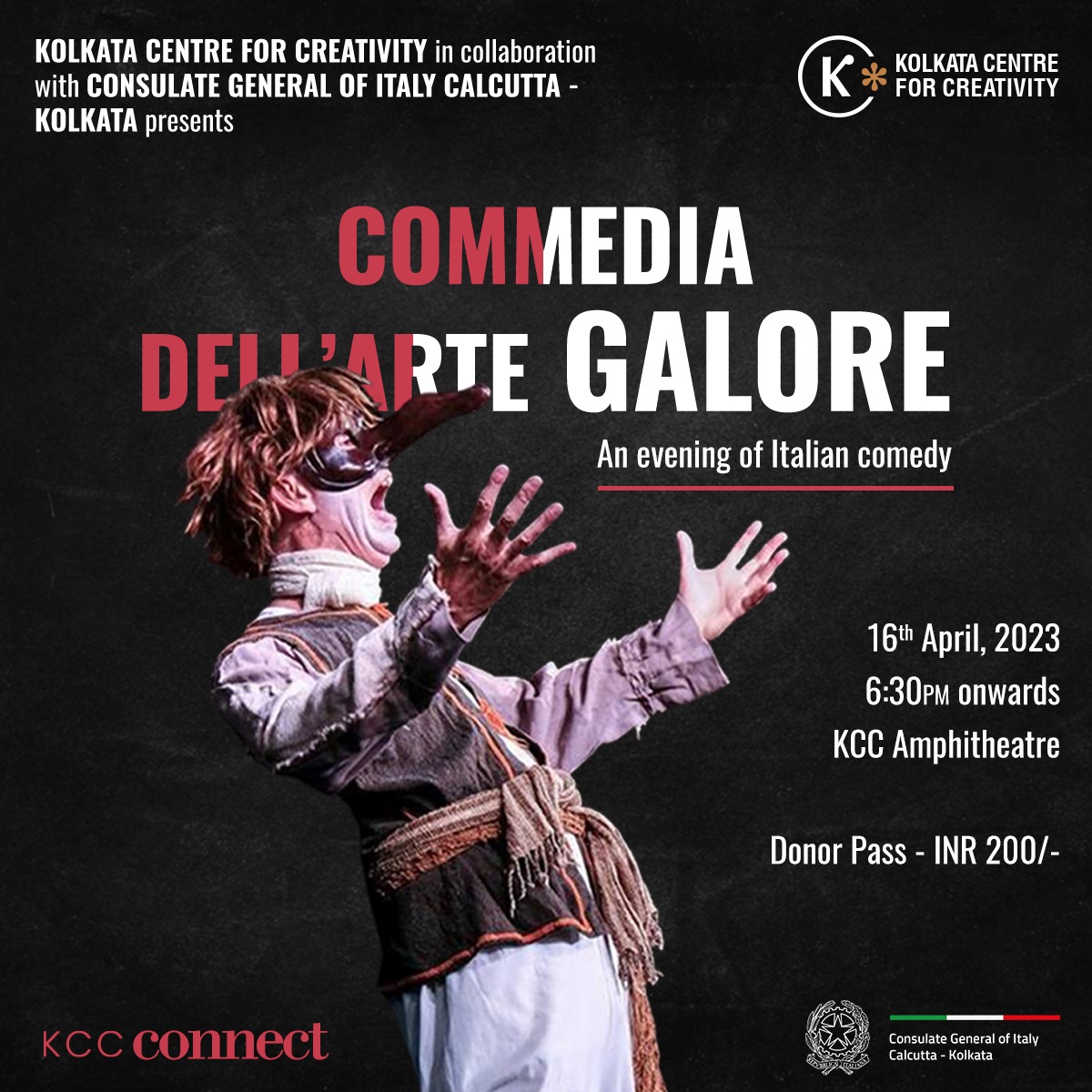 About Marco Luly
Marco Luly, a native of Rome, has over 30 years of experience in theatre, ranging from contemporary to medieval drama. In 1990, he founded Luoghi dell'Arte in Rome and has been the Artistic Director of the company ever since. Marco is a specialist in the production of Commedia dell'Arte, Medieval Theatre, and plays by the Father of Italian Comedy, Carlo Goldoni. Over the past two decades, he has expanded his range of activities to include directing and writing plays for Luoghi dell'Arte. Marco is committed to reviving Medieval and Commedia dell'Arte Theatre, and has won acclaim for rediscovering medieval and renaissance period manuscripts and adapting them in a modern style.
Marco has received numerous awards for his work, including Best Director in 1992, 1993, 1995, 1998, and 1999, Best Author in 1997, and Best Show in 1992, 1995, and 1999 at the Medieval Theatre Festival of Trieste (Italy). He also won Best Show and Best Director awards for the production "Doctor Harlequin, The Imaginary Autopsy" at the Mostar International Festival (Bosnia-Herzegovina) in 2003.
Since 1993, Marco has led his group on several tours of Southeast Asia (Thailand, Malaysia, Singapore, Indonesia, Vietnam), India, China, Morocco, UK, France, Germany, Switzerland, Turkey, Slovenia, Bosnia-Herzegovina, Croatia, Serbia, and the United States, performing plays and leading workshops at the invitation of the Embassies of Italy, the Italian Institutes of Culture, the Drama Departments of several universities and international schools, and participating in international festivals and theatrical events. Marco has conducted classes on Commedia dell'Arte history and techniques and has worked in cross-cultural productions with students and actors in many countries. He has also taken part in Theatre Festivals for students and teachers, giving lectures and master classes during theatre festivals and events.
How to register
To register for the performance. The price of the donor pass is INR 200/-
Click Here
The performance is open to audiences 10 years and above. We encourage kids to attend the fun-filled and lively performance.

Seats are limited and registrations are on a first come first served basis. Register early to avoid disappointment.