BAND COMPETITION: Emerging Band Artists
For the third edition of the AMI Arts Festival (17th to 25th December 2022), we are organizing a Musical Band competition inclusive of all musical genres, western/eastern music, folk/folk-fusion, etc.
Music has added intrinsic value throughout history, bringing pleasure to those who engage in it. But in addition to the individual fulfillment it brings, music also contributes in many ways to society as a whole and its social cohesion.
The music sector has been amongst the hardest hit by the COVID-19 pandemic crisis. The crisis has highlighted and accelerated the many challenges which the sector had already been facing. At the same time, the crisis has also highlighted the importance of music for individuals and society as a whole, it has demonstrated its power to unite and connect people through music. Collectively, there is a need to pool resources and support projects that encourage the resilience and recovery of music operators, artists, and music professionals who have been harmed by restrictions.
We invite emerging band artists across Kolkata to showcase their talents at AMI ARTS FESTIVAL.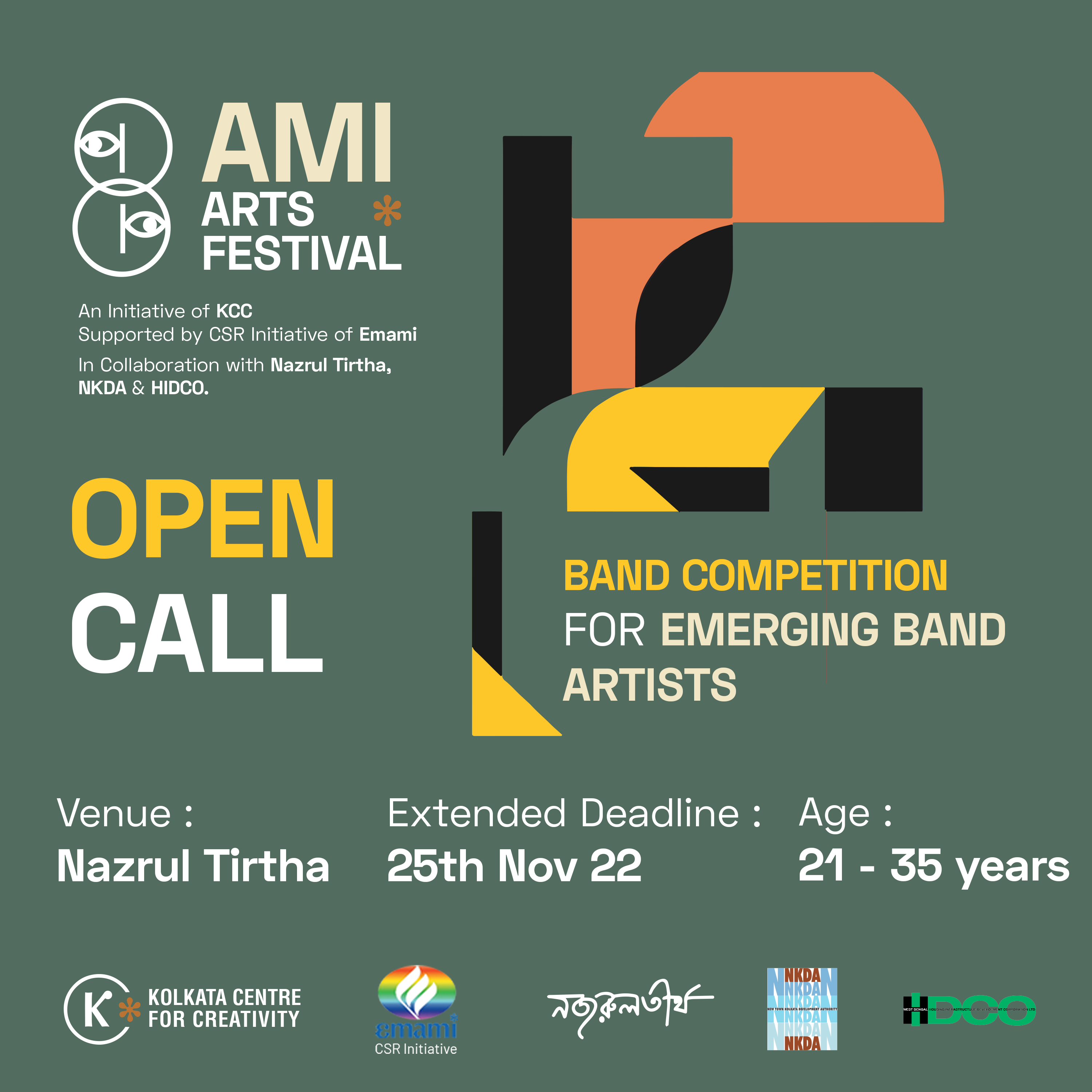 Genre: Folk, Classical, Semi-Classical, Popular, Western, Indie-Pop.
Time: 15 minutes for each band, 5 minutes change over
Final duration of the performance is 15-20 mins and the set-up time will be 10 mins.
The final result will be based on Judges' Scores.
Eligibility for entry/ submission of applications: 
Age limit:  21-35 
Requirements
Two tracks — one live performance video/audio track and one recorded track.  
Mail your applications to submission.kcc@akst.org.in
Entry Fee: INR 1000
Rules: 
From all the applications/ entries a chosen judges' panel will be selecting a number of bands.
The selected performers will then compete at Nazrul Tirtha.
Prize money* for the winners:
INR. 1,00,000 – 1st prize 
INR. 50,000 - 2nd prize 
INR. 25,000 - 3rd Prize 
Awards will be given to Best Guitarist and Best Drummer. AMI SPOTLIGHT AWARD will be given to the winning band. 
The winning band will also get a chance to perform at KCC on World Music Day!
*TDS applicable
Application Fee