AMI Arts Festival presents CONFLUENCE a Meeting of Maestros
Experience the enchanting fusion of Partha Bose's Sitar mastery and the rhythmic brilliance of Abhijit Banerjee on Tabla at our musical showcase scheduled for December 10, 2023. This exceptional evening promises to immerse you in Romantic Raaga, Exciting Rhythms, and Lyrical Dhun, inviting you deep into the heart of India's classical instrumental music.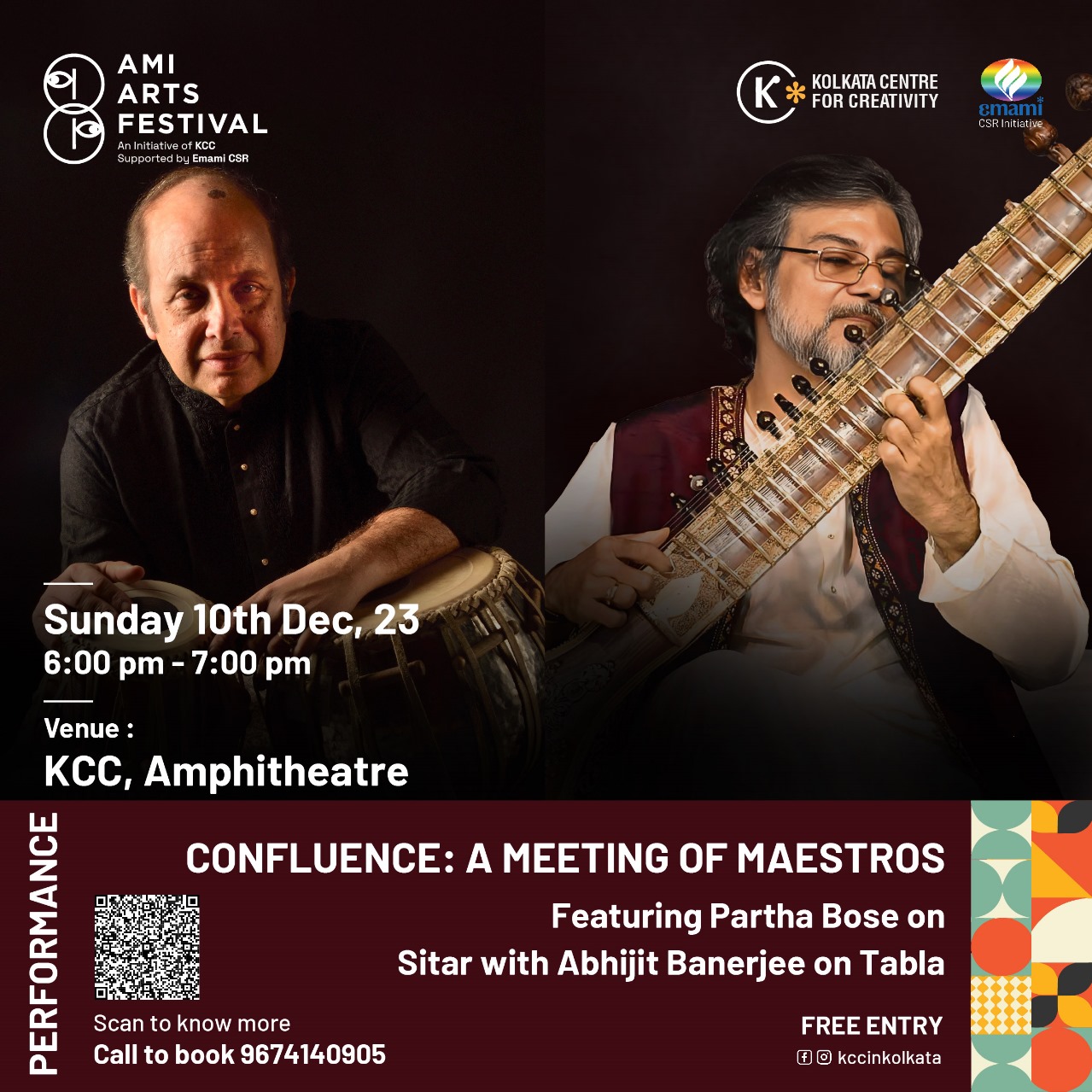 "CONFLUENCE" transcends a mere performance; it is a celebration of our rich cultural heritage. This event pays homage to the profound impact of Classical Instrumental Music on a global scale, showcasing its ability to transcend borders and leave an indelible mark on diverse communities.
The performance is open to all but registration is mandatory!
Free Registration!
About the Artists
Partha Bose: Embark on a musical journey that began in 1968 when a six-year-old boy from a family of industrialists in Kolkata, India, was initiated into Sitar under the guidance of GURU Pandit MONOJ SHANKAR of MAIHAR GHARANA. Intensive training and rigorous practice paved the way for a career spanning six decades. Partha Bose, a well-travelled maestro, has graced major music festivals across continents, sharing his expertise through lectures, demonstrations, and workshops. Recognitions such as the NIKHIL BANERJEE MEMORIAL AWARD, SANGEET RATNA & VADYA SHIROMANI titles reflect his commitment to excellence. For Partha Bose, music is a "language of the soul, reminding us of our shared humanity."
Pandit Abhijit Banerjee: Renowned Tabla artist Pandit Abhijit Banerjee is a stalwart in Indian classical music, acknowledged with numerous accolades and awards. Beyond his contributions to Indian music, he has explored diverse world music genres as a performer and composer. As a premier disciple of the late Pt. Gyan Prakash Ghosh, Abhijit has accompanied top-ranking stars of Hindustani classical music on the tabla. His extensive global performances and collaborations with international musicians showcase the breadth of his talent. Founder of the ensemble Tarang, Abhijit has also ventured into scoring music for various mediums, winning a National Award for Documentary Music. His legacy includes the establishment of the Dhwani Academy of Percussion in Los Angeles and Kolkata, attracting talented students from around the world.
To know more about other performances at AMI Arts Festival, 
Click Here!