Looking back a time during which the Covid-19 pandemic swept the whole world to a virtual standstill, the third edition Vasudhaiva Kutumbakam explores topics including education, art production and policy, mental health, commerce, activism and the environment.
It continues to be an unprecedented time, one that modern human civilization has rarely encountered on such a global scale. Many of the things that we took for granted were taken away or paused indefinitely. Businesses shuttered, domestic and international travel stopped, and the socially driven human practice of gathering also halted. As humans paused for a while, the natural world took a chance to rejuvenate, flourish and bloom.
Despite this, in those frozen moments of uncertainty, a lot happened. New possibilities were created.  As we continue the process of recovery from the pandemic, we stand at a crossroad, many new path ways now seem possible. Nothing has remained as we had expected. For Vasudhaiva Kutumbakam III, we aim to look back together to rediscover the treasures that could arise from those moments of gloom and desperation, allowing us the possibility to build a better and more equitable future.
Vasudhaiva Kutumbakam III builds upon the two previous editions of the annual conference, which began in 2019, and continues to inform our progress at the Kolkata Centre of Creativity.     
              
Co-Curators: Reena Dewan & Dr. Shwetal A Patel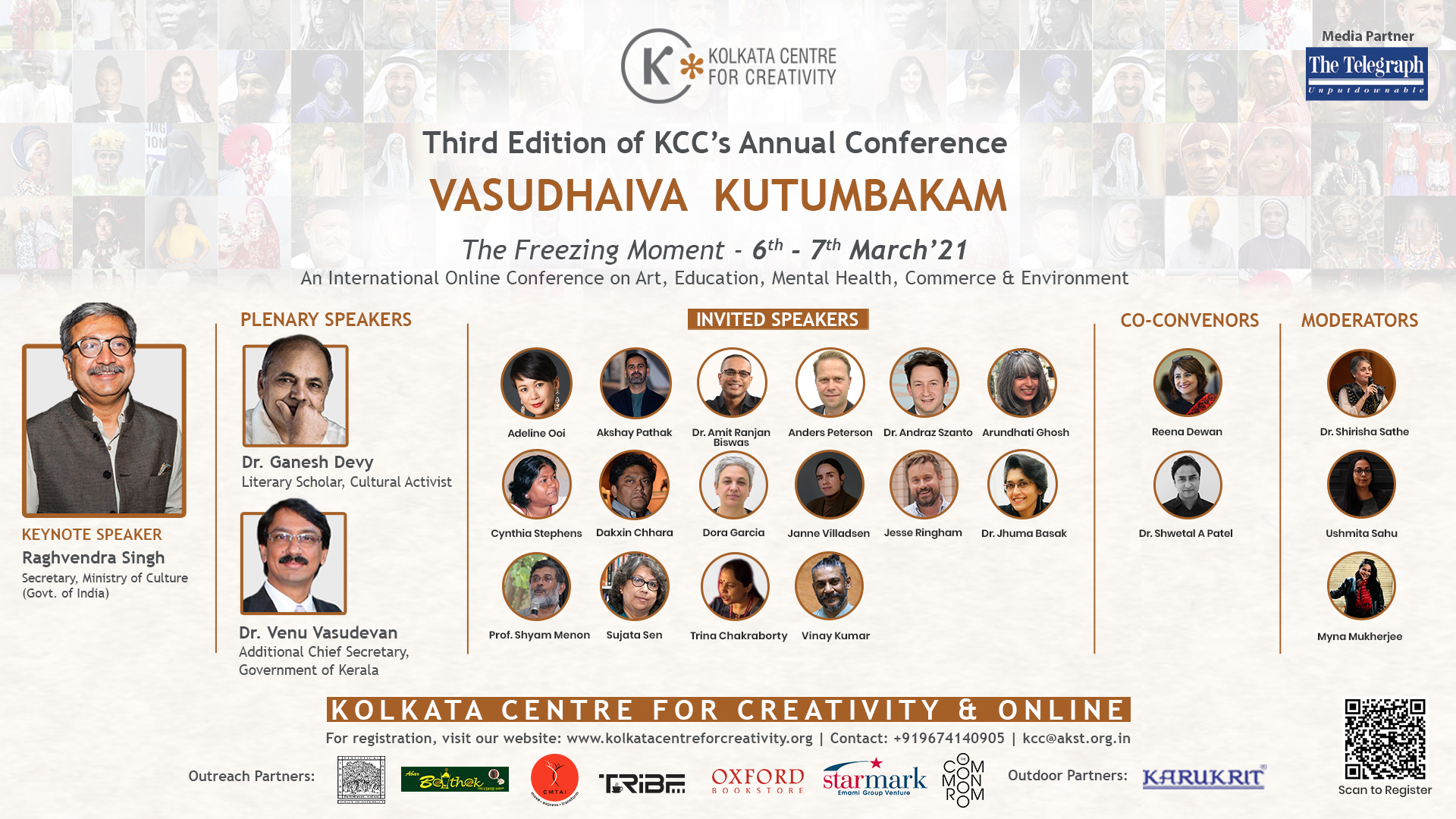 Day 1
1.         Art Policy 
The decimation of the economy took a heavy toll on the field of art and art commerce. Immediately after the break out of the pandemic, most funding organizations and agencies stalled their support and many sponsorships and grants were stopped or delayed indefinitely. The total halt to live performance and physical exhibitions have left many art practitioners and artisans' jobless and underemployed. 
What changes can be made to government art policies that may help art recover from this challenging situation? What can institutions and galleries do to help the sector and what are the new protocols and standards we should aspire toward?
2. Digitalization of the Arts
As soon as physical gatherings were restricted due to new pandemic regulations, live performances also had to be reimagined or cancelled altogether. However, the artistes' community did not sit idly by, they began exploring the virtual realm. Through the mediation of cameras and Internet connections, artists began developing their homes into performance spaces.   Many different kinds of experiments began to take place.  On one hand, this trend hints towards the development of new media and digital art, on the other, it raises questions about the agency of creators, audiences and mediators in this time of crises. The fear of state censorship also raises many questions for performers and artists, as does the economic effects upon performers and venues. 
What is the direction of digital performance and how will this affect the tradition of live performance? What impact will digital performances have on the livelihoods of artists and how will they be remunerated for their performances? Is the digital realm a viable alternative to public performances and who stands to benefit the most?
3.         Education
a)         Rehabilitation of children
Education is considered as one of the 6 fundamental rights according to the Constitution of India. Schools run by the state in India are not only institutes that provide education, but they also play a major role in child rehabilitation, whilst keeping track of the dropouts and child labour infringements laws. Schools help our society in preventing child trafficking, child abuse and other dangers young people face in the country. Schools provide a mid-day meal, a system that ensures that basic nutrition needs for rural and urban underprivileged children are met. When the lock-down happened this system was adversely affected. While the gap of a year in formal education is something manageable, deterioration of the other infrastructure and services is extremely alarming for the future of a growing nation. 
What strategies can we utilize to rehabilitate the schooling system irrespective of re-opening of schools? What methods are being developed to bring children back to the childhoods they deserve? What can the art fraternity do to help improve children's lives during this difficult time? What does the future of education in State-run schools in India look like?
b)  Mental health in Education 
As the pandemic affected the education system in India, it also clearly showed the ineffectiveness of digitalization in India. The pandemic affected not only students, but also teachers and policy makers, all of whom suffered in different ways. Hence, it is important to ponder on the mental health of students, teachers and managers and also analyze the special education system in this context.
How are these stakeholders dealing with the situation? How did the pandemic affect education groups and how are they sustaining themselves during this period? Whilst we are exploring special education, we also need to learn and listen to parents, teachers, students and NGO's in the sector.    
Day 2
Activism
4.         Protest against discriminatory oppression 
In the background of the protests against discriminatory CAA and NRC laws in India, the Coronavirus broke out. The movement was unique in its expression as it took various artistic actions to convey its political agenda. 
Likewise, during the COVID pandemic, and after the sad demise of George Floyd at the hands of US police, a global anti-racist movement spread through the world in the name of 'Black Lives Matter'. That movement also used different artistic approaches, including the use of performance, music and social-media to promote its viewpoint.
These may not be isolated phenomena developed during the Covid-19 pandemic. Art has always been a weapon of the oppressed to protest against discriminatory oppression. 
These movements also bring about the age-old debate about the purpose and efficacy of art in achieving political aims.
What is the significance of the arts in bringing expression to activism? 
How has art inspired and influenced contemporary activism in India? 
What is the anthropological connection between Art and Human Rights that facilitates, nurtures and explains this phenomenon? 
5.         Environment & Sustainability in Arts
When the world stopped – the natural world flourished. As we were restricted to our man-made habitats the natural world fought back to reclaim the seas, skies and forests – free from our polluting infiltrations. 
Now as we begin returning to our previous rhythms and habits, the arts sector has also started opening up fairs and festival opportunities, leading to increased travel.
What learning's from the 'frozen moments' can we continue implementing in the art world, especially in the celebrations of arts – the festivals, biennales and carnivals? How can we make post-COVID-19 art gatherings more sustainable for the environment?
6.         Commerce
The growing market of festivals, fairs and biennales received a big jolt due to the sudden halt caused by Covid-19 crisis.  While they are essential to keep the wheels of the Art Economy running, their numbers and frequency are mounting pressure on resources, both economic and ecological.  Since some of them had a tryst with a complete Digital platform this year, probably we are ready to relook and rediscover them differently.
How viable Hybrid formats are?  Can we restructure them to cover up for the reduction in physical interactions? Who will decide how much is enough? Can some policies be formed to weave-in factors that ensure environmental sustainability? Is it possible to merge some of them to reduce the overall number?            
Selected Paper: 
Author's Name: 
Dr. Shubhra Nag                             
Nobina Gupta & Saptarshi Mitra                           
Mansav Arora & Vanika Saberwal                             
Dr. Rinita Mazumdar
NB: Selected candidate will get free access to the whole conference
TO KNOW MORE DETAILS ON PROGRAM SCHEDULE & ON SPEAKERS - Click here
FEES

Registration Fee Indian nationals:  INR 1500 
South East Asian Countries: USD 30
Other Nations: USD 50
Early Bird Discount valid till 20th Feb 2021: 30%
Student Discount: 50%      
REGISTER NOW
Performance has been the mode of effective communication, expression, entertainment and creative response since the dawn of human civilization. Still, it is to our wonder that the gender specificity of this very topic "Women in Performance" makes sense in 2020 AD. Ironically, as the civilizations have progressed, the gender specific restrictions occupy the space for free expressions in many forms. Women were not only shamed or banned to participate in performance as 'performers' or even 'audiences' over centuries, but the representation of women has been very specific in the content and in manifestation which still has its prevalence in performance. 
After the prominent feminist movements through twentieth and twenty first century, while reclaiming social and legal space for agency in life, education, individuality, sexuality, against gender specified violation and crimes et al; women and other genders have taken prominent place in the world of performances, not to support the narratives of the patriarchal normative, but to speak up the knowledge, experience in their own expression giving the whole a very new perspective to look from. 
In 2020, where does India stand with the very topic theme 'Women in Performance'! The impact of the journey that the gender identity made through history, how that legacy gets carried forward through current practices! What impact does it make in form of expressions, narratives, language, business or on the audiences/ spectators! As a research and development centre for art, Kolkata Centre for Creativity aims to open up such discourses in the first annual conference on Performing Arts, named Performing Performance 2020. Theme of this year is "Women in Performance". 
The discussion is broadly divided into two subthemes
1. Body in Performance 
2. Agency in Performance 
With multiple cultural variables existing in a neo-liberal post-postmodern time, the annual conference of KCC aims to open up a space for exchange of thoughts, researches, experiments and practices regarding gender identity, politics of body, performativity of body, evolution of language, agency and gaze along with the economic aspects related with performances of, about, by and for women, historically and in contemporary context. Invited Scholars and Practitioners will present their works about those subthemes.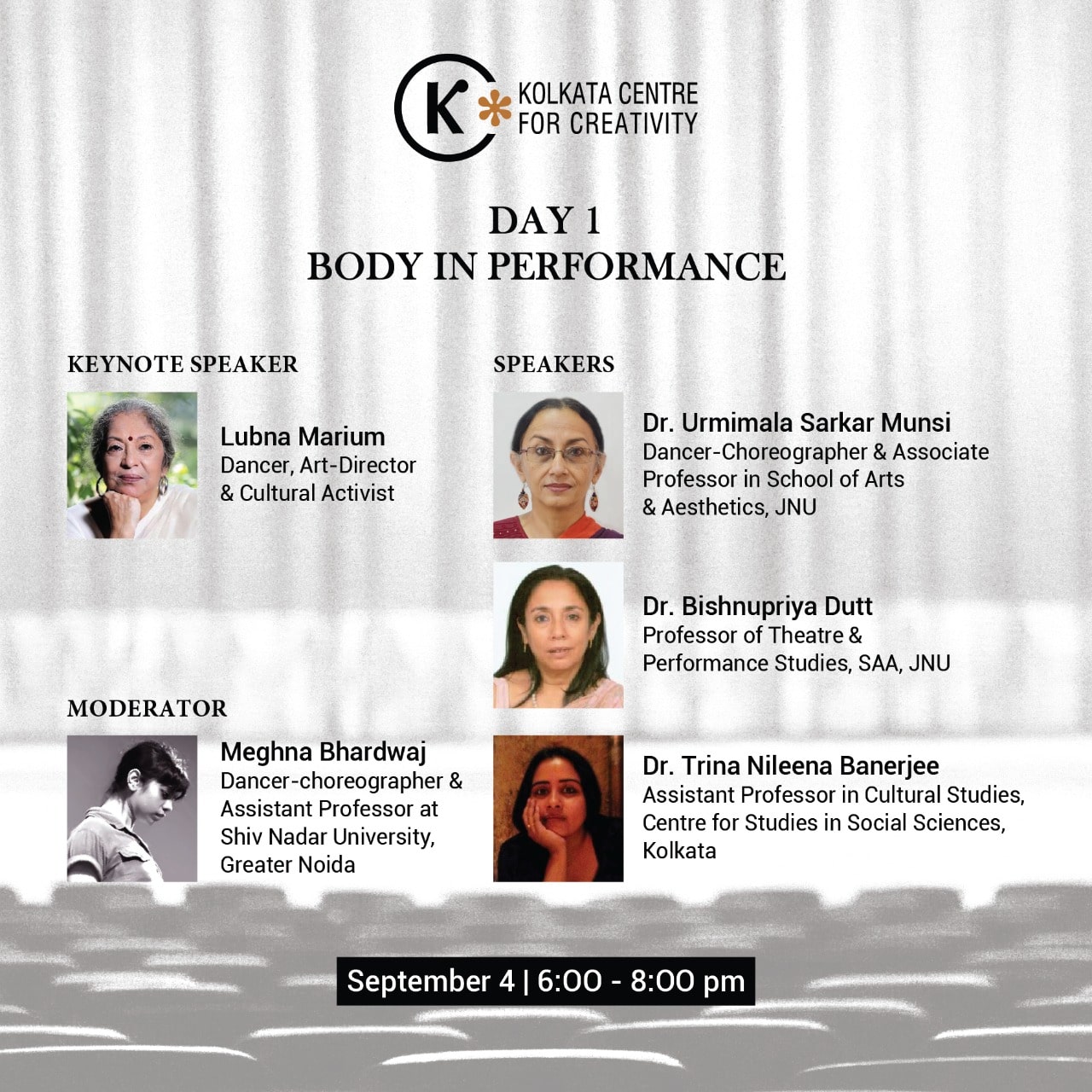 Day 1
Body in Performance
September 4
18:00 - 20:00 hrs. IST
Keynote Speaker: 
Lubna Marium: Dancer, Art-Director & Cultural Activist
Speakers:
Dr Bishnupriya Dutt: Professor of Theatre & Performance Studies, SAA, JNU
Dr Urmimala Sarkar Munsi: Dancer-Choreographer & Associate Professor in School of Arts & Aesthetics, JNU.
Dr Trina Nileena Banerjee: Assistant Professor in Cultural Studies, Centre for Studies in Social Sciences, Kolkata
Moderator:
Meghna Bhardwaj: Dancer-choreographer & Assistant Professor at Shiv Nadar University, Greater Noida
Register Now
Day 2:
Agency in Performance
September 5
18:00 - 20:00 hrs. IST
Keynote Speaker: 
Dr Ananya Chatterjea: Professor of Dance at University of Minnesota, USA, Choreographer & Artistic-Director, Ananya Dance Theatre
Speakers:
Dr Anuradha Kapur: Theatre Director & Professor of Drama, Former Director of National School of Drama
Dr Urmimala Sarkar Munsi: Dancer-Choreographer & Associate Professor in School of Arts & Aesthetics, JNU
Zuleikha Chaudhari: Theatre Director & Lighting Designer, Director of the Alkazi Theatre Archives at The Alkazi Foundation for the Arts, New Delhi.
Moderator:
Dr Trina Nileena Banerjee: Assistant Professor in Cultural Studies, Centre for Studies in Social Sciences, Kolkata
Register Now