Workshop on 'Bouncing Back: Dealing with Criticism and Failure for Teens'
Calling all teens aged 12 to 16 years! Get ready to conquer challenges, embrace growth, and build your confidence at our upcoming workshop on 'Bouncing Back: Dealing with Criticism and Failure for Teens'. Criticism and failure are not roadblocks, but rather stepping stones on your journey to success. Join us for an engaging and transformative workshop that will help you reframe your perspective and turn these experiences into valuable opportunities.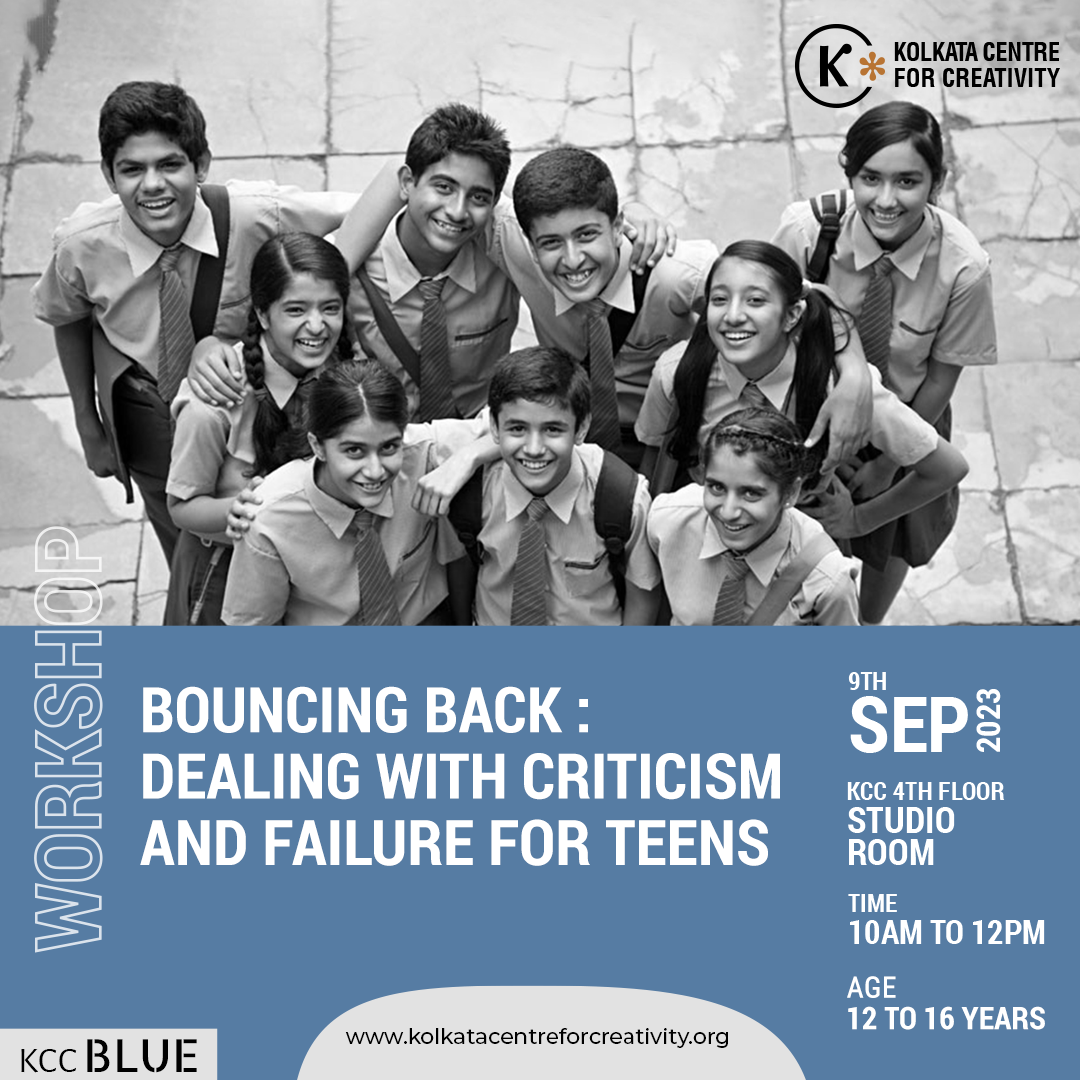 Date: Saturday, 9th September 
Time: 10:00 AM - 12:00 PM  
Venue: Kolkata Centre for Creativity, Studio Room
Learning Objectives
•Discover the power of choice when confronted with criticism or failure. 
•Learn practical steps to effectively handle criticism and failure, turning them into catalysts for growth. 
•Boost your self-esteem and develop unwavering resilience. 
•See the hidden value, limitless scope, and meaningful purpose behind every criticism and failure.
About the facilitator
The workshop will be led by Dr Sumita Banerjea, an author and educator. An alumna of the Convent of Jesus and Mary, and St Stephen's College, New Delhi, she has done her PhD in History. She has written school textbooks on Geography and English and has also written for various newspapers and magazines. During her time as an educator, she conceptualised and edited an anthology of writings by school children in the senior classes. She is also trained in psychological counselling and conducts workshops for corporates, teachers, and students. She also conducts workshops on behalf of the British Council.  
Her first book of fiction, Chowringhee Charms received wonderful reviews.
Sumita loves to experience life in myriad different ways; travelling, teaching, writing, counselling, listening to happenings in the lives of people from various walks of life, and telling stories. She lives in Kolkata.
Register Here