A solo act in English
Written by Sudipta Bhawmik
Directed by Suman Mukhopadhyay
Performed by Sudipta Majumdar
Duration: 1 hr 5 mins
Synopsis: Gender dysphoria and transgender politics is a subject that has been carefully avoided in our society for a long time. The great Indian epic Mahabharata, however, has dealt with this issue in a skillful way through the story of "Shikhandi".  The story not only deals with gender crisis but also draws our attention to the general issue of gender politics, which since the days of the Mahabharata has struggled to elevate women from a status of commodity to that of an individual with a purpose.
The play begins on the tenth day of the battle of Kurukshetra when in the darkness of night, Shikhandi visits Bhishma who lies on a bed of arrows awaiting his death. Shikhandi narrates Bhishma the story of her life - her present life as well as her past life. She narrates how in her last life, when she was known as Amba the princess of Kashi, Bhishma forcefully abducted her and then humiliated her by refusing to accept her as his wife. Amba vows to kill Bhishma and then kills herself. In the next life, Amba is born as Shikhandini, the daughter of King Drupad who brings her up as a boy. In a strange turn of events, Shikhandini gets transformed from a woman to a man known as Shikhandi. He receives battle training from the greatest teachers and becomes a great warrior. Today after all these years, Shikhandi could fulfill Amba's mission and take her revenge on behalf of all women treated like a commodity by men who are looked upon by the society as models of virtue and greatness.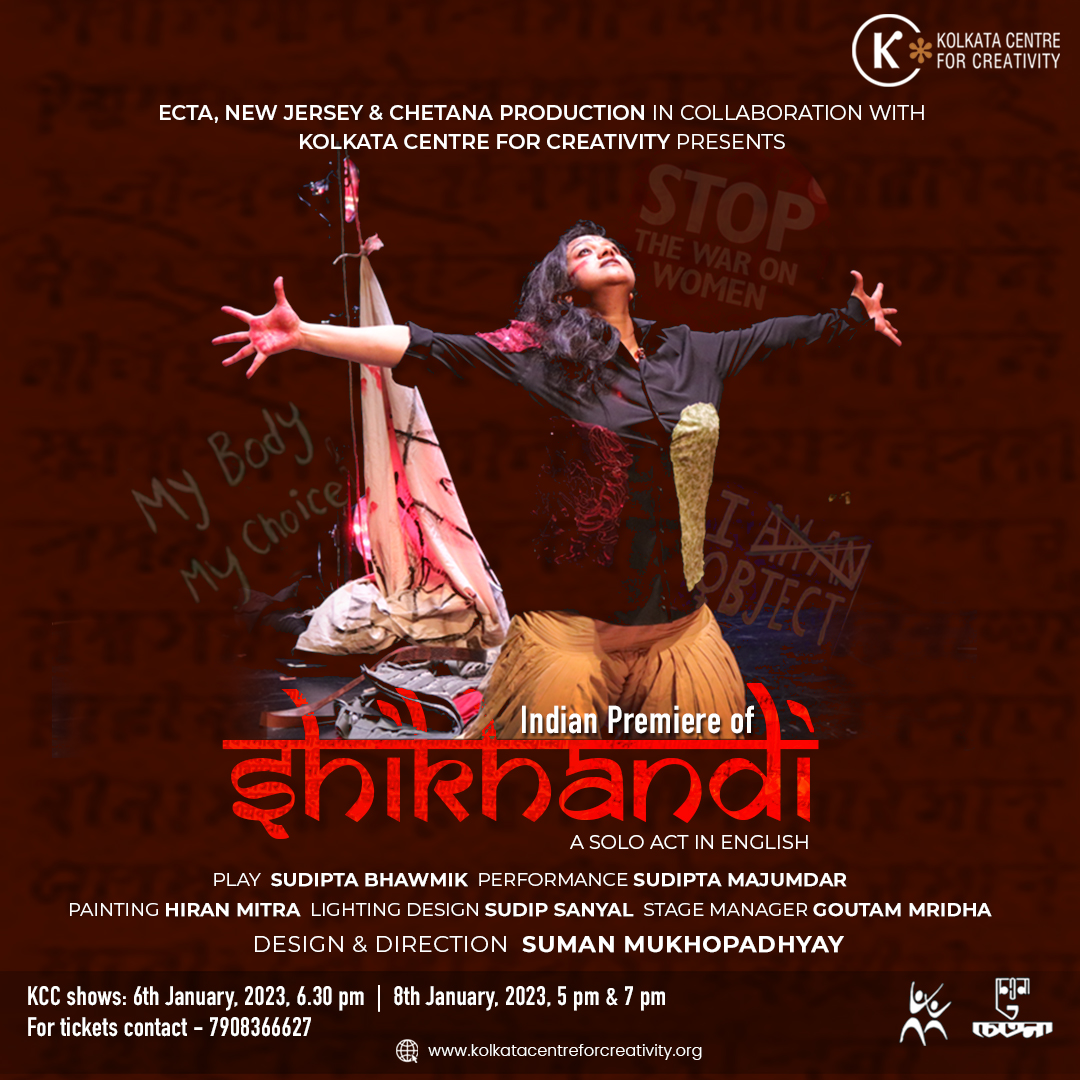 Director's Note: 
 The play is set on the debris of war—the toxic waste of humanity accumulated from Mahabharata's epical war of Kurukhetra to today's Ukraine. The protagonist and the solo performer frets and wallows in the quandary of having a female body and the desire to escape it.  One man's sexual abuse of a woman breeds multiple histories of paternity and its power: the cruelty and arrogance across the frenetic time. Shikhandi explores a domain of struggles of anguished women against the toxic masculinity and deep anxieties of queer existence.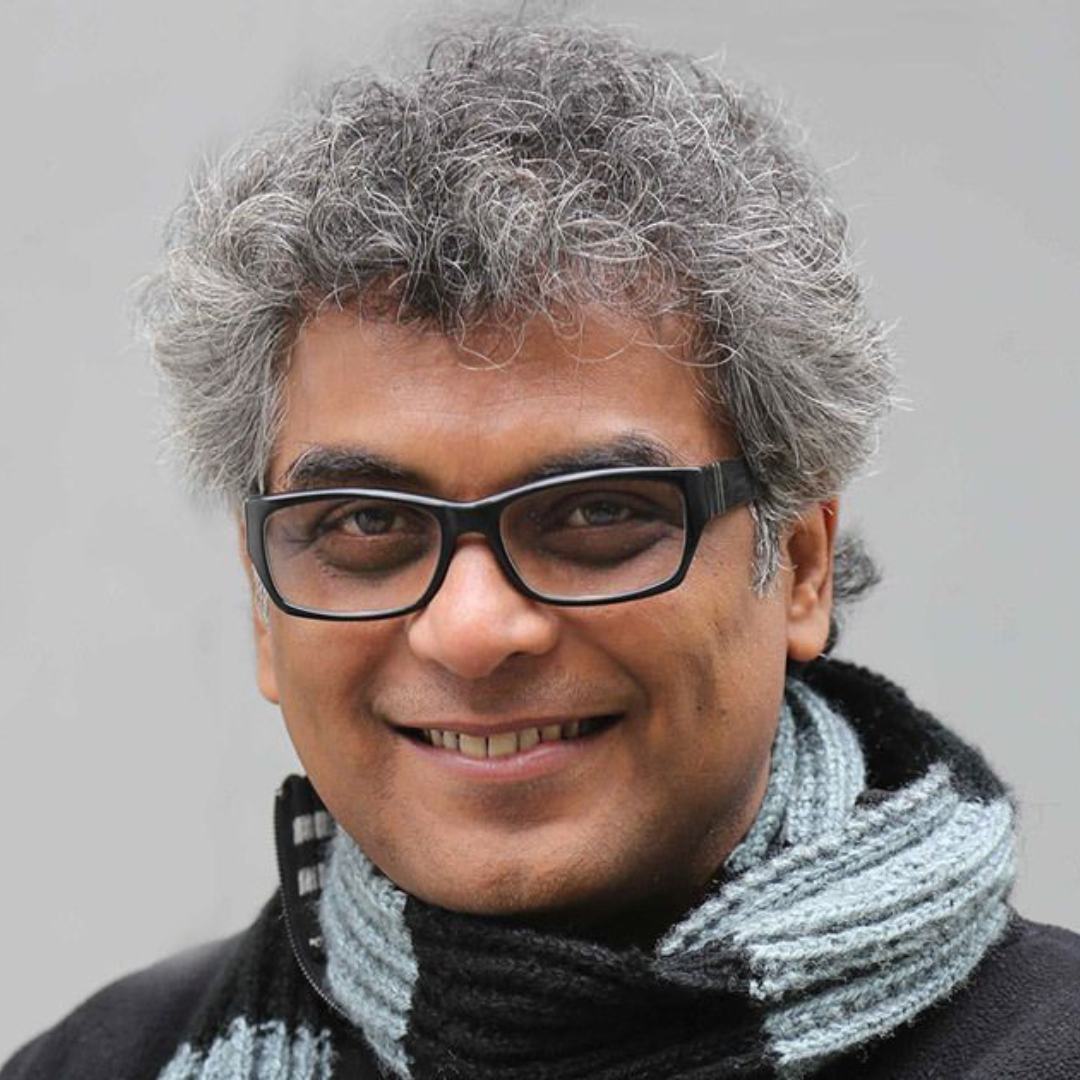 Suman Mukhopadhyay
Suman Mukhopadhyay's theatre and films deal with the socio-political domain and engage in critical assessment of the contemporaneity. His explorations into the subaltern realities and histories have given a distinction mark to his theatre productions and filmmaking. 
Suman Mukhopadhyay is one of India's leading theatre directors and done productions ranging from European drama to major adaptations of Bengali masterpieces and productions of Indian plays.  His major plays are Teesta Paarer Brittanto, Mephisto, Bisarjan and King Lear. Suman has also directed eight full-length feature films including Nazarband (2020); Asamapta (2017); and Herbert (2005) which won the National Award for Best Regional Film that year. He participated and won awards in various national and international theatre and film festivals including Busan, Montreal, Dubai, Munich, San Francisco, Seattle, and Kerala etc. Suman has also made a number of documentaries, TV series, short films and cine-plays.  He was conferred with an award from Motion Picture Association and Asia Pacific Screen Awards, Brisbane in 2017. His latest films Nazarband (Captive) had its world premiere at Busan International Film Festival and Posham Pa has won an award in Female Filmmakers Festival, Berlin in 2020. Suman taught and directed plays at UC Berkeley, University of Toledo, Kalamazoo College and Barnard College in the USA.  He recently finished working with Columbia University, New York on a Fulbright fellowship.