Scenes from Santiniketan & Benodebehari's Handscrolls is travelling to Kochi
Kolkata Centre for Creativity in collaboration with Gallery Rasa, presents 'Scenes from Santiniketan & Benodebehari's Handscrolls', a historic exhibition curated by Prof R Siva Kumar, in association with Kerala Lalithakala Akademi.

Dates: 25th August to 25th September, 2023
Time: 11:00 AM - 7:00 PM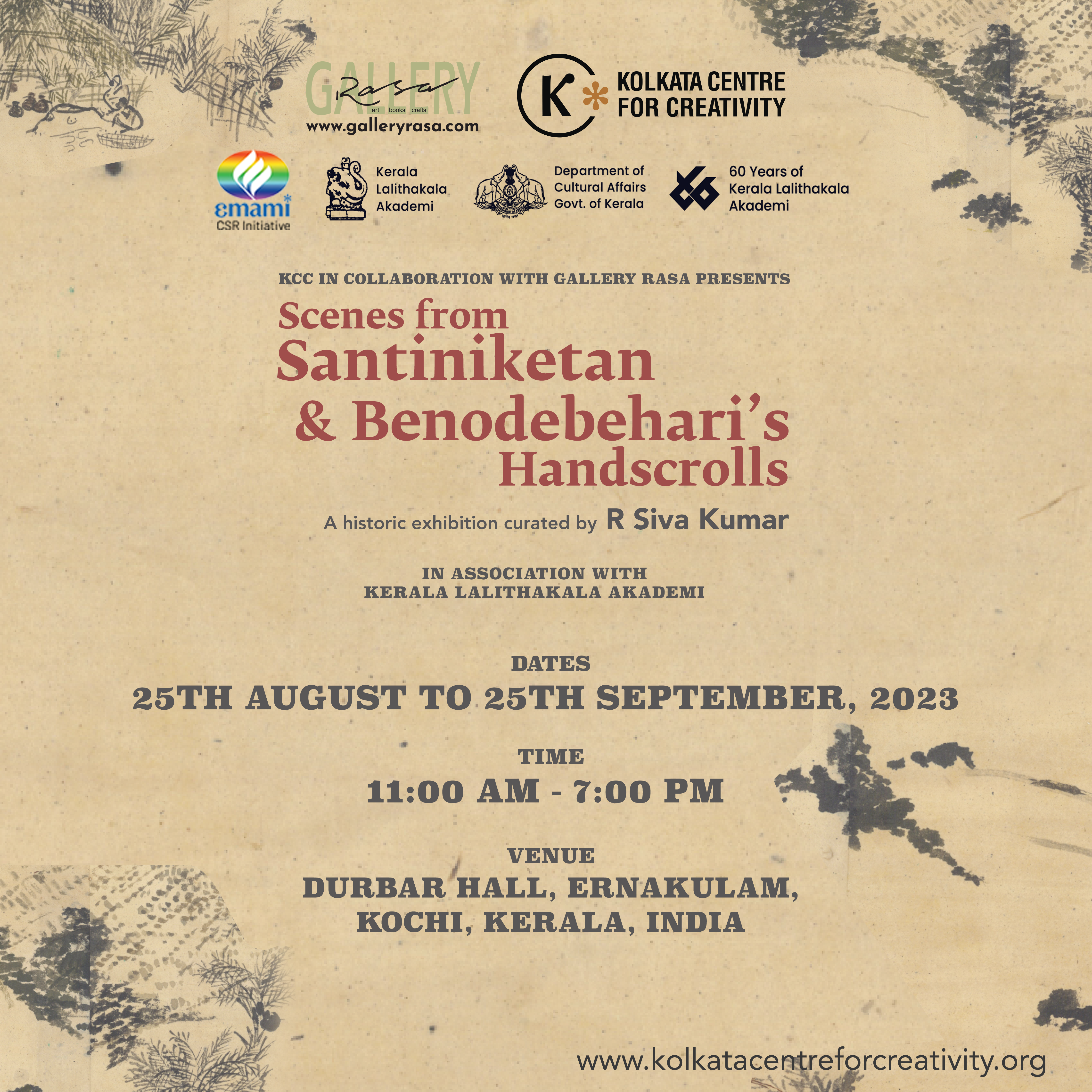 After the grand reception of the exhibition in Kolkata, followed by Santiniketan, it is now on its way to Kochi in Kerala. The exhibition will put on display - Scenes from Santiniketan — the earliest and longest handscroll ever painted by Benodebehari Mukherjee, depicting the 1920s landscape of Santiniketan, one of the primary art centres of the country. Besides this recently discovered 44.6 feet-long original scroll, the exhibition would further feature reproductions of all other handscrolls and existing fragments, including one from the collection of Victoria & Albert Museum, London. In the words of the curator Prof. R. Siva Kumar, "The landscape handscroll is an East Asian innovation. While ancient Indian artists were keen observers of nature, landscape as a distinct genre was unknown in India before itinerant European artists brought it to India during the colonial period. While European landscapes presented appealing views as a framed scene, East Asian landscape handscrolls allowed showing a place in its totality.
Modern Indian artists became familiar with East Asian handscrolls and landscape tradition through early 20th-century Pan-Asianism. But none used it as imaginatively as Benodebehari. Although later handscrolls by him were known, the discovery of this handscroll offers an insight into his early career, which was devoted to exploring nature as locally manifested. The present exhibition exploring Benodebehari's handscrolls provides new insights into his engagement with landscape as a means of self-expression and a record of the evolution of his inner self."  The influence of nature on the work of Benodebehari and his outlook towards his life has been of primary importance. In fact, emphasis on Nature was central to Rabindranath Tagore's vision for Santiniketan School and the community growing around it. Tagore's love of nature was profound. For him the wide-open skies, spaciousness, and tranquility of the countryside symbolized freedom. His paintings of nature are evocative, filled with a sense of mystery and longing, often depicting large, old trees by a river. Tagore believed that "nature [is] the greatest of all teachers" and that "children should be surrounded with the things of nature which have their own educational value."
Benodebehari responded to Tagore's call instantaneously unlike any of his contemporaries from Santiniketan. While Nandalal Bose also responded to Tagore's call and engaged with nature, it was a practice that evolved with time as he moved away from the trappings of the Bengal School. In contrast, Benodebehari took to Nature like a duck to water. In his formative years, Benodebehari spent a considerable amount of time between Godagari and Pakshi—small towns on the banks of river Padma. As Prof. R. Siva Kumar points out, geographically this was not far from Kushita and Shelaidaha, where in the early 1890s "Rabindranath had developed his empathy for nature and the vicissitudes of rural life". 
It is perhaps not without a reason that Benodebehari's student Satyajit Ray mastered the skills of portraying nature in all its shades and significances. Recalling how seeing Benodebehari's Birbhum Landscape mural changed his view, Satyajit Ray wrote: "The first person whose work I noticed within five minutes of my arrival at the ashram was Benodebehari Mukhopadhyay. Arrangements had been made for me to stay in a new three-room hostel in Kala Bhavan. I had to climb three steps to get to the front veranda. As soon as I did, my eyes went automatically to the ceiling. It was covered with a mural… gentle yet glowing with colour.... It was a painting of such calibre that none of the definitions of Oriental Art [meaning the Bengal School] that had once poisoned my mind could be applied to it."
In 1971 Satyajit Ray went on to make The Inner Eye, a documentary film on Benodebehari. During the making, Benodebehari identifies himself as a palm tree wrapped in the surrounding Khoai landscape. He says, "a stretch of Khoai, and in the middle of it, a solitary palm tree… If you wish to look for my spirit, the basic essence of all that my life stands for, you will find it there. You could say, I am it!"
The emphasis on nature's educative agency that facilitates, through intimate interactions, the extension of the self, stretches from Tagore to Ray through the scrolls of Benodebehari.