Printmaking Workshop on City As Play
The printmaking workshop 'City As Play' was led by printmaker and installation artist Nilanjan Das and the team of Living A Dark Night artists. Participants were invited to create slogans, signage, structures, instructions, etc., to make these public spaces in the city more accessible and improved for citizens. These designs were transformed into miniature relief stamps [4 x 4 inches]. Participants then imprinted the stamps on the postcards. They exchanged these postcards to share their opinions with each other.
At the end of the event, these stamps were imprinted collectively on a digitally printed map of Kolkata. A discussion was then initiated about how these outcomes could be improvised to make our city a better place.
Workshop Venue: Rabindra Tirtha
Date: 17th and 18th December
Time: 12 Noon - 2 PM
Duration: 2 hours
Age Limit: 16 - 35 (preferable)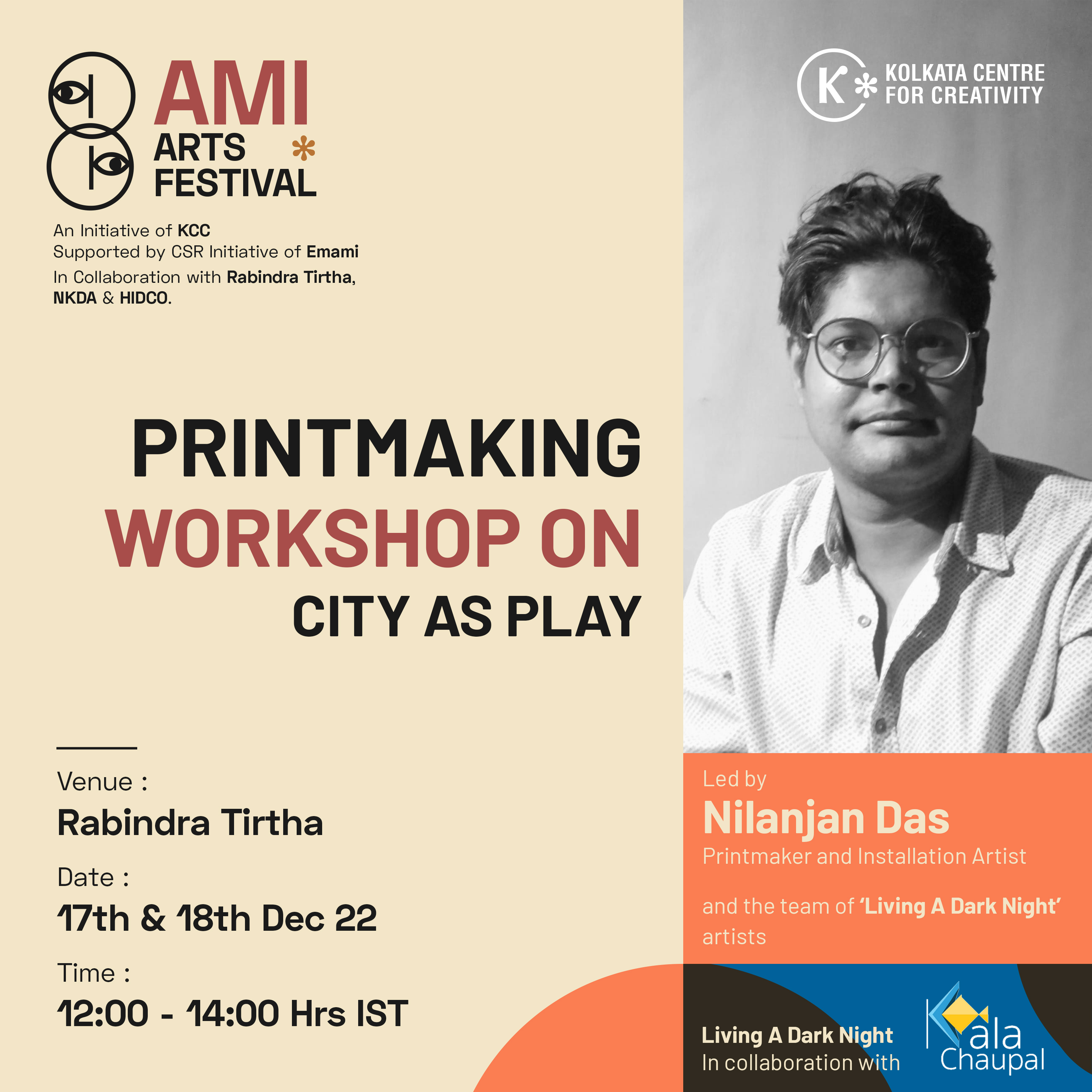 About the Facilitator

Nilanjan Das is a printmaker and installation artist based in Kolkata. He is interested in the role of printmaking in the public domain and has initiated several public art projects. Nilanjan Das completed his BFA and MFA in Printmaking from Rabindra Bharati University, Kolkata. He is presently a PhD scholar under Dr. Paula Sengupta's supervision at the same University. He is a trustee and artist of the Hamdasti Artist Collective, Kolkata.
Nilanjan has received awards and participated in artist residencies and exhibitions in India and abroad including the Manorama Young Printmaker Award 2021 from India Printmaker House; Pulp Society Artist in Residency, First Edition, Delhi, 2020; the Sponsored Coursework Program Award at Give me space, New Prints 2020 at International Print Center, New York; Socially Engaged Art Practice Grant, Khoj International Artists' Association, Delhi, 2019; and Megalo Artist in Residence Award, Canberra, Australia, 2018.
PAY HERE