Prime Time Performance: Rang-e-Thar
Rang-e-Thar takes us on a colourful and leisurely journey through the myriad flavours of traditional music from the deserts of western Rajasthan - rare, melodious folk songs to ecstatic spiritual and Sufi tunes to robust dance grooves. This unusual offering is interspersed with an interactive engagement with the audience, both informative and anecdotal, providing insights into the lives of the musicians, their music and their instruments.
Rang-e-Thar is presented by SAZ, young musicians from the Langa community immersed in a vast and varied musicality and keeping their traditions alive in modern settings. SAZ features Asin Khan, superb vocalist and a most proficient young master of the Sindhi Sarangi; Zakir Khan, an astonishing Khartal player; Sadik Khan, among the finest dholak players Rajasthan has to offer.
SAZ is produced and managed by Divya Bhatia.
FREE ENTRY
Venue: Open-air Stage, Rabindra Tirtha
Date: 22nd December 2022
Time: 18:00 Hrs (IST) onwards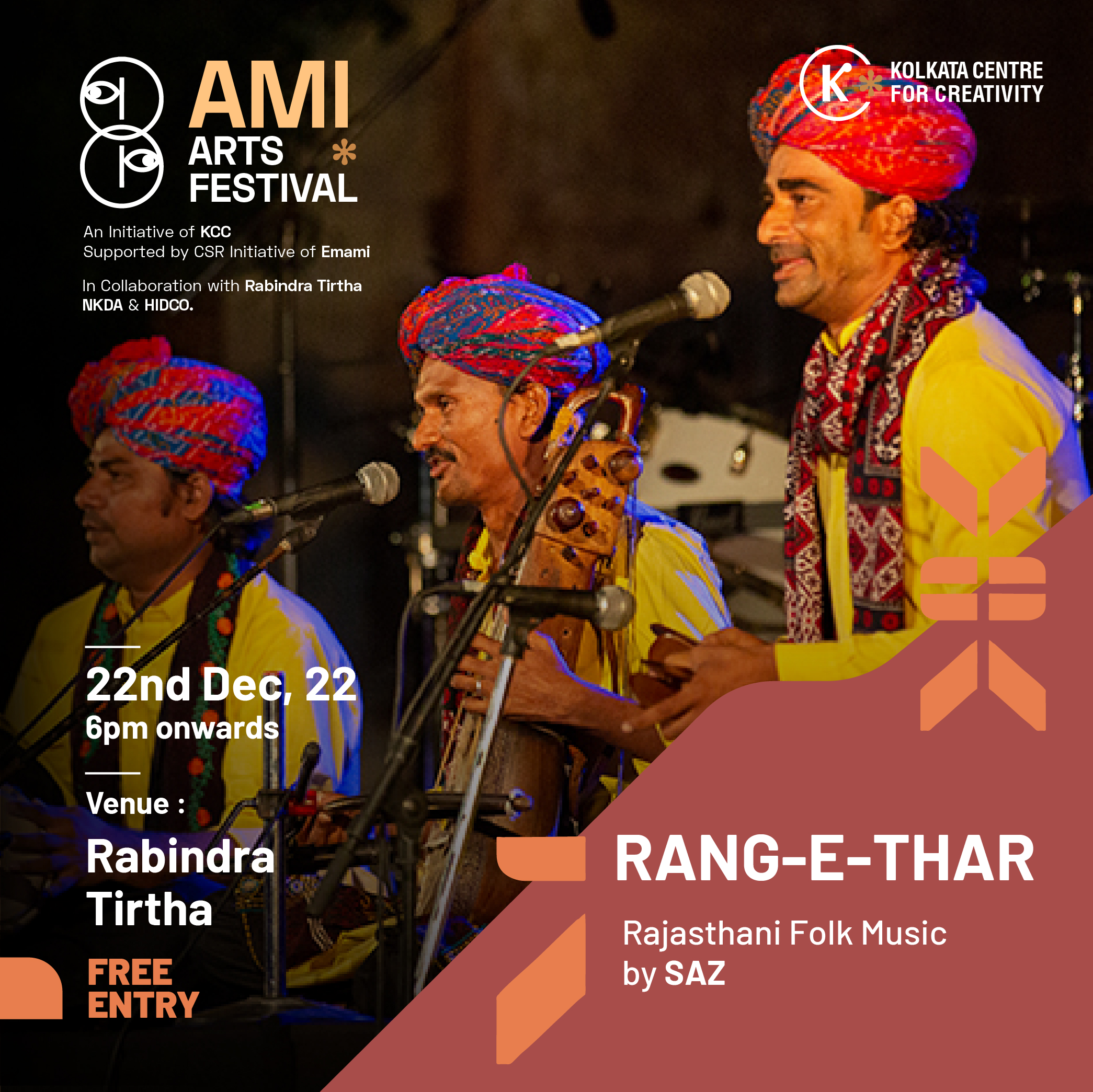 About SAZ
While the folk legacy in India is still alive and prolific, India's race towards modernity, however, has resulted in a deep neglect of root traditions. There are artists, however, who continue and grow their traditions in the face of all odds – aiming to make a name for themselves, but more importantly, keep their traditions alive and evolve ways in which younger members of their community can learn to respect and actively engage with these traditions. Among them, is SAZ.
SADIQ KHAN (Dholak - percussion)
Sadiq is one of the finest young Dholak players in Rajasthan. Hailing from the Langa community, Sadiq has been playing since the age of 8 years and has played widely in India and abroad. Trained by his father and his uncle, the famous Rajasthani Dholak player Jaipu Khan, Sadiq has been part of the SAZ (Asin Khan Collective) since its inception 4 years ago. He has played extensively across India, in numerous festivals in Delhi, Jaipur, Roorkee, Chitrakoot, Kolkata and at the Jodhpur RIFF. He has also performed in festivals such as the Edinburgh Jazz Festival in the UK, and others in USA, China, Uganda, Australia and New Zealand. He lives with his family Jodhpur.
ASIN KHAN (Vocals; Sindhi Sarangi - strings)
Asin Langa is arguably the most proficient young master musician in the Sarangiya Langa community, hailing from the deserts of western Rajasthan. His vocals, deeply rooted in desert traditions and spanning hundreds of years, include the recitation of praise poetry and the genealogy of Langa patrons, the Sindhi Sipahi. Asin specialises in playing the Sarangi (Sindhi Sarangi or folk Sarangi), an unusual, handmade traditional instrument played only by this community and one considered to be the only string instrument having a sound quality that comes closest to the human voice. The Sarangi was the instrument played for nobility and royalty. Asin's vast repertoire includes folk and classical instrumentation and Sufi poetry sung to traditional and improvised/ composed arrangements. 
He was only 10 years old when his father gave him the Sarangi and at the age of 11, he started playing with his father at weddings and a variety of other occasions at their patrons' residences. He has participated in many national and international festivals; in Jaipur, Jodhpur, Delhi, Mumbai, Chennai and Bengaluru in India. He has also performed with the Indian Council for Cultural Relations (ICCR) on tours in Russia, the USA, France, Germany, Norway, Spain, China, Canada, UK and Italy.
He is also a regular performer at Jodhpur RIFF, India's leading roots music festival.
He has been invited to perform alongside legendary artists such as L. Subramanium,
Kavita Krishnamurthy and A.R. Rahman. He is also a highly sought-after musician on All India Radio. In addition to his solo work, he has toured with three collaborations developed by Jodhpur RIFF - the Brian Molley Quartet (Glasgow); Maru Tarang, his collaboration with Australian singer/ songwriter and blues guitarist Jeff Lang; Citadels of the Sun with leading Irish composer and musician Marty Coyle.
With Maru Tarang, Asin has played at Celtic Connections in 2014, been part of the
showcase at WOMEX 2014 in Spain, headlined at MOSHITO, Johannesburg in 2015 and been on three Australian tours from 2014-16. Asin was also a finalist at the first ever HH Aga Khan Music Awards 2019.
Asin lives with his wife and four young daughters in the village of Badhnava.
ZAKIR KHAN (Khartal - percussion)
Zakir is the son of the legendary master vocalist from the Langa community, Bundu Khan or Kohinoor Khan Langa. 
The khartal, essentially two pairs of unconnected, flat and smooth pieces of wood, is a rare percussive instrument played only by the Langa and Manganiyar communities of western Rajasthan. Trained by the khartal maestro Aslam Khan Langa, Zakir mastered its intricacies and technique at an early age and is now a highly sought-after accompanist, a young master of the instrument.
He has played extensively across India, including at prestigious events at the Sangeet Natak Academy, Taj Utsav and Jodhpur RIFF. He has also travelled as an accompanist with senior folk and classical master musicians to Germany, Spain, France, Hungary, China, Portugal, Denmark, Morocco, Italy and the USA.
He lives with his family in Jodhpur.
About Divya Bhatia
Divya Bhatia is a versatile arts professional and teacher with experience across a variety of disciplines. He is the Artistic Director and Producer of Jodhpur RIFF; Artistic Consultant at ComplexCity; visiting faculty for Applied Theatre at the Royal Central School of Speech and Drama and faculty at the South Asia Festivals Academy. He also served as the Jury of WOMEX in 2019.