Prime Time Performance: Borda Borda
It is a story of two brothers. The younger one is truant, and the elder is an all-work Jack. One is nine, and the other, fourteen. Yet it is the younger that comes first in the exams every term, and the older repeats the story of his failure. The younger brother, now an aged man, recounts his childhood days in an interview before a camera. As we listen to the interview and watch it at the same time, the image of the ridiculous man in the elder brother fades into the larger–than–life image of a man who brings before us the essence of family ties, social bonding, education, and the values inherited. We listen, feel, and learn on the stage and across; so does, as it seems, the author himself having his story retold from letter to dramatics. One more thing before we end. The camera is made to capture the live moments in this play. The truth and experience revealed through an actor on stage is projected upstage through an image with a ten-fold blow-up: the actor's face and its magnified image on the screen creates a third impression in the mind of the audience.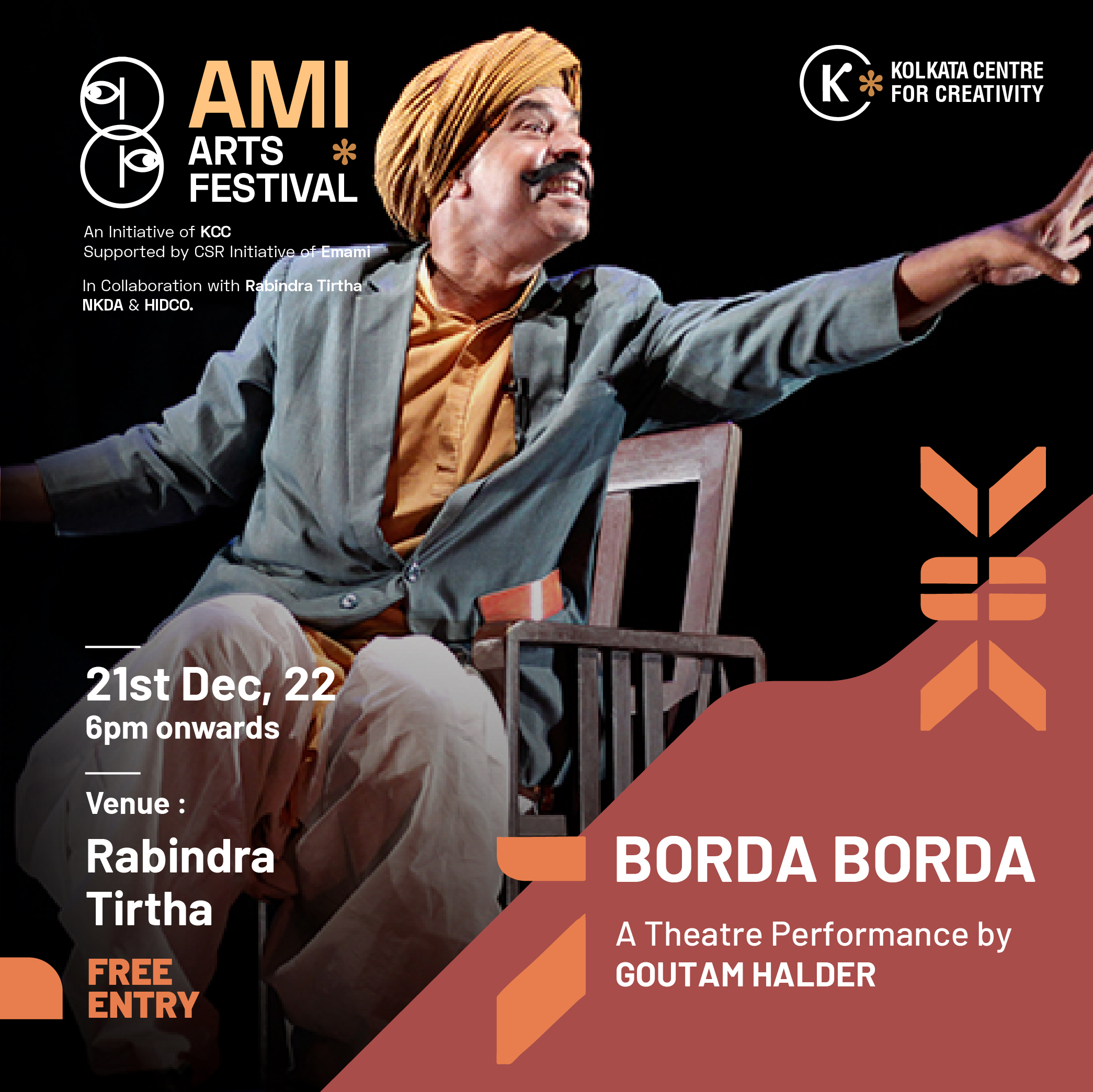 FREE ENTRY
Venue: Open-air Space, Rabindra Tirtha
Date: 21st December
Time: 19:00 - 20:00 hrs (IST)
About the Actor:
President and founder member of theatre troupe Naye Natua, Goutam Halder, was awarded State Award of Best Production for Meghnad Badh Kabya in 1995, State Award as Best Director for Chile Kothar Sepai in 1997 and Aditya Vikram Birla Kala Kiran Award (2001) by Government of Maharashtra.
He has directed and acted in more than a dozen of plays for Nandikar and even more for Naye Natua including Matir Gari Mrichchhakatika, Haoai, Moimonsingha Geetika, Othello, Meghnad Badh Kabya, Borda Borda, Jaal, Lakshmir Pariksha etc. and for other theatre troupes of Kolkata.
He is trained in Kathak, Bharat Natyam & Classical Vocal Music and works as an actor-trainer in various institutions in India and abroad.