Open Call for exhibition cum fundraiser, "Divergent Terrains"
When we hear 'landscape painting', we are immediately transported to bucolic countrysides, mountains, seashores and greenery. Landscapes provide the escape, the relief that we seek from the daily hustle and bustle of life. Cityscape, on the other hand, is another kind of landscape that celebrates the architecture and spirit of a city, capturing its soul. Landscape paintings are often windows to a world we look forward to—a portal for the things we enjoy but do not possess or cannot experience as often as we wish to. 

The scenes of rural life in Indian villages take us back to our roots, as we cherish and remember the simplicity that has gone amiss in the modern world. The massive mountain peeping above the clouds instils resilience, while the vast and violent waves of the swelling sea remind us of our own insignificance. On the contrary, cityscapes reinforce the latent beauty in our own surroundings. In our daily hustle, we often forget to admire the grand architecture that surrounds us, the familiar corners steeped in memories. Being a part of the crowd, we hardly have the time to stand apart and observe "The apparition of these faces in the crowd:/Petals on a wet, black bough" (In a Station of the Metro, Ezra Pound). 
Thus, although landscapes have the power to transport one to a different zone, it is not only the spatial shifts alone but also the temporality of it all which is rather intriguing for the sensitive, artistic minds. The same landscape evokes different sensations in different seasons. At times, the landscape goes through major transformations in a day's time, changing bit by bit, hour by hour. They often reflect the mental state or the mindscape of the spectators onto the vast field of vision or the landscape before them.
Celebrating this rather popular and intricate style of art, for the AMI Arts Festival 2022, KCC invites artists to submit Landscapes (be it rural or urban). Selected artworks would be displayed at an exhibition cum sale at Nazrul Tirtha from 17th to 25th December, 2022.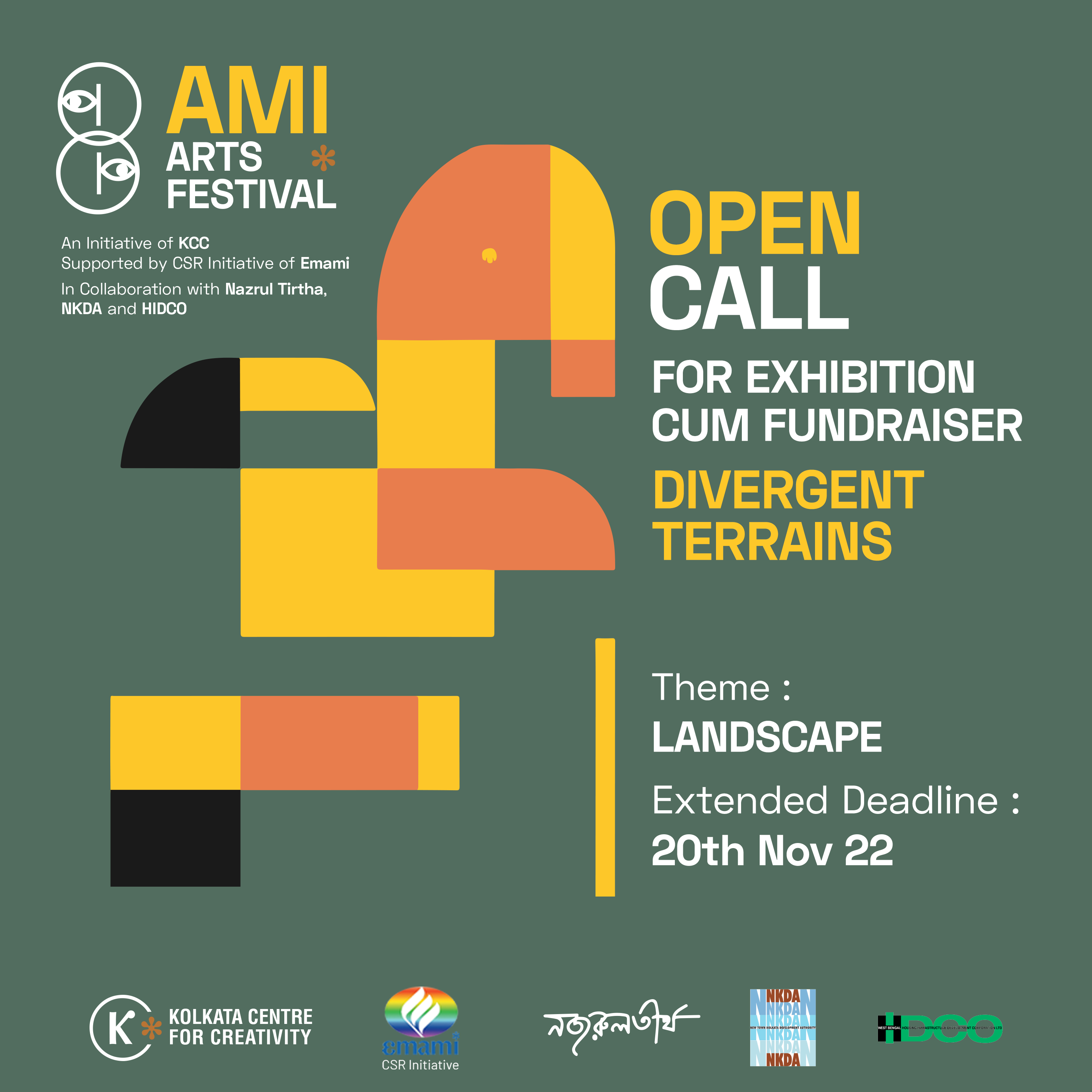 Mr. Suresh Jayaram (Artist, art historian, arts administrator, writer, curator and founder-director of Visual Art Collective/1.Shanthiroad Studio). 

Theme: LANDSCAPE 
Medium: Any and All (except Photographs and Digital Artworks)
Deadline for submissions: 20th November, 2022
Selected artists would be notified through email by 25th November, 2022 
Artists would be required to submit their physical artworks at KCC by  5th December, 2022.
Submission fee (non-refundable): INR 500 for each submission (includes 3 artworks)
APPLY NOW
Rules: 
•A maximum of 3 artworks can be submitted. For the purpose of this open call, 1 piece of art will be considered as 1 submission. For example, in case of sculpture, a 3-piece sculpture will be considered as 3 separate submissions. Similarly, in case of paintings, an artwork consisting of 3 frames will be considered as 3 separate artworks.
•You are expected to name a price for your artwork(s) from the given price brackets: 5000, 10000, 15000 and 20000. No 2 artworks can be in the same price bracket. There will be no negotiations regarding the price brackets.
•Submission fee(non-refundable): INR 500 for each submission (includes 3 artworks)
•Movement of artworks to and from KCC is the artist's responsibility
•All artworks submitted must be framed by the artist in advance
•Maximum size of the framed artwork must not exceed 36 inches (Length and/or width)
•One or more of your artworks could be selected based on the curator's discretion
•The decision of the curator will be final and binding
•Selected artists would be notified through e-mail by 25th November, 2022
•Artists would be required to submit their physical artworks at KCC between  5th December, 2022
•Artists must take their artworks back from KCC after the exhibition within the given date (to be notified through email) or the artworks will be discarded
•Outstation candidates would have to bear the shipping charges of sending the artworks to KCC and taking them back after the exhibition
•Selected artists will receive certificates post completion of the exhibition
PAY HERE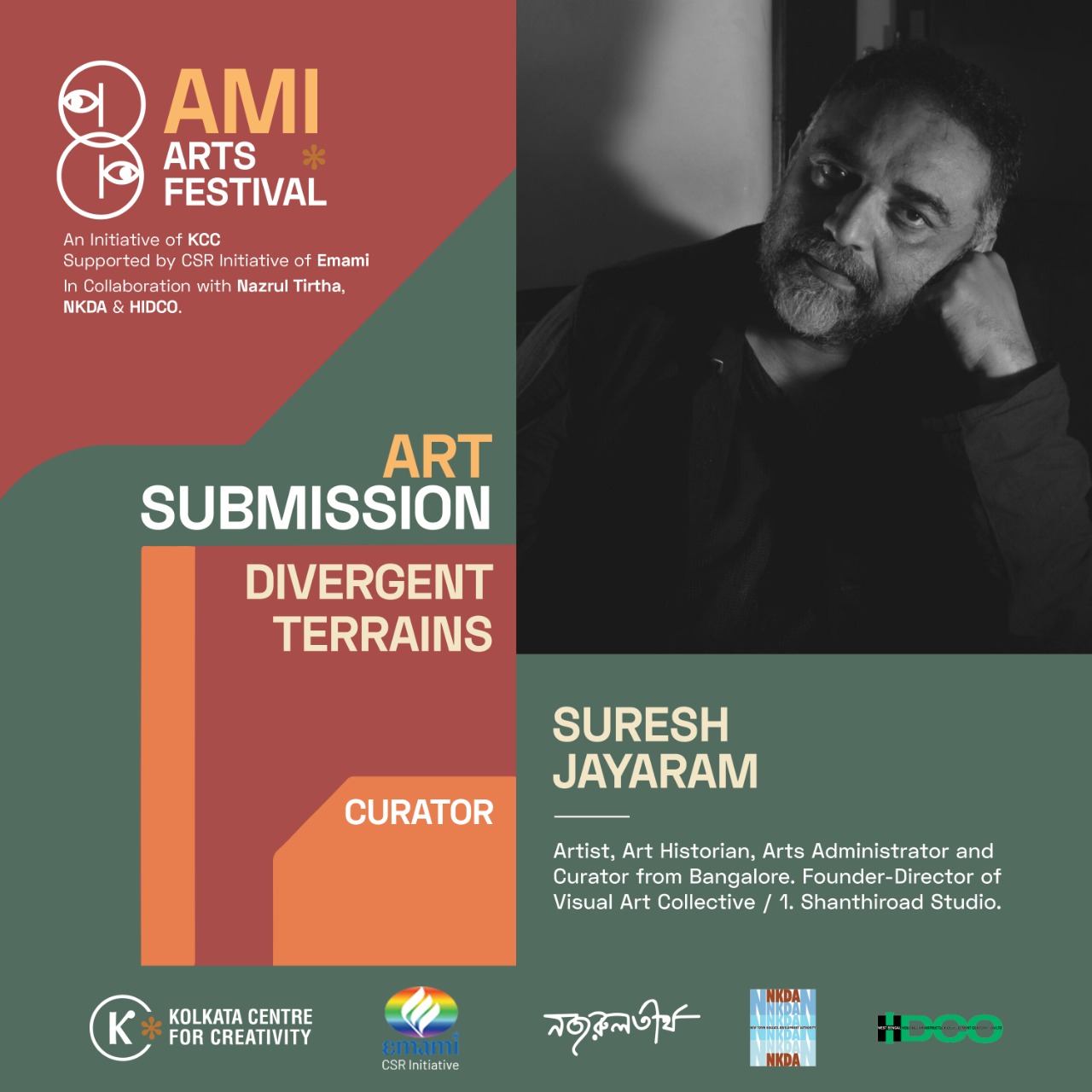 About the Curator:
Suresh Jayaram is an artist, art historian, arts administrator and curator from Bangalore. He is the Founder-Director of Visual Art Collective/1.Shanthiroad Studio — an international artist's residency and alternative art space in Bangalore, India. He taught Art History at Karnataka Chitrakala Parishath, the College of Fine Arts in Bangalore and later went on to become the Dean from 2005-2007. He was the principal of the College of Fine Arts, a part of the Karnataka Chitrakala Parishath located in Bengaluru. He is currently involved in art practice, urban mapping, archiving, curation and arts education. His keen interest in environmental and urban developmental issues influences his work. Bangalore's Lalbagh: A Chronicle of The Garden And The City - a chronicle and anecdotal narrative of the city and its oldest garden, is his latest publication.