Open Call for Art Students: Artists of Tomorrow-Bengal Edition
We are excited to announce the open call for submissions to Artists of Tomorrow: Bengal Edition, a special segment of the upcoming AMI Arts Festival, from 2nd to 10th December 2023. This is an extraordinary opportunity for talented art students to showcase their works and gain recognition within the vibrant arts community. We invite graduate and post-graduate students from all Art Colleges of West Bengal to participate in this enriching experience.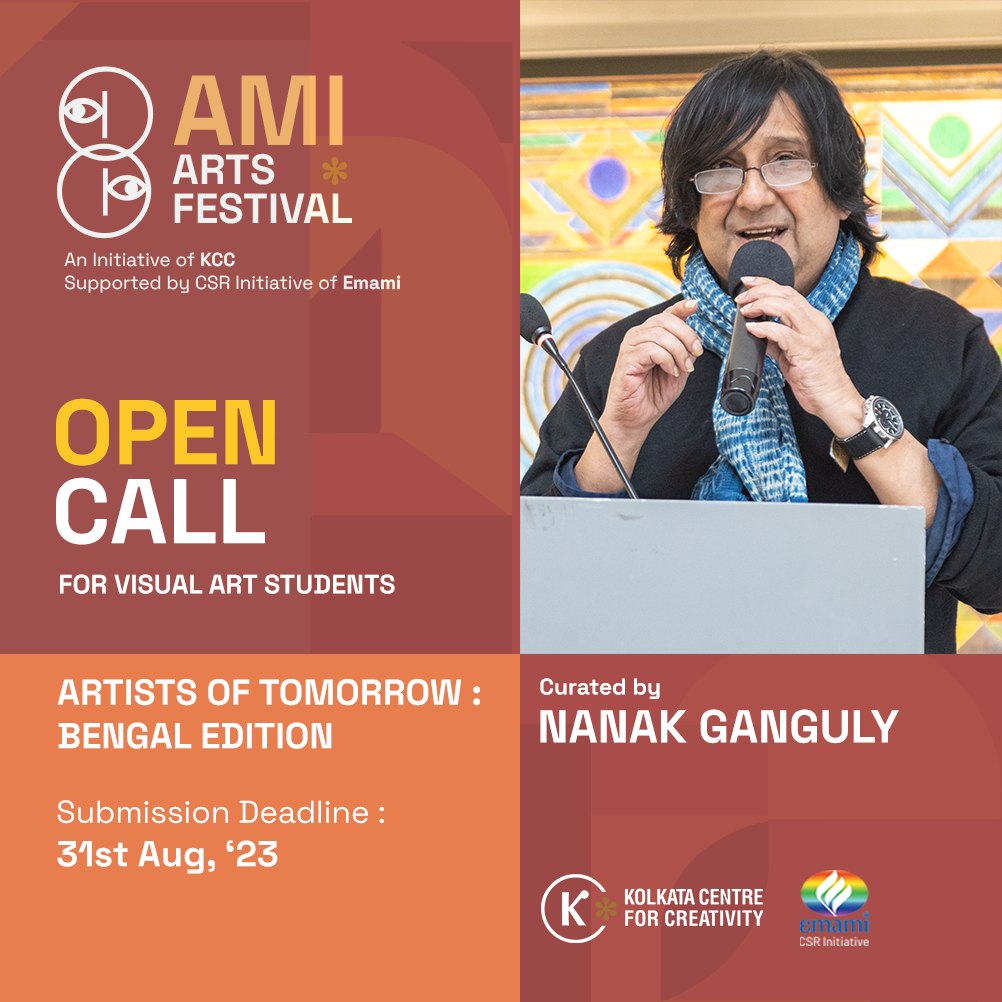 Submission Guidelines:
1. Eligibility: Open to graduate and post-graduate students from all the Art Colleges of West Bengal. 
2. Medium: All forms of visual arts, including painting, sculpture, installation, photography, mixed media, digital art, etc., are welcome.
3. Application Fee: Applicants would be required to pay a nominal non-refundable application fee of INR 500.
4. Application Process: Interested students should follow the steps outlined below: 
          Artist statement (maximum 300 words) describing the artistic practice and inspiration.
          High-resolution images or documentation of up to three artworks.

          Artwork details, including title, medium, dimensions, and year of creation.

          Brief bio and contact information. 

Register here
Submission Deadline: The deadline for submissions is 7th September.
Announcement of Selected Artworks/Artists: End of September.
Selection Process & Financial Support: A selection panel led by the curator, Nanak Ganguly, will review the submissions. The panel will select 18 artists based on their artistic merit and potential. An artwork from among the works submitted for consideration may be selected for the exhibition. Alternatively, the selected artist may be asked to create a new artwork. Each selected artist will receive Rs 7,000 assistance fund* to create and transport their artworks for the exhibition. 
Exhibition and Panel Discussion: The chosen artworks will be showcased at the AMI Arts Festival, where the selected artists will have the opportunity to meet with prominent personalities from the art world. Additionally, a panel discussion will be organized during the festival, focusing on Artists of Tomorrow: Bengal Edition and the importance of such platforms for students in the Eastern part of our country. 
We look forward to receiving your submissions and witnessing the incredible artistic talents emerging from Bengal's art schools. This collaboration aims to provide a transformative experience and establish a platform for young artists to express themselves and engage in critical dialogue.
Pay here
About the Curator:
Nanak Ganguly is an independent curator and critic based in Kolkata. He has written extensively for The Statesman, Asian Age, Business and Political Observer, Deccan Chronicle, and others. He was appointed the Commissioner of VIIIth Pan Asia-Pacific Art Biennale by Lalit Kala Akademi in 1997. He has curated shows in New York, Tokyo, Singapore, New Delhi, London, Kolkata, Hyderabad (CCMB) and Mumbai. 
*The assistance fund is a one-time amount paid to each selected artist to cover all their expenses related to the exhibition including creation of a new artwork if need be, transportation of the same, and the artist's own transportation (to and back from the decided venue), and stay if required.