Musical Rapsody, An exclusive piano recital, Welcoming Bengali New year 1430
Welcome to an unforgettable musical journey celebrating the life and legacy of the beloved bard of India and the world, Rabindranath Tagore. Join us for an evening of beautiful music as we delight in the melodious tunes of his timeless songs and popular piano pieces from around the globe.
Through captivating piano solos, we will showcase the beauty of life and spirituality with golden melodies that will take your breath away. Our eclectic mix of folk songs from different cultures and popular movie tracks will transport you on a musical adventure like no other.
To enhance your experience, our performance will be interwoven with an engaging storyline and short narrations that will take you on a journey through the life of Tagore and the world's diverse cultures. This will make for a truly immersive and unforgettable musical experience that you will cherish for years to come.
Join us for an evening of enchanting melodies, soul-stirring stories, and a celebration of life's beauty through music. Book your tickets now for an experience you won't forget.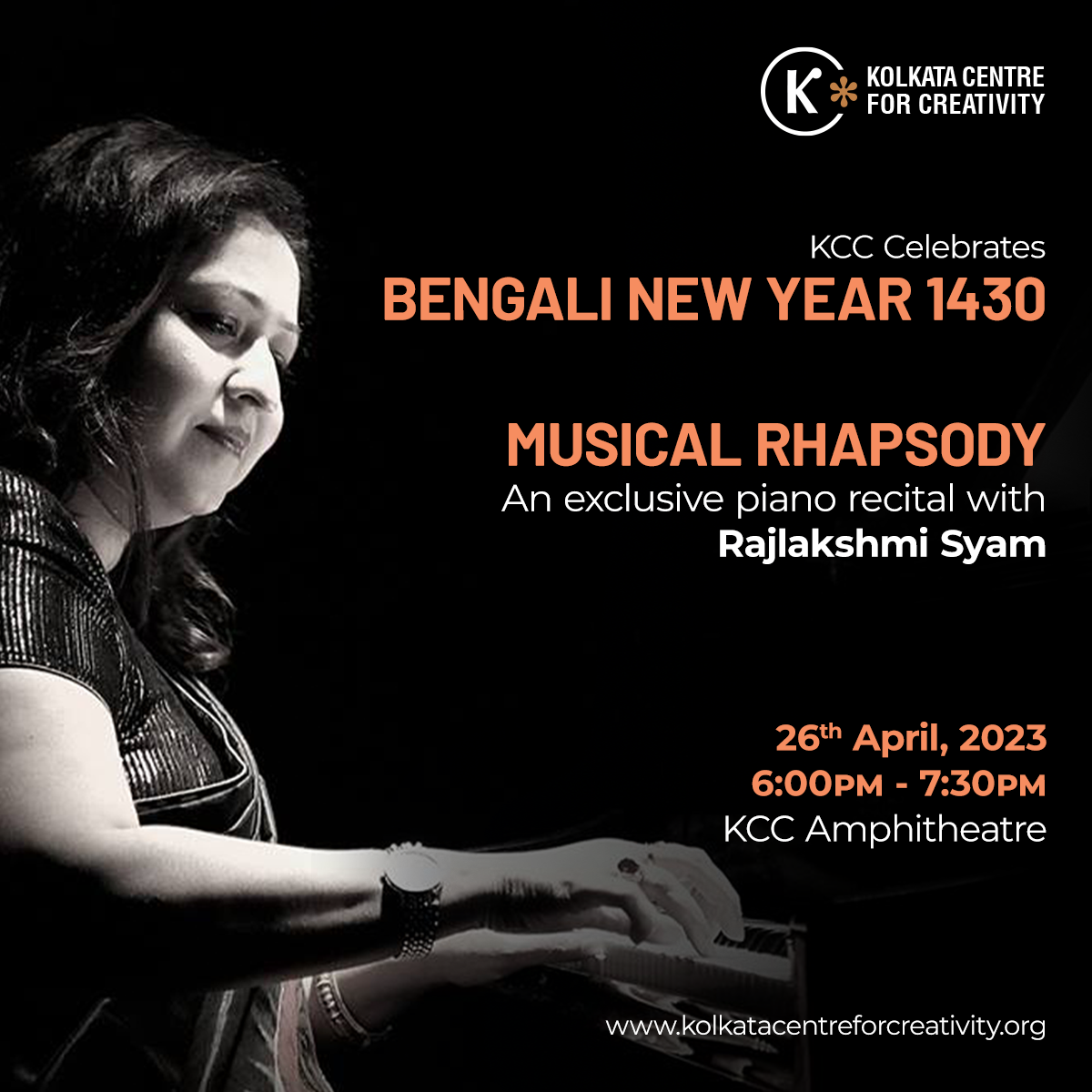 About Rajlakshmi Syam:
Meet Ms. Rajlakshmi Syam. She is a pianist extraordinaire and a superb fashion designer. She wears both the hats with elan. 
She is the only female pianist from India, who has performed in various places of the world and as a cultural ambassador she had participated in prestigious music shows and performed in many heritage destinations in India and abroad, enthralling her audience with her aura of glamour and sound of music. She loves to create a "fusion of melodies" that includes an eclectic mélange of Western Semi Classics, Pure Indian Ragas, Global Folk Tunes and Rock & Roll and many other popular Local tunes. The music she creates with her nimble fingers on the keyboard is simply mesmerizing.  
She is the first in Kolkata to bring a Hollywood star from the USA to perform on stage with a Hollywood celebrity, which took place on 7thyof December, 2022 and the program was a roaring success which is exclusively have a full page coverage on the Telegraph, T2
Rajlakshmi Syam has been appointed and honoured as the State President, Culture and Heritage Council, Heritage Council of West Bengal and WICCI - Women's Indian Chamber of Commerce and Industry.
An ace fashion designer, she is not afraid of taking risks as she caters to discerning clients both at home and in the fashion capitals outside India. Her work is well known for its gorgeous colours, embroidery, texture, use of hand-woven fabrics and handloom cloth that speaks of an understated elegance and glamour. Her aristocratic background bespoke her class and elegance. She caters to niche clienteles that comprises of film stars to diplomats and beaurocrats and leading businessman and designer stores at many places.
She also works as a brand consultant for many leading companies in the field of fashion and lifestyle. Her Masters in Business Administration with specialization in International Travel and Tourism from the University of Queensland, Australia has come to in handy. Her parents initially wanted her to join corporate houses at a respectable position, which she initially accepted and served. But her passion for artistic pursuits and her spirited, independent nature did not encourage her to stay within the four walls of a corporate entity.
Rajlakshmi also delights in her activities as a Social and Human Rights activist. A major part of the proceeds from her cultural programs goes for charity. She works hard to bring in a change to this world for good. She deserves mentions of the various social projects that support underprivileged children suffering from mal-nutrition, educate girl child, gender issues, to bring financial sustainability in rural Bengal, and recently she has taken up projects to help underprivileged victims suffering from cancer.
 A single and caring mom handled her business and home single-handedly even when she was suffering from breast cancer and undergoing treatments. Later on, she survived back-to-back covid attacks. This rich experiences-in her life has helped her to become a motivational speaker as well. Even during chemos, bald headed Rajlakshmi attended events and motivated people as a "motivational icon." Her latest agenda is to help under-privileged cancer patients across the Globe.
Even during pandemic, she became the saviour and support system to many individual fashion stores as well as different fashion communities. She has successfully helped the tailors and embroidery workers and connected them on regular basis with potential clients, designers and designer stores, so that they do not go out of work and can sustain themselves during this hard pandemic times.
She is the only fashion designer and musician who even has a stamp in her honour presented to her as acknowledgment of her artistic abilities and talents, issued from the postal department of Govt of India, which she can use all over India .  
An entrepreneur, she has been recognized for her work in the field of both fashion and music, and received numerous accolades and awards. Her enthusiasm and originality have been recognized and appreciated both in India and overseas.
Register Here