Mind Gymming: Rethink the way you think
Kolkata Centre for Creativity is pleased to invite you for a digital workshop titled 'Mind Gymming: Rethink The Way You Think' on Saturday, August 19th, from 10.30 a.m. to 1.45 p.m. IST. In a world characterized by constant change and volatility, it has become increasingly evident that the key to dealing with difficult situations and embracing new realities lies in our ability to reshape our thinking. This workshop warmly welcomes participants from across the globe.
The workshop is inspired by the book 'Flip It' by UK's top trainer and best-selling author Michael Heppell and will be conducted by Tumpa Sarkar, an HR and Behavioural Sciences Specialist. Tumpa Sarkar holds certifications in Neuro-linguistic Programming (NLP), Square Wheels Facilitation, and is a recipient of the prestigious Master Trainer – Pride of India Award. With her extensive expertise, she will guide participants through the stages of understanding and implementing the 'Flip It' cognitive tool, a powerful technique derived from the best-selling book by Michael Heppell.
During the workshop, participants will gain insights into challenging conventional thinking patterns, breaking cognitive barriers, and fostering transformative thinking and creativity. The sessions will cover topics such as using the power of questioning and brainstorming to turn positive thinking into positive action, employing cognitive reappraisal techniques to manage negative emotions during crises, and implementing transferable thinking strategies to challenge limiting beliefs for optimal results.
The workshop will guide you through the following stages:
•Understanding the 'Flip it' tool to challenge your brain and thinking patterns.
•Cognitive Reappraisal Tool - to deal with a surge of negative emotions during a crisis situation.
•How to use the power of questioning and brainstorming to force our positive thinking into positive action?
•Discussion on certain strategies and techniques of transferable thinking that can be implemented to challenge limiting beliefs for getting the best results.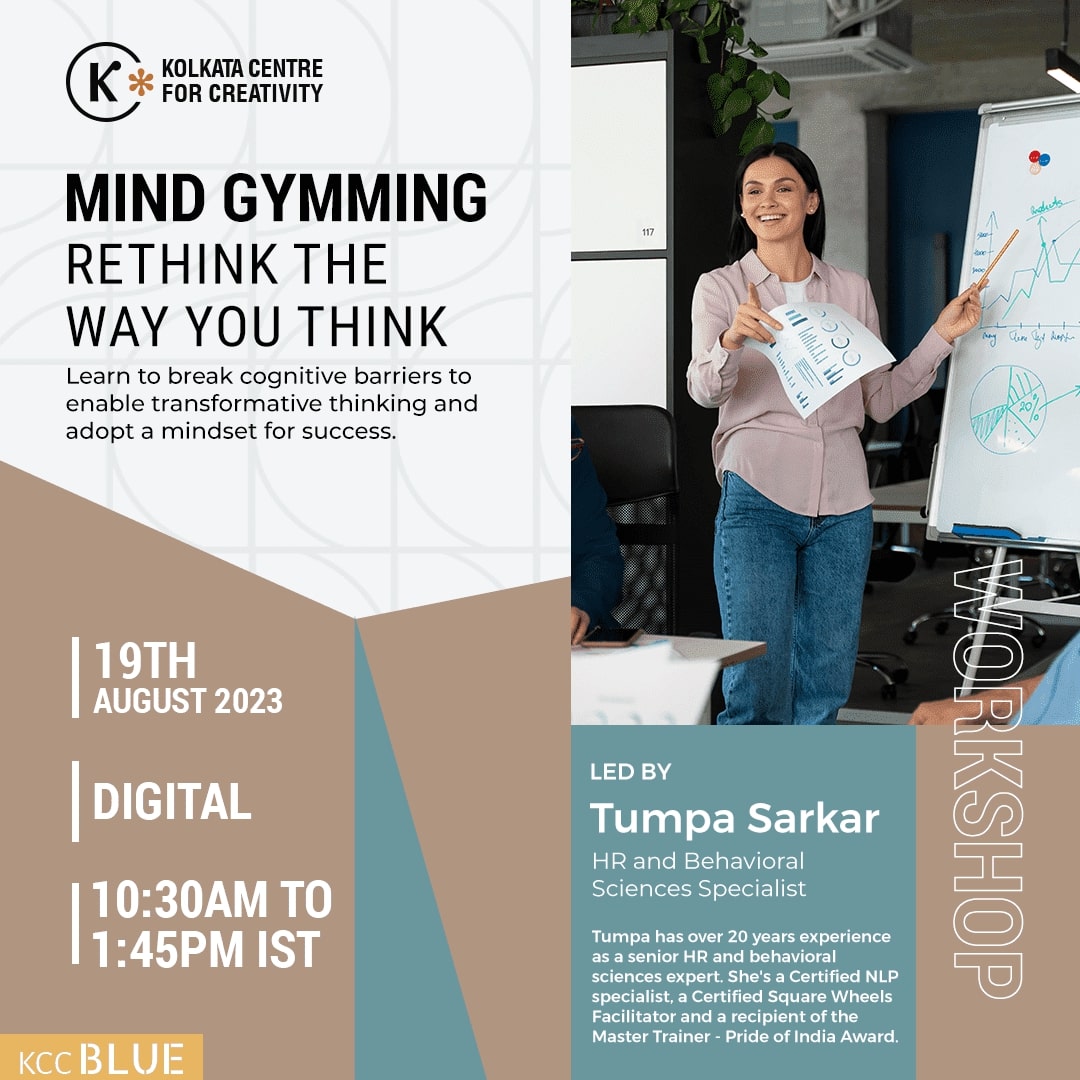 Learning Outcomes
After this digital workshop, participants will have:
•Recognized the power of the Brain.
•Mind Gymming techniques and Neuroplasticity.
•Understood the power of 'Cognitive Re-appraisal' during a crisis or difficult situation
•Realized the importance of right questioning – Why vs How?
•Learned certain techniques of transferable thinking to challenge limiting self-beliefs (6 Thinking Hats & SCAMPER Brainstorming Technique)
•Switched/reversed your thinking by challenging certain mental patterns and beliefs that are holding you back from giving your best.
HOW TO REGISTER

Participants from India can register with a fee of INR 950 by clicking 
Register Here
Participants from outside India can register with a fee of INR 1500 by clicking
Register Here
Institutions who would like to send multiple nominations may pay the fee by bank transfer to: Anamika Kala Sangam Trust, Bank Name: ICICI Bank, Account No: 128701 001 005, IFSC Code: ICIC0001287, TAN: CALA10850A, GST: 19AAATA4406C1ZA
To know more, call (+91) 9830074073 or write to marcom.kcc@akst.org.in