Maddy – An absurd theatre performance
Kolkata Centre for Creativity in collaboration with Ichheymoto presents Maddy. Come and experience the magic of an unforgettable live performance with a bunch of talented actors on 26 March, 6.30 pm and 7.45 pm at the KCC Amphitheatre.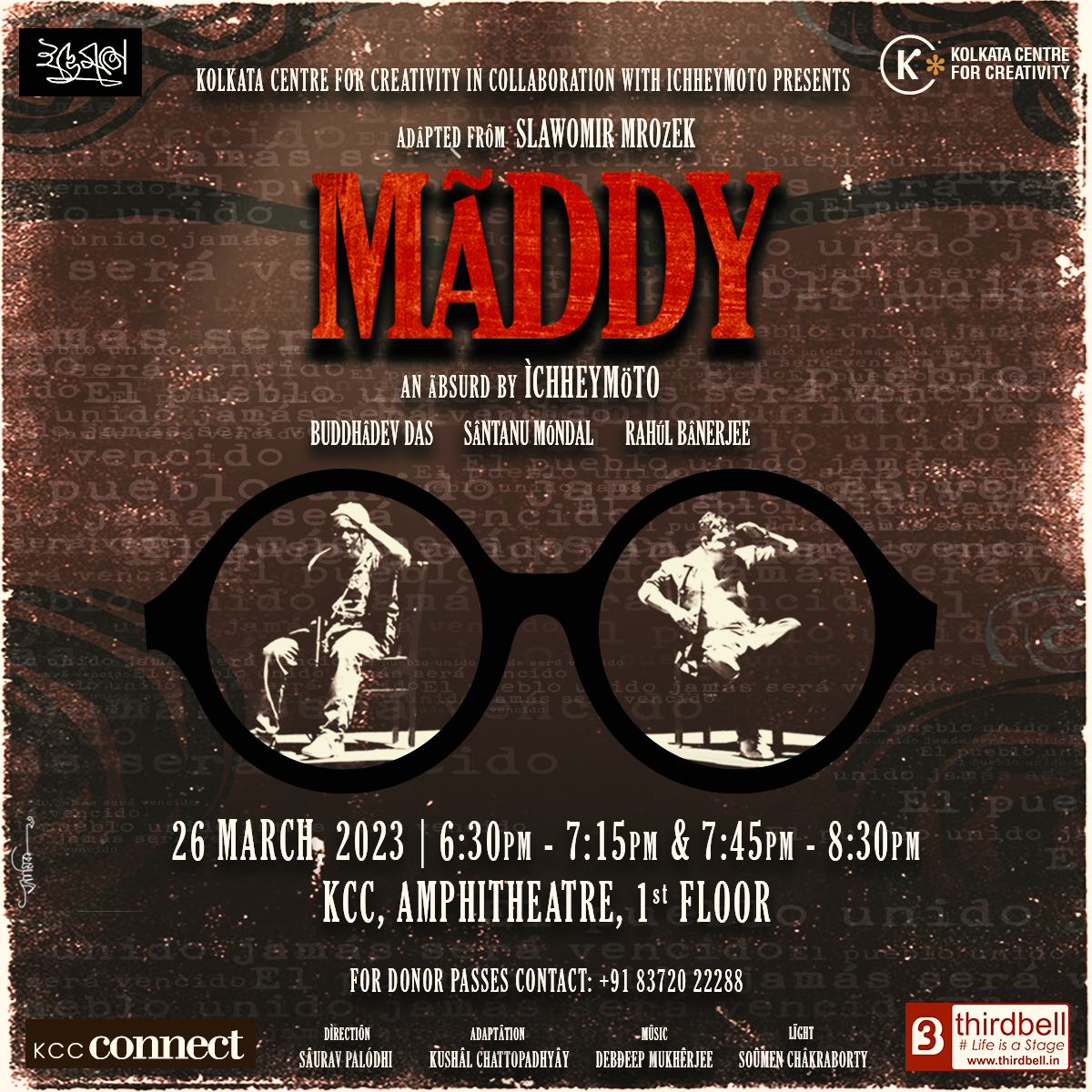 About the play
Directed by Saurav Palodhi and performed by Rahul Banerjee, Buddhadev Das, and Santanu Mondal, Maddy is an epitome of absurd theatre whose dialogues, movement, and structure are all odd and weird. Slawomir Mrozek is one of the best absurd playwrights in the world and Maddy is one of the adaptations of his text.
Absurd drama employs unconventional techniques, such as non-linear storytelling, and nonsensical dialogues. It also challenges traditional theatrical conventions. This makes Maddy an aurally interesting and engaging performance and a refreshing change for audiences who are used to more traditional forms of theatre.
Whenever a power rises to be the dictator of the world, to whom people are mere pieces of flesh, then the dictator is punished by the same people through the dictator's own machine. We walk the road to identify the ruler as the exploiter and Maddy is the lanes, crossroads, and junctions of that same road.
Director's note:
"Maddy - the absurd by Ichheymoto is a very significant work of my creative journey. When I first read the text, immediately what connected me was its scope and varied layers of its absurdity. We had vigorous sessions on how we could interpret and portray the script since it needed the utmost effort of detailing so that the audience could walk along through the absurd journey we were planning to execute. After innumerable rewrites by Kushal Chattopadhyay and brilliant complementary support by Rahul Arunoday Banerjee, Buddhadev Das, and Santanu Mondal, we created the absurd – Maddy.
Book your donor passes here