Indigenous Food Talk Session
The Santals, the largest homogenous tribe of India, have a legacy of collecting food from their natural surroundings of jungle, hills and water bodies. Though many of them are now dependent on market vegetables, yet they still continue to maintain the traditional food habit of their ancestors of eating food ranging from those found from plants and roots to mushrooms, insects, birds, reptiles and hunted animals. These naturally available foods not only provide them with the required nutrition and rich minerals in their daily diet, but also help in maintaining a sustainable way of life. However, with the fast reduction of forest lands due to human settlement, industrialization, construction of wild life sanctuaries and contamination of water bodies with chemical fertilizer and pesticides has disturbed the bio-diversity of their habitats and their traditional food cycles are rapidly changing.
The discussion, facilitated by Dr. Boro Baski, will be on some of the traditional food of Santals and their cooking process and how over the generations the foods have started to lose its originality or have amalgamated with the foods of their neighbouring communities. The speaker, along with his four team members, will also present a performance based on their traditional food and lifestyle.
Venue: Screen 3, Nazrul Tirtha 
Date: 23rd December 2022
Time: 16:00 - 17:00 Hrs (IST)
*The talk session is free for all and is suitable for all age types.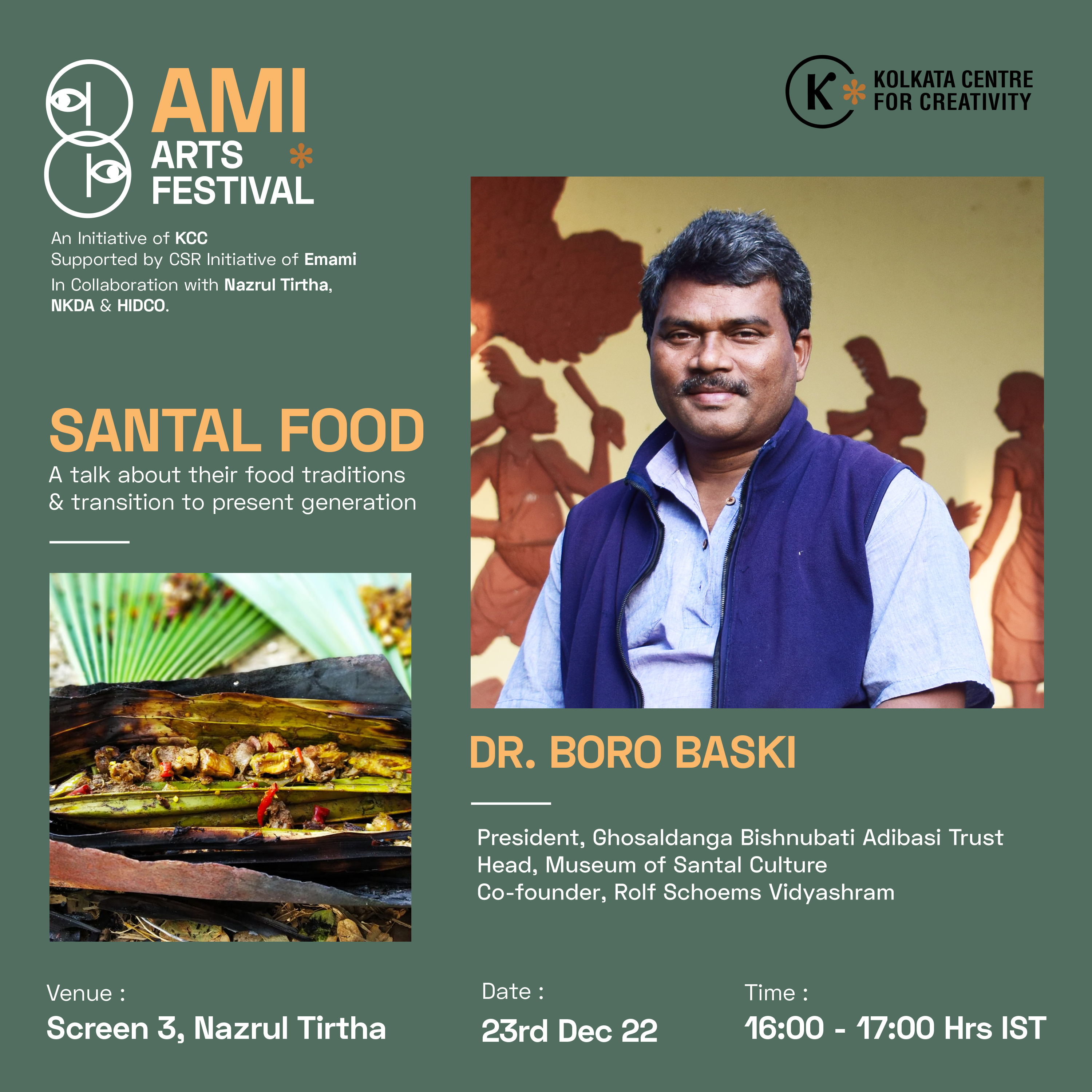 About the Speaker
Dr. Boro Baski (Ph.D.) is the President of Ghosaldanga Bishnubati Adibasi Trust, an organization working for the overall development of the Santal tribe of Ghosaldanga, Bishnubati and surrounding villages in Birbhum district, West Bengal, India. He is the Head of the Museum of Santal Culture at Bishnubati, Birbhum. He is also the co-founder of a non-formal Santal school, the Rolf Schoembs Vidyashram, situated 10 kilometers away from Rabindranath Tagore's Visva-Bharati, Santiniketan. This school has an innovative approach to Santal education, combining the needs of poor Santal village children with Tagore's emphasis on learning through play, music, arts, and through the medium of their mother tongue. His work among the Santals also receives the support of "Friends of Ghosaldanga and Bishnubati e.V.", in Frankfurt.