'Freedom Songs' at KCC (Open to all)
'Freedom Songs' is an event that celebrates the profound impact of music and art in shaping history and transforming societies.
Conceptualized, scripted, and curated by the renowned creative mind, Subha Pal, this event promises a thoughtfully crafted and emotionally resonant experience. Join us as we embark on a global exploration of cultural expressions and witness the power of musical notes that pierce through oppression like a clarion call to awaken nations.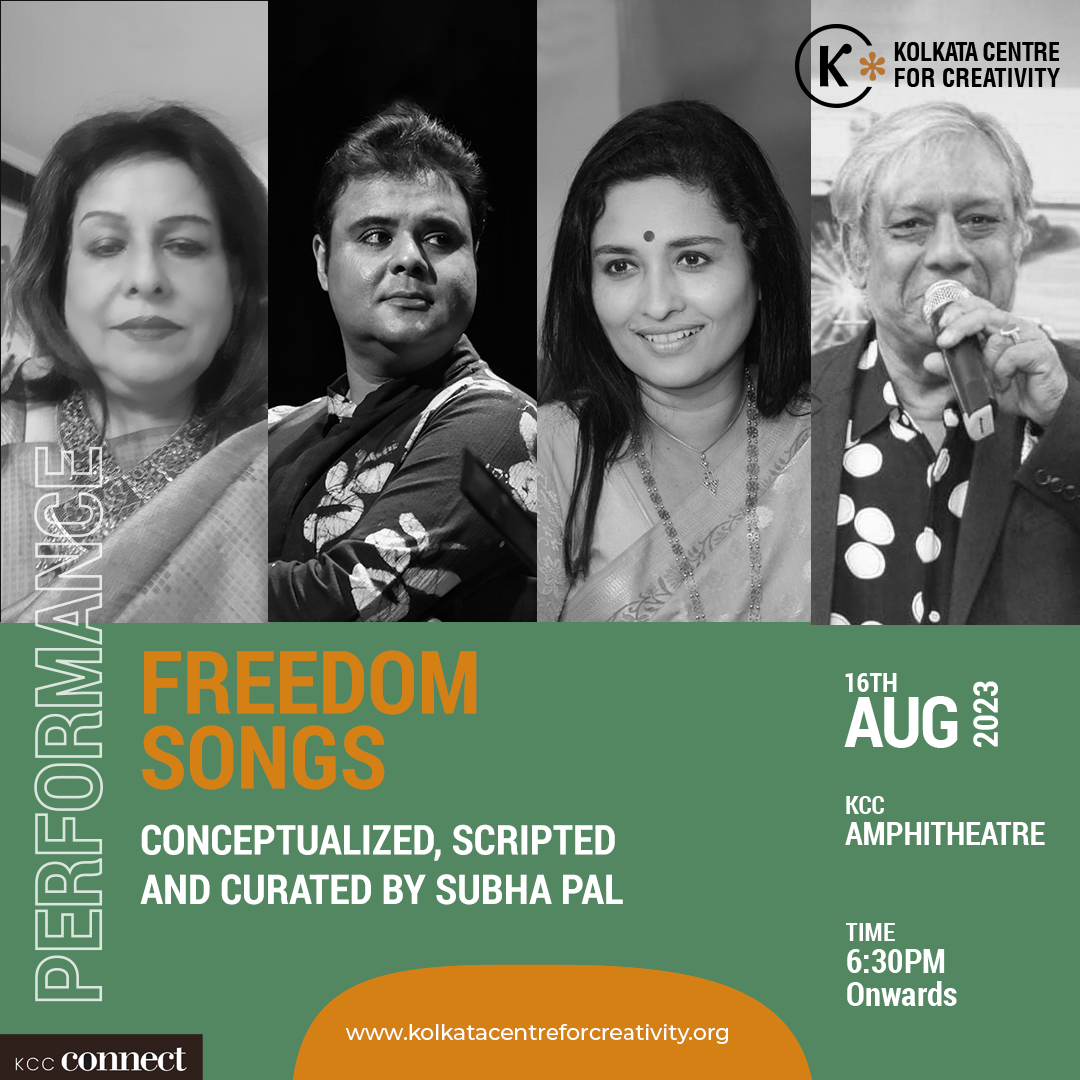 Featuring exceptional performances by acclaimed artists, Sujoy Prosad Chatterjee, Neepabithi Ghosh, and Sumit Roy, 'Freedom Songs' showcases the prowess of these talents in captivating storytelling through art.





The event is open to all, but prior registration is mandatory. To register, click
Register Here
About the Curator & Artists
Subha Pal (Curator):
With a Masters Degree in International Relations from India and Broadcast Jounalism from USA, Subha Pal started as television journalist at the beginning of her career and later switched to the corporate world as the head of PR and Corporate Communications of Manor Floatel for 12 years.
She has staged several productions in her capacity as writer, presenter and director of more than 100 stage productions with celebrity artists in prestigious auditoriums and clubs. 
Sujoy Prasad Chatterjee:
Sujoy Prasad Chatterjee is an interdisciplinary artist, specializing in spoken words and theatre. A reputed performer, Sujoy was invited by Visva-Bharati to perform inside the Rabindra Bhavana premises – a rare honour for any South Asian artist. He has also received praise from iconic filmmaker and poet Gulzar for his audio artistry.
Sujoy has acted in multiple feature films by notable directors of Bengali cinema. He has also acted in a number of web series for Hoichoi. His work in feature films like Bela Sheshe and Bela Shuru were highly appreciated. Sujoy made his debut behind the screen as a director for a short film, Home, and as a producer for another – Sorrow of Love. He is also the artistic director of Phreedom4 Ever Monologues, India's only solo arts festival. His solo play Happy Birthday had opened in a queer theatre in Toronto and is now a part of an international book on gender and arts.
Neepabithi Ghosh:
Neepabithi has been travelling the paths of music over a decade now, starting out as a pianist, she can sing songs in many different languages and her genre includes folk, modern, retro and her own compositions. She gave her voice in various jingles, ads and serials, one of her most famous children's song is Thakumar Jhuli. Neepabithi has donned the hat of music director for some Panchatantra episodes also. For the last seven years, she runs her own academy Neepabithi Music Academy with students as young as four with no upper age limit.
Sumit Roy:
Popularly known as the King of Calypso, Sumit is a performer, composer, and mentor for over five decades. As a multilingual singer, he has performed in New York, Las Vegas, Alaska. US, Virgin Islands, Barbados etc. He is well known for his compositions on Kolkata, Mother Teresa, Hilsa, etc.