Emerging Artist's Performance: Song of Whisper
The performance 'Song of Whisper' is designed by many women's voice who wanted to talk about their body and desire. The play is inspired by The Vagina Monologue by Eve Ensler that compiles story of vaginas by various women.
Despite of social-political- economic background, the patriarchal society do not allow women to talk about their sexuality, desire and pleasure. Most of the time, all of these get defined by men. Women are conditioned to love their body through societal gaze. Here comes Vagina, one of the most unexplored organ by women but most discussed and fantasized organ by men and society.
The play describes about the experience of different kinds of vaginas, which is actually, different stories of women desire. 'Song of Whisper' is a solo-performance, where a performer embodies different stories of different women who are actually coming together in one space in society.
KCC is bringing 'Song of Whisper' in Emerging Artist Performance Section. It is a solo-performance, where a performer embodies different stories of different women who are actually coming together in one space in society. It is conceptualised and performed by Srabasti Ghosh. After the performance, the evening will be followed by a discussion between the performer and Dr. Trina Nileena Banerjee.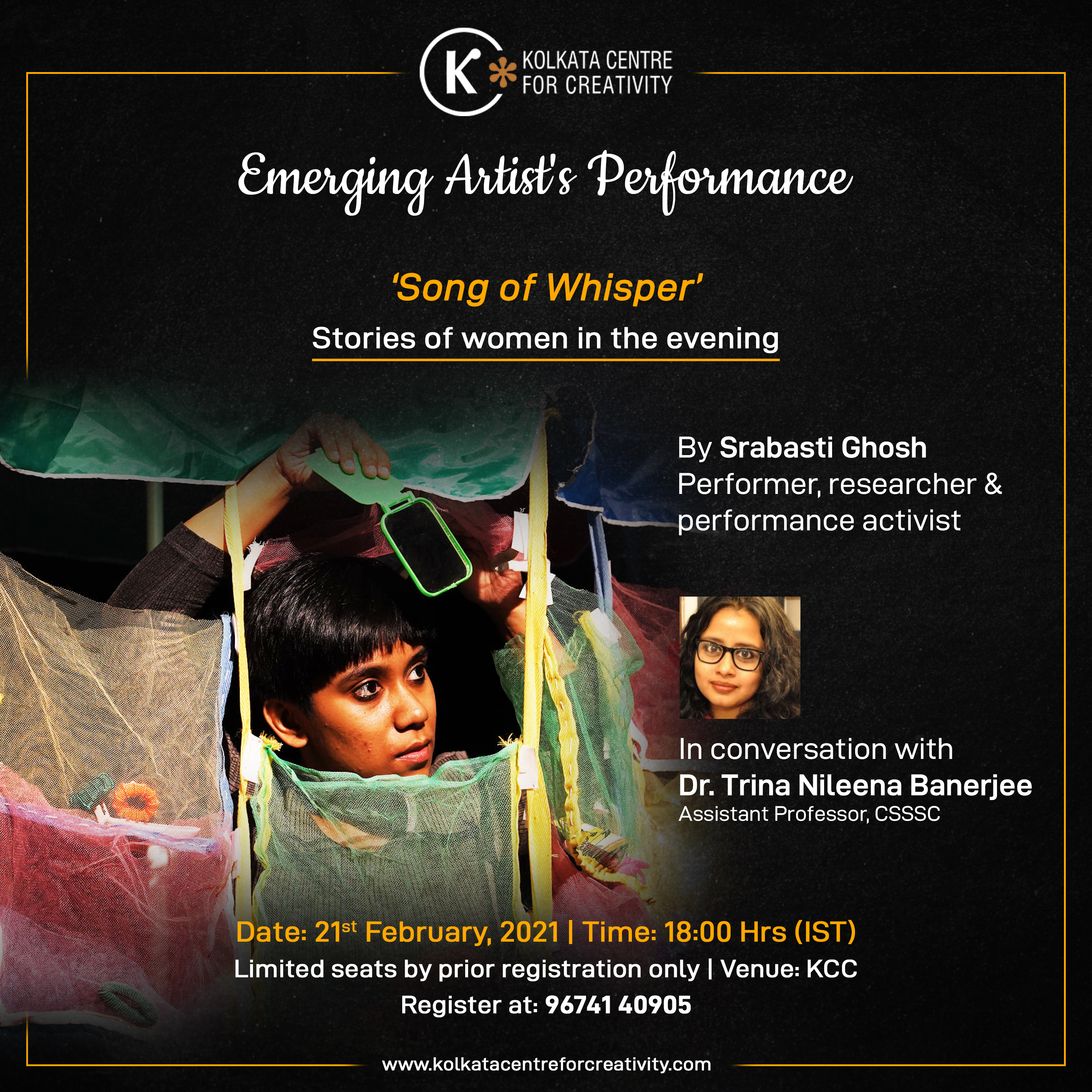 Conceptualisation & Performance- Srabasti Ghosh, Adaptation- Sumita Bithi, Music Design- Subhadeep Guha, Scenography & Production- Sumeru Mukhopadhyay, Associate Direction- Abhisikta Dasgupta
Srabasti Ghosh is a performer, researcher and performance activist. She has trained in Bharatnatyam and Navanritya from Dancers' Guild. Srabasti started her training in theatre from Nandikar Children Group in 2007 and worked in various plays in Bengali Theatre. During her MA in Performance Studies from Ambedkar University, Delhi, she was part of production Dark Things, directed by Anuradha Kapur and Deepan Sivaraman. Her interest areas of work include female body, identity, movement and relationship between actor and spectator. The book "Ladies Toilet" (in Bengali) edited by Srabasti, compiled issues and experiences of ladies public toilets from women of various occupation. Let's not Whisper and Unshared Desire are designed and performed by Srabasti. Currently, she is pursuing her diploma in Dance Movement Therapy from Kolkata Sanved and TISS. 
Dr. Trina Nileena Banerjee: After completing her master's in English literature from Jadavpur University, she proceeded to complete a Master's of studies in English at the University of Oxford. For her PhD, she worked on a history of women in the group theatre movement in Bengal between 1950 and 1980. She has also been researching the interfaces between women's movements and political theatre in contemporary Manipur for several years now. Essays and reviews on these and other subjects have appeared in national and international journals, as well as in several edited volumes. She writes both in English and Bangla. Between 2011 and 2013, she taught at the theatre and performance Studies Department at the School of Arts and aesthetics in Jawharlal Nehru University. She's currently assistant professor in Cultural Studies at the Center for Studies and Social Sciences, Kolkata. Her essays have been published in several edited volumes, and national and international journals She writes in both. Her research interests include gender performance, political data; there is a body post colonial theater and South Asian history. She has also been a theatre and film actress as well as journalists and fiction writers. Her book Performing Silence Women in the Dictator Movement in Bengal is forthcoming from Oxford University Press.