Emerging Artist's Performance (Bhasa- The Language)
As a young choreographer trained in both traditional and contemporary Indian dance techniques, Pintu finds it surprising that he might need anything more than dance as a language to communicate. The British regime in India lasted for about 200 years, but the reign and supremacy of the English language and the obsession of the common Indian with it lasts till now. Not having studied in an English medium school was never a matter of concern for him until he reached the point where he needed to start speaking about his dance. For Pintu, dance is itself the strongest medium of expression. Needing another language to explain his dance to people seems unimaginable. He decided to study for an M.A. in dance but could not get admission to the only course in the country because probably he could not do well enough in the written test. He felt like he was clearly not competent enough to study dance because of his lack of writing skills in English. What happens when one language is needed to explain and justify another? What validation does his body and the way it moves need from those for whom his dance is not enough? 'Bhasa' ( Sanskrit for 'Language') is a personal exploration of the ignominy of those who failed because they could not explain their gift, talent, or art in English, a foreign language in a country, where there are 22 listed local languages. Through a series of incidents on stage, Pintu explored through dance the failure to communicate it. The performance was followed by a conversation with senior dance exponent, Smt. Priyadarshini Ghosh.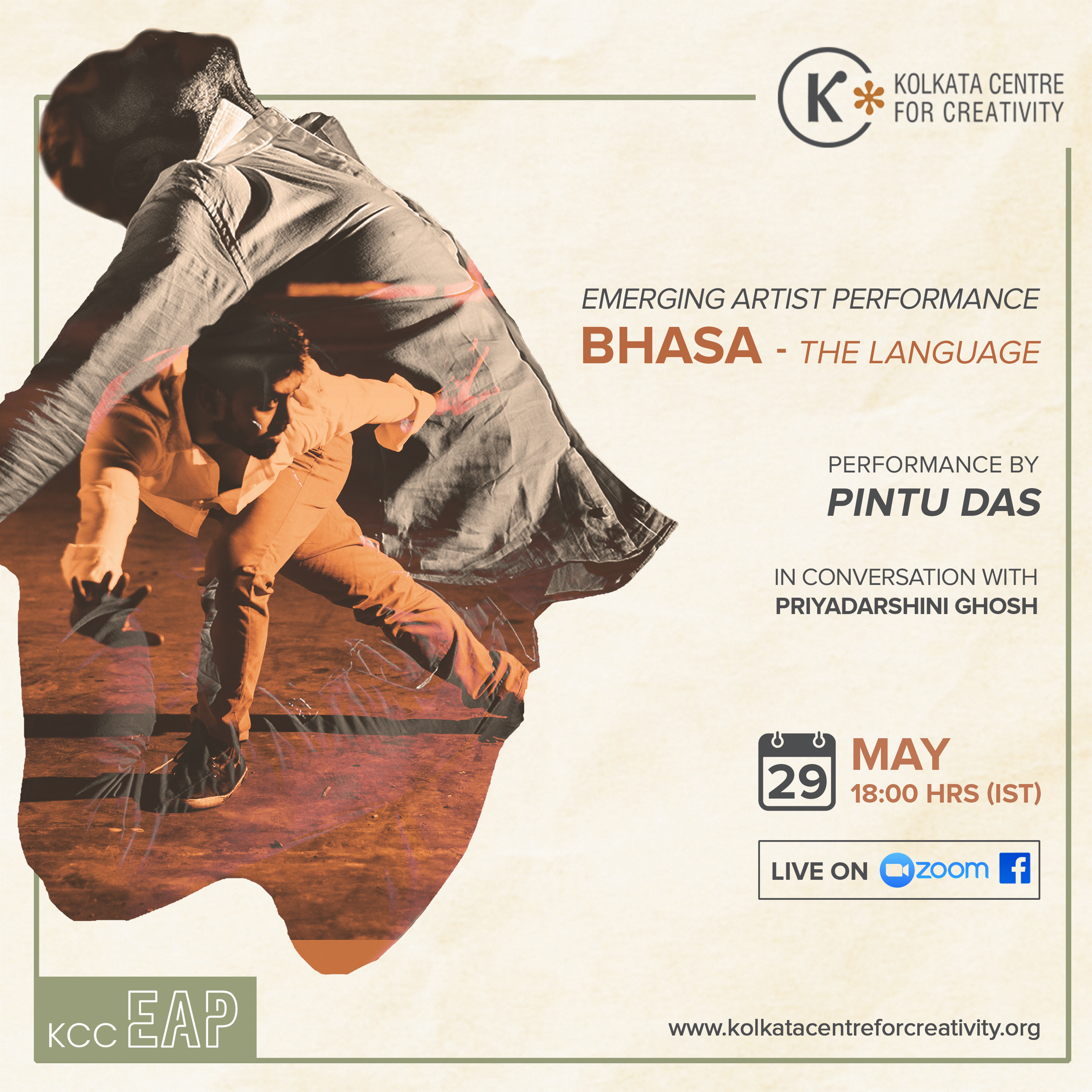 Name of the Artists
- Pintu Das   
In conversation with Priyadarshini Ghosh (TBC) 
PINTU DAS is a contemporary dancer, choreographer, and fitness instructor from Kolkata. He started his dance career with "Street Form" and "Cinematic Dance". He graduated from Rabindra Bharati University in Bharatanatyam in 2010. Alongside, he took training in contemporary dance form from Sapphire Creation Dance Company and in 2009 he became a member of the company. In later times, Pintu got his training on "Mind body centering and Improvisation" by Michael Casanovas of France. With passing time, he acquired knowledge and training in contemporary dance under various international choreographers. Recently in 2020, Pintu completed Animal Flow Level 1 under Global Bodyweight Training / Animal Flow.