About the workshop
Kolkata Centre for Creativity presents Commedia dell'Arte - an intensive six-day workshop led by Marco Luly from 10 to 15 April 2023.
Commedia dell'Arte is a form of improvised theatre that originated in Italy in the 16th century and flourished throughout Europe until the 18th century. It played a crucial role in the development of modern theatre and is characterized by its use of stock characters, masked performers, physical comedy, and improvised dialogues.
They typically featured a group of actors who would travel from town to town, performing in public squares and marketplaces and the actors would wear masks and costumes to represent their characters. Commedia dell'Arte performances are largely improvised, with actors creating comic scenes to engage with the audience. The actors often use physical comedy, including acrobatics and slapstick, to entertain and amuse the crowd.
Playwrights who have been influenced by this style include Shakespeare, Moliere, and Goldoni to name a few. It is still popular today and can be found even in movies and on TV.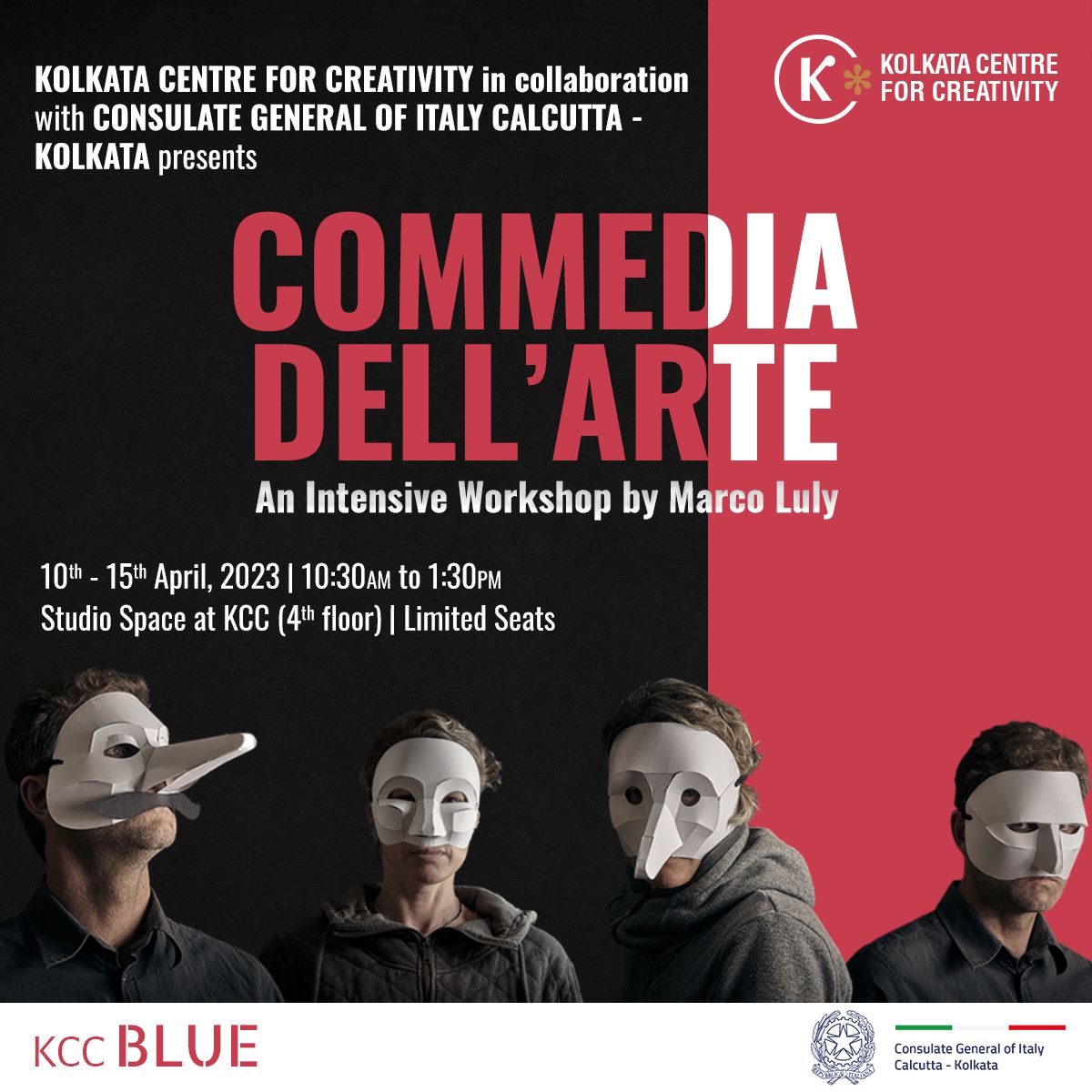 Workshop benefits
Participants can expect to learn a variety of techniques and skills related to this theatrical art form. They'll explore the following:
●The history and evolution of Commedia dell'Arte and its influence on modern theatre
●Utilization of mime and improvisation techniques
●Use of masks as a tool to teach actors about awareness and control over their movements and gestures. By wearing masks, actors are compelled to recognize the essential gestures and avoid unnecessary ones.
●Learn theatre techniques, such as body control, mastering physical space, mastering physical expression and expressing emotions effectively.
●The role of comedy and humour in Commedia dell'Arte and how to effectively use these elements to engage audiences.
●Learn techniques for developing and refining a character, including voice and physical mannerisms.
●How to incorporate Commedia dell'Arte techniques into other theatrical styles and genres.
Overall, participants can expect to develop their acting skills, gain a deeper understanding of physical theatre and improvisation, and learn how to engage and entertain audiences through the use of humour and physical expression.
About Marco Luly
Marco Luly, a native of Rome, has over 30 years of experience in theatre, ranging from contemporary to medieval drama. In 1990, he founded Luoghi dell'Arte in Rome and has been the Artistic Director of the company ever since. Marco is a specialist in the production of Commedia dell'Arte, Medieval Theatre, and plays by the Father of Italian Comedy, Carlo Goldoni. Over the past two decades, he has expanded his range of activities to include directing and writing plays for Luoghi dell'Arte. Marco is committed to reviving Medieval and Commedia dell'Arte Theatre, and has won acclaim for rediscovering medieval and renaissance period manuscripts and adapting them in a modern style.
Marco has received numerous awards for his work, including Best Director in 1992, 1993, 1995, 1998, and 1999, Best Author in 1997, and Best Show in 1992, 1995, and 1999 at the Medieval Theatre Festival of Trieste (Italy). He also won Best Show and Best Director awards for the production "Doctor Harlequin, The Imaginary Autopsy" at the Mostar International Festival (Bosnia-Herzegovina) in 2003.
Since 1993, Marco has led his group on several tours of Southeast Asia (Thailand, Malaysia, Singapore, Indonesia, Vietnam), India, China, Morocco, UK, France, Germany, Switzerland, Turkey, Slovenia, Bosnia-Herzegovina, Croatia, Serbia, and the United States, performing plays and leading workshops at the invitation of the Embassies of Italy, the Italian Institutes of Culture, the Drama Departments of several universities and international schools, and participating in international festivals and theatrical events. Marco has conducted classes on Commedia dell'Arte history and techniques and has worked in cross-cultural productions with students and actors in many countries. He has also taken part in Theatre Festivals for students and teachers, giving lectures and master classes during theatre festivals and events.
How to register
To register for the workshop

Please Click
This workshop is recommended for individuals 18 years and above who are interested in performing arts. Whether you are a beginner or an experienced performer, this workshop is an excellent opportunity to hone your skills and learn new techniques.


The workshop is open to participants from out of town as well. Our team will provide guidance and support with accommodation, should you need it. Don't let distance hold you back from this amazing opportunity to improve your craft. 
Avail our early bird offer. First 10 participants pay a subsidised fee of Rs3500, and the remaining pay Rs4,500.
Closing date for registrations is 5 April 2023. Seats are limited and registrations are on a first come first served basis. Register early to avoid disappointment.