Certificate course on Museum Studies (Online)
Kolkata Centre for Creativity in collaboration with the Centre for Studies in Museology, University of Jammu is introducing an online Certificate Course on Museum Studies. This course is the first-of-its-kind to be offered in India and is specially designed for those who're inquisitive about museum and heritage studies. 
This intensive and immersive course is aimed at training both aspiring museologists and in-service professionals for their roles in museums, cultural centres, and archives. The course content will be split between the key theoretical frameworks of museology and practical aspects that include critical tools required for successfully documenting cultural objects, organising exhibitions, and conserving cultural properties. Museum management, education, as well as community involvement also form an important part of this course. 
Moreover, this skill-based course not only creates the right environment for the participants to gain useful insights on stimulation, dissemination, and rehabilitation of cultural heritage and museums, but also plays a crucial role in enhancing their ability to plan, organize and implement projects as per international standards.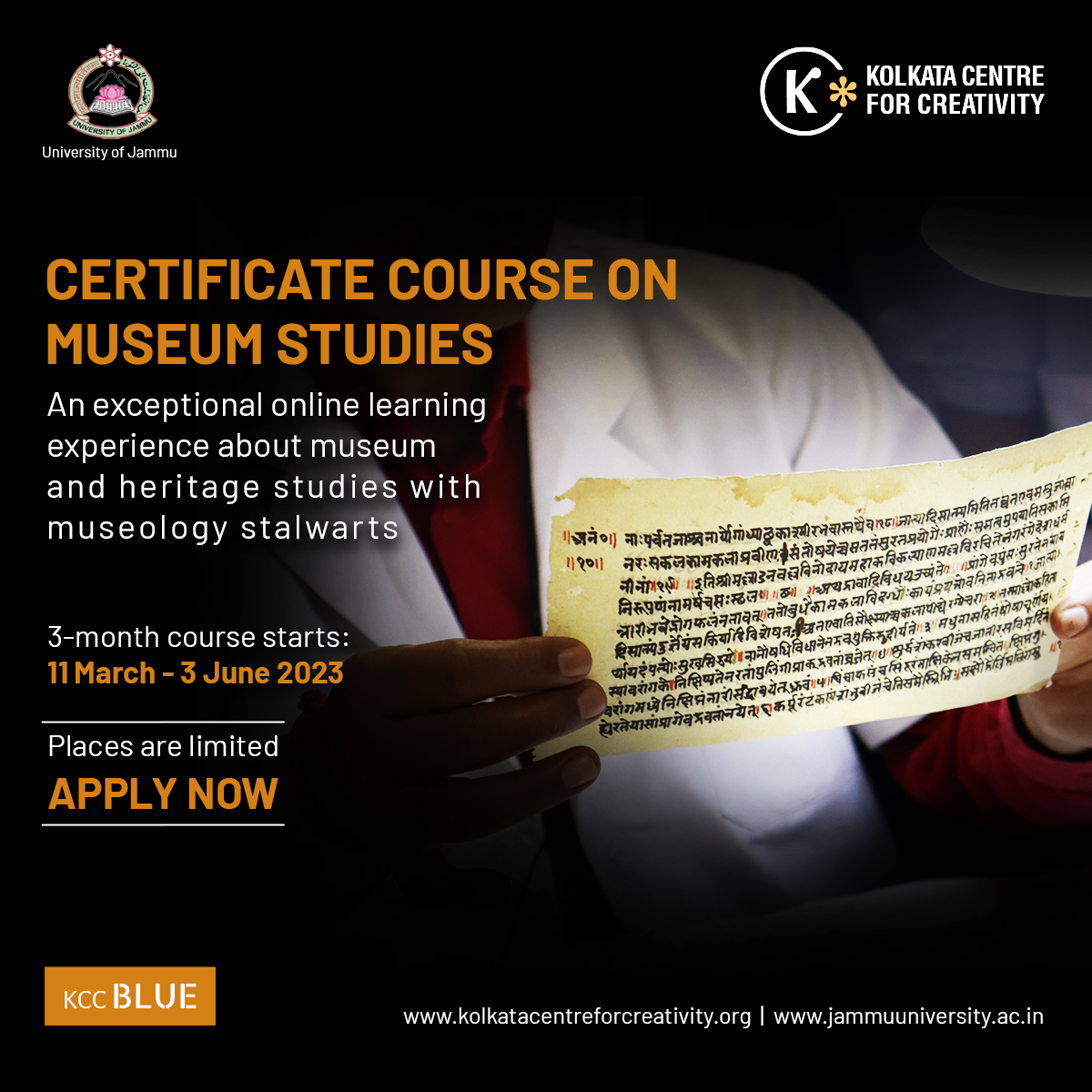 Training outcome            

After completing this course, participants will be able to:
•identify objects of cultural and natural heritage  
•learn acquisition methods for proper collection of objects for cultural centres 
•document tangible, intangible and natural heritage objects
•apply preventive and curative conservation methods to protect heritage objects 
•prepare an exhibition plan to display heritage objects using technology and latest innovative tools
•make museums and cultural centres a destination of tourism
•learn how to make museums and cultural organisations a resource centre for local communities 
Please note:
Course name: Certificate Course on Museum Studies
Duration: 3 months (classes to be held on Sat-Sun, 11.00 a.m. to 1.00 p.m.)
Delivery mode:Online (Zoom)
Eligibility:Graduate/postgraduate in any discipline
Age limit:No age bar
Number of places:50 (first-come-first-served basis)
Fee (subsidised):INR 5,000 for Indian students and INR 10,000 for overseas students 
Resource persons:The resource persons are sector stalwarts - senior professors and senior museum professionals from different museums, research institutes, cultural and top government institutions. 
Important dates:
Closing date for applications: 9th March 2023
Commencement date: 11 March 2023
Click here to pay
Application process:
To enrol for the course, fill up the application form and submit it along with an all-inclusive subsidised course fee of INR 5,000 (for Indian students) / INR 10,000 (international students). 
If you're an international student, please write to kcc@akst.org.in to obtain bank details for the payment of course fee
All filled up application forms must be submitted to kcc@akst.org.in by the closing date, along with relevant documents as requested in the application form. It is mandatory to mention the transaction ID on the application form.
Click here to download the application form