Art of Block Printing Workshop
Welcome to a unique journey into the world of Block Printing, where tradition meets creativity! Join our exclusive workshop from 6 to 10 December, 3 pm to 6 pm at KCC, led by renowned handblock printing artist, Rajkumar Pandey, and unlock the secrets of this ancient art form.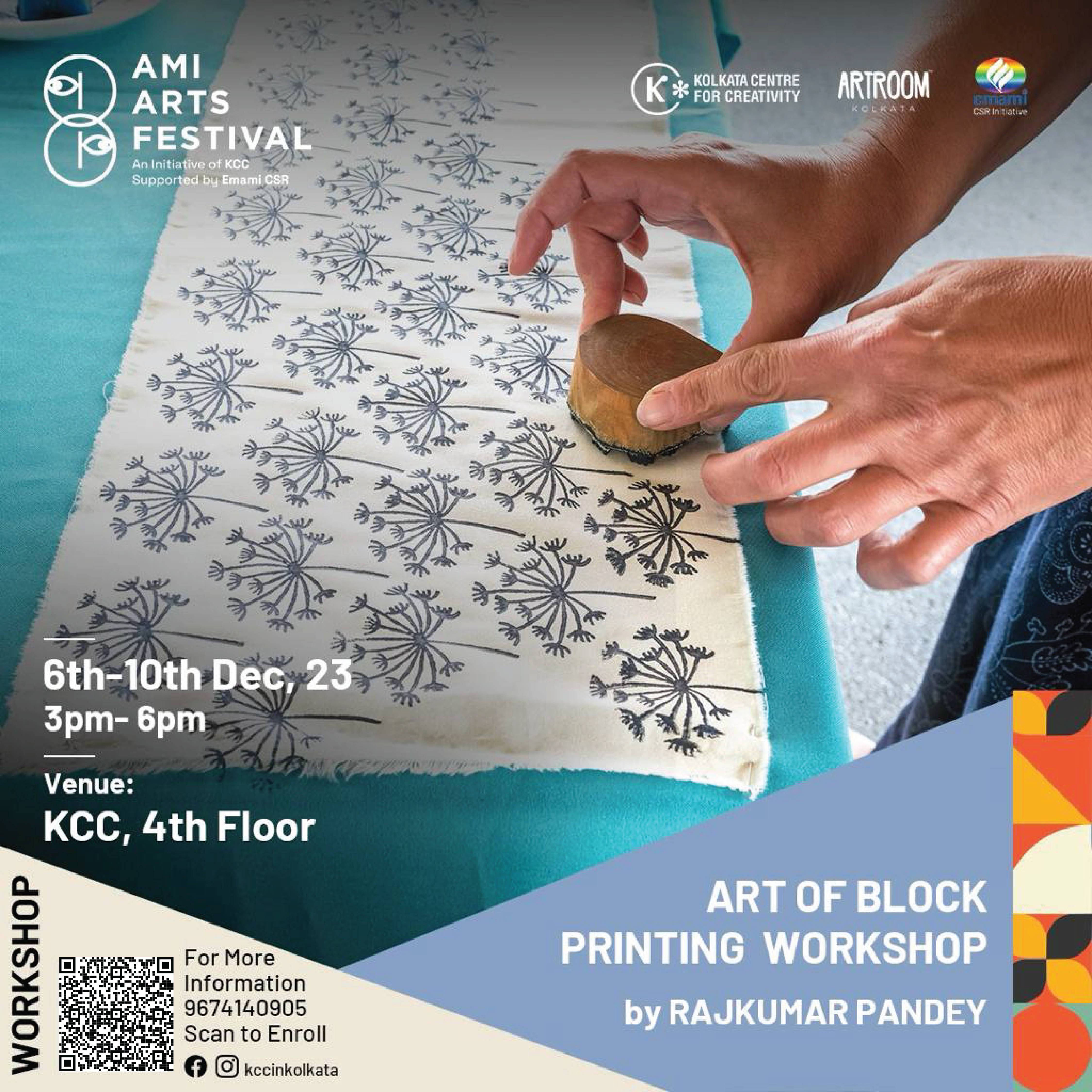 Workshop Overview: This immersive workshop is a gateway to the fascinating realm of Block Printing. Participants will delve into the history of this traditional craft and learn the intricate techniques that make it an art form cherished through the ages. 

Register Here!
What You Will Learn
By the end of the workshop, participants can expect to: 
Gain insights into the history and traditional styles of Block Printing. 
Explore various patterns and combinations to create stunning designs. 
Master the use of textile color for effective block printing. 
Learn the preparation of color or ink, understanding color proportions for an ideal shade. 
Explore post-printing techniques such as heating, dying, color correction, and cleaning. 
Outcome: Participants will craft their own Table Runner during the workshop, showcasing the practical application of the skills acquired. This personalized creation will serve as a beautiful and tangible memento to take back home. 
Special Offer 
Avail a special early bird offer of INR 1,500 valid till 30th November. Regular fee is INR 2,000. 
Trainer Profile: Meet Rajkumar Pandey, a skilled hand block printing artist from Jaipur, Rajasthan. With a rich family tradition in block printing passed down through generations, Rajkumar has proudly represented this art form on international platforms, including South Africa, Switzerland, and New York. Recognized with National Merit and state-level awards, Rajkumar has also contributed to empowering women through self-help groups, making them self-employed artisans. 
Recommended for: This workshop is open to individuals aged 10 and above, regardless of prior experience. Whether you are a beginner or have a budding interest in block printing, this workshop provides a unique opportunity to hone your skills under the guidance of a seasoned professional. 
To know more about other workshops at AMI Arts Festival,

Click Here!