Art Fellowship Final Showcase
Welcome to the Final Presentation of KCC Art Fellowship. We are excited to showcase the incredible work of our talented fellows and celebrate their achievements over the course of the program.
As one of the few fellowships designed specifically to support young artists, our program is dedicated to nurturing emerging talent and providing a platform for artists to showcase their work to a wider audience. We are proud to have supported our fellows in their artistic pursuits and to have witnessed their growth and development over the course of the program.
During this final presentation, our fellows will have the opportunity to showcase their work and share their experiences with the audience. This is a chance for them to reflect on their journey, discuss their artistic process, and share their vision for the future.
We are honoured to have such a diverse group of artists as our fellows, representing a wide range of artistic disciplines and styles. They have each brought a unique perspective and creative energy to the program, and we are thrilled to be able to showcase their work to a wider audience.
We invite you to join us for this special event, which promises to be an inspiring and thought-provoking evening. You will have the opportunity to meet our fellows, view their work, and engage with them in conversation about their artistic practice.
We look forward to sharing this special evening with you and celebrating the incredible talent of our fellows.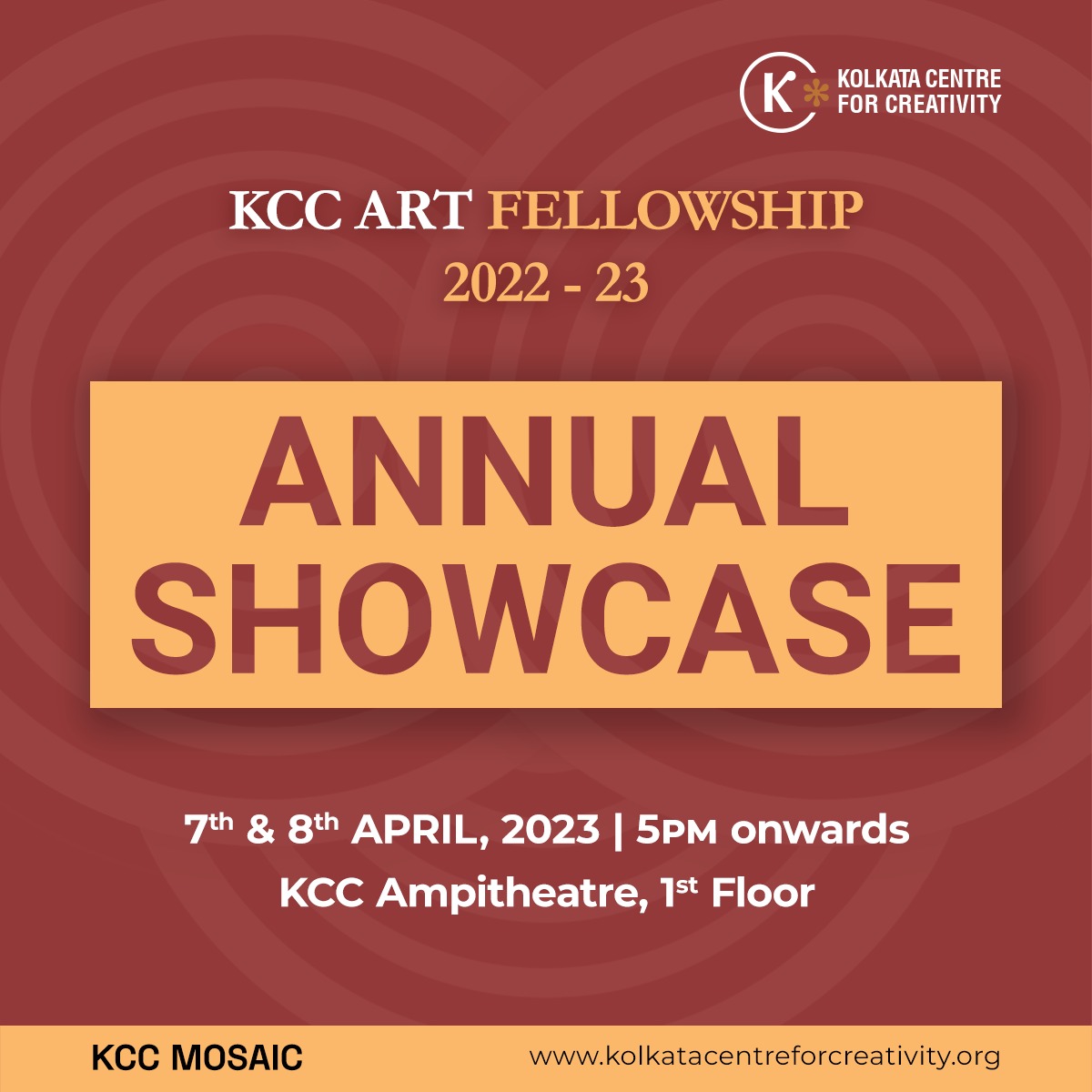 Bios: Sangram is an independent and emerging dancer/movement practitioner. His practice emerges from movement training that is experiential and non-institutional and therefore unfolds as a response to contemporary life via text body and movement. Using Whacking/Waacking, a 70s gay club dance style as a primary tool to investigate the gendered lens of performance and being, he is currently researching its cultural reterritorialization under a fellowship by KCC, Kolkata. Due to his interests and brief body of work in theatre and physical movement, he thinks, comprehends and therefore 'moves' in English and Bengali primarily.
Oishorjyo is a writer, performer, and transmedia arts worker, based in Goa, their work navigates intersections of gender, digitalism, and power structures, often locating the physical body at the center of documentary narratives. They've worked with and written for multiple publications and advocate looseness through queer art collective they founded, Loose Women Collective.
The tradition of Dhrupad is a pristine musical experience of spiritual knowledge and its performance is an act of devotion or prayer inducing a feeling of peace and contemplation. Meghana is a disciple of this ancient stream of music, following the Dagar Parampara, learning vocal music under the prestigious guidance of Guru Pandit Uday Bhawalkar since 2005. She has performed at the very prestigious 'Franz Liszt Conservatory of Music' in Europe and for the Indian Embassy of The Netherlands in The Hague and the University of Twente.
Sayantan Samanta is a practising visual artist based in West Bengal, India. He completed his Bachelor's degree in Sculpture from Rabindra Bharati University, Kolkata in 2015 and Master's degree in the same discipline from Kala Bhavana, Visva Bharati, Santiniketan in 2017. Samanta exhibited at the Kochi-Muziris Students' Biennale in 2016. 
Sayantan was engaged in a year-long research programme from 2017-18 with Lalit Kala Academy, Delhi. He received the young artist's scholarship (U-25) under the scheme of the CCRT Program, Ministry of Human Resource and Development, Government of India from 2019-2021. 
In 2019, Sayantan received a grant from the Embassy of the Republic of South Korea for a solo exhibition at the Korean Cultural Centre India, New Delhi. He was also engaged in an Artist Incubator program with the Piramal Museum of Art and Piramal art residency from 2019 to 2020. 
Recently Samanta received a special mention at the CIMA Art Award 2022. He also received MASH INDIA Art Award 2022 and ART FOR HOPE Art Award 2023.