AMI Arts Festival Presents: The Arko Mukhaerjee Collective
AMI Arts Festival presents "The Arko Mukhaerjee Collective" - a musical journey transcending borders and genres.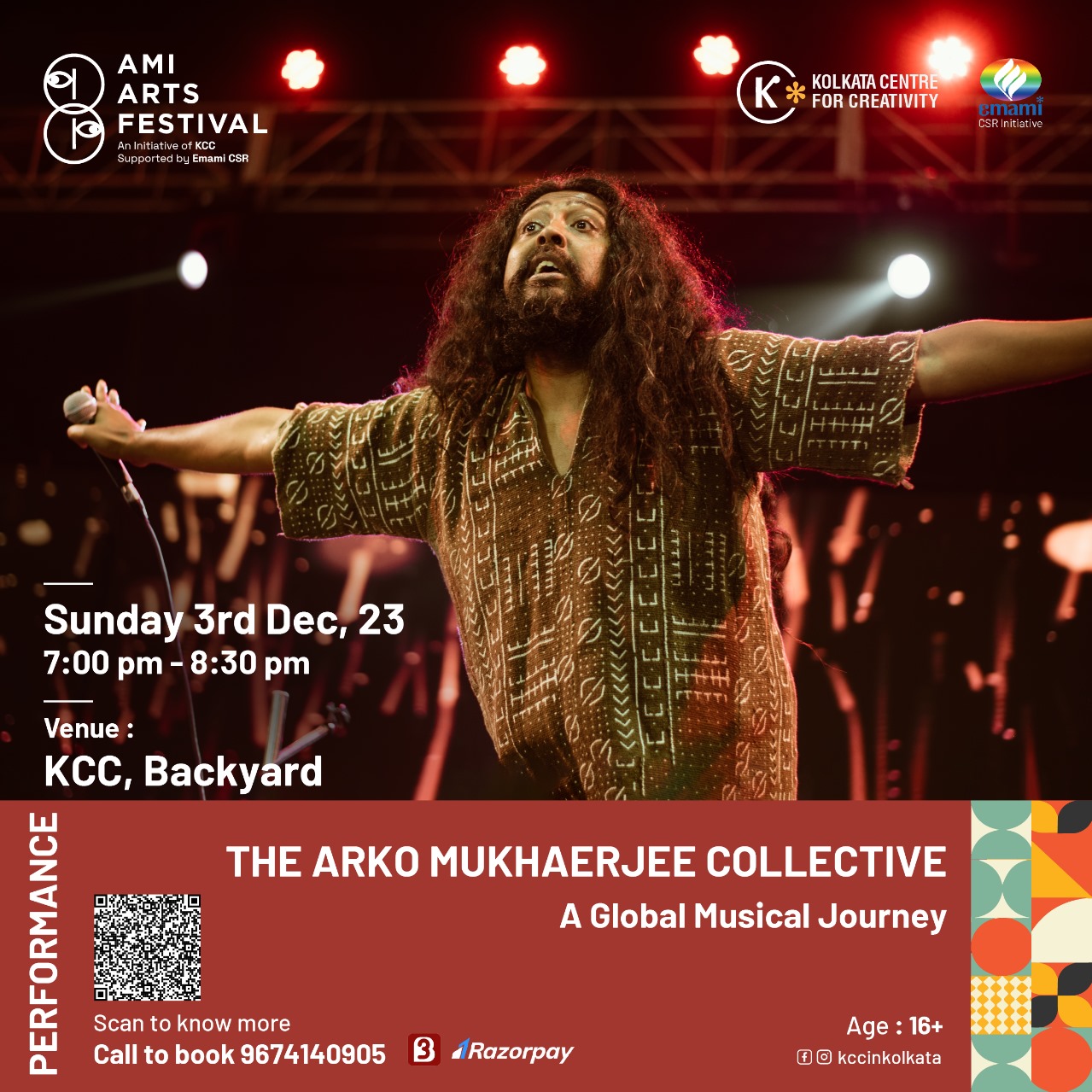 Join us on 3rd December from 7:00 pm onwards at the KCC Backyard for an extraordinary evening of cultural harmony and artistic innovation. 
Get your tickets here:
Click Here
Complimentary registration available for students:

Click Here!
The Arko Mukhaerjee Collective: 
The Arko Mukhaerjee Collective is a unique effort to unite musicians under a common platform of open free music sharing, exploring influences from around the world. This five-member project draws inspiration from Rural Bengal, Pan India, West Africa, Sukous, Nepali folk, Gypsy music, Middle East, Old-time swing, American folk music, Qawwali, Reggae, Jazz, Afro Cuban music, Celtic standards, and Retro Bollywood. The result is a vibrant fusion. 
Every concert by The Arko Mukhaerjee Collective is a one-of-a-kind sonic and emotional journey, ranging from Retro Bollywood to Old-time swing. This artistic endeavor appeals to a broad audience, bridging generational gaps and offering something for everyone. The Collective binds Rural Bengal together with West Africa, creating a unique melange of music that will transport you to a dancy trancy vibe. 
About Arko Mukhaerjee: 
Arko Mukhaerjee, a trained North Indian classical singer and urban folk artist from Calcutta, India, is a unique vocalist in the independent folk music scene. With influences from European, African, Middle-Eastern, American, and Indian folk songs, blues, soul, and various tribal music forms, Arko's collaborations and projects blend tradition and modernity. He sings in more than 15 languages and has played in eminent music festivals across the globe. 
From playing with French folk and gypsy jazz musicians to collaborating with renowned Gypsy Jazz guitar Maestro Daniel Givone, Arko's musical journey has been diverse and rich. He has incorporated the bluegrass soundscape into his Indo-Irish musical duo called Crossover and founded the popular independent folk outfit, Fiddler's Green. 
Don't miss this opportunity to be part of an unparalleled musical experience at our AMI Arts Festival.  
For any queries please contact +91 9674140905  or write to kcc@akst.org.in 
To know more about other performances at AMI Arts Festival, 
Click Here!