AMI Arts Festival Presents 'Lavani Ke Rang'
Lavani, the traditional song and dance of Maharashtra, is more than just a performance; it's an experience that transcends boundaries and unites cultures. The play 'Lavani Ke Rang' on 7 December, 6.30 p.m. aims to bring into the spotlight the untold stories of Lavani artists, their rich and diverse matriarchal traditions, joys, and sorrows.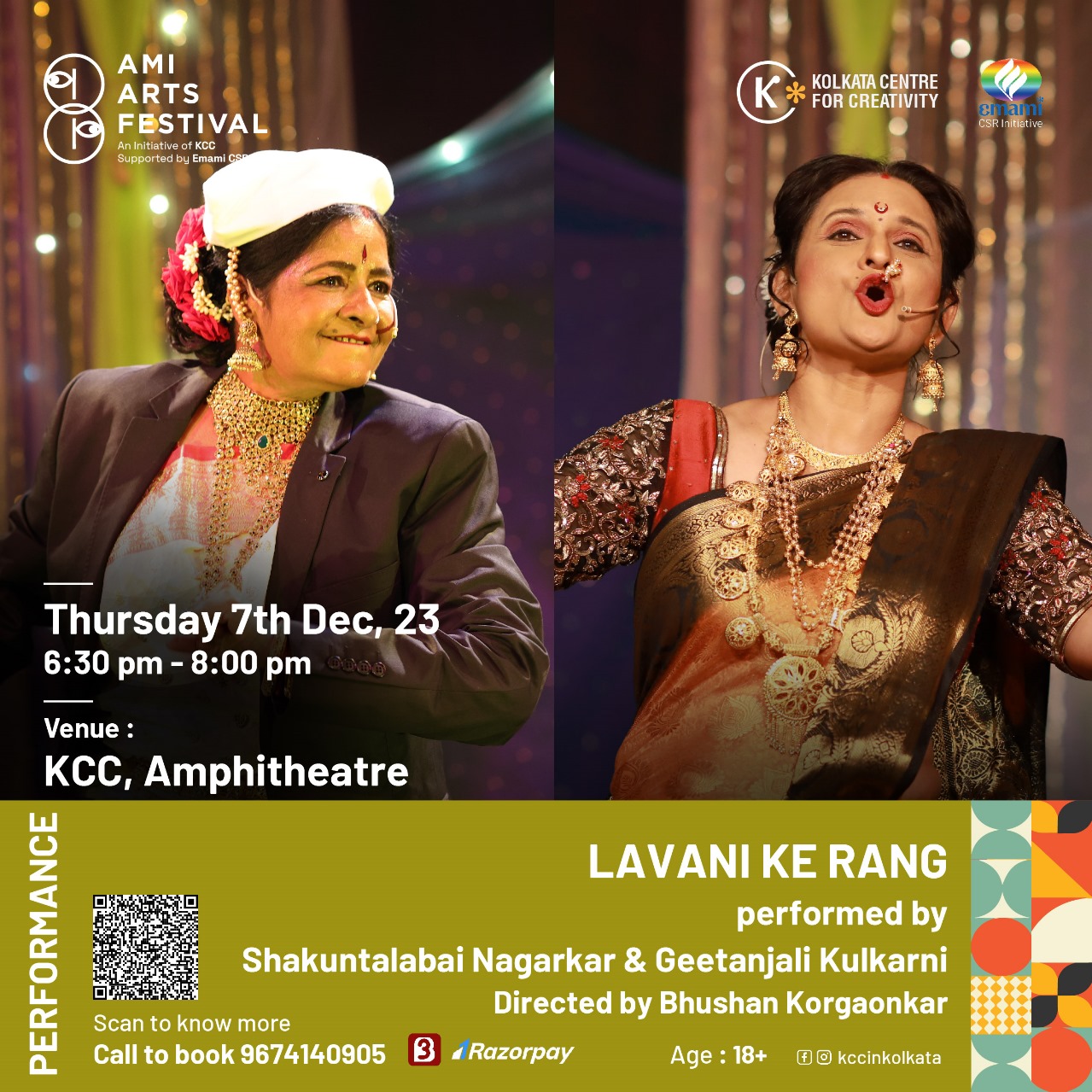 Why Lavani? Lavani's direct involvement of the audience during performances creates an immersive and participatory experience that captivates and engages viewers of all ages, genders, languages, and cultures. It speaks a universal language of love and desire, breaking barriers and fostering understanding. 
 Get Your Tickets: 

Click Here!
Complimentary registration available for students:

Click Here!
'Lavani Ke Rang' Highlights: 
This play offers a glimpse into the lives of traditional Lavani artists, as seen through the eyes of a veteran Lavani theater owner (Malkin). 
It celebrates the vibrant tapestry of life through both traditional and modern Lavani performances. 
Premiered at the iconic 'Prithvi Theatre Festival' in November 2022. 
Recognized with two awards at the prestigious META 2023, New Delhi, in March 2023.
Get to Know the Artists: 
About the Group
B Spot Productions creates performances that enable communities to share their stories, facilitate the audience to explore sensory pleasures and initiate conversations on taboo topics. They also conduct Lavani workshops, writing workshops, food trails and culture trails. The group is founded by Mumbai-based writer Bhushan Korgaonkar with a team of multi-disciplinary collaborators including Geetanjali Kulkarni, Kunal Vijayakar, Anita Date, Wasimbarry Maner and others who create these stories of love and desire, crime and thrill, humour and hope. 
They have performed at Prithvi Theatre Festival, META, NCPA Festivals, Lodhi Festival, Bharangam, Kala Ghoda Arts Festival and at other private and public venues in Mumbai, Pune, Delhi, Bangalore, Mysore, Chennai, Berlin, St. Petersburg and London. 
Artists On-stage
Shakuntalabai Nagarkar (Dancer and Singer) Fondly known as Shakubai, Shakuntalabai is the recipient of the Sangeet Natak Academy Award in 2008. With a career spanning over 50 years, she has been a trailblazer in the world of Lavani. She has not only mastered the art of Lavani but has also mentored and trained many young artists in footwork, singing, and adakari. Shakuntalabai has also ventured into acting in Marathi films, plays, orchestras, and choreographed Lavani songs for Marathi and Tamil films. She hails from the Bhatu Kolhati Samaj, a traditional nomadic matriarchal community of entertainers. 
Pushpa Satarkar (Singer and Dancer) Pushpa, a celebrated artist, is the winner of the Patthe Bapurao Pawalabai Award in 2021. She has managed her own troupe in places like Pune, Sanaswadi, and Kolhapur, where her fans eagerly await her unique combination of high-pitched vocals, melodious singing, and the rhythmic sounds of her ghungroos. Pushpa belongs to the Dombari Kolhati Samaj, a traditional community of dancers. 
Gauri Jadhav (Dancer) Gauri is a Lavani artist with a career spanning over 18 years. In addition to her dance career, Gauri has also ventured into acting in Marathi plays, TV serials, and TV comedy shows. 
Latabai Waikar (Singer) Latabai, a lead singer at Aryabhushan Theatre in Pune, has been actively singing for the past 35 years. Her husky voice has garnered her a dedicated fan base, and she has received numerous awards in prestigious Lavani competitions within the state. Latabai is part of the Dombari Kolhati Samaj, a traditional dancing community. 
Sunil Dhonukshe (Dancer) Sunil is a cross-dressing Lavani dancer and choreographer with seven years of experience in the industry. He also excels in costume design and makeup artistry for Lavani and other dance forms. 
Chandrakant Lakhe Jejurikar (Music Accompanist - Paaypeti-Organ) Chandrakant and the Sathidars, with only Dholki, Tablaa, and Paaypeti (Organ), create the atmosphere of an entire orchestra. Chandrakant has won numerous awards and accolades during his 28-year career. 
Vinayak Jawale Waikar (Music Accompanist - Tabla) Vinayak is an accomplished tabla and dholki player at Aryabhushan theatre in Pune. He is also a skilled singer and is in high demand for his performances at private events. Vinayak has received several awards and accolades during his 24-year career. He is part of the Dombari Kolhati Samaj, a traditional dancing community. 
Sumit Kudalkar (Music Accompanist - Dholki) Sumit Kudalkar is a master of both the Dholki and Tabla. Over the course of his 18-year career, Sumit has earned numerous awards and accolades for his exceptional talent. He proudly represents the Dombari Kolhati Samaj, a traditional dancing community. 
Geetanjali Kulkarni (Creative Producer) Trained at the National School of Drama, Geetanjali Kulkarni is an accomplished actor renowned for her work on the Hindi and Marathi stage, in films, and web series. Her career, which began in 1996, boasts significant roles in important films such as 'Court,' 'Anandi Gopal,' 'Karkhanasinachi Waari,' 'Photograph,' and web series like 'Gullak,' 'Taj Mahal 1989,' 'Arya,' and 'Unpaused.' Geetanjali's talents extend worldwide, with her plays like "Piya Beharupiya," "Gajab Kahani," "Sex, Morality & Censorship," and "Mu.Po. Bombilwadi" having travelled across the globe. She is a core faculty member at Drama School Mumbai. 
Artists Off-stage
1. Bhushan Korgaonkar, Writer & Director 
Bhushan has been engaging with Lavani artists since 2002 which led him to write his award-winning book 'Sangeet Bari' (Rajhans Prakashan) in 2014. Based on it he went on to create the much-acclaimed show 'Sangeet Bari'. He has designed and curated shows such as 'Antarnaad', 'Baithak', 'Mi Kaat Takali', 'Lavani Ke Rang', 'Love & Lavani', 'Straight from the Heart' and 'Apsara Aali'. He has written Lavani and other songs for music videos produced by 'Agents of Ishq'.  
2. Kunal Vijayakar, Creative Producer, Photographer and Production Support 

To kindle his multi-disciplinary interests, Kunal heads two art studios in Mumbai where he facilitates art, theatre and literature related events. He has widely photo-documented the traditional Lavani artists and collaborated with several production houses to document theatre related events. He is also an actor, a puppeteer, a graphic designer and a language trainer. 
3. Vikrant Thakar, Lights 
Vikrant has a rich experience of working as a Lights Designer and Operator for past 14 years. He primarily works in Mumbai and Pune based productions in addition to classical dance shows and other live events. He was awarded with the prestigious 'METa' award in March 2023 for his design in 'Hunkaro'.  
4. Ruchir Chavan, Sound 
Ruchir has a rich experience of working on sound design and operation for over 14 years. He has worked in theatre, orchestras, music shows and live events.  Bhadrakali Production's play 'Sangeet Devbabhli' for which he has worked as a sound designer, has won numerous awards in various categories. 
5. Ankit Saraf, Production Manager 
Ankit is a theatre practitioner working in Mumbai's theatre circuit since 2018. He is working as an actor and a production manager for Hindi, English & Marathi plays. His play 'Phislan' was showcased at Prithvi Festival. Ankit has also acted in a few TV, digital and print commercials.
To know more about other performances at AMI Arts Festival, 
Click Here!