Open Call for Graffiti Artists
A three-headed monstrous green figure calmly enjoying the sights Howrah Bridge has to offer or a group of tiny spaceships shooting lasers from atop the 42 — aliens visiting Kolkata can take any shape or form in a Kolkatan's imagination. What if, instead of King Kong on Empire State Building, a mammoth blob-like alien landed on Shahid Minar? From Satyajit Ray's alien to the Bollywood version 'Jadoo' and the friendly ET to aliens in animated shows like 'Rick and Morty', extraterrestrial beings have always piqued our curiosities. What would it be like if that object of curiosity ended up in our beloved city, near our favourite landmarks?
KCC invites graffiti artists to let their creativity run wild and explore the theme of 'Aliens in Kolkata' for AMI Arts Festival 2022. Here's your chance to be a part of the 2nd edition of Graffiti and Wall Painting Competition at Art Street, Eco Park, organised as a part of the AMI Arts Festival 2022. In 2021, the winner — Smarak Roy, got a chance to see their artwork become a permanent part of the landscape of New Town through a major subway wall painting project commissioned by HIDCO! 
This is your time to shine! Whether you are an individual or a group, register now. The winner/winning group of the Graffiti competition will get to work under Mentor-Curator Sanantan Dinda at Behala Art Festival in 2023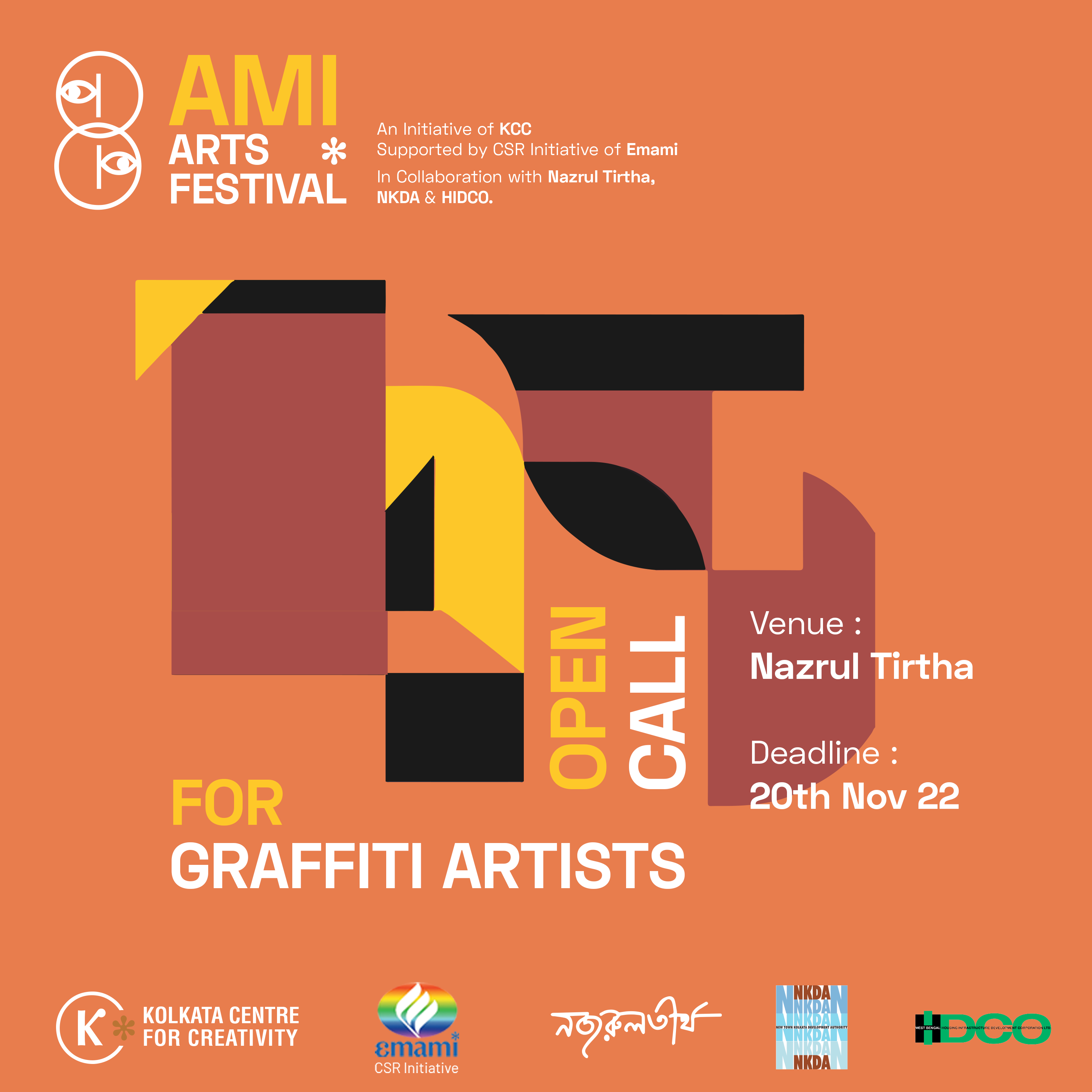 Theme: Aliens in Kolkata
Mentor-Curator: Mr. Sanatan Dinda 
Duration: 5 days (19th to 23rd December, 2022)
Number of individuals/groups to be selected: 5
Eligibility Criteria: Applicants must be from the field(s) of Visual Art, Designing, Graphics with prior experience.
What will be provided: Lunch, canvas, and lump sum to buy colours   
Canvas: 1 canvas (3 ft X 8 ft in horizontal format)
Lump sum to be provided for buying colours: INR 2,500
Lunch: To be provided by KCC each day
Deadline for receiving applications: 20th November 2022
Selected artists will be notified through email by 1st December 2022
*Please Note: Accommodation and/or travel expenses will not be provided by KCC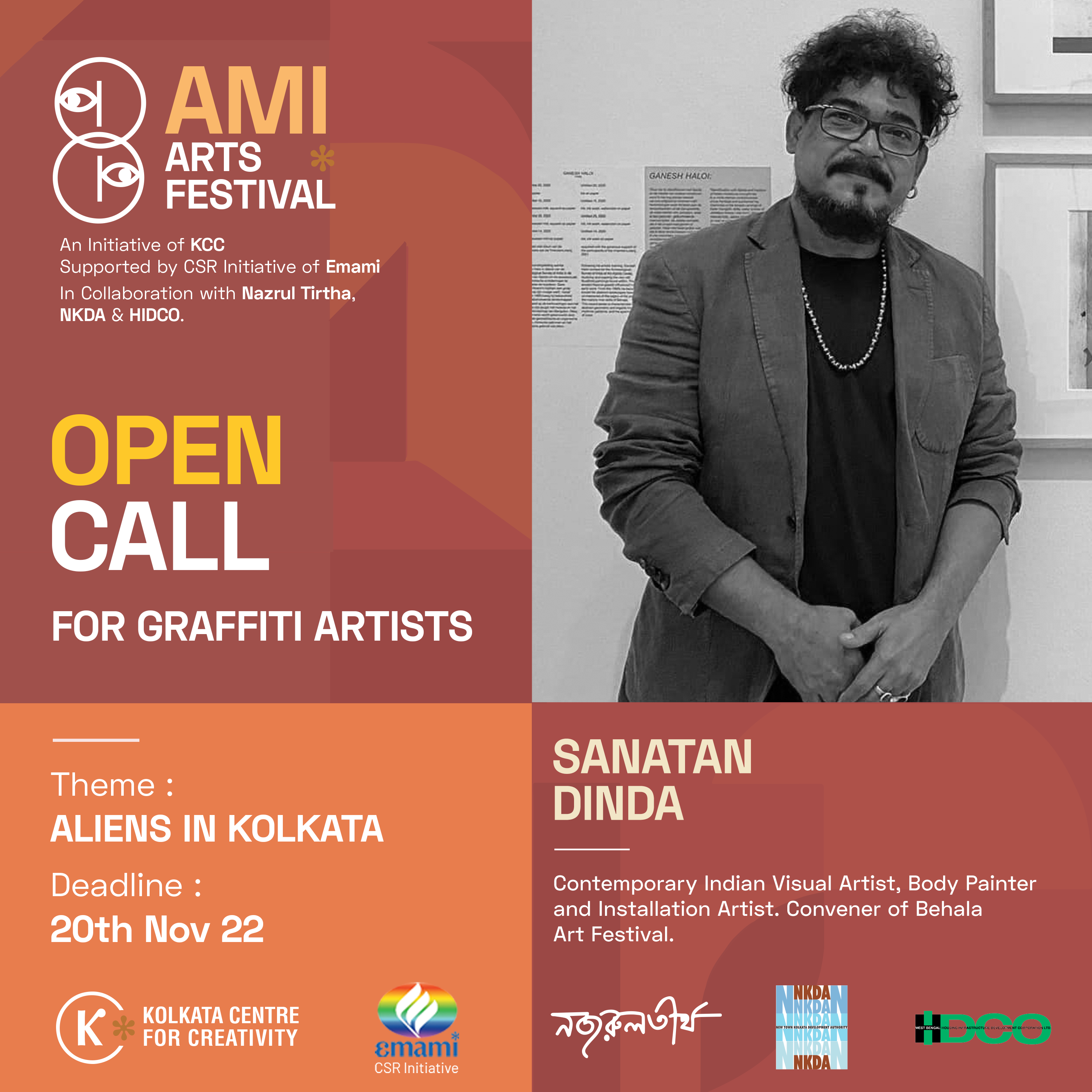 About the Mentor-Curator
Sanatan Dinda was born in North Kolkata. He believes that the lanes and bylanes of Kumortuli, the squalor and the dirt, the refinement and nuances of the traditional craft of idol-making, the ancient river, the lonely bathing places taught him everything. Today, his work can be considered to be a prime example of contemporary Bengali visual culture. He has also played a pioneering role in bringing art to the masses, especially in his role as the convener of the Behala Art Festival - well-known for its wall paintings - where he led a group of young artists and encouraged maximum public participation. His acceptance is far and wide, from Buckingham Palace to Sachin Tendulkar's drawing-room. His connoisseurs include a diverse range of people. His exhibitions have been appreciated both at home and abroad.
Register now