MY KOLKATA IN KOLKATA 2.0 : Open Call for submissions
Over the years Kolkata has welcomed different people, accommodated their varied life-styles, diverse habits, and sheltered and nurtured them in her soul and soil. Albeit its ever changing nature, Kolkata's penchant for leisure has for long been misunderstood as idle laziness. But unlike laziness, which doesn't propel you forward, leisure—charged with a sense of purpose and joyous focus—takes us along a path less travelled. 
The slow trotting tram ride in the city that bustles with racing Olas and Ubers is a testament to the city's proclivity for stretching time out to suit one's needs and desires, and not be trapped by it. It is not only an escape from the mundane, but also an excuse to engage with it meaningfully. In the rat-race of life, between sipping morning tea at the bus stop to concluding neighbourhood addas in the evenings, Kolkatans have always found the time to discuss politics, football and food, among a host of other issues. Cheating the PUBG addiction, we even see young men drop by to play a game of chess before heading home from office. 
So, in a sense, this is a call to photographers, who have witnessed Kolkata's love-affair with leisure in its various manifestations that help us understand how the city rests, revitalises and re-engages with life.  
Leisure, one can argue, is also about stealing time from conventional productive activities and indulging in alternative productivities. Therefore, leisure serves as a liberating act that frees us from what we are 'supposed to do', and helps us engage in activities that calm us down, that comfort us, and that help our inner growth. 
Because of the COVID pandemic, and the many lockdowns that followed, perhaps for the first time we witnessed an excess of time at our disposal. The anxious uncertainties that took over the world and disrupted normalcy left us with a mindset that wasn't necessarily conducive to 'guilty pleasures', like leisure. The line between conventional productive activities and indulgence in alternative productivities became blurry as the wall between 'home' and the 'world' solidified. So, what liberated us from these thoughts? Was it attending to a humble garden at the roof-top that calmed us down? Was it the experimental dish that brought a smile to the face of a loved one? Was it simply cloud-gazing with a coffee mug?
In Kolkata leisure took and continues to take many forms and meanings. It evolves and grows as a concept as different people make use of their leisure time, and observe that of others under changing circumstances. We invite photographers from all over who have already captured or are willing to interpret through photography Kolkata's centuries old affair with leisure that still characterise the city and its people—on the streets and in its homes. 
সেই বহুকাল ধরেই কলকাতায় নানানরকমের মানুষ আসেন, তাঁদের নানান ভাষা, এক-একরকম পোশাকের ধরণ, খাবারের পছন্দ, যাপনের নানারকমের আদবকায়দা। এই নানান ভিন্ন সংস্কৃতিকে কলকাতা চিরকাল আপন করে নিয়েছে তার নিজের মাটি-জলের সঙ্গে। বিভিন্ন আচার, যাপন মিলেমিশে কলকাতার নিজস্ব পরিচয় গড়ে উঠেছে। কিন্তু, এইসব বদলের মধ্যেই কলকাতার নিজস্ব গতিকে অনেকসময় আলস্য বলে ভুল বোঝা হয়েছে। এই শহরের একটা নিজস্ব ছন্দ আছে, আর সেই ছন্দের এক অবিচ্ছেদ্য অংশ হল, অবসর যাপন। এই অবসরের কলকাতার যে ছবি তা অনেক ক্ষেত্রেই অধরা থেকে গেছে।
এই দ্রুতগতির উবের-ওলায় চড়া জীবনে মাঝেমাঝে সেই ট্রামের কথা মনে হয়, মাঝগতিতে এগিয়ে চলেছে একটু করে, তার নিজস্ব গমকে। সে এক অন্য চলা, ভাবনার এক অন্য পরিসর খুলে যায় সেই গতিহীন গতিময়তায়। সেই ছন্দে ডুবে যাওয়ায় আলসেমি নেই, বরং এই ছুটে চলার মধ্যে একটু থমকে দাঁড়িয়ে জীবনের অর্থকে খুঁজে পাওয়া থাকে। ঠিক যেমন এই ইঁদুর দৌড়েও বাসস্টপে চা-য়ে চুমুক পড়ে, পাশের বাড়ি আড্ডা হয় সন্ধেয়, আলোচনায় আসে রাজনীতি, খেলা, খাবার আরও কত কী। এমনকি পাবজি নেশাকে তুড়ি মেরে কলকাতা অফিস যাওয়ার আগে দাবাও খেলে নেয়।
এইসব অবসর যাপনের মধ্যেই কলকাতা শহরের নিজস্ব ছবি ধরা পড়ে, যেখানে কলকাতার প্রাণ থাকে, ক্লান্তি থেকে জীবনে ফেরার রসদ থাকে - ফটোগ্রাফারদের চোখে বারেবারে এই দৃশ্য নানাভাবে ধরা দিয়েছে। 
অনেকের মতে, সাধারণভাবে কর্মমুখরতা বলতে আমরা যা বুঝি, অবসর সময়গুলো কাজকে নতুনভাবে দেখতে শেখায়। যা যা আমাদের ঔচিত্যের, দায়িত্বের বোঝার মতন থাকে, অবসর সময় তার মধ্যে আমাদের একটু শ্বাস নিতে সাহায্য করে, নিজেদের দিকে তাকানোর অবকাশ পাই আমরা।
কোভিড-১৯ এবং লকডাউনে অবসরের ছবিটা এক্কেবারে যে বদলে গিয়েছিল, তা বলাই বাহুল্য। সময় হয়েছিল অন্তহীন। সারা বিশ্ব এক অনিশ্চয়তায় স্তব্ধ হয়ে  গিয়েছিল হঠাৎ করে, প্রতিদিনের জীবন যেভাবে থমকে দাঁড়িয়েছিল সেখানে অবসরযাপন হয়ে উঠেছিল বিলাসিতা। চিরাচরিত দ্রুতগতিতে কাজ বা অবসরের কাজ - সবের মধ্যেকার সীমারেখা ঝাপসা হয়েছিল, ঠিক যেমন পার্থক্য ছিল না বাড়ি আর অফিসের মধ্যে, ঘর আর বিশ্বের মধ্যেকার দেওয়ালের মতনই। এই ভীষণ অনিশ্চয়তা আমরা পার করলাম কী করে? বিকেলবেলার ছাদের বাগান কি একইভাবে শান্ত করত তখনও? নাকি নতুন নতুন রান্না আর প্রিয়জনের হাসিমুখ খানিক স্বস্তি দিচ্ছিল? বা, হয়তো, কফির কাপ হাতে মেঘের দিকে চেয়ে থাকা?
কলকাতার অবসর এভাবে নানান দিক নিয়েছে এই সময়, বদল এখনও ঘটছে। এক-একজন মানুষ এক একভাবে এইসময় অবসরকে খুঁজে পেয়েছেন বা সাজিয়ে নিয়েছেন নিজের মতন করে, সময়ের সঙ্গে খাপ খাইয়ে। 
আমরা ফটোগ্রাফারদের আমন্ত্রণ জানাচ্ছি যারা নানাভাবে কলকাতার এই অবসরকে ধরে রেখেছেন বা রাখছেন। যে অবসরের ছবি ছিল, তা বদলে কেমন হল? এই নতুন অবসর কেমনভাবে মিশে গেল কলকাতার মানুষের মধ্যে, ঘরে, পথঘাটে?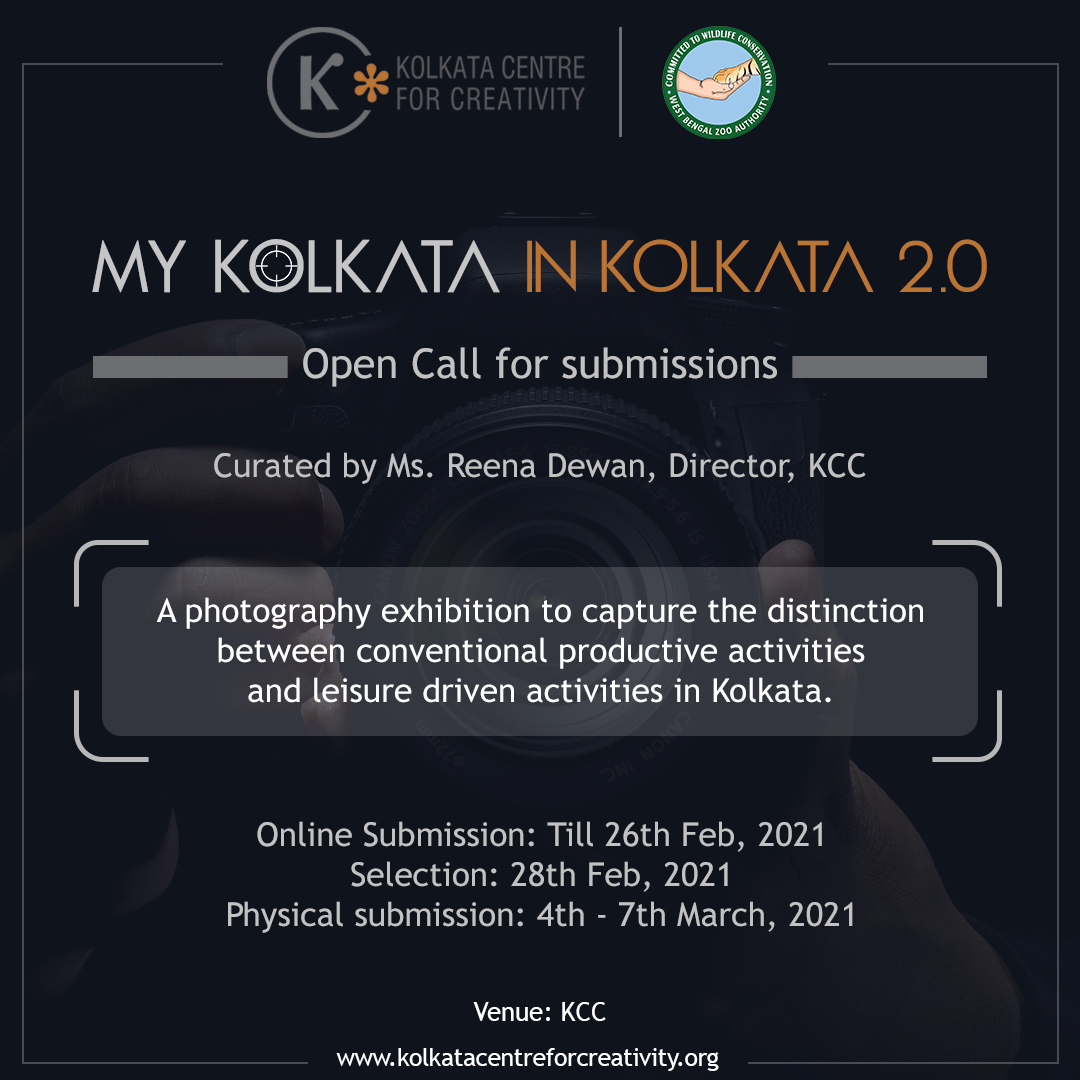 Dates
Online Submission: Till 26th Feb
Selection: 28th Feb 
Physical submission: 4th to 7th March
Exhibition at KCC
Set up: 11th March
Exhibition: 12th March to 21st March
Dismantle: 23rd March
Exhibition at ZOO
Set-up: 25th & 26th March
Exhibition: 27th March to 4th April
Dismantle: 7th April
Online Submissions Dates

ONLINE SUBMISSION DEADLINE: 26th February (midnight)
● SELECTION: 28th February
● PHYSICAL SUBMISSION OF FRAMED PHOTOGRAPH AT KCC: 4th to 7th March
Submission Guidelines

● The subject of the photograph should match the theme
● The photograph chosen for submission should be clicked in or after 2017
● Participants should submit only one photograph at a time in high resolution (300 dpi) in JPG format
● Size of the photograph should not exceed 10 MB
● Details of the photograph should be filled properly otherwise the submission would be cancelled
● No water marks are allowed on the photograph
● No details of the photograph should be written on the photograph by editing
● Mobile photography is not allowed
● One submission at a time would be accepted
● Size of photograph should not exceed 24 inches (without frame)
● Photograph with or without glass and mount framing would be accepted
● Colour of the frame should be in black or dark brown (at the time of physical submission after selection)
FAQs

1. ARE THERE ANY CHARGES FOR SUBMISSION? NO.
2. CAN ARTISTS FROM OUT OF INDIA APPLY? YES. Those photographs will be displayed only in online. 
3. IS THERE ANY SALE INVOLVED? NO. KCC is only giving a platform and an opportunity to the participants to showcase their work.
4. SHALL THE PARTICIPANTS NEED TO PRINT AND FRAME THE PHOTOGRAPHS? Yes. After the confirmation of selection; the participant will have to print and frame the selected photograph in the mentioned size and submit that at KCC.
5. IS THERE ANY AGE LIMIT FOR THE SUBMISSIONS? NO.
6. IS THERE ANY THEME FOR THE EXHIBITION? Mentioned above.
7. WHO CAN APPLY? Freelance photographers, Students of photography, Photography enthusiasts.
8. WHAT WILL PARTICIPANTS GET? 10 participants will get a Certificate of Merit and rest of the Participants will get a Certificate of Participation. All participants will get e-catalogue. 
9. RETURNING OF SUBMITTED PHOTOGRAPH:
Participants should take their photographs within 18th April once the exhibition is over, (except on Mondays and Tuesdays). in between 11 am to 5 pm (Except Monday and Tuesday). Otherwise participants can choose from the following options. 
 > KCC will have the right to destroy my photograph after the assigned date.
 > KCC can donate my photograph to any NGO for social cause
 > I will take my photograph within 18th April
FOR ANY QUERY e-mail us
submission.kcc@akst.org.in
Admission Type - Free

Age Group - 18 years and above'

Participants will get - 10 participants will get a Certificate of Merit 
and rest of the Participants will get a Certificate of Participation. 
All participants will get e-catalogue. 
Submission