KCC ART FELLOWSHIP 2023-2024
After the successful and eventful first three years,Kolkata Centre for Creativity is announcing its KCC Art Fellowship 2023-2024 with the aim to uplift and develop the discourse of various disciplines of art for young and emerging practitioners. KCC is offering a fellowship program to support specific research projects proposed by selected young and mid-career practitioners for a year to develop, explore and present a discourse of their choice.
Purpose of the Fellowship
Extend the support to the practitioners to own, publish research papers and projects that will develop new artistic language and uplift the particular discourse of art.
Develop a group of alumni who will reach to the excellence to mentor the program under the umbrella of KCC for future generation of artists.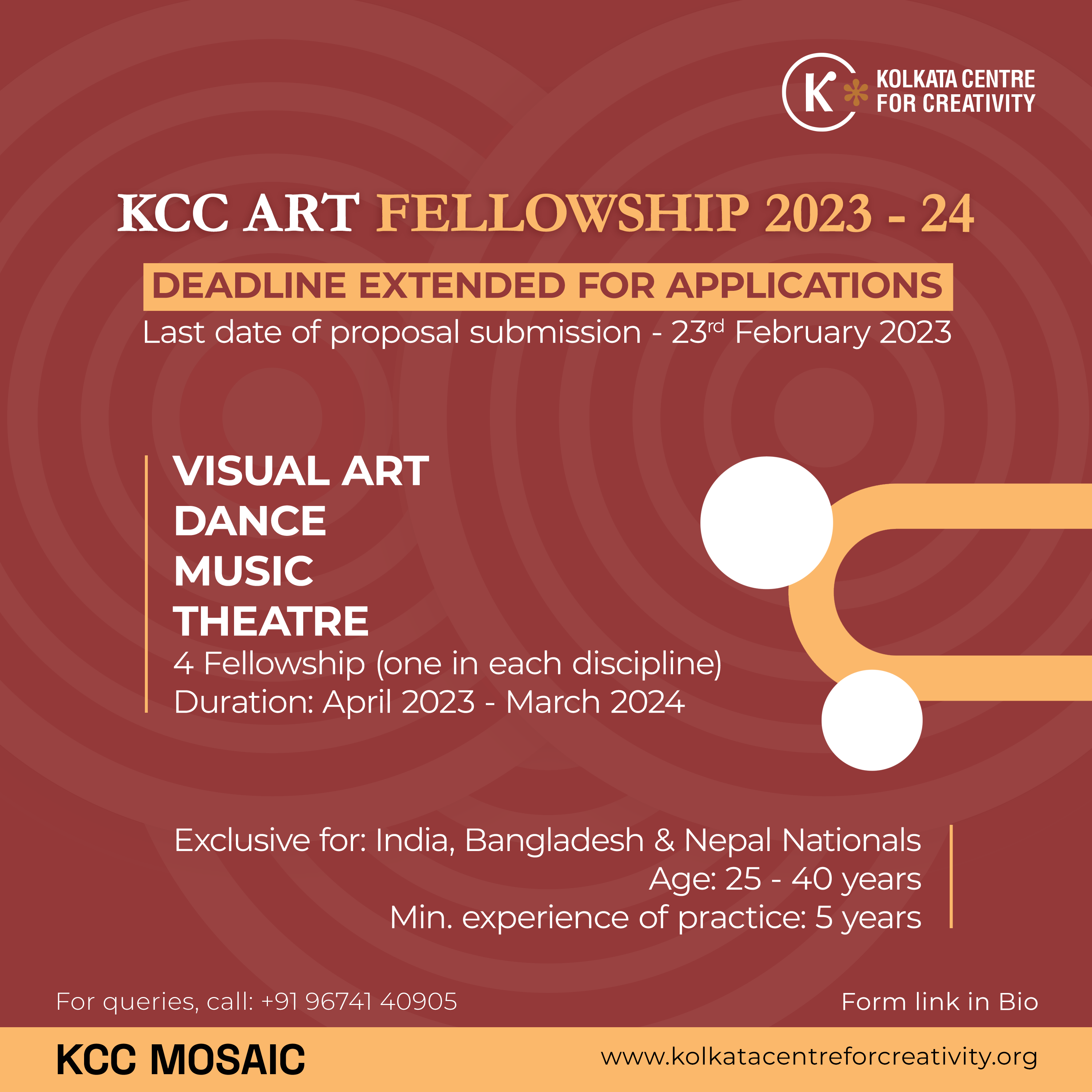 Who can apply
This fellowship is exclusive for Indian, Bangladesh and Nepal Nationals only.
Young practitioners from age 25 years to 40 years from the fields of Visual Arts,Theatre, Music and Dance. Applicants born after 1st January 1982 and before 1st January 1997 are eligible to apply.
Minimum experience of practice needed: 5 years
Application limits
Registered research scholar, full time employees, any fellowship holders from other sources, KCC Art Fellows of the immediate two previous sessions, current or previous employees of Kolkata Centre for Creativity or Emami Art will not be eligible to apply.
If selected, KCC Art Fellows are not eligible to take up any full time employment/ any fellowship from other sources during the period of this fellowship. In case of going against this clause, the fellowship will be cancelled immediately and the fellow will be responsible to return the already received fellowship money till that date.
One applicant is eligible to apply for any one discipline only.

Total Number of fellowships: 4
01 (One) of each from the fields of Visual art, Dance, Music and Theatre.
Grant Amount
INR 1,00,000 (Indian Rupees One Lakh Only) to each selected Fellow.
Break-up of the Grant Money
INR 8000.00 per month for 12 months + INR 4000.00 for the final production/dissertation/exhibition
The final production/ dissertation/ exhibition cost (of INR 4000.00) shall be reimbursed after the final presentation is done.
The fellowship transaction will start only after the signing of fellowship agreement and required due process is fulfilled.
The fellowship will be transferred on monthly basis to the account of the fellow, from AKST/KCC.
Process of selection
An internal committee will shortlist the applications. Shortlisted participants will face an online interview with an Independent Selection panel consisted of eminent practitioners and researchers of the respective fields.
 The participants will require at least an hour of uninterrupted internet connection that support clear video and audio connection to attend the interview. No other mode of interview will be arranged. Candidates are advised to work out place for their interview accordingly.
 The interview can happen in any Indian Language as per the applicant's convenience. The applicant has to bring their own interpreter with fluency in English, to ensure quality of interpretation.
Upon the merit of the written application and interview of the candidate, the selection panel will choose maximum 2 candidates in each discipline on the following weighted criteria, to join the orientation workshop. Theapplicants must receive a minimum score in each category to be considered for a grant:
Artistic Merit 50% (minimum score of 35 out of 50)
(a) The artistic quality of your work
(b) The artistic rationale for your project
(c) The potential artistic outcomes
Impact 30% (minimum score of 15 out of 30)
The potential of the project to:
(a) contribute to your artistic development
(b) advance artistic practice
Feasibility 20% (minimum score of 10 out of 20)
Your capacity and experience to undertake the fellowship.
A reasonable budget, including the ability to provide adequate working conditions
The shortlisted candidates from the interview round, must join the orientation workshop where they will be given inputs to improve their research proposal (if needed) and will be further evaluated on the basis of their revised proposal incorporating the learnings from the workshop. Upon their submission of the revised proposal, the above mentioned criteria will again be applicable for the final evaluation and on that basis, 4 final fellows will be chosen.
The decision of the panel will be treated as final and cannot be questioned in any court of law.
Check list for Application
Thoroughly filled up Application Form.
Detailed bio of the applicant.
Two letters of recommendation. (The applicant must submit two reference letters from accomplished artists working in their field of practice to be eligible to apply).
Consent letter of the research guide. (Applicant must have a Guide to navigate their research and must be submitting a letter confirming the same from the Guide).
Proof of age, academic qualification and experience in respective art field.
A power point presentation/recording/ video link of artistic work of the applicant. (Applicants are requested to comprise all of such submissions in one document/ file/ folder and NOT attached in separate email).
All the application for this year will be received online only. Kindly submit through email with all the required attachments with " KAF-(applicant's name)-(Discipline)" to projects@akst.org.in within submission deadline.
NB: No application or other attached submissions will be recognised that does not follow the mentioned format of application of KAF.
Responsibility of the fellow
Spend the fellowship money only for the purpose of research that includes taking courses/ workshops/ travel/purchase and practice related to the research project.
Present two interim work in progress report cum presentation in given dates for the selection panel.
Present a final dissertation of 5000 - 7500 words as the end-product of the research project.
or, Present a performance/ exhibition or presentation of any kind along with a dissertation of minimum 3000 words and the final product of the research project.
It is necessary to mention the name of KCC in the time of publication, presentation and any other work related to the topic which awardees have received the fellowship.We ask you to acknowledge that you received support from the Kolkata Centre for Creativity in any communications related to your work, your project(s), and/or your organization's activities for which you received our support.
In written communications, please pair our logo (that we will provide you) with the following written message:
I/We acknowledge the support of Kolkata Centre for Creativity
Fellows' written acknowledgement must use the name of Kolkata Centre for Creativity name in full (do not shorten it to KCC or Kolkata Centre).
Cancellation of Fellowship
The fellowship may be terminated at any time during the tenure and the decision of KCC will be final.
Submission of unsatisfactory interim research report.
Deception of information about eligibility.
Acceptance of full time research work/ employment/ fellowship from other sources.
Misconduct
KCC Art Fellows are not eligible to take up any full time employment/ any fellowship from other sources during the period of this fellowship. In case of going against this clause, the fellowship will be cancelled immediately and the fellow will be responsible to return the already received fellowship money till that date.
Important Dates
Announcement of the fellowship - 5th January 2023
Last Date of Proposal Submission -  23rd February 2023
First Round Selection interview - 28th February - 3rd March 2023
Announcement of short listed candidates - 7th March 2023
Second Round - orientation Workshop - 14th - 16th March 2023
Submission of updated research plan - 22nd March 2023
Announcement of KCC Fellows - 27th March 2023
Start Date of KCC Art Fellowship - 1st April 2023
1stInterim Report Submission - 30th July 2023
2ndinterim Report Submission - 26th November 2023
Final Report Submission and conclusion of Fellowship - 30th - 31st March 2024
KCC reserves the right to make necessary changes in the Important Dates if unavoidable situation arises.
APPLY HERE