Cluster of Museum Exhibition
In order to celebrate 'WORLD HERITAGE WEEK-2021', we are organising 'Cluster of Museums'—a unique exhibition conceived in collaboration with 'Paschimbanga Sangrahalaya Samiti'. The exhibition, with its theme of  'The Future of Museums: Recover & Reimagine', aims to develop healthy relationships between different museums in society. 
During the global pandemic, the World of Museums underwent a sea change, including the shift from physical exhibitions to online displays. However, as the world is slowly opening up, it is time we go back to embracing and celebrating the quintessential museum experience. To ensure a sustainable and viable future for the Museums, especially for the smaller yet significant ones, we must reaffirm the Museum culture for preserving our past and paving the path to the future. But can we go back to experiencing Museums in the traditional manner? 
'Cluster of Museums' would chart a new path for our visitors as 10 museums, 1 Institute  can be visited at a time under one roof. This multifaceted museum exhibition would showcase our cultural heritage, scientific achievements, and past glories by featuring diverse and rich collections from these different museums—including big names like Botanical Gallery of Indian Museum and smaller museums like Sundarban Anchalik Sangrahashala—and 4 private collections. An exchange of this kind between the Museums and the public is expected to change the way the former is viewed and experienced in today's world. A holistic approach towards the museum experience is perhaps the best way forward for us.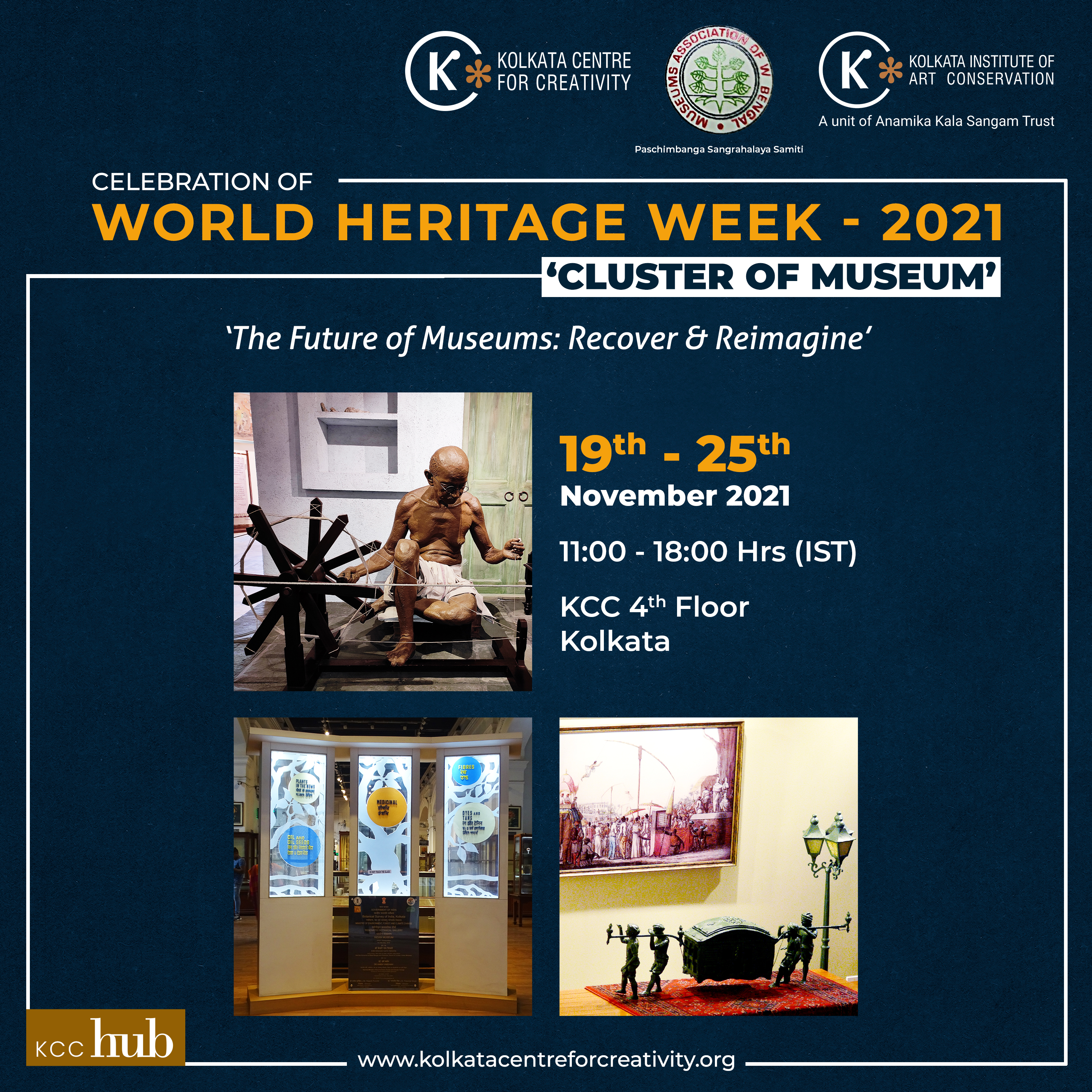 MUSEUMS:
BHUBAN MUSEUM AND ART GALLERY 
BOTANICAL SURVEY OF INDIA

CENTENARY MUSEUM, DEPARTMENT OF ZOOLOGY, UNIVERSITY OF CALCUTTA

GANDHI SMARAK SANGRAHALAYA
MUSEUM OF SANTAL CULTURE, BISHNUBATI
PRASANTA CHANDRA MAHALANOBIS MEMORIAL MUSEUM AND ARCHIVE- INDIAN STATISTICAL INSTITUTE, KOLKATA

SBI ARCHIVE AND MUSEUM

SUNDARBAN ANCHALIK SANGRAHASHALA
THE MUSEUM AND ART GALLERY, THE RAMAKRISHNA MISSION INSTITUTE OF CULTURE, GOLPARK

UTTAR KASIABAD MAHADEB SANGRAHALAY O GRANTHAGAR

Institute: 

SOCIETY FOR HERITAGE ARCHAEOLOGY AND MANAGEMENT
Personal Collection

ALPONA  by MR. RABI BISWAS
AND SHIBORI
PAINTINGS OF PROF. SAMAR BHOWMICK
VOICE OF NATURAL HERITAGE – DR. SANJIT JOTDER
Program Schedule