Certificate course on Museum Studies Batch-3
Kolkata Centre for Creativity is introducing an Online Certificate Course on Museum Studies in collaboration with the Centre for Studies in Museology, University of Jammu. It is for the first time in India that such a comprehensive course is being offered to people who are interested in museum and heritage studies. It is an intensive, immersive, hands-on program that will provide the participants with the knowledge and professional skillset required to run future museums, cultural centres, and archives. This course is aimed at training both fresher and in-service professionals for their work in various museums, cultural centres, and archives. The course will not only explore the key theoretical frameworks of museology, but also focus on the practical aspects by equipping and enabling participants with the practical knowledge, information, and critical tools required for successfully documenting cultural objects, putting up exhibitions, and conserving cultural properties. Museum management, education, as well as community involvement will also form an important part of this course. Moreover, this skill-based course will not only create the right environment for the participants to gain useful insights on stimulation, dissemination, and rehabilitation of cultural heritage and museums, but also play a crucial role in enhancing their ability to plan, organize and implement projects as per international standards.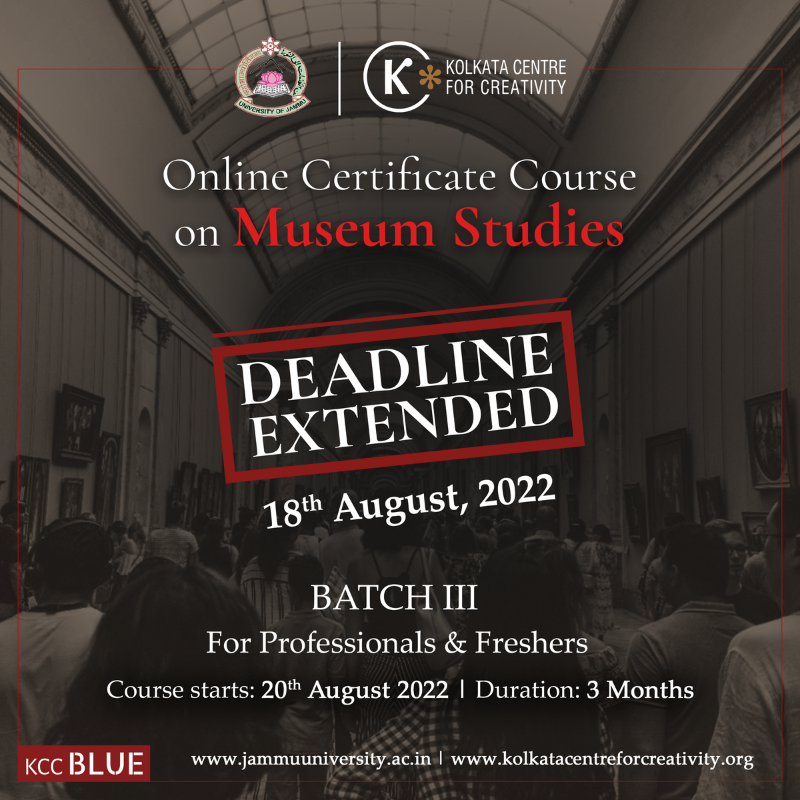 Outcome:            
After completing this training course, participants will be able to:
- Identify properly both Cultural and Natural Heritage objects  
- Know the acquisition methods for proper collection of objects for cultural centres 
- Document Tangible, Intangible and Natural Heritage objects
- Apply preventive and curative conservation methods to protect heritage objects 
- Prepare Exhibition plan to display heritage objects using technology and latest innovative tools
- Making museums more appropriate and effective through this training
- Learn how to make museum and cultural centre as a destination of cultural tourism
- Learn how to make museums and other cultural organisation as resource centre for local communities 
Please note: 
- Course Duration - Three months
- Mode of Class - Online 
- Eligibility - Graduation/ Post Graduation in any discipline
- Number of seats - 50 (first come first basis)
- Important Dates - Last Application Submit: 18th August 
- Course starts: 20th August, 2022
- Course Ends: November, 2022
- Class Time - 11:00 – 13:00 Hrs (IST)
- Course Fees - Rs. 5000 for Indian and for abroad student 10,000 INR. The abroad students need to send application form first to kcc@akst.org.in then they will get bank detail for payment. 
How to Apply: 
- Download the Application Form. Please send filled application form along with other documents mentioned in the application form to kcc@akst.org.in   
DOWNLOAD FORM
- Please pay the amount by clicking the payment button (For Indian Students) and need to put transaction id in the application form. Abroad students need to send email to kcc@akst.org.in and they can get the bank detail for the payment 

Payment Here
Programme Structure:
The programme has theory and Practical Project as components. The salient features of course are as follows:
- Two online classes per week 
- Class duration 2.00 hrs. 
Evaluation System:
The system of evaluation has a multi-tier system of evaluation.
- Internal assessment- 50 marks.
- Online term-end examinations- 50 marks. 
To know more details please call us at +919674140905
Or email us at: directorcsmju@gmail.com 
kcc@akst.org.in