Workshop on Salt Print Process
The Workshop on the Salt Print Process is an immersive one-day workshop under the guidance of photographer and Museo Camera Museum Director Aditya Arya on the first photographic print-making process, pioneered by Henry Talbot in the 1830s.
Salt Print was the dominant paper-based photographic process for producing positive prints (from negatives) from the 1830s to the 1960s. Talbot made what he called 'sensitive paper' for 'photogenic drawing' by wetting a sheet of writing paper with a weak solution of ordinary table salt (sodium chloride), then brushing one side with a strong solution of silver nitrate. This produced a coating of silver chloride, an especially light-sensitive chemical. After a long exposure and washing with a solution of 'hypo', the print would finally emerge.
This is a very rare and expensive procedure in today's time. The hands-on workshop will be conducted by Aditya Arya at a subsidised rate as part of KCC's AMI Arts Festival 2022. A once-in-a-lifetime opportunity for many, don't miss your chance to experience this process.
Workshop Venue: Kolkata Centre for Creativity (4th-floor dance room)
Date: 20th December
Time: 11:00 – 14:00 Hrs IST 
Age Limit: 16 - 35 (preferable)
Workshop fee: INR 3000 for 1 day (including GST)
*Bookings will be made on a first-come-first-serve basis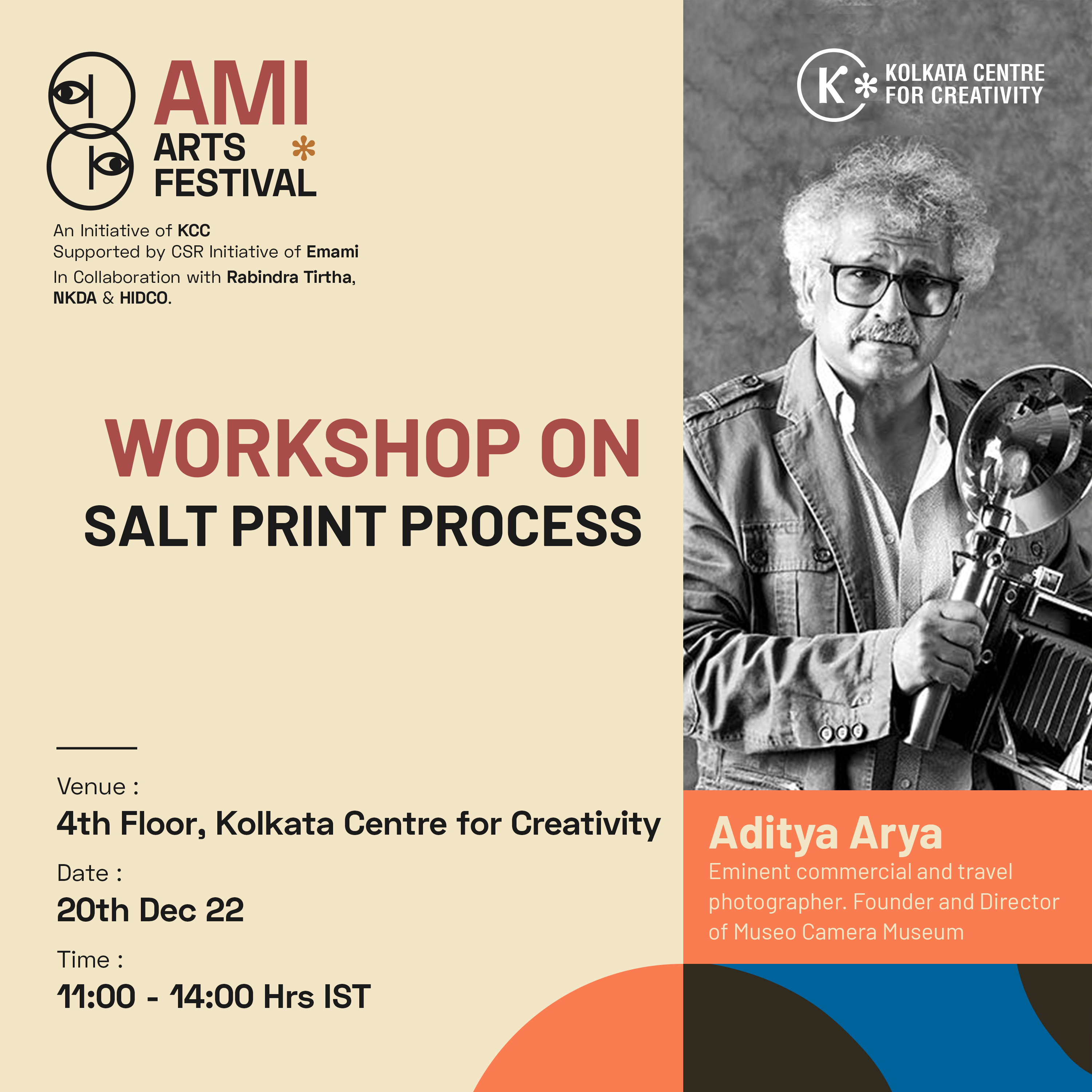 About the Facilitator

Aditya Arya is an eminent commercial and travel photographer. He is the Director of Museo Camera Museum. After a brief stint in the Mumbai Film Industry, he moved back to Delhi. In addition to his wide-ranging Commercial and Travel portfolio, his work has been published widely in books and travel magazines around the world. He is known for his expertise in the field of advertising and corporate photography, specialising in Products, Interiors and Food.
At present, he divides his time between his photography archive and Museo Camera. Aditya has also turned alchemist and artist, practicing and teaching the art of vintage photographic processes such as salt prints, egg albumen prints, gum bichromate and wet plate photography. He has been on the Jury of the National Art Exhibition 2014, organised by Lalit Kala Akademi and many other national shows. He was a guest faculty at Sri Aurobindo Centre of Art and Communication and also previously at the Jamia Millia Islamia University's Institute of Mass Communication. He was also a mentor at Habitat Photosphere, a photography festival initiative by Visual Arts Gallery, India Habitat Centre. He was also the Director at the Academy for Photographic Excellence (APEX).
PAY HERE