Workshop on Salt Print Process
The Workshop on the Salt Print  Process was an immersive one-day workshop under the guidance of photographer and Museo Camera Museum Director Aditya Arya where the participants learned the historic 19th-century printmaking process and got to create their own unique handmade prints on both paper & fabric. Invented in 1842, merely three years after the official discovery of photography, Cyanotype is one of the earliest permanent printing techniques. Using light-sensitive solutions of salts of iron, the print results in a shade of intense blue caused due to the formation of a pigment known as 'Prussian Blue'. Used extensively during the early 20th century as a commercial process for reprography, it gradually fell into disuse for that purpose, only to find resurgence in the last couple of decades at the hands of artists. It is often the first process learnt amongst the various historic processes related to photography/ printing, mainly due to its absolute simplicity and nearly fail-safe technique and chemistry, which ensures a successful and beautiful print almost every time. The workshop began with a brief overview of the evolution of photography and was followed by a presentation where the history and process of Cyanotype print-making was discussed along with the possible variations that can be practised. Participants learned how to mix the light-sensitive chemicals, how to sensitise, expose, and process the prints. Multiple rounds of exposures were carried out through the duration of the day on both paper and fabric. Prints were made using either physical objects (photograms) or stock photographic negatives. Participants were encouraged to experiment with their artistic preferences. They could carry on exposures till the time sunlight was strong enough in the evening for natural UV exposures.
Workshop Venue: Kolkata Centre for Creativity (4th-floor dance room)
Date: 20th December
Time: 11:00 – 14:00 Hrs IST 
Age Limit: 16 - 35 (preferable)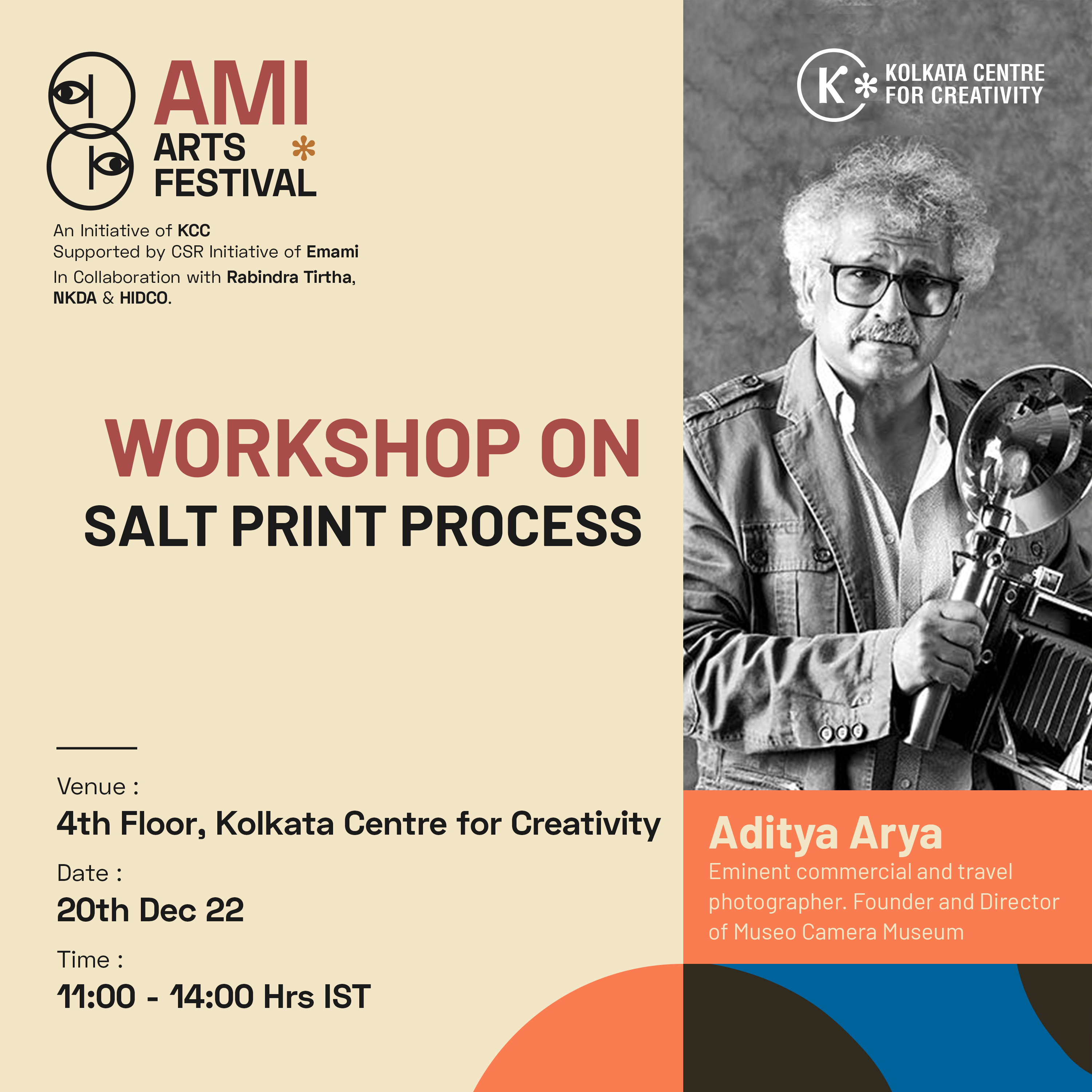 About the Facilitator

Aditya Arya is an eminent commercial and travel photographer. He is the Director of Museo Camera Museum. After a brief stint in the Mumbai Film Industry, he moved back to Delhi. In addition to his wide-ranging Commercial and Travel portfolio, his work has been published widely in books and travel magazines around the world. He is known for his expertise in the field of advertising and corporate photography, specialising in Products, Interiors and Food.
At present, he divides his time between his photography archive and Museo Camera. Aditya has also turned alchemist and artist, practicing and teaching the art of vintage photographic processes such as salt prints, egg albumen prints, gum bichromate and wet plate photography. He has been on the Jury of the National Art Exhibition 2014, organised by Lalit Kala Akademi and many other national shows. He was a guest faculty at Sri Aurobindo Centre of Art and Communication and also previously at the Jamia Millia Islamia University's Institute of Mass Communication. He was also a mentor at Habitat Photosphere, a photography festival initiative by Visual Arts Gallery, India Habitat Centre. He was also the Director at the Academy for Photographic Excellence (APEX).
PAY HERE