Traversal – An Explorative and Inquisitive Movement workshop led by Nicole Seiler
Kolkata Centre for Creativity in collaboration with Sandbox Collective presents a dance workshop Traversal – An Explorative and Inquisitive Movement led by world-renowned Nicole Seiler from (Switzerland) and supported by Diya Naidu (India), Parth Bharadwaj (India) and Tammara Leites (Switzerland).
After a warm-up, participants will explore different concepts and practices based on Nicole Seiler's work as a choreographer. These include working on group improvisations, relationship between movement and sound and on exploring the potential of movement descriptions, of memory and perception. There will also be a focus on the ongoing creation Human in the loop in which an artificial intelligence gives instructions to the dancers.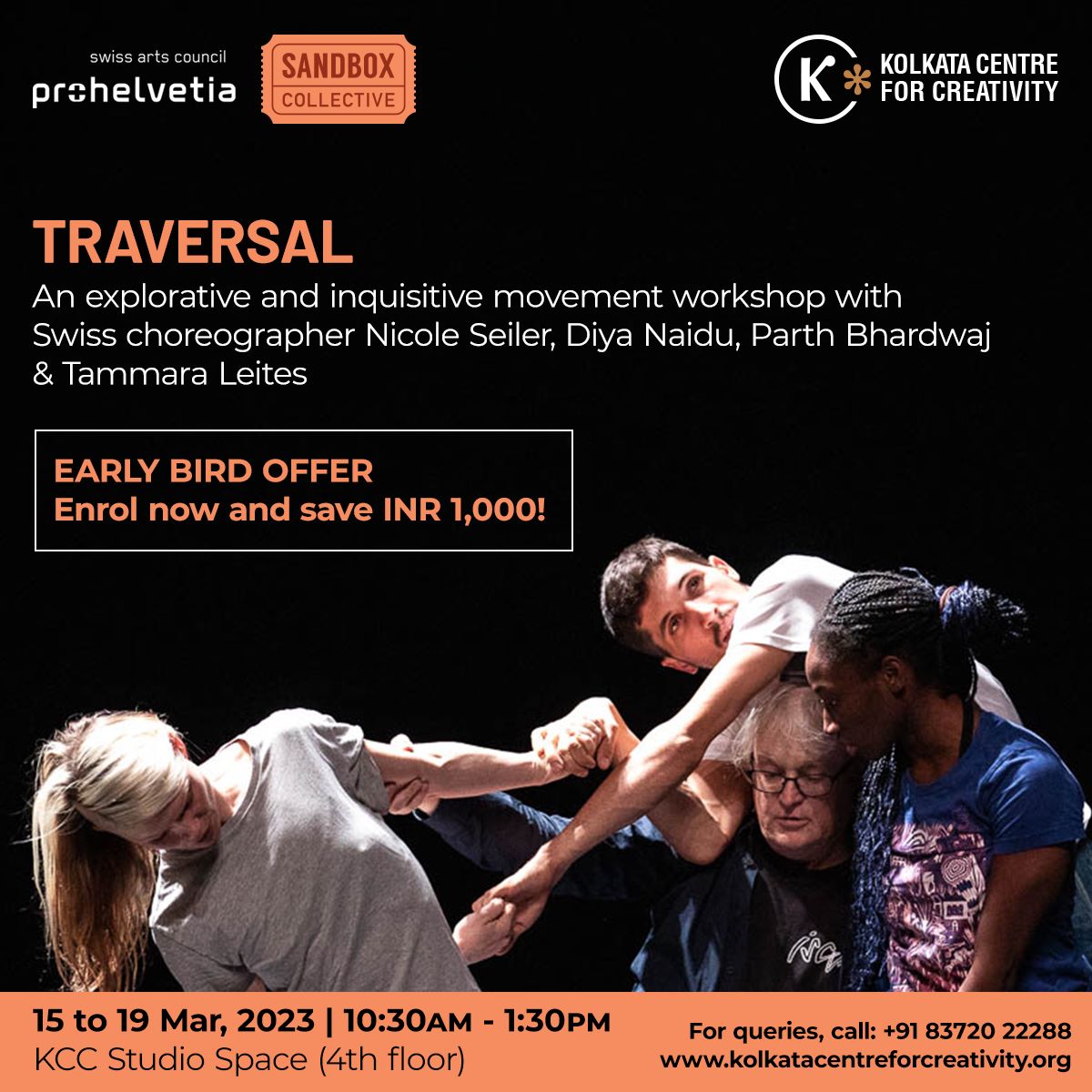 About Nicole Seiler
Nicole studied dance and theatre in Switzerland and Belgium, and went on to perform for several prestigious companies. She formed her own company in 2002. Her artistic approach is largely focused on the relationship between image and video. Her research into video and choreography has led to the creation of innovative works, dance and multimedia, videos and choreographic installations that aim to keep the audience active in their interpretation of the work.
Since 2010 her research focuses mainly on the relationship between image and sound and led her to explore the description of movement, from both a historical and personal point of view, but also more generally to question how image and sound connect in our memories. Since the last few years, her exploration into sound also includes voice work. The company has toured internationally since 2004.
About Diya Naidu
Diya Naidu is an Independent Artist based in Bangalore. She is a choreographer, dancer, performer, facilitator and arts organizer. She directs a collective of independent dancers called the Citizens of Stage Co Lab, a Bangalore based collective of Independent dancers who believe, 'Minds evolve when bodies dance'
Diya programmed dance for Shoonya Centre for Art and Somatic Practices, a multiarts space in Bengaluru for several years and collaborates with artists all over the world. Her fifth virtual reality project was with Cie Gilles Jobin, Geneva where she performed with them virtually at the Venice VR extend Biennale.
Her own work has been curated and performed in festivals and platforms all over the country and internationally. These include The Park Festival, The Attakkalari India Biennale, The Korzo Theatre Festival, Think Big Theatre Festival, and Dance Bridges to name a few.
Diya is a faculty at the Drama School Mumbai and a recipient of the Bosch Young Choreographers Award Grant, Gender Bender Grant, Youth Award for Performing Arts from the Kolkata Centre for Creativity and Unrehearsed Residency Grant from the Nava Dance Company in the USA. She was also part of the Facets Choreography Residency (Attakkalari India Biennale) and Pro Helvetia's Artist Resident in Zurich in 2015.
About Parth Bharadwaj
Parth is a dance practitioner actively involved in creating dance work, designing modules and facilitating movement technique classes. He's interested in the intersection of body, performance, politics and community.
Parth won the Jury Special Mention Award for his piece 'Urban Chaos' at the 2017 Prakriti Excellence in Contemporary Dance Awards and was Runner up for a solo work 'Untitled'. He currently works with 'Citizens of Stage Co Lab', a Bangalore based collective of Independent dancers who believe, 'Minds evolve when bodies dance'.
He has presented his work at prestigious festivals like 'Festival de quartiers
(Montreal), Dance Bridges (Kolkata), The New Park Festival, The Odd Step (Sri Ram Centre). He has trained extensively through his association with Attakkalari Centre for Movement, Rang Parivartan, and Duende School.
Parth has worked with mentors/choreographers such as Jayachandran Palazhy, Kenan Dinkleman, Richard Siegel, Wayne McGregor, Samir Akika, Yola Yulifianti, Nicole Sieler, John Britto, Vikram Sridhar, Neeraj Kabi, Foofwa Imombilite, and Jose Agudo.
To register for the workshop

Click Here