The Satyajit Ray Centenary Show Vol-3
KCC is delighted to curate 'The Satyajit Ray Centenary Show (Volume III)' at Durbar Hall, Kochi, in collaboration with the Kerala Lalithakala Akademi and our partners, from 25th September to 25th October 2022. This show will bring together the lesser-known aspects of Ray's work from Gallery Rasa's collection, like his lobby cards, pressbooks, posters, book covers, and rare photographs of the master by Nemai Ghosh and Tarapada Banerjee. The 3rd volume will also feature enthralling additions to the previous volumes of the show, including costumes from the film Shatranj ke Khilari (courtesy of Mr. Suresh Jindal, producer of Shatranj ke Khilari) and never-seen-before letters written by Ray to Debjani Roy, thus presenting the most comprehensive exhibition on Ray.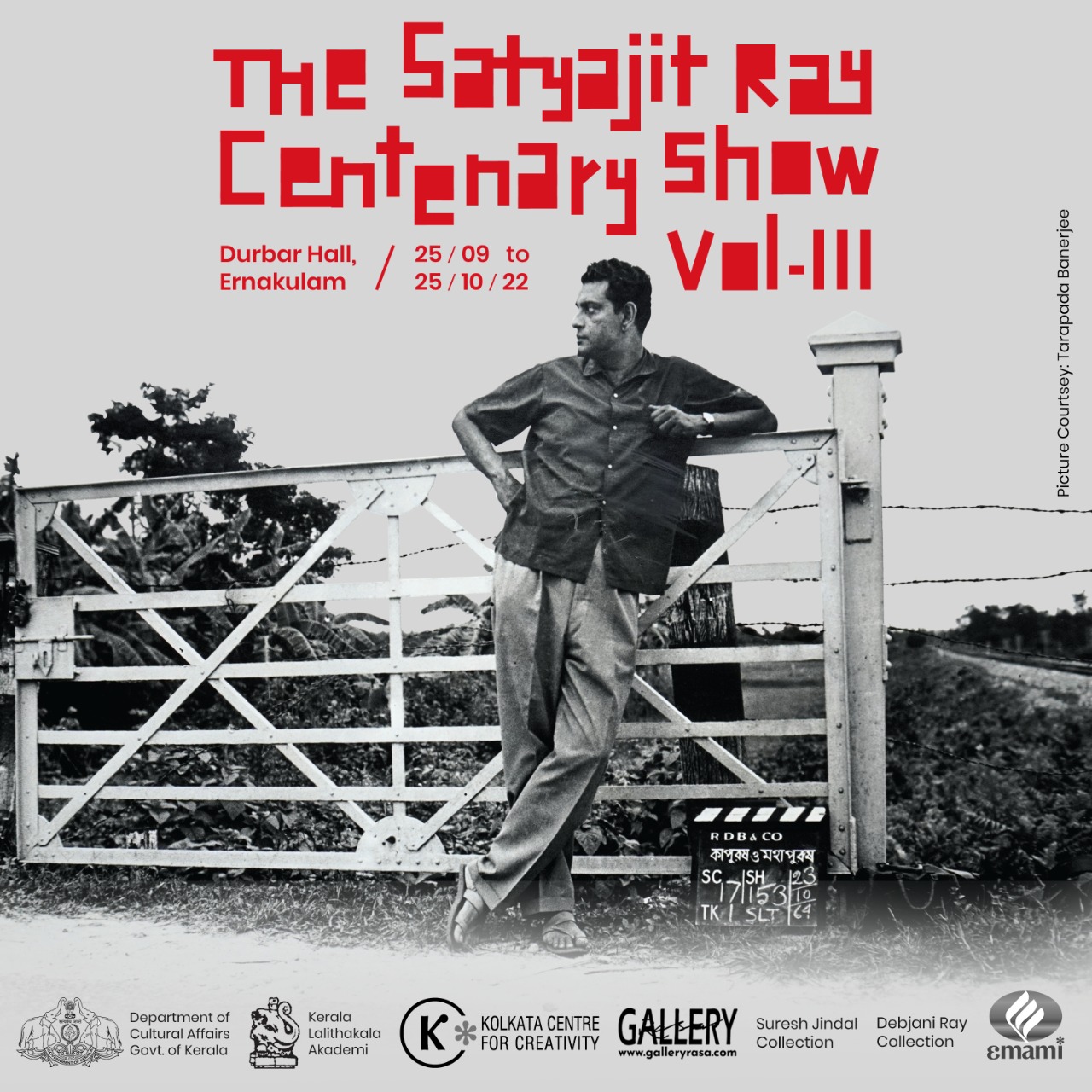 Date: 25 September – 25 October 2022
Venue: Durbar Hall, Ernakulum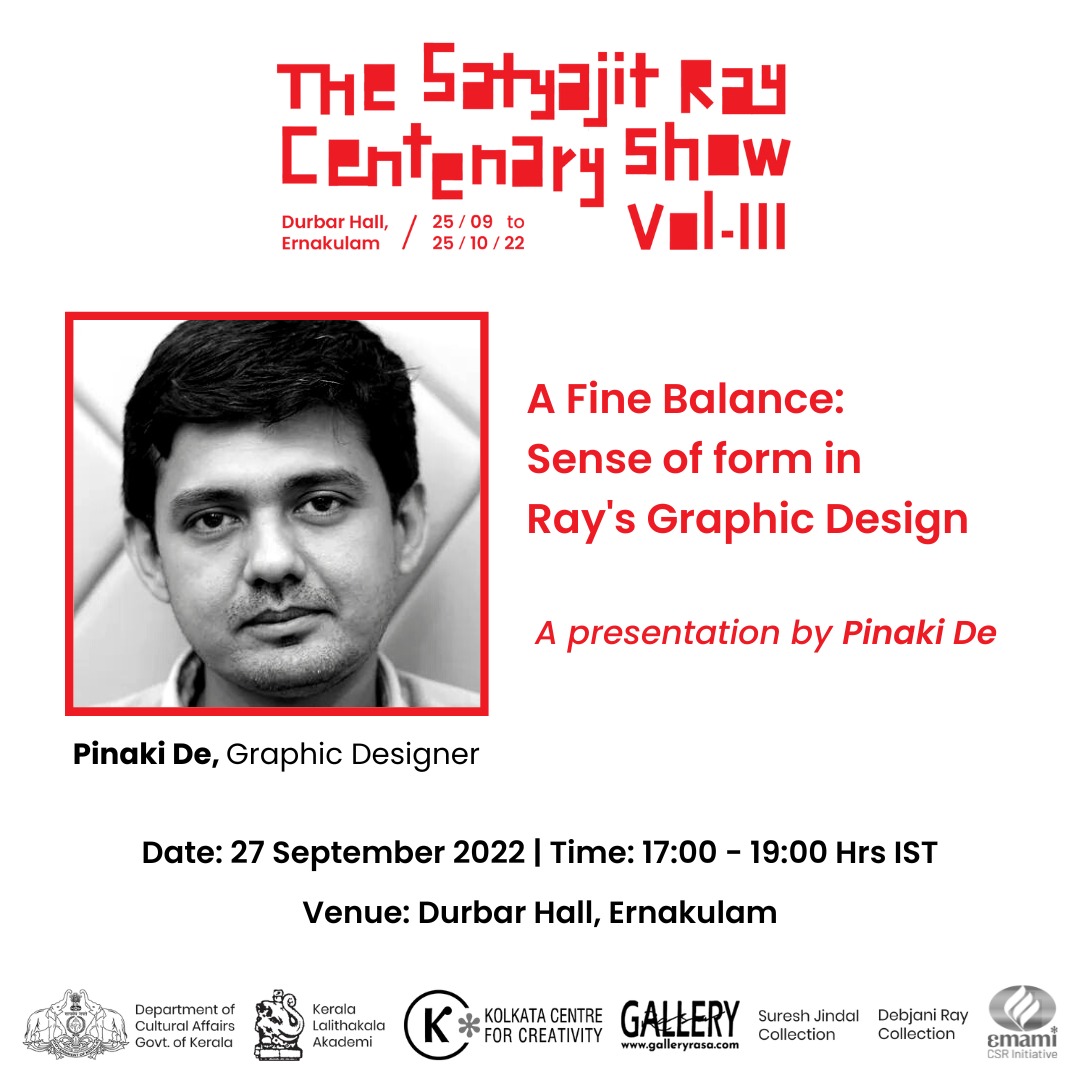 A Fine Balance: Sense of form in Ray's Graphic Design - A presentation by Pinaki De
Ray started his career as a junior visualiser in an advertising agency (D.J. Keymer). Simultaneously, he also moonlighted as a book cover designer for Signet Press where he broke new grounds. Later while making films he harnessed his design skills to create illustrated scrapbooks, brilliant posters, film booklets, and title cards that quickly acquired cult status. He revived Sandesh, the periodical started by his grandfather, where he began to write and illustrate at the same time. Despite all these achievements, Ray's contribution to graphic design has always eluded proper critical attention outside Bengal, probably eclipsed by the towering presence of his filmography. This talk is a primer to his world of graphic design and illustrations for which he draws inspiration from various eclectic sources. The presentation pays particular attention to his negotiations with complex forms which bear testament to his craft and its poise.
About Pinaki De
Pinaki De is a graphic illustrator-designer who works for renowned publishers like Penguin Random House, Harper Collins, Pan Picador, Simon and Schuster, Hachette, Routledge, Oxford University Press, Bloomsbury, and many others. A member of The Society for the Preservation of Satyajit Ray Archives, he also designs the layout of books based on Ray's archival manuscripts published by the Society. Pinaki juggles his creative work with academics as he has a day job as an Associate Professor of English at a college affiliated with the University of Calcutta.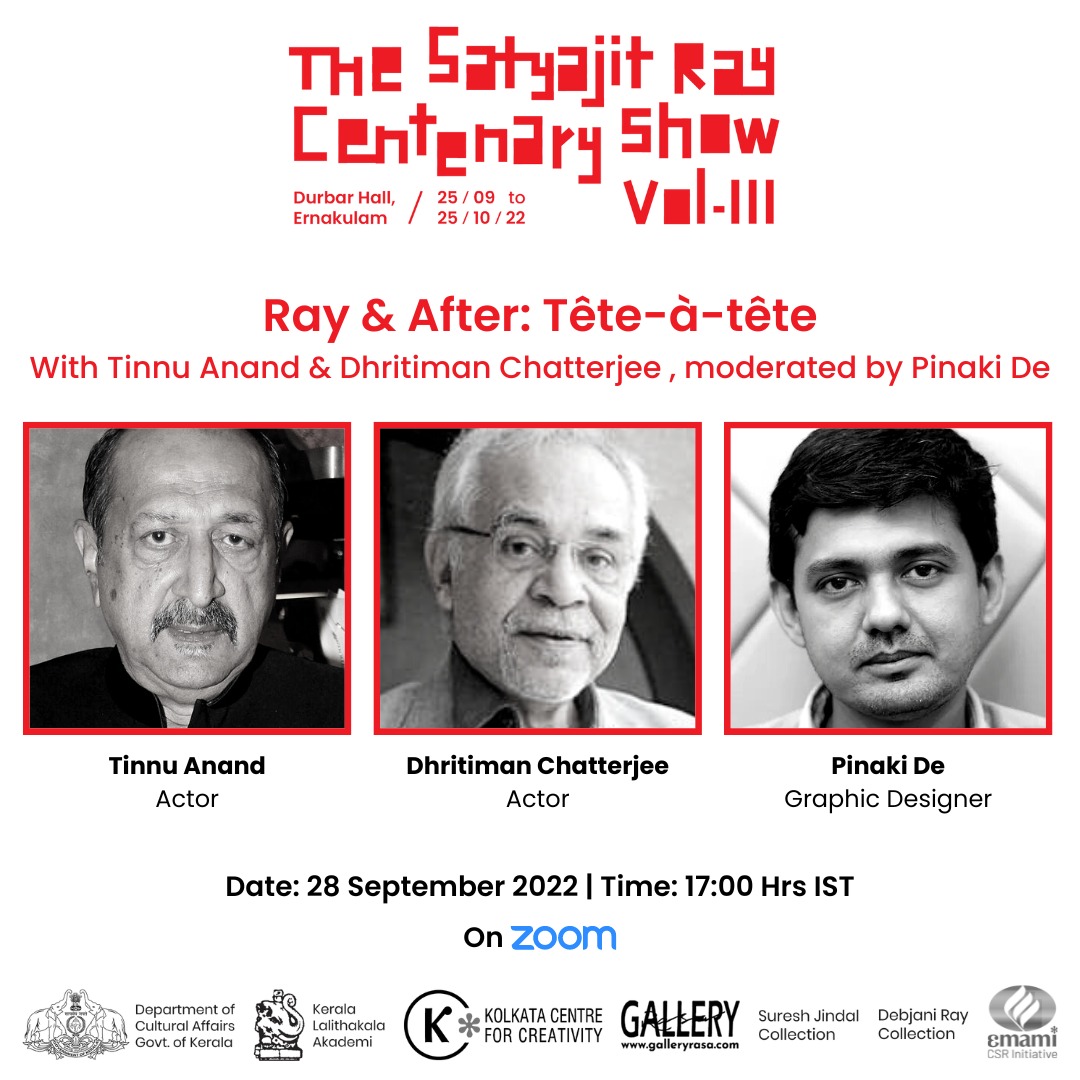 Ray & After: Tête-à-tête with Dhritiman Chatterjee & Tinnu Anand
Join us for an enriching talk session 'Ray & After: Tête-à-tête with Dhritiman Chatterjee & Tinnu Anand', moderated by Ray scholar and award-winning graphic designer Pinaki De.
Get an insight into the workings of a genius filmmaker through the perspective of a renowned actor, Dhritiman Chatterjee and an illustrious director, Tinnu Anand, both of whom have themselves worked with Satyajit Ray. The eminent personalities would offer a comprehensive view into Ray's influences on both regional and national cinema.
Register Here