TAVAM has been imagined as two journeys in opposite directions: on the one hand, Arjuna's journey to Mount Kailasa in search of the Pasupati weapon and, on the other hand, the journey of five young rural women Kattaikkuttu performers into a socially forbidden, male-only theatre world. 
In order to achieve his passion, Arjuna needs to perform an austere penance ("tavam") breaking off his social relationships with the human world (as can happen in times of a pandemic). The journey of the women involves a different kind of "tapas" or resolve in which they need to negotiate the social constraints and the reasons rural society gives to prevent rural young women, who are fully trained in Kattaikkuttu, to continue their career in the performing arts, in particular also after marriage. At a more symbolic level, these two journeys represent the transmission of the Guru (Arjuna) to his female students who will become part of the next generation of Kattaikkuttu performers and teachers.
The play intertwines three different threads: Excerpts from well-known Kattaikkuttu plays in which the women show their ability to perform both female and male roles in Kattaikkuttu style. These excerpts are mirrored by scenes, performed in a realistic acting style, showing the actresses in family and family-in-law settings and negotiating their passion to perform. Finally, Arjuna's appearance and his songs from the Tamil Devaram (which normally feature in the off-stage performance of the play Arjuna's Tapas) provide a philosophical commentary on today's society and the problems the actresses face.
TAVAM interweaves the different threads of rural women performers' inroads into a male theater form with Kattaikkuttu's stigmatized nature as a theatre of the rural poor, the social and family relationships within which the women performers have to work and the impact of the pandemic on Kattaikkuttu and the livelihood of performers.
TAVAM is a performance by Kattaikkuttu Sangam and has been curated by Pickle Factory Dance Foundation.
FREE ENTRY
Venue: Open-air Stage, Rabindra Tirtha
Date: 18th December
Time: 16:00 - 17:00 Hrs (IST)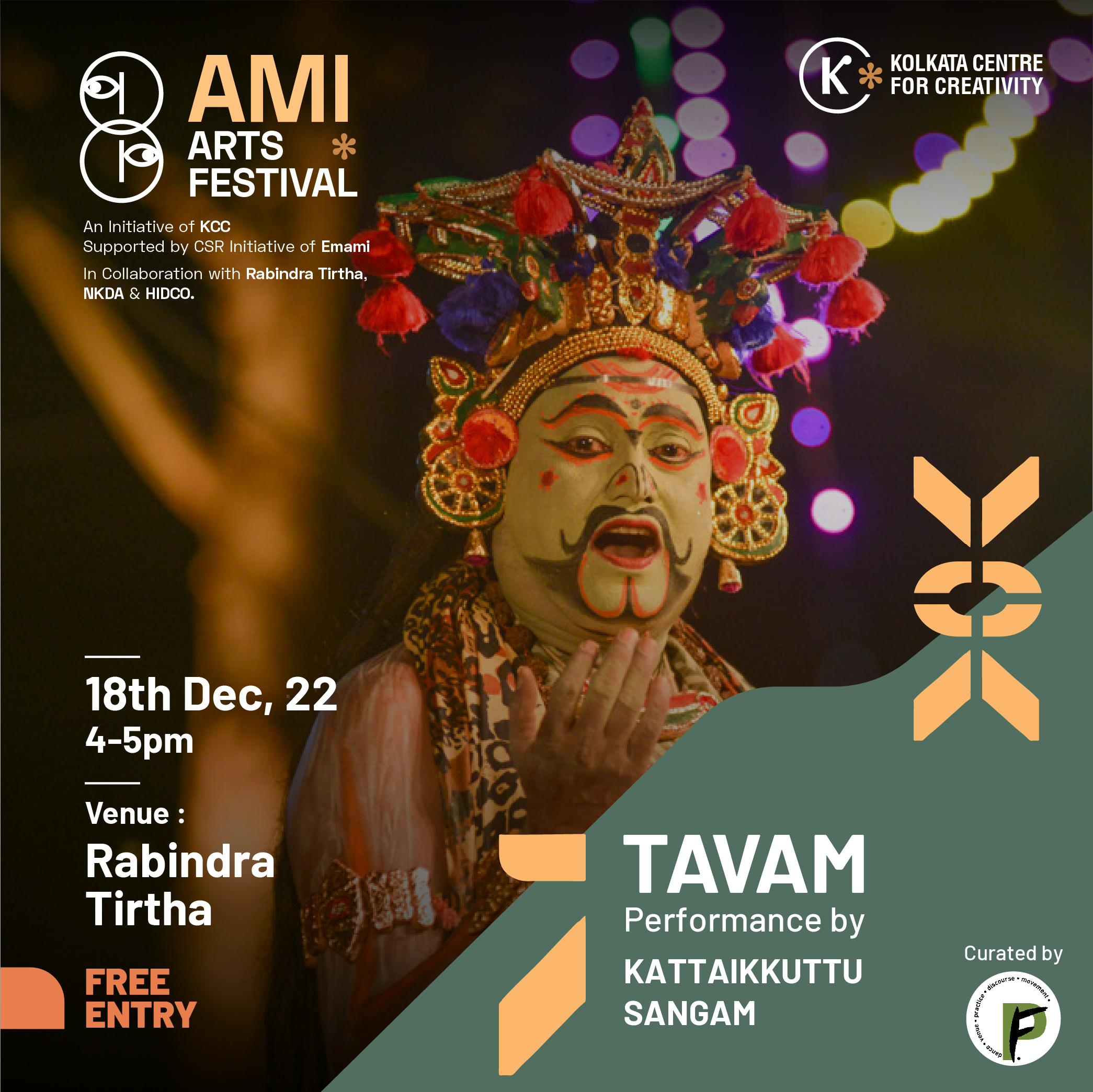 About the Artist
P. Rajagopal (Perungattur, 1953) is a versatile Kattaikkuttu actor born into a family of hereditary performers. He is also a director, teacher and playwright. Rajagopal is the co-founder of Kattaikkuttu Sangam (1990), a grassroots association uniting Kattaikkuttu actors and musicians across styles and regions, and the founder of the Kattaikkuttu Gurukulam (2002-2020). He has been a strong advocate of opening up Kattaikkuttu to women and a moving force to promote Kattaikkuttu in its own right. He has also worked as a Guest Lecturer (2019-2020) at the Performing Arts department of Ashoka University, Haryana. Rajagopal has performed and taught abroad in the Netherlands, the UK, Belgium, Germany and Switzerland. He is a recipient of several prestigious awards over the span of his career. 
He is a principal mover and shaker in transmitting the art of Kattaikkuttu to the next generation, making this traditional theatre accessible to all genders, contemporizing its repertory and ensuring a high quality of performance. Rajagopal is married to Dr Hanne M. de Bruin, who is a co-creator and scholar of Indian theatre.